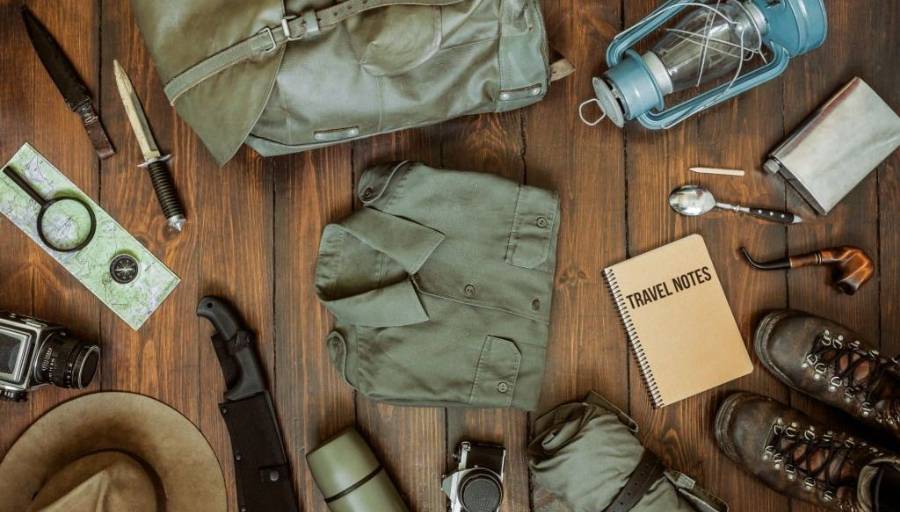 To live an optimal bushcraft experience, you need excellent preparation beforehand. The objects to put in your survival backpack will have to be selected according to rigorous criteria. They will need to be both practical and have a long lifespan to be most useful to you.
To take stock, you need to divide essential bushcraft gear into 6 specific categories, from clothing to safety to work tools. Finally, you will have to make the distinction between the essential equipment and the objects which you could do without.
Need help? This article is for you!
Essential Bushcraft Gear: Categories of Material
Bushcraft (a true way of life closer to nature) will allow you to live according to what your environment produces. The equipment to take with you during this experience will then be used to improve your comfort; work with certain materials such as wood, or even light a fire.
It must allow you to live in an environment that you know little about. In other words, there must be in your backpack something to find food, prepare to eat, or filter water.
Let's see it all together.
Essential Bushcraft Clothing
The clothes you will wear during this bushcraft experience should be durable, versatile, light and comfortable. Avoid clothing that is too close to the body, which would hamper your movements and increase body perspiration. From the top to the bottom of the body, here are the essentials to take:
Technical t-shirts: very light and airy, they promote the evacuation of perspiration and dry extremely quickly, which is very interesting in the wet season.
Fleece: both warm and light to wear, fleece is a must for bushcraft. Also, it is generally very resistant which makes it suitable for outdoor work.
A raincoat: it will become your best friend during long periods of rain. Don't forget to take advantage of the slightest ray of sunshine to dry it! For winter, consider fleece-lined anoraks which will change your life.
Bushcraft pants: Designed with more than 8 superimposed layers, bushcraft pants are more resistant than average. They dry very quickly and include many pockets. For exceptional bushcraft pants, take a look at Fjall Raven, one of the world leaders in the field.
Shoes: as with hiking shoes, choose a pair designed in Gore-Tex, which is fully waterproof. Also prefer stitched soles to heat-sealed soles, as the latter can come off more quickly.
Equipment Related to Rest
This type of equipment includes both your sleeping equipment and the shelter. To gain lightness in your survival backpack, it is better to take the minimum.
Here are the essentials in terms of rest equipment.
Backpacking Tarp
Tarp is a versatile choice. The tarp also protects against UV rays, rain or hail. Rectangular, square or polygonal, it can be stretched and hung in height to serve as a roof or even be placed on the ground. Thus, it will protect you against humidity. It can be mounted in many ways.
Hiking Hammock
Forget the mattress that does not support humidity and nights outdoors and choose a hiking hammock instead. The hammock is designed for hiking and trekking. Rest assured, these are not relaxing hammocks that are simply installed between two trees.
Nope!
These are designed to handle humidity very well and usually have a mosquito net and even waterproof zippers. They can then be installed in the rain, no problem!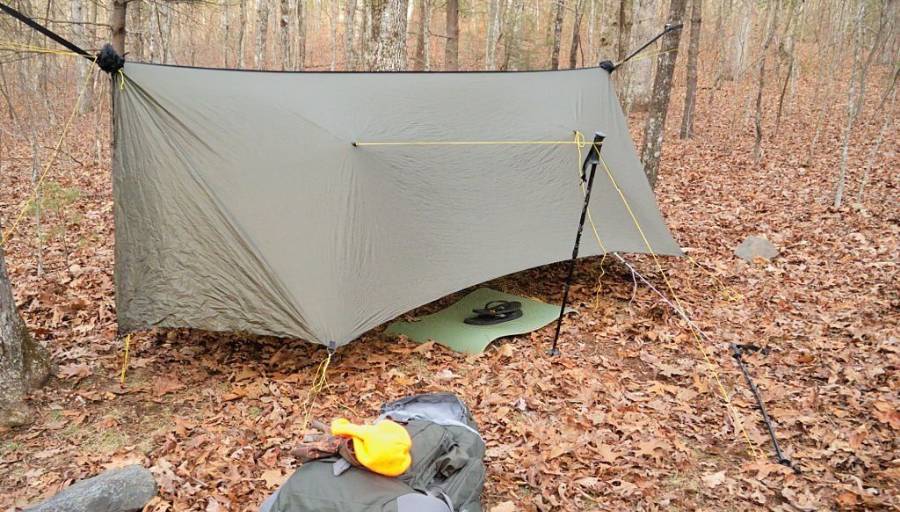 Sleeping Bag
The sleeping bag is the third and last essential element of bushcraft which is related to rest. For this one, your choice will depend on the season during which you will live this experience. If it is in the middle of winter, Thermarest sleeping bags have a comfortable temperature oscillating between -40° and 5°C.
For the summer, you are spoiled for choice, since some big brands like Millet or TETON Sports offer comfortable and practical sleeping bags.
List of Food-Related Materials
For food, you just need to see what you need to cook and eat during a meal. This usually results in a pot, pan, fork, knife and spoon. To aim for the minimum, a plate is not even mandatory since you can eat directly from the pan! To save time, here are the essential kitchen tools for bushcraft:
All-in-one kitchen kits: they gather kitchen utensils in very little space. For beginners, the Bushcraft Dragon Cooking System kit is a must!
Cutlery sets: the Hydro Flask Cutlery Set is ideal. Very light, they attach to a carabiner so as not to lose them. In addition, they have an additional function at the end: can opener and bottle opener.
The wood stove: operating with kindling as fuel that you collect in the forest, the wood stove is ideal for bushcraft. There are many sizes to suit different needs. Thus, you will find wood stoves for one person or others for 4 people! Designed in aluminum or stainless steel, they can be dismantled most of the time.
The Question of Water and Its Filtration
As we have in our ultimate guide to bushcraft, finding water and filtering it is one of the vital points of this experience. For this, the possession of a hiking water bottle is essential, but not only.
Regarding bushcraft, you will also need to have on you a means of filtering and purifying the water you find along the way. To understand everything about portable water purifiers, we refer you to our dedicated article. If not, here are some water management-related gear you might need when bushcrafting:
Hiking bottle: it can be made of plastic, stainless steel or aluminum. For this one, you will find several volumes of capacity, from 50 cl to 1.5 l generally.
Filter bottle: this is a bottle with a filter. It can be very useful for bushcraft for a few days but becomes problematic for longer durations because the filter must be replaced frequently.
Filter straw: The Lifestraw Personal straw is a straw with an internal filter system. You position it over a lake, river, or even standing water and suck it up. The water passes through the filter and comes out of your mouth free of bacteria, protozoa, and other pollutants.
Water purification tablets: often used when traveling in remote areas of the world, water purification tablets are immersed directly in the bottle. Be careful, they do not remove pollutants, so remember to filter it before purifying it!
Tools to Take
Tools should help you perform all bushcraft tasks. If possible, they should be strong and versatile. Among the essentials is always the famous Swiss army knife! Also consider a survival or bushcraft knife, which will help you cut ropes, and rods but also carve whatever you want.
Larger, the machete and the manual saw are the two most popular tools for bushcraft enthusiasts.
Don't forget to bring a headlamp either with you because they are equipped with very great battery life and waterproofness to any test.
Finally, to build your shelter, tie knots or connect two objects together, the bushcraft paracord must also be put in your survival backpack. Due to being available in many lengths and diameters of thickness, it will be of great use to you if you do not know how to make ropes yourself with what you find in a forest!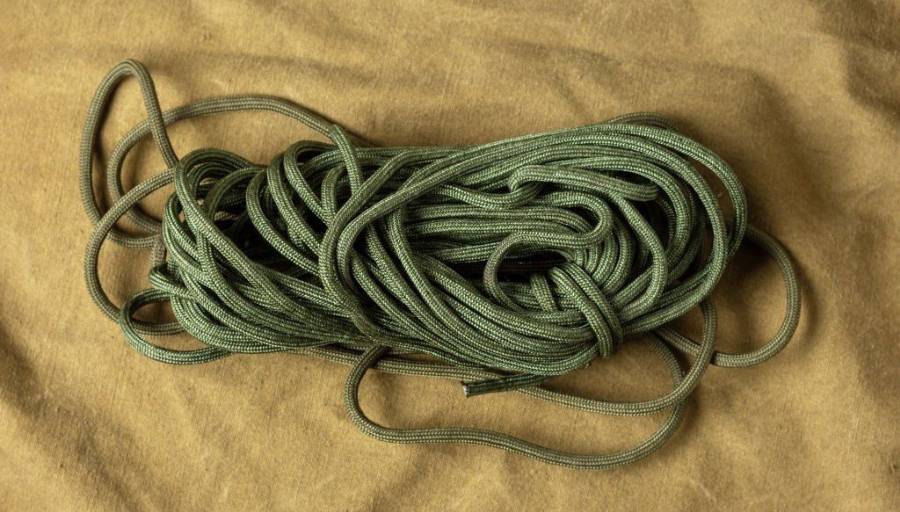 Health and Safety
Because you will be far from any rescue center and perhaps even alone during the bushcraft experience, you will need to bring safety and medical equipment.
Here are the essentials:
A first aid kit: available in all pharmacies, it contains everything you might need to treat minor injuries: bandages of all widths, disinfectant, and even tweezers!
A survival whistle: always have it on you! It will allow you to alert passers-by if you find yourself in a distressing situation. Note that some firesteels have a "built-in emergency whistle" option.
A survival blanket: When you are surprised by freezing cold and you are at risk of falling into hypothermia, the survival blanket may be able to save your life.
A GPS beacon: if you want an object to reassure you, the GPS beacon will be one of them. It indicates your position with an accuracy of 1 meter for the most precise. Some models have a call-for-help feature, alerting authorities to a possible problem.
Bushcraft Equipment: How to Choose
Now that we have seen the 6 categories of material to take away for bushcraft, it is time to see what criteria to use in order to make your choice on this or that object.
Let's take a look at the most important selection criteria together:
Their versatility: To gain in lightness and practicality, you must choose versatile tools in the first place. For example, firesteels with a compass, lamp, and can opener are better than a simple firesteel. Tarps have the same logic since these tarps can be hung above a hammock or placed on the ground. Note that it is better to have a 5-in-1 item rather than 5 different items!
Their lifespan/strength: Tools such as manual saws, survival knives or Swiss Army knives do not all use the same quality of steel. Some models therefore wear out more quickly than others or see their effectiveness decrease over the months.
Their practicality/ease of use: Prefer simple objects to use, which require no prior knowledge, or almost. Not only will you save time to master them, but you will also gain efficiency in the field.
Conclusion
Bushcraft equipment can be divided into 6 distinct categories: clothing, rest, food, water and its filtration, work tools and health/safety. The set (initially stored in your survival backpack) will be essential for you throughout the experience in the forest. The bushcraft gear you choose (from kitchen kit to survival knife, paracord and headlamp) should cover all your needs.
To select the gear, you will have to follow the 3 essential criteria which are versatility, lifespan, and ease of use. In any case, don't forget that this is your first experience in the field will guide you in your preferences. It's the first night spent in the forest that will show you what tools or equipment you lack.
So, ready to get started?