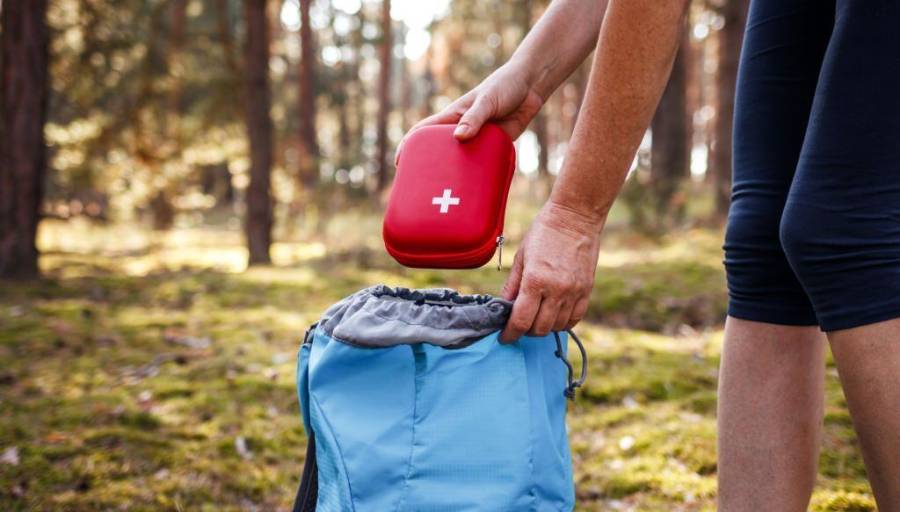 When you hike or practice an outdoor activity with an ultralight backpack, you want to reduce the weight of your load as much as possible so that you can gain freedom and range of motion. However, it is imperative that you never reduce your equipment at the expense of your own safety.
Whether you are an amateur or experienced hiker, one of the essential items to keep in your bag is the first aid kit (also called safety kit). The content of which can be adjusted according to your activities. This first aid kit can be supplemented with additional hiking or camping equipment.
If you are looking for the best first aid kits for hiking, that are adapted to the practice of the outdoors and whose item remains flexible, here is our selection of products to consider:
1. EVERLIT (250 Pieces) Survival First Aid Kit
Specifications:
Number of elements: 250
Weight: 1.9 pounds
Dimensions: 8 x 6.5 x 5 in.
Pros
Molle compatible
Water-Resistant
Durable and portable
Large gauze pads
This kit produced by Elikliv is the complete first aid kit par excellence. You can use it to cover a fairly wide area, from home to survivalism through school, travel, camping, and of course hiking. Besides the kit, the package includes 239 medical items and 11 survival supplies suitable for various emergency situations.
With 8 x 6.5 x 5 inches in dimensions, this portable pencil case is also waterproof. The Elikliv first aid kit for hiking can easily find its place both in your backpack and attached to your belt. It also has several pockets, a connection loop and nylon straps, which are a guarantee of its quality.
---
2. Surviveware Comprehensive Premium First Aid
Specifications:
Number of elements: 100
Weight: 1 pound
Dimensions: 7.5 x 6 x 3.5 in.
Pros
Portable and functional
Water and rip resistant
Designed by adventurers for adventurers
Quality zippers and organized compartments
Cons
No instructions on tourniquet
Whistle and the pair of gloves are small
This comprehensive emergency kit from Surviveware is water-resistant and rip-resistant. It is dedicated to outdoor care. And with a total weight of 1 pound, this kit consists of 100 pieces to administer first aid.
The package includes a triangular bandage and another anti-adhesive, a blanket, a cooling sticker, antibiotics, a dressing pad, alcohol swabs, a medical tape, a whistle, a band-aid, an elastic BPT bandage, scissors, a TPE tourniquet, a burn cream, a paperclip and cotton swab, a balm, a disposable mask, and more.
The organized inner compartments make it easy to find what you need in case of an emergency. Everything is contained in a bag measuring 7.5 x 6 x 3.5 in. The manufacturer even delivered instructions with the kit.
---
3. HART Outdoor Best First Aid Kit for Day Hiking
Specifications:
Number of elements: /
Weight: 4 oz
Dimensions: 5.5 x 4.5 x 1 in.
Pros
Quick Guide
Roomy pockets with hook-and-loop closures
Gauze products are thick and absorbent
With more than the emergency kits you need for a hike, this kit is a complete accessory. HART Outdoor first aid kit comes with Adhesive bandages including 2 butterfly closures, two 3 x 3/4 in. strips, two 3 x 1 in. strips, 2 fingertip bandages, 2 knuckle bandages, medical tape, safety pins, cotton swabs, tweezers and hemostats, alcohol swabs, povidone-iodine, cotton iodophor, non-woven positioning tape, and more.
Also, the bag is resistant to dirt, sweat, and water while cushioning and protecting minor wounds. It is made of Polyester/PEVA. And with a compact and portable design, this model measures only 5.5 x 4.5 x 1 in. and comes with instructions to allow everyone great ease of use.
---
4. All Health First Aid Kit for All Purpose
Specifications:
Number of elements: 100
Weight: 0.53 pounds
Dimensions: 9.7 x 7.5 x 3 in.
Pros
Ideal for all adventures
Heavy-duty and compact case
Includes hydrocortisone cream and triple antibiotic ointment
Cons
Basic scratch patch kit
Very slim assortment of gauze
Designed by the All Health team, this first aid kit contains 100 items, including several survival tools for the pros. The case is made of durable but lightweight plastic, which expends its resistance to water and lifetime.
Besides this, this first aid kit has more compartments that can meet your specific requirements. Note that the All Health first aid kit is very popular for its lightness. It weighs only 0.53 pounds in total, which is why you can put it in your backpack or pocket without it taking up too much space.
In terms of its items, this kit includes a wide range of equipment that you can use for small wounds and minimize the risks for large wounds. All Health first aid kit also includes hydrocortisone cream and triple antibiotic ointment to help you prevent infection and treat minor injuries. So we're fairly confident you're getting the right first aid kit for your next hike.
---
5. MICHELIN 009531 Leisure FIRST Aid Kit
Specifications:
Number of elements: 44
Weight: 260 g
Dimensions: 7.1 x 5.3 x 2.5 in.
Pros
Zipped shockproof pouch format
Lightweight and easy to carry
Well compartmentalized
Cons
Quite bulky
More suitable for motorists (format and content)
Michelin offers a wide range of products dedicated to hiking: guides, maps, books, etc. However, this key player in tourism in the broad sense also sells practical accessories like this first aid kit.
This first aid kit is intended for hiking (its rectangular format is intended for a glove box or door storage). It is however possible to take it on vacation or during outdoor activities because it has enough space.
Indeed, its dimensions make it a rather bulky kit but this aspect is counterbalanced by the presence of many elements all well organized in dedicated compartments. With a total of 44 items, Michelin first aid kit has all essentials: bandages, dressings, gloves, disinfectant, safety pins, scissors, tick puller, survival blanket, etc.
---
6. Active Era Portable First Aid Kit – All-Purpose
Specifications:
Number of elements: 260
Weight: 2.4 pounds
Dimensions: 9.5 x 7 x 3.5 in.
Pros
Very large number of elements
Perfect for camping, hiking, home
Available in two sizes
Accessible
Cons
Very bulky (even for the small size model)
Probably too many elements for hiking use
Active Era offers a first aid kit available in two formats. The smallest (presented here) is very complete with no less than 260 items. In the bag, you will find dressings, sterile eye pads, adhesive plasters, bandages, scissors, tweezers, a survival blanket, etc. All these elements are easy to access thanks to the many compartments that make up this robust and water-resistant care kit.
Still, its bulky size and heavy weight will make it a great first aid kit to take on vacation, hiking camping, or in an automobile. However, it's likely to be too bulky if you want to go hiking with minimal gear. But you can minimize the item for short hiking trips.
---
7. Amazon Basic Care Ultralight First Aid Kit
Specifications:
Number of elements: 54
Weight: Not Specified
Dimensions: 6.2 x 4.6 x 2.6 in.
Pros
Accessible kit
Convenient compact size
hiking friendly design
Complete and lightweight
Cons
More complete options exist (but are not always more useful)
Amazon markets its own first aid kit which has many advantages, starting with its reduced format. Indeed, its dimensions make it a very easy first aid kit to take with you in all your activities, without putting a strain on the weight of your equipment or its storage.
Moreover, its dimensions do not mean that it will overlook the essential elements of a good first aid kit. Thus, you will find in this kit 30 plasters, 5 cotton strips, 6 swabs of sterile gauze, 1 bandage, 5 disinfectant wipes, 1 non-woven cloth roll, 1 metallic scissor, 1 metallic tweezer, 2 bandage clips, and more, etc.
Besides this, this Amazon Basic kit has the good taste of being accessible: an essential product!
---
8. Lifeline (121 Pieces) First Aid Emergency Kit
Specifications:
Number of elements: 121
Weight: 1.34 pounds
Dimensions: 10 x 3 x 5.5 in.
Pros
Easy to carry: carabiners, clips, belt loops, etc.
Hard shell foam carry case
Easy to Store
Cheap price
Cons
The bandages are cheap
Most gear comes in knock-off style
Lifeline offers a compact and practical first aid kit. Also presenting reduced dimensions (like the Amazon Basic Care kit), this kit has a good idea of ​​integrating solutions facilitating its transport. It is small and compact, so you can easily carry it for hiking. Indeed, it is equipped with carabiners and a high-quality main zipper. Also, its water-repellent coating will allow you to carry it outside the hiking bag using its carabiner.
Its practical design doesn't overshadow its content. You will find dressings, sterile bandages, gloves, an emergency blanket, a pair of scissors, a manual explaining the actions to be taken in the event of an accident, etc. However, this is not a complete waterproof kit.
---
How to Choose the Best First Aid Kits for Hiking?
Carrying a rigid and bulky first aid kit with you is certainly not the best way to prepare for possible accidents while hiking. On the contrary, acquiring experience, technical knowledge, and training in life-saving gestures will allow you to feel more at ease and you will gain reactivity in the event of a problem.
On a personal note, when I started the hike, I always carried a first aid kit in a large plastic box, which had a lot of items I didn't need and made my load considerably heavier. Little by little, I became familiar with the good techniques to adopt in the event of an accident and I learned to put together my own care kit with elements that I am sure I can use and that will be useful to me in my outdoor practice.
First aid kits are practical for starting your own kit that you will lighten yourself later. Indeed, take care to adjust the content of your first aid kit according to your real needs and your outdoor sports practice. Remove everything you won't basically need, add your medications, and readjust the items of the kit to make it as ergonomic as possible.
It is also possible to start your own kit from elements already in your possession (bandages, care, ointments, etc.), but also with the help of small plastic containers that will help you to compartmentalize your equipment. This solution will probably be less expensive in absolute terms (although first aid kits are on the whole very affordable), but you will probably lose ergonomics.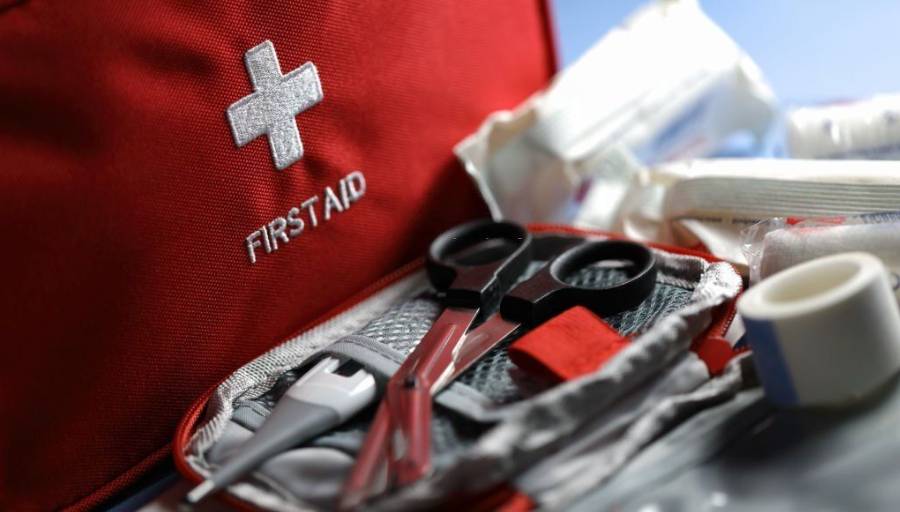 What Are the Essential Elements of a First Aid Kit for Hiking?
As we mentioned in the introduction, an "ideal" first aid kit will depend on your habits, your sports practice, your ability, and your ease in using first aid equipment. However, we can consider that certain elements remain essential components of a real "good" first aid kit that can be classified into different categories as follows:
To Prevent Minor Risks and Inconveniences:
A washing and disinfecting solution for the hands: biodegradable soap or hydroalcoholic gel. To avoid any risk of infection or the spread of germs, it is recommended to wash your hands before meals, and of course after each "toilet" break. Biodegradable soap is highly recommended outdoors to avoid polluting waterways. The hydroalcoholic gel can be used without requiring a water source.
Latex gloves: to avoid any risk of infection through contact with bodily fluids, a pair of latex gloves is recommended.
Sun protection: sunscreen and a lip balm offering UV protection will allow you to progress at your own pace without fear of sunburn. It may be optional depending on your hiking destination and the season in which you will practice your hike.
Dressings, moleskin and protections to avoid blisters: so that you can avoid blisters and overheat of the feet as much as possible which could affect your progress, it is recommended to take these elements with you in your first aid kit.
A sports lotion or balm: to avoid overheating and chapping of the skin (it can also be optional depending on the intensity of your sports practice).
To Prevent Injuries and Illnesses:
Besides the "basic" items of a first aid kit, you can pack medications that will relieve more disabling discomforts or symptoms of physical injuries.
Painkillers and/or anti-inflammatories: to reduce the pain of an injury or edema.
Anti-diarrheals: in order to relieve stomach aches, limit dehydration linked to diarrhea, and be able to continue your journey more serenely (obviously, if the symptoms persist, consult a doctor as soon as possible).
Antiallergics: if you are prone to allergies, an antiallergic is essential to control a severe allergic reaction.
Any drug treatment prescribed by your doctor to live with a particular condition or pathology: In the context of your daily life, if you benefit from a particular treatment, remember to take it with you when you hike.
An antibiotic cream: so that you can facilitate the healing of accidental cuts and wounds, antibiotic cream can be used with bandages.
Bandages to Heal Your Wounds
To bandage wounds or sprains and to stop small bleeding due to cuts or wounds, it is essential to have bandages and plasters at hand.
Bandages of different sizes: for different sizes of cuts. They can be water and sweat resistant for durability.
Butterfly adhesive strips: these will be useful for closing deeper wounds.
Sterile / gauze compresses: to disinfect larger wounds and stop bleeding, these sterile compresses will be essential.
Adhesive bandages or medical tape: to hold a bandage or dressing in place.
A strapping-type bandage: to consolidate a joint in the event of a sprain or joint injury.
Sometimes Very Useful Additional Material
To help you execute your gestures more quickly and more precisely, or simply to gain more thoroughness, you will need very practical "tools":
Tweezers: to remove splinters or any foreign body lodged in a wound.
A pair of medical scissors: to cut a bandage quickly.
A safety pin: to set up a bandage or maintain a joint in a sling.
A tick tweezer: to remove them completely and safely.
A Care Kit That Suits You
The above items will help you form the basis of a good first aid kit without overloading you with items that could weigh down your hiking gear. Obviously, depending on your real needs, your sports practice, and the latitudes under which you will evolve for your hike (season, weather, topology, the dangerousness of the fauna and flora, etc.), the contents of your kit may vary noticeably.
To ensure that it is always adapted to your course, we also advise you to recalibrate your kit between each use. Also, be sure to check the quantity and expiry date of your medicines and bandages. And if necessary, you should replace them.
Finally, always keep in mind that your first aid kit is absolutely essential. Indeed, it happens that we are too far-sighted in terms of equipment by asking questions relating to the content of comfort (for example "what if I bring an extra raincoat? "), but there is no way to be negligent for your first aid kit. On the other hand, there is no need to burden yourself with unreasonable care equipment that will be not useful to you.
As you will have understood, putting together a first aid kit will be an obligatory and above all personal step: depending on your real needs and your sports practice, the item of your first aid kit will vary but will be based on the same fundamentals.
Rest assured, there is no "bad choice possible", but only a few grams to shed. To do this, experience hiker takes precedence: with each new hike, you will be able to accurately gauge your needs and you can take the bare essentials while leaving the superfluous at home!
---
These Guides Might Interest You…