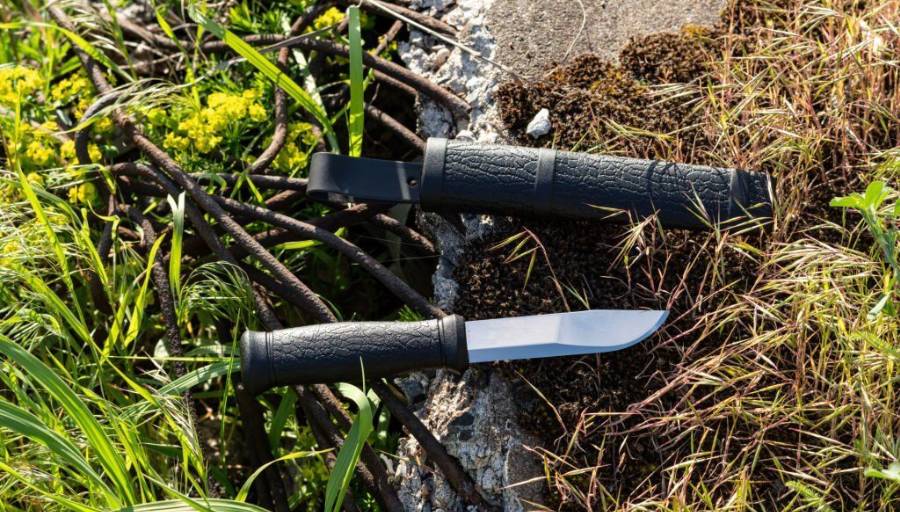 Carrying the best bushcraft knives can indeed make your life easier and literally save your life in a dire situation. Whether preparing firewood, cutting dense foliage, building shelter, designing traps for small game, or even using it as a weapon in an emergency, this is a must-have.
While there is no doubt that a good bushcraft knife is an absolute necessity for any adventurer, you still need to be able to sort through the multitude of models available on the market.
Remember that your choice of bushcraft knife must take into account the place where you will venture, the conditions which will prevail there, as well as the probable tasks.
Looking for the best bushcraft knife for your next adventure?
You are in the right place. After several days of research, we are able to select the top 10 best bushcraft knives that should definitely be considered. We also include a complete buying guide in which you will find all the useful information to make the best purchase.
Best Bushcraft Knives in 2023
If we had to choose only one model among our favorites, it would be the Morakniv Kansbol: it is made of high quality stainless steel blade and guarantees clean cuts.
On the other hand, if you're looking for an affordable solution the Morakniv Companion is one of the best options available to you. Thanks to its ergonomic high-friction handle, it adapts to all kinds of activities and tasks and benefits from a comfortable grip.
1. Morakniv Kansbol Fixed Bushcraft Knife
Specifications:
Overall length: 224mm
Blade length: 109mm
Material: stainless steel Blade
Thickness: 2.4mm
Pros
High quality stainless steel blade
Very good corrosion resistance
Easy to maintain and keep clean
Durable polyamide handle with exceptional grip
Very practical case
Cons
A little expensive, but the price is amply justified
Morakniv's reputation is well established, and if our top 10 opens on one of its products, it is certainly not due to chance. For the design of the blade of this bushcraft knife, the brand used high quality stainless steel. This is certainly the most interesting thing about the Mora Kansbol.
In that, the knife is not only resistant to corrosion but also effective for many tasks. Also, you wouldn't have to invest a lot of time in maintaining it and keeping the blade clean. The versatility of the Morakniv Kansbol is also one of the reasons we recommend it. From carving to food processing, anything is possible.
If you are concerned about the physical characteristics of its blade, let us tell you that everything has been provided so that you can easily undertake different tasks with the assurance of absolutely clean cuts. And with a size of 109, the blade has a thickness that allows it to lend itself to tasks like peeling the skin, etc.
Whether as a simple garden knife or for hiking, the Morakniv Kansbol will be a reliable companion. Moreover, it is appreciated for its handle in durable polyamide which sports a pattern studied to ensure a perfect grip.
Finally, this bushcraft knife comes with a very practical multi-Mount tactical case. It is also lightweight, making transporting the Mora Kansbol very easy.
---
2. Morakniv Companion Heavy-Duty Outdoor Knife
Specifications:
Overall Length: 238mm
Blade Length: 104mm Blade
Material: Stainless Steel Blade
Thickness: 2.5mm
Pros
Easy to clean and corrosion resistant
Perfect and comfortable grip
Ergonomic handle with high friction
Good blade size and thickness
Easy to carry with included case and belt clip
Our favorite number 2 bears the signature of Morakniv. This Swedish brand is one of the benchmarks on the market. And it is natural that several of its products find their way into this top 10 of the best bushcraft knives. This model is well known for its wide variety of carving, crafting, construction, and fishing knives.
The Morakniv Companion that we recommend here has multiple exceptional features, including the fire starter built into the handle. First of all, its size (104 mm) and thickness (2.5 mm) are sufficient for all kinds of activities and tasks. The blade is made of stainless steel and is therefore resistant to corrosion.
Whether you are an adventurer or a professional (hunter, forester, fisherman…), the Morakniv Companion will correctly meet all your needs. And since it's lightweight, you won't feel like your bag has increased in weight with it. Moreover, it is not difficult to maintain.
The polymer case (coupled with the belt equipped with a system of buttons) allows it to be easily transported anywhere. Moreover, if this bushcraft knife is in our top 10, it is also because of the characteristics of the ergonomic handle with high friction, which offers a perfect and comfortable grip.
---
3. Morakniv Outdoor 2000 Fixed Blade Knife
Specifications:
Overall length: 224mm
Blade length: 109mm Blade
Material: stainless steel Blade
Thickness: 2.5mm
Pros
Mixed grind (Scandinavian and flat) for great versatility
Handles very well when cutting
Very good value for the money
Lifetime warranty
Cons
Rounded back: not good for starting a fire
Not designed for heavy duty
Our favorite number 3 is aimed at hunters and anglers. This model also has a corrosion-resistant stainless steel blade. Along with its contoured rubberized handle, it is a usable bushcraft knife in wet conditions.
Let's return to the blade, it measures 109 mm and has a mixed grind: Scandinavian (for slicing) and flat towards the tip (for more delicate work). You will be pleasantly surprised that a bushcraft knife of this price is so effective at cutting.
The Morakniv 2000 handles push cuts very well and move effortlessly through the wood. Even with harder materials, the sharpness and ease of cutting are remarkable. This means that this bushcraft knife is clearly not designed for heavy-duty work.
Whether you are right-handed or left-handed, its grip is very comfortable. The plastic handle offers good ergonomics and can lend itself to long sessions of use. As for the included polymer case, it is very sturdy and equipped with a leather loop for attaching to the belt.
---
4. Morakniv Craftline Robust Bushcraft Knife
Specifications:
Overall Length: 231mm
Blade Length: 109mm Blade
Material: Carbon Steel Blade
Thickness: 2.3mm
Pros
Designed with ergonomic rubber and non-slip grip
High carbon steel blade
Very durable and easy to sharpen
Very affordable price
Cons
May rust, but the special DLC coating delays this
Here is a knife that multiplies the reasons to be considered one of the best bushcraft knives on the market. The Morakniv Robust meets versatile needs and therefore has a blade with a Scandinavian grind. It is made of carbon steel, which makes it extremely durable.
This model has been hardened to handle most of the toughest jobs in the woods. The Morakniv Robust is specially designed to withstand massive force and pressure.
Even though carbon steel does not have non-corrosive properties, this survival knife can count on a special DLC coating to prevent it from rusting. The blade is also fully coated even on the edges. So whatever the weather, you can use it worry-free.
Another feature that we like about the Morakniv Robust is its rubber handle with a very ergonomic design that offers high friction. It is comfortable to use. It also has additional features such as a fire starter, which can be very practical whatever the outdoor condition. You can indeed create sparks even when soaked.
---
5. KA-BAR Becker BK2 Campanion Fixed Knife
Specifications:
Overall length: 348mm
Blade length: 133mm Blade
Material: Carbon steel Blade
Thickness: NC
Pros
Ideal handle for men and women
Lightweight and easy to carry
Thick blade ensures good durability
Comes with a hard shell nylon sheath
If you are on a tight budget, the KA-BAR Becker BK2 is an option you should consider very seriously. This Bushcraft knife has a carbon steel blade whose characteristics promote very good versatility.
With a lightweight design, it is easy to carry. Above all, it is a handy knife that you can use for everyday tasks as well as camping. Given that its blade is a bit thick, it's not the best option for chopping or slicing, tasks ably reserved for the thinnest blades. However, this does not prevent it from managing it quite well.
If the design of the blade of the KA-BAR Becker BK2 Companion implies a compromise on versatility, this Bushcraft knife makes up for it with its easy grip. It is equipped with a rubberized handle which adheres very well and guarantees the precision of a good invoice.
The design is really eye-catching and uncomplicated. And its robust construction makes it very straightforward to use. However, the grinds on the blade are different in width on the left and right sides, which means that the blade is not symmetrical on the left and right sides.
---
6. Morakniv Carbon Steel Bushcraft Knife
Specifications:
Overall length: 232mm
Blade length: 109mm Blade
Material: stainless steel Blade
Thickness: 3.2mm
Pros
Solid and durable construction
Thick handle for a comfortable grip
Black coating that protects against corrosion
Rope cutting serration on the blade
The latest Morakniv product from our top 10 is particularly impressive with its robustness. The reason is that the Bushcraft SRT is equipped with a 3.2 mm thick blade. And with a size of 109 mm length, the blade is made of stainless steel and has a DLC anti-corrosion treatment ensuring great durability.
However, the main highlight of the blade of this Bushcraft knife is that it is half-serrated which makes it perfect for cutting rope and fiber.
Another notable feature is the black rubber grip, which is durable and water-resistant unlike Micarta or other popular grip materials. As well as being great in the hand, the Morakniv Bushcraft SRT inspires confidence with its quality. And it is a very versatile option for moderate tasks in the field.
The back of the blade has also been specially ground for use with a fire starter (not included). For carving, scraping, food preparation and fire, it's a lovingly designed and beautifully functional tool.
---
7. Perkin Custom Handmade Damascus Knife
Specifications:
Overall length: 213mm
Blade length: 116.84mm Blade
Material: stainless steel Blade
Thickness: 3.5mm
Pros
Handle designed to ensure a firm hold
Excellent build quality
Easy to sharpen and hold
Full tang design
Cons
The medium-quality leather case
Our next model with this superb handmade bushcraft knife offers everything you would expect from a model in its category and much more. Everything about the Perkin Knives Damas exudes quality: from the steel blade to the beautifully finished handle. The price is also accessible to all people.
We take our hats off to the brand for the attention to detail with which this knife is designed, which almost makes you forget that it is a handcrafted model. The Perkin Damascus bushcraft knife features a 90-degree edge on the spine which is great for rubbing a fire flint into to start emergency fires.
Compared to our other favorites, you may need some time to get used to the shape of the Knives Damas, but in the end, its many great possibilities will help you to make your outdoor adventures enjoyable. air.
As soon as it comes out of its box, you immediately realize its robustness. This bushcraft knife seems to be made to last over time, and the many positive opinions going in this direction confirm it.
Its handle also offers excellent blade and tip control. You can therefore be sure to carry out various tasks with perfect mastery: sculpture, digging, starting a fire, etc.
---
8. Fallkniven F1PRO10 Thermorun Handle Knife
Specifications:
Overall length: 190.5mm
Blade length: 76.2mm Blade
Material: stainless steel Blade
Thickness: 3.2mm
Pros
Carving prowess
Handle comfort
Excellent Reputation
Great price
Cons
Harder to sharpen
Mediocre scabbard
For years, the Fallkniven F1 has been considered one of the best choices among bushcraft knives. Although the price of some handmade blades has gone up, the efficiency of the Fallkniven factory today makes the F1 something of a bargain. And if you're looking for a bushcraft knife for lifetime use, you should consider this model.
The black Thermorun handle swells to fit the palm of the hand, and the Zytel scabbard is serviceable if a bit basic. But the F1's selling point has always been its magnificent blade.
Convex grinding is also a special feature to provide a different experience from your typical Scandi or saber. Its bevel curves down towards the edge (almost like an axe). This generally results in long edge retention and more overall efficiency than a standard angular sharpening.
Sharpening these weapons can be a bit of a different experience, but the performance boost is undeniable. Also, if you're looking for something with the pedigree of a Morakniv but with an upgrade in materials, construction and price, you'll love Fallkniven.
---
9. Gerber Gear 30-001655 Principle Fixed Blade Knife
Specifications:
Overall length: 232mm
Blade length: 101.6mm Blade
Material: stainless steel Blade
Thickness: 3mm
Pros
A multitude of transportation options
Small and lightweight
Ergonomic design
Versatile blade
If you're looking for a modern, minimalist take on the classic bushcraft knife, look no further than the Gerber Principle. This scaled-down knife features a 101.6mm blade, sharpened to what the manufacturer calls "Scandinavian zero-degree sharpness".
The 420HC steel blade is covered with two over-molded rubber grips with three evenly spaced holes along the handle. They are emphasized as "anchors", but we see them as a smart way to cut weight. The total weight of just 100g makes it one of the lightest bushcraft knives on this list.
But the selling point here is the Principle's wealth of transport options. Its triple-mount holdall can be used in multiple carry configurations. So it will fit almost any belt and bag in your collection. The shape of the blade is also versatile. Its flat-to-tummy balance is suitable for a variety of camp tasks (from food prep to woodworking).
However, there are a few issues. While the Principle is eminently portable, it's also relatively small. Users with large hands need to try it before buying. And if you're looking for a tool to use for hours on end, a slightly larger tool would be ideal. But as a medium-duty or backup knife, the Principle is perfectly at home in the woods.
---
10. Cold Steel 49LCK Srk SK-5 Bushcraft Knife
Specifications:
Overall length: 330mm
Blade length: 96mm Blade
Material: SK-5 Steel Blade
Thickness: 3mm
Pros
Handle comfort
Includes knife sheath
Very sharp
Looks very nice
Our top 10 closes with this superb handmade bushcraft knife which offers everything you need for a bushcraft experience. If you're looking for a complete set at a reasonable price, the Cold Steel 49LCK Srk is hard to beat. The knife itself comes with a sheath. And you can purchase a fire starter and sharpening stone separately.
The Cold Steel 49LCK Srk has long been considered the paragon of the Cold Steel line. The 96mm SK-5 steel blade is ideal for most types of outdoor activities. And the black anti-corrosion coating helps prevent it from rusting. It also has a nice finish with no dings or tool marks.
The Survival's high-friction rubber is closer to what's found on the brand's Companion line, which is more "comfy couch" and less "waiting room chair" for your fingers. If you can stomach the black-on-black aesthetic, this is a great deal for a complete bushcraft knife.
However, there is no "clip" on the back of the sheath. You will find a snap on the backside of the belt loop, which allows you to put the sheath on and remove it from your belt without removing your belt.
---
The Different Types of Bushcraft Knives
Whether voluntary or imposed, bushcraft knives are utility knives and real basic tools for survival. A good bushcraft knife is an absolute necessity for bushcrafters and can easily replace several heavy and bulky tools.
However, different types of bushcraft knives exist for different types of uses. So depending on your needs, make sure to focus on certain design factors.
Woodworking
Also called "woodcraft", these knives are useful for woodworking for the manufacture of a shelter or tools (for example, the manufacture of a trap).
To choose a knife suitable for woodworking, we will favor knives with a solid blade, but above all with an ergonomic handle (handle with many curves). You have to take special care of this because a flat and high handle can become irritating if you use it for a long time.
Survival
When deciding on a bushcraft knife suitable for survival tasks, the most important thing is to choose a knife whose blade extends all the way through the knife (otherwise called a "full-tang" blade). This architecture allows a sufficiently solid construction of the knife to use in the context of stirring.
Food Preparation and Collection
When you want to acquire a knife intended for the collection and preparation of food, you will prefer a knife with a thin blade which will make it easier to slice fruit and other foods.
In order to offer greater versatility, we will also choose a knife with a long blade (which will be more suitable for lifting fish fillets for example) and easy to clean (without edges or slots in which food could get stuck).
Make a Fire
During your adventures in the woods, you will necessarily need to make a fire. And in this context, your bushcraft knife must have a protruding back of the blade to rub a fire stone on it. Its construction should also be strong enough to stick kindling.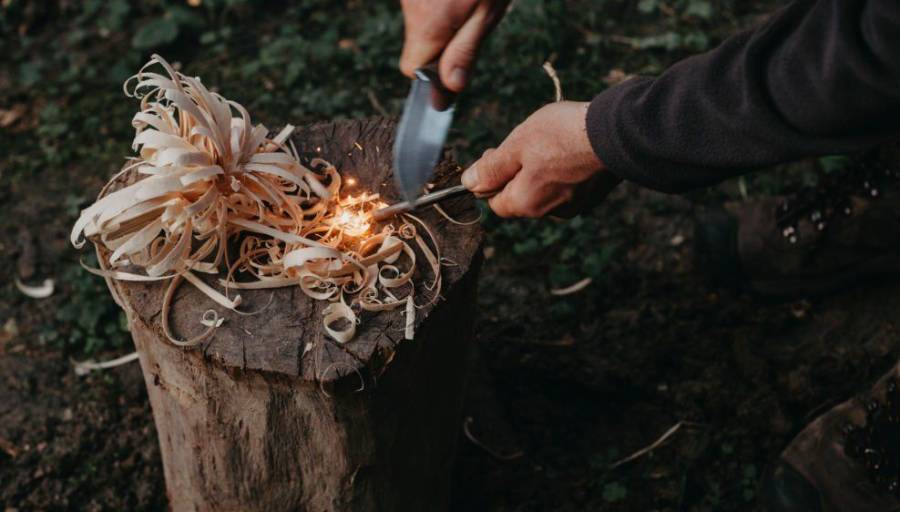 Best Bushcraft Knife Buyer's Guide
After determining the environment and the tasks in which the bushcraft knife will be used, other important criteria are to be taken into consideration.
Blade Size
Carrying a bushcraft knife with an oversized blade will be impractical. A very long knife will not be suitable for detailed tasks because of its bulkiness. In a survival situation, an ax or machete will be a good complement to a bushcraft knife.
If you go hiking or classic trekking, a versatile bushcraft knife will be the ideal ally for all situations. A bushcraft knife with a blade size between 89mm and 152mm will be sufficient for most tasks.
The Shape and Design of the Blade
A good bushcraft knife should have a long, flat blade that curves to a point at its end (centered about the middle of the width of its handle). To guarantee good versatility, the end must neither be excessively pointed nor excessively rounded.
Thanks to this type of design, the bushcraft knife can lend itself to meticulous tasks but also be used to drill surfaces or dig them more easily.
Since the point of a knife is very stressed, it will be necessary to choose a knife with a solid design: it must be strong enough to be used in all circumstances. At the same time, its blade must be thin and sharp to be useful and effective.
The Different Types of Blade Grind
Several types of grinds exist for the blades. The grind refers to both the part of the blade that tapers to form the edge of the blade (its cutting edge) as well as the way the blade tapers in general. This parameter determines the fineness of the blade just behind its edge. You will be able to deduce the quality of the edge of your knife and the harshness of the tasks it is capable of performing.
Scandinavian Grind
This is the traditional blade type of bushcraft knife. The blade extends in all its thickness to the cutting edge without deviation or change of angle. This type of blade grind has the advantage of being easy to sharpen and adapts very well to woodworking and carving.
On the other hand, the edge of the blade can be weak due to its relatively small bevel angle.
Flat Grind
More common than the Scandinavian grind (which keeps the thickness of the knife almost down to its edge), this type of grind is the most common. The flat grind allows a very fine cutting edge which makes the knife agile and handy.
On the other hand, its thinness makes it more fragile to lateral forces and breakage. It is also more difficult to sharpen (its thinness makes it difficult to hold flat and at the right angle on the whetstone).
The Convex or Domed Grind (Convex Grind)
It is a very solid grind that does not compromise on the edge. Its transition from wire to blade itself results in less friction and makes it a good tool for slicing and chopping.
On the other hand, it is difficult to sharpen and its cutting capacity is a little weak because the edge of the blade is not flat, but curved. This grind is rather used for blades with high mechanical stress.
Hollow Grind
This grind goes further than the flat grind by maximizing agility and its ability to slice. In order to obtain a finer edge than that of a flat grind, the sides of the hollow blade are dug (hence its name). This design allows it to be an amazing tool for slicing (it is highly recommended for skinning and cutting meat).
On the other hand, it is not very suitable for shelter because of its extremely fine cutting edge. This grind is rather used for blades with little mechanical stress but requires cutting quality and precision.
Chisel or Asymmetrical Grind (Chisel Grind)
This type of grind is only applied to one side of the blade making it not only very easy to sharpen but also very strong. The chisel grind is well suited to cutting branches.
On the other hand, it is not very versatile and many users are confused by its handling because of its unusual angle (on only one side of the blade). Moreover, this grind exists for right-handers and left-handers.
Good to know: There are other grinds besides the aforementioned ones, but they may be ill-suited to escapades in the woods. The hollow grind, for example, makes an excellent skinning and capping knife but is usually too thin and long to withstand the demands of chopping, carving and stirring.
The Blade Material
The blade material is the most critical point of any bushcraft knife. If the blade material is weak or of poor quality, you should expect regular disappointments.
On the market, there are blades made of stainless steel, but also of steel-carbon alloy. The main advantage of stainless steel blades is their ability to not rust: they are therefore ideal for use in a humid environment. On the other hand, the more the steel of a blade is stainless, the more it will be flexible and fragile.
Carbon steel does not have this problem of brittleness as it does not contain chromium, which however makes it vulnerable to rust. When the blade is made of this material, it lends itself to heavy-duty tasks and has excellent sharp edges. Plus, the carbon steel blades are easy to sharpen.
As for the chrome blades, they are reasonably soft compared to their carbon steel and stainless steel counterparts. Bushcraft knives that have them are suitable for non-demanding outdoor tasks and tend to last longer due to the chrome's ability to resist corrosion.
The Material of the Shaft and Handle
Several materials are used for the handle design of bushcraft knives. And each type of handle has its pros and cons. So among other options, you can choose wood, which is the material traditionally used. Its durability is very good, but it is susceptible to mold and won't last as long as composite materials.
Besides this, we note micarta (a resin impregnated with cotton or paper) and G10 (super fiberglass) which are generally used for the manufacture of the handle of bushcraft knives. Rubber and firm plastic are other known alternatives to provide a firm grip and better grip.
For the rest, avoid materials such as bone or horn, which are prone to breakage or cracks.
Folding or One-Piece Bushcraft Knife
The choice between these two options can depend on several factors. One-piece (full-tang, non-folding) bushcraft knives are stronger because the force applied to the blade is distributed along the entire length of the knife. On the other hand, depending on the length of the knife itself, it may be less practical to carry.
If you don't want people to notice that you're carrying a knife around your waist, consider folding knives: they're more convenient to carry but less sturdy in design. That said, it will be necessary to be vigilant about the hinge mechanism which is its weak point. If it breaks, the knife will be unusable.
FAQs
What is a bushcraft knife used for?
From lighting a fire to woodworking and cutting food, the bushcraft knife is an extremely versatile ally that will accompany you in all your outdoor activities. It is the ideal companion for survival in the forest or in a hostile environment.
What is the best material for a knife?
Traditionally, bush knives are made from carbon steel. Although it can rust if not properly maintained, carbon steel is relatively strong and easy to resharpen with the simplest of tools. Modern stainless steels have gained traction and several companies make excellent bushcraft knives with increased rust resistance.
Whether carbon or stainless, the best knife for bushcraft tends to be slightly softer versions. They retain their sharpness for a reasonable length of time when used with natural materials such as wood. When they start to dull, the sharpness can be restored using a leather belt, whetstone, or even a flat stone.
Softer steels are less likely to break. You can resharpen a chipped or rolled edge, but not a broken edge.
What are the easiest bushcraft knives to sharpen?
Scandinavian-edged knives are the easiest to sharpen.
What is the ideal blade length for versatility in the tasks to be performed?
For the most common uses, a blade size between 89mm and 152mm will be versatile enough.
---
These guides might interest you…