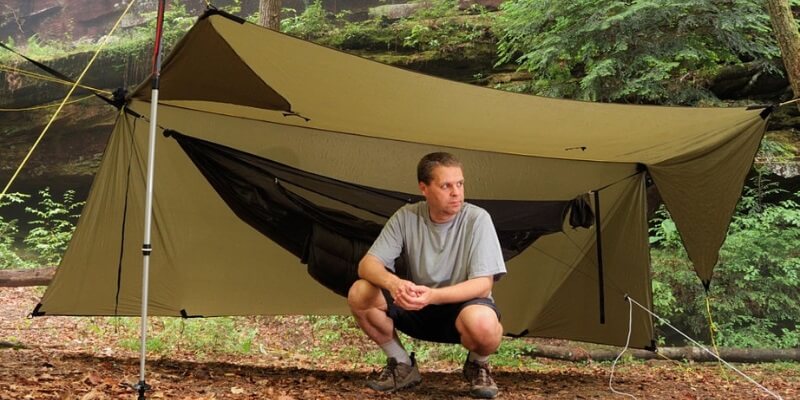 Dragging a heavy tent and all its accessories can really be painful for any hiker back! On the other side, switching from a tent to a backpacking tarp is a great way to reduce weight. They are simple in design and only require a handful of equipment to install them properly.
However, it's important that you make the right choice to avoid an uncomfortable night's sleep. But among all the backpacking tarps on the market, how to choose the best model at a reasonable.
Don't worry, we have worked more than 100 hours to select the 10 best hiking tarps for 2022. We have taken into consideration the price, quality, number and average reviews received and the reliability of the customer support.
Without further delay, let's see our ranking of the best backpacking tarps in 2022.
Best Backpacking Tarps Reviews 2022
Let's see in-depth…
Weight: 1.5 lbs. | Material: Diamond Ripstop | Size: 12 X 10 Feet | Heavy Rains: 100% Waterproof
Pros
Ultralight backpacking tarp
Ample space for any activity
Good coverage and ready to use
Block rain and UV rays protected
Looks very pleasant
Cons
Instructions are not clear
Grommets are sloppily placed
Rain Fly EVOLUTION backpacking tarp has everything you need to stay safe and dry instead of a tent. The 12 X 10 feet size makes every survival task easier under the tarp, even can cooking food. It weighs only 1.5 pounds which is actually lower than a hiking water bottle.
This backpacking tarp is made of heavy-duty, authentic Diamond Ripstop material with the highest quality 2000 PU waterproof rating, making it an ideal sunshade for camping and other outdoor adventures. Rain Fly EVOLUTION tarp is free from sun ray, snow or torrential rains and the fabric won't make as noise as blue poly tarp & if secured properly.
The 5-in-1 military-grade survival kit bracelet and compass make navigating in heavy rains easy. It also features WHISTLE that saves your voice and you can hear 10 times farther, scaring away all dangerous animals.
Rain Fly EVOLUTION backpacking tarp is also designed to keep you safe from high winds. However, the stakes are not long or stout enough to secure this fly. But for the price, the build quality of the fly itself as well as several of the kit components will impress you.
---
Weight: 4.4 lbs. | Material: Polyester | Size: 9.8 X 13.1 Feet  | Heavy Rains: 100% Waterproof
Pros
Easy set up
Built in high quality
Excellent choice for multi-purpose
Large size and adjustable poles
Plenty of cordage comes in the kit
Very cheap price
Cons
Included stakes could be better
If you are looking for a survival backpacking tarp, then don't look further. Tinkenken hammock rainfly is made of ripstop polyester with silver coating on the inner surface, which makes this tarp waterproof, sunscreen and weather resistant. All parts of the tarp are good and the outer edges will not be coming apart.
The pole is widely adjustable; you can adjust the poles as 2.9ft 4.4ft or 5.9ft for assembly. You just need to press the spring and push in. And for disassembly, just pull it. Tinkenken tent tarp is also lightweight (not ultralight) and compact.
This rainfly is made of a solid material and PU coating that definitely won't let any water through. The 9.8 x 13.1ft size is big enough to cover the entire hammock or tent to protect gear from bad weather, whether it is sun ray or heavy rain.
It is a complete package and includes a tarp kit with 2 poles 1 hammer 6 aluminum stakes and 6 nylon guy lines. You don't need anything to buy separately. Also, Tinkenken backpacking tarp has 8 metal grommets for easy setup. This Shelter tarp could be perfect for camping, backpacking hiking, traveling bushcraft or other outdoor activities.
---
3. Wise Owl Outfitters – Best Backpacking Rain Fly Tarp Under $50
Weight: 1.625 lbs. | Material: Nylon | Size: 11 x 9 Feet | Heavy Rains: 100% Waterproof
Pros
Extremely light
High-quality and ultra durable
Combined with anti-insect interior
Tight string adjustments
Works great in rainy weather
Cons
Size is a bit small
Packs a little bulky
We have a great experience with Wise Owl Outfitters because of their family-friendly customer service. Now all of their products seemed to be high quality, and the price is reasonable. This is a heavy-duty backpacking tarp under $50 that provides reliable foul-weather protection to keep campers and hammock sleepers happy and dry.
Owl Outfitters backpacking tarp built to last and protect you from rain to shine. There is plenty of coverage to protect you from the sun ray. This tent tarp is made with ripstop waterproof nylon, taped seams, and an impenetrable water barrier for cover against all unacceptable weather conditions.
Owl Outfitters hiking tarp equipped with aluminum tent stakes, tie lines, and cords that tighten at every corner, and you can set up like a breeze. However, this rain fly might cause problems for some users in the shape but you can choose different sizes to find the solution.
If you're a lightweight backpacker or more conscious of the weight you're carrying, then you would consider the Wise Owl Outfitters. No matter the occasion, you can use this tarp for hiking or camping or other adventure. It also comes with a convenient waterproof carrying bag.
---
4. Sanctuary SilTarp – Best Backpacking Tarp for Different Usage
Weight: 1.2 lbs. | Material: 30 denier rip-stop nylon | Size: 12 x 10 Feet | Heavy Rains: 100% Waterproof
Pros
Package include everything you need
Many shelter configurations
Waterproof and lightweight
Flexible to carry
Lifetime warranty
Cons
It held up to the wind but is noisy when it rustles.
The logo stamped on the tarp is backwards and crooked
Sanctuary Tarp Shelter is one of the lightest silnylon models on our list, thanks to its ultralight 30 denier rip-stop nylon. It has 60 feet of 1.5 mm reflective Dyneema guy line, six micro line-lok adjusters, and six aluminum Y-stakes that allow for a wide variety of configurations.
The 30 denier ripstop nylon also has silicon/PU dual-coating and fully taped seams, which provide up to 5,000 mm of hydro-static resistance, making it ideal for camping, picnic, hiking, and more vacations. We assure you that you can be sure you'll stay bone dry even in heavy rainy weather.
The 12 x 10-foot flat tarp weighs only 22 ounces, while the full kit is 27 ounces. The stakes and lines are also pretty compact. The included 9 x 5 x 5-inch stuff sack helps you organize your tarp perfectly after use.
The flat shape with 16 perimeter attachment loops and one center loop ensures unlimited flexibility. You can pitch the perfect shelter or hammock setup. Sanctuary versatile backpacking tarp also can for a ground shelter. Manufacturer also offers lifetime warranty.
---
5. OneTigris Bulwark – Best Backpacking Tarp for Camping
Weight: 2.4 lbs. | Material: 210T Polyester Taffeta | Size: 13 x 9.2 Feet | Heavy Rains: 100% Waterproof
Pros
Versatile and durable backpacking tarp
Portable and lightweight
Suitable to use around the year
Superb waterproof
Large space
Cons
Stuff sack is nice but a little small
There is no instruction
OneTigris is an all-Season lightweight hiking and camping Tarp. It is 100% waterproof and anti-UV. The inner space is large enough for 2-3 people with plenty of space to move around the tarp.
OneTigris Bulwark backpacking tarp made of 210T Polyester Taffeta with dual PU coating with heat taped seams that provides long-lasting protection and keep you completely dry.
You can set it up in different ways and gives you the most coverage. For example, you can use it as a hammock tarp, a tent fly, a groundsheet, a quick shelter, etc. With 19 reinforced webbing loops or grommets including 3 on the ridgeline, the quality of the tarp itself is phenomenal.
The waterproof rating is 2000mm, which makes it the perfect choice for hammock camping or as a bushcraft shelter. The practical coyote brown color ensures better blending in the wild. Because of its multiple tie points, you can configure this in many different ways.
OneTigris Bulwark Camping Tarp comes in a waterproof stuff sack for easy storage. It is certainly well designed, crafted and compact enough for group backpacking trips. Remember, if you don't fold the rainfly properly as you received it, it will not fit back into the stuff sack.
---
Weight: 2.0 lbs. | Material: Nylon | Size: 13 x 13 Feet | Heavy Rains: 100% Waterproof
Pros
Include extra set of stakes
Made of durable and lightweight materials
Shelter from all weather
Easy to set up
Cheap price
Cons
Doesn't have tie outs in two places
Very large size
WildVenture Rain Fly Tent Tarp comes from an ultralight backpacker's dream. However, it is waterproof and total weighs less than 2 pounds. It is large enough to protect you when the weather gets tough. It has 16 different fasteners – four on the corner, two for the ridge line, three on each long side, and two on each wall.
The fabric part is made of superior ripstop nylon, which is tear-resistant, with waterproof coating, anti-UV, waterproof against the sun. Whether you're in the desert, forest, beach, backyard, or living off the land survivalist-style, WildVenture waterproof rain fly has everything you need to construct the perfect shelter.
It is also easily foldable and equipped with a storage bag so that users can easily carry or store it. With the huge 13′ x 13′ size and 25 fixing points, you can pitch this tarp in multiple configurations. This tarp can be used as an awning tent canvas, hammock shelter, picnic blanket, parasol, beach mat.
This tarp shelter tent can be set up and taken down in mere minutes. The package also includes an extra set of stakes that will assure your tarp is getting the maximum anchoring power. Highly recommend if you're looking for a wonderful backpacking tarp without breaking the bank.
---
Weight: 16.9 oz. | Material: Silnylon | Size: 10 x 10 Feet | Heavy Rains: 100% Waterproof
Pros
Versatile design
Incredibly lightweight
Compact
Looks fantastic
Cheap price
Complete package
Cons
Not seam sealed
Doesn't available in large size right now
LiteOutdoors backpacking tarp made with 20D ripstop nylon with a silicone coating on both sides. The square dimension of 10 x feet is largely sufficient to create a waterproof flysheet above a tent, a hammock, a cooking area. There is also an 8 x 10 feet size available. You will be amazed by its versatility and multiple pitch configurations!
LiteOutdoors tarp rated at over 2000mm hydrostatic head and 100% waterproof. The material is so thin durable despite this. The best quality of PU also makes the tarp ideal for picnic camping, to keep you warm, dry and safe during your hike, out of direct sunlight, snow or torrential rains.
It will provide a complete tarp kit so you don't need to spend more on additional accessories! With each tarp, you will have 18 tie-down points and 16 Line Lok micro adjusters around the outside.
Overall, if the weight or space is a big issue for you, this tarp is the way to go because this is one of the lightest tarps on the market and pack down amazingly small.
However, it is not seam sealed, but it comes with a tube of silicon sealant for you to do at home.
---
Weight: 1.5 lbs. | Material: Nylon | Size: 10 x 10 Feet | Heavy Rains: 100% Waterproof
Pros
Versatile
Very well made
Packs down well and small
Ultralight and compact
Lifetime warranty
Cons
Color is too visible
Very light material
If you're looking for a waterproof and durable backpacking tarp for long time use, look no further than the Aqua Quest Guide. This tarp has a square cut and 16 fasteners for maximum versatility. You can also add an Echo mesh insert for extra protection from the rain and pesky bugs.
It is very light and packs down well. You can use it perfectly as hammocks because it allows for enough coverage in case of inclement weather but not so much that you are unable to feel too enclosed.
The total coverage is 64 – 234 sq ft. However, you get all angles covered. If the square is too big, you can make it smaller with the rectangular version.
Aqua Quest tarp will keep you completely dry, even in the heavy rain. And with dual coatings of non-toxic Polyurethane and Silicone, you will be absolutely safe from a single drop of water.
The Guide packs up so small (you'll hardly notice you're carrying) that you can fit it in almost any small space. We really like the integrated webbing for easy staking and the webbing in the center for easy attachment to a higher point.
---
Weight: 2.5 lbs. | Material: Polyester, Nylon | Size: 10 x 12 Feet | Heavy Rains: 100% Waterproof
Pros
Reliable outside protection
Reinforced materials and design
The seams are well sealed
Easy to set up and carry
Affordable
Cons
Doesn't have color option
Bearhard tarp rainfly design is rectangular-shaped, it is a seamless flat tarp with 16 fasteners. It is also a small camping tarp that is easy to assemble when the space is limited.
It is perfectly balanced and weighs only 2lb. However, it can cover over 100 square feet of ground with extraordinary durability. The waterproof rate is 3000mm with countless setup configurations.
Bearhard backpacking tarp is designed to serve as a camping tarp, hammock rainfly, tent footprint even simple tent all-in-one. The special reinforced design makes it easy to set up within 2 minutes and gives you convenience in different activities like camping, hiking, backpacking, fishing, climbing, hunting, etc.
It has 3 layer corners with reinforced pole ring, triangle tensioner and double stitching edge that give you extra confidence in bad weather. This hiking tarp is equipped with 6 nylon ropes, 4 aluminum stakes and 16 holes, countless setup structures that meet different people's adventure demands.
It's a complete set-up and comes well packaged. Both the carry sack and tarp are well made. However, this model is available in rectangular and square shapes, both cost less than 40 dollars.
---
Weight: 2.3 lbs. | Material: Ripstop Fabric | Size: 12 x 10 Feet | Heavy Rains: 100% Waterproof
Pros
Best value in one complete package
High quality and durable tarp
Weatherproof
Versatile design
Handle the rain flawlessly
5-year warranty
Cons
A little bit heavy
It doesn't pitch adequate tight
The Gold Armour Backpacking Tarp offers an exceptional size-to-weight ratio. At just 2.3 lbs, the tarp covers an impressive 108 square feet, which allows three people to sleep comfortably. However, you can choose from the different sizes that work best for you. The available sizes are 14ft x 12ft or 12ft x 10ft or 10ft x 10ft or 10ft x 8ft.
The material is ripstop polyester, backed with polyurethane coating that won't stretch and sag like nylon. Gold Armour backpacking tarp has a Durable Water Repellent application on the face. It will keep you dry and comfortable with unparalleled weather protection with a water-shedding capability of up to 5,000mm.
With 33 tie-down loops for multiple anchoring points, this model can be used as a tent tarp, hammock shelter, simple tent, tent footprint, groundsheet and blanket, instant shade, and more. However, the stakes are a bit flimsy that it's difficult to drive without bending them.
It is very similar to the DD tarp, which costs more than twice as much. Also, the package comes with a rainproof gear sack for ease of storage. Gold Armour also offers 5-year warranty with 100% Customer Satisfaction Guarantee.
---
Buyer's guide: backpacking tarps
Before buying a backpacking tarp, it is necessary to define the use of your touring tarp so that you can choose the right model. It is also important to know the places where you will often go for the hikes as well as the mode of displacement that you choose in order to transport it easily.
However, we have made a handful list of features that make your purchase decision easier.
The weight
If you are thinking of buying a backpacking tarp, means you want to reduce the weight. However, not all tarps are the same. Depending on the material, thickness and size, the weight can vary from 0.7lbs to 4lbs or more. When you have a tarp that gets too heavy, you might as well look for a tent!
Unfortunately, the lighter it is, the more expensive it will be. If you enjoy ultralight hiking and the ability to get around quickly, then the extra investment might be worth it. In the meantime, if you plan to settle in one place for a few nights, you can probably pay extra weight.
The size
A tarp that folds well into a small size will not only reduce weight but also allow you to carry a smaller backpack. If you're struggling to find room in your larger backpack for all of your essentials, a small tarp can save you space.
The package size is important, but you should also keep the unpacked size in mind. Why? Because the larger your tarp, the more space you will have to sleep and store your things.
A larger tarp shelter will also give you more flexibility in the construction techniques, to meet all weather conditions. Tarp camping will expose you to the elements, so a larger tarp is recommended.
For a single person, we recommend a tarp of around 7.43m² or more, and 9.29m² would be ideal for two people. Most two-person tarps have room for two sleepers and a few storage bags, along with backpacks and extra gear.
However, if you want more interior space for camping comfort, you can increase a size larger.
The materials
Modern tarps shelters are generally made of three materials, namely silnylon, silpoly or Dyneema Composite Fabric, also known as Cuben Fiber.
Silnylon and Silpoly are made of a nylon or polyester base covered with silicon to improve the seal. Both are great choices in terms of durability, reliability and cost. Nylon is extremely abrasion resistant, while polyester does not "stretch" as much and can be manufactured at lower costs than nylon.
Cuben is like a "synthetic sandwich". It is made of several layers of high-strength synthetic fibers. However, it offers excellent tensile strength (so it is difficult to tear) and is extremely light. But as you might expect, the added complexity dramatically increases its price.
Maintenance
Maintaining and repairing all types of materials is not difficult, as most manufacturers offer repair kits that can be easily used. However, remember that a simple roll of duct tape is enough to repair a Cuben tarp in the middle of the night if needed. On the other hand, silnylon or silpoly repairs are more complex because they require a silicon-based adhesive associated with patches for both sides.
Tarp shape
Previously you could only get an old model "flat" tarp. Squares or rectangles were hard to find! Manufacturing technology has improved, and many shapes are now available. This means that the tarp has been designed with a curved line in the center of the tarp or with curved edges. These designs make it easy to achieve a waterproof surface when all the corners have been threaded and anchored, meaning there is no loose fabric that can flip in the wind.
However, the downside is that the tarp has to be threaded in the same position every time, eliminating the incredible flexibility you have with a flat tarp.
If you decide to keep the traditional flat tarp, you should consider whether a square or rectangular shape will best suit your needs. Because of its symmetry, a square tarp is more versatile. However, depending on your preferred tarp configuration, you may find a more suitable rectangular tarp.
Functionality
Regardless of its size or lightness, a tarp without an anchor point is useless! It is necessary to make sure that the backpacking tarp you choose has enough eyelets around its perimeter that allow you to secure the tarp in your preferred configuration.
While four is the smallest setup (one per corner), six or eight are preferable. It is not essential, but it is very practical if the tarp includes one or more "points of support" in the middle to allow its support from the inside. This will not only create more free space but will also help keep the walls taut, reducing movement in strong winds and improving drainage.
It is also common to see the backpacking tarps offered with some degree of modularity. This means that besides the basic waterproof tarp, you can buy an internal base installed under the main tarp that can protect against insects.
Similarly, some manufacturers offer a floor mat removable. Essentially, it turns your tarp into a non-standalone tent! These expansions come with additional weight and cost.
Weatherproof
A backpacking tarp should provide excellent weather protection to keep you safe, dry and warm when used properly, even in extreme weather. With a hydrostatic resistance of 20,000mm, you can be absolutely certain that not a single drop of water will pass through your tarp. Some hiking tarps also have canopies, apses or doors for better protection against the bad weather.
Conclusion
A backpacking tarp will be the most useful accessory that you should carry with you during your wilderness adventure. However, make sure the fabric is authentic. It is better to choose a hiking tarp that is durable, waterproof, affordable and easy to use. In order to avoid fatigue and fully enjoy your hiking trip, it is best to choose a backpacking tarp that is more compact and lightweight.
If you have any questions on this topic, you can ask in the comment section below.
---
Related Posts: