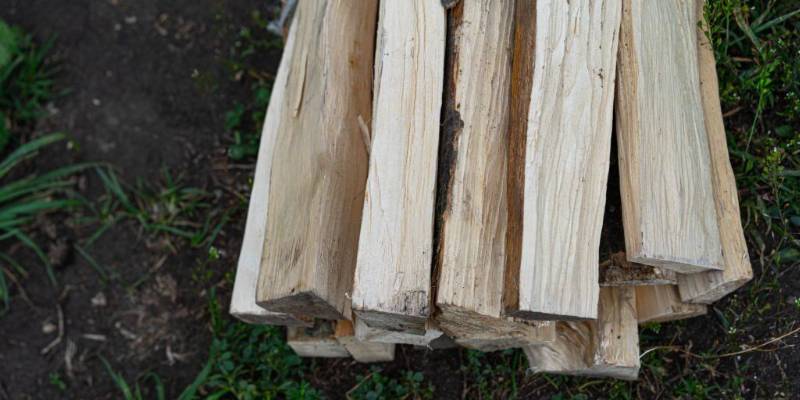 Heating with wood is primarily associated with comfort after a long day of fun outdoor activities. Of course, romance has its price, but with firewood, it is pleasantly cheap.
Compared to other fuels, wood log still performs very well. But what about the current price development? And how do the prices for the firewood compare?
Firewood costs depend on various factors. And of course, firewood is always a little more attractive during the "low" period of the wood suppliers. I've done in-depth research so that you can find low-cost places to get your firewood.
[toc]
How Much Does Firewood Cost?
Currently, the price of a bundle of firewood is between $5 and $10. However, these prices change depending on where you get it, and Farm and Feed stores are one of the cheapest places for it.
For larger order quantities, the overall costs are spread over more wood. This makes firewood cheaper. Calculating how much wood you need for a campfire will also help you determine how much wood your trip is going to cost.
The price of firewood depends on various factors:
Softwood or hardwood: Since hardwood has a higher calorific value than softwood, significantly more thermal energy can be generated with the same volume. The price of hardwood is therefore always higher than that of softwood. Indeed, dry wood (20% humidity) will produce twice as much energy as freshly cut wood (approximately 55% humidity)!
Cleanliness: A very important price factor is of course the quality of the firewood. Is it bug and contaminant free? You can also rely on your nose: If the wood smells musty, mold has probably formed.
Fresh or already stored: If you buy fresh logs that you have to store for two years before burning, you will of course get a lower price than for already dried "ready-to-heat" firewood. If you have the appropriate storage facilities, you can save up to 20% by buying logs with high residual moisture content.
Degree of processing: The more work steps there are in the delivered firewood, the more expensive it is. Unsplit trunk wood is significantly cheaper than split firewood with a length of 30 to 50 cm.
Where Can You Get Firewood Cheapest?
Comparing the prices for firewood, the best place to get cheap firewood is somewhere local. For larger order quantities, this makes firewood cheaper.
There are also some ways you can get a nice bundle of firewood without cost. I'll show you some good "firewood sources" and mention the cheaper places you can get.
1. Cut Firewood Yourself
Leaving aside the amount of work, cutting firewood yourself is a cheap way to get firewood. However, simply going into the forest and cutting down trees and chopping wood is not allowed. But you can contact the local forest ranger. It may be possible in your district to obtain a wood collection permit.
Please note that you must have a chainsaw driver's license to saw trees independently in a state forest.
2. Look in Your Area
Websites like Craigslist, the Freecycle Network, and Facebook Marketplace can be used to find people who don't need firewood and would like you to get it out of their hands. You can do this by posting your own ad or by searching for ads placed by others. If your neighborhood or city has a special Facebook chat group, be sure to look there and post as well.
Online ads are great for reaching more people, but not everyone visits the websites you use. Feel free to post or monitor print ads around town.
A grocery store, post office, newspaper, or other high-traffic areas can be a good place to look for free firewood or ask locals if they have any firewood they want to throw away.
3. Free Firewood From Neighbors
As the owner of a stove, it is worth asking your neighbors, friends and relatives regularly. Perhaps firewood was thrown up in the garden as part of a major clean-up, or the already unsightly decking boards were replaced.
But keep in mind that you can only burn dry, untreated wood in the fireplace.
People you know are often happy to get rid of the felled tree and will give you the (fireplace) wood for free as a thank you.
Unfortunately, this procurement method cannot be constantly calculated. But the more people know about your basic interest, the more likely it is that you will find a cheap firewood opportunity.
4. Firewood From the Wayside
Here too, the basic principle applies: the wood in the forest is the property of the respective forest owner and may not be collected without permission – even if, for example, branches were torn off in a storm. Occasionally, however, official pick-up points are set up after deforestation or extensive storm damage.
If you would like to collect, you can also try to get the consent of the respective forest owner.
5. Clean Up After a Storm
High winds often bring down branches or even entire trees, but they also give you the opportunity to have plenty of free firewood.
If you live in a city, there are usually tree remains all over the streets and in the parking lots. Your average homeowner may not have the physical ability, tools, or vehicle space to remove the largest fallen branches from their fences or roofs. In this case, you can step in and haul the debris for them.
Getting free firewood this way is a great idea because no one wants a messy neighborhood. But remember to get out quickly because depending on what time the storm passes, most people don't hesitate at all to start cleaning up.
6. Raid a Pile of Burns
You cannot build a building or a house where there are trees. You can take advantage of these circumstances when a company or person cuts down trees only to get rid of them, by plunging and removing the wood for them.
Now, you probably don't want all the wood they have, but after getting permission to relieve them of the mess, you can rummage through the burn pile and bring home whatever you want.
Construction sites are a good place to look for this type of free firewood. But if you can't seem to find any, you can try visiting a dump where the company may have dumped all the wood. In this case, you should have free rein to dig and take whatever you want.
7. Offer Cutting Services
If you have the expertise and equipment to prune branches, this can be a great way to get free firewood when you're in a tight spot. One way to do this is to drive around and look for dying or overgrown trees that should be cut down. They can hang down the street or even hover right above someone's house.
You can of course prune your own trees as needed, as often as you like. But be sure to get permission from the necessary parties like your neighbors or the city before you start cutting theirs.
Another idea is to contact local trimmers in your area. Most already have a way to dispose of the extra wood they receive, but they may be willing to leave some for you as well. They can even deliver if you ask nicely.
8. Visit a Sawmill
The whole function of the sawmill is to produce usable lumber from tree logs, but they don't use 100% of the tree. Use this to your advantage by picking up any leftovers they are willing to give you. Something you could definitely use as firewood.
Sawmills may be willing to donate scrap wood because they are likely already subscribed (paid) to a service that disposes of their waste. If they can get you to pick up some of the load for free, they may be able to cut the cost; it's a win-win for both of you.
9. Use Wooden Pallets for Firewood
Wooden pallets are a good source of materials not only for DIY woodworking projects but also for firewood. And there are plenty of ways to get pallets for free.
10. Firewood From the Hardware Store
The firewood that you get from the big hardware store chains is characterized by a fairly constant quality. However, you usually buy smaller quantities there and thus forego the price advantage of a larger purchase. You also have to transport the wood home yourself.
11. Buy At the Right Time
The approach of winter is not the best time to take advantage of low prices and short delivery times. It is best to renew your stock of logs in the spring.
Remember that wood is bought by volume and never by weight since wet wood weighs much more than dry wood.
12. Order Firewood Online
If you want to buy firewood online, you should definitely compare the prices of the different providers in advance, because this is basically easier to do online.
Pay attention to the firewood dimensions. Also check whether the quality is right and whether the proportion of softwood is not too high. A price factor that should not be underestimated is the shipping costs.
Attention: Many dealers advertise with low prices and only add the high shipping costs shortly before the purchase is completed.
It is very convenient to have the firewood delivered directly to your home. Due to the larger purchase quantities, the firewood ordered online is also comparatively cheaper than going to the hardware store.
Why Firewood is More Expensive in Winter?
When demand is higher, prices tend to be a bit higher. It is the law of supply and demand. Firewood being no exception, it is wise to stock up and have it delivered in the spring or summer to benefit from the best prices.
If you have enough storage space, you should buy in larger quantities.
Final Thoughts
Getting affordable firewood is a simple matter if you know where to look. I hope this guide helped you to find the way to gather all the wood you need for a massive campfire.  Do not buy logs in the high season in January or February, but already think about the next winter in midsummer. Then the firewood prices are usually at their low for the year.
When buying firewood, pay attention to quality. Delivery with a large proportion of softwood and excessive residual moisture or even mold reduces the calorific value considerably.
Lighting the fire from above so that you can burn wood wisely to keep your costs down. To optimize the capabilities of your appliance and ensure safe use, regular maintenance of your wood stove is necessary.
Use alternatives to the fuel dealers and get your firewood directly from the forest.