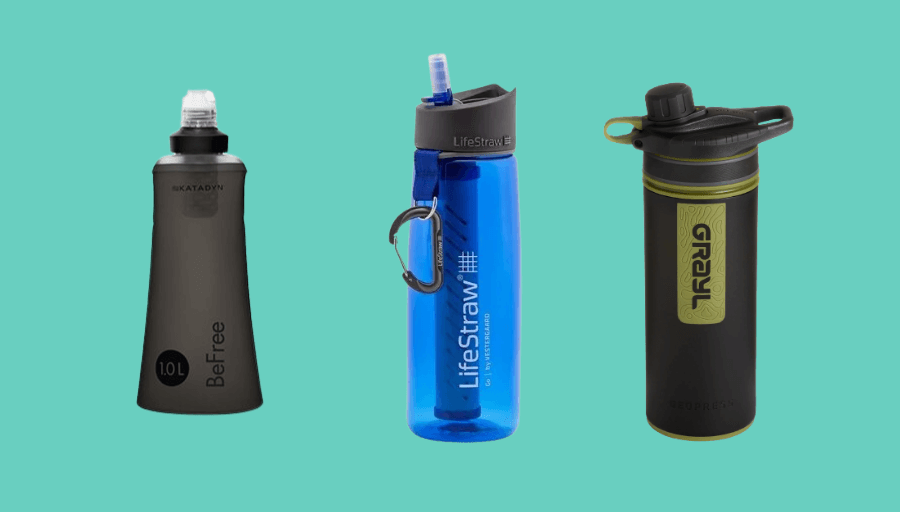 Don't let bacteria take over your adventures. Discover the best filtered water bottles to always have clean water at your fingertips. Obviously, water is the essence of life. But for the hiker, it's often the biggest headache because the water is heavy! It is literally impossible to pack your water needs for a multi-day trek.
For anyone passionate about outdoor adventures or traveling, a filtered water bottle is a solution of choice to always have clean water at hand. It is also excellent gear for those who want to practice hiking or ultralight walking (MUL). However, make sure you come across water points that you can filter!
Whether you're going on short hikes for a few hours or traveling in nature for days, you will find our comparison helpful to choose the right filtered water bottle.
Best Filtered Water Bottles 2023 (Top 10 Picks)
To choose the filtered water bottle from the top 10 list, we explored the reviews and evaluations of each of these products as well as the technical specifications. We have compared them so that you can choose the best model in terms of filter gourds.
1.

LifeStraw Go 2-Stage

– Economical & Reliable for Outdoor Sports and Emergencies
Specifications:
Material: BPA-free plastic
Capacity: 0.65 liters
Filtration system: Replaceable hollow fiber membrane (0.2 micron) and activated carbon filter
Lifespan: 4,000 liters
Pros
Treats water from streams, ponds, puddles, etc.
Long life filter up to 4000 liters
99.99% removal of bacteria and protozoa
Lightweight and delivered with a carabiner
Easy-to-clean filter
Cons
Won't filter out bad tastes, odors and viruses
Lifestraw is one of the leading brands specializing in filtered water bottles and survival filter kits. Although most of its filter bottles look different, the same cartridge is used in all of its products.
The LifeStraw Go 2-Stage that we recommend here is equipped with a filter made of activated carbon and treats the water in two stages. It will eliminate 99.9% of bacteria and other parasites while reducing chlorine, odor and water aftertaste.
Because the Go 2-Stage is primarily designed as a travel bottle, you can use it to filter water from streams and lakes without exposing yourself to the dangers associated with it. Thanks to its featherweight and compact dimensions, it is hardly noticeable when you bring it along for your outdoor activities or traveling.
It is made of BPA-free Tritan and fitted with a food-grade silicone mouthpiece. The LifeStraw Go 2-Stage is also completely leak-proof. But it appears the first in this top 10 above all for its effectiveness. Depending on where you are going, you can add a carbon filter to optimize filtration.
Besides this, the filtration system of this model consists of two parts. While the first can filter up to 4,000 liters, the second can treat up to 100 liters. The main filter, which is equipped with advanced hollow fiber membrane technology, can work independently of the activated carbon filter.
---
Specifications:
Material: Plastic
Capacity: 1 liter
Filtration system: Membrane filter
Lifespan: 1,000 liters
Pros
Versatile and adaptable to different situations
Lightweight design that compresses to a small size
Purifies water from any source to remove contaminants
Easy filling and consumption
Easy to maintain
For an affordable price, the KATADYN BeFree 1.0 L Tactical Line outperforms its competitors in almost every way. It has everything backpackers, hikers and runners are looking for. BeFree 1.0 L filtered water bottle is light, compact, and easy to use. But above all, its long-lasting filter is effective.
With a weight of just over 70g, this small and innovatively designed filter bottle can be stored anywhere and will ensure you always have access to clean drinking water, no matter where you go.
Additionally, the KATADYN BeFree 1.0L is unique in the way it filters water. Although its filter purifies as you drink, you get faster flow than other straw-type filters with the same levels of purification. Contaminants larger than 0.01 micron including Giardia, Leptospirosis, Cryptosporidium, and Protozoa are effectively trapped in the filter.
It can treat two liters of water per minute and in total up to 1000 liters during its lifetime depending on the quality of the water. The other thing we like is that it's easy to clean. While other systems require a lot of blowing or the use of special tools, you can clean this filter by simply shaking a flask filled with clean water for about a minute.
This filtering water bottle should cover your needs on a long hike. But if you need more water, you will probably appreciate its ease of filling. The KATADYN BeFree 1.0 L is indeed equipped with a large mouth which simplifies the supply of water from streams and other sources, including precipitation.
If you needed a final argument to finish deciding on this filtering gourd, it is a versatile choice and adaptable to many occasions. Its foldable nature allows it to fit in cycling pants, running pants as well as fishing or swimming vests.
---
Specifications:
Material: Plastic
Capacity: 0.60ml
Filtration system: Filter discs (four supplied)
Shelf life: 1 month
Pros
Ideal for those who live in areas where tap water is not potable
Elegant and compact design
Available in different colors
Perfectly waterproof design
Cons
Filter discs need to replace regularly
In appearance, the Brita Fill & Go filtered bottle looks like a normal water bottle, but it has a filter disc (integrated with the cap) to reduce the rate of chlorine and eliminate substances that alter the taste and smell of your tap water.
If you have an active lifestyle and would like to drink clean water wherever you go, the BRITA Fill & Go is a great way to treat your tap water by ridding it of common contaminants. It is also ideal for daily use. However, it is not designed to be used with microbiologically dangerous water sources (streams, lakes, rivers, etc.).
It comes with four filter discs, and each one lasts about a week. You will have no trouble removing or installing the filter. In this case, the opening of the lid is done with disconcerting ease.
Moreover, the BRITA Fill & Go is made to accompany you everywhere on a daily basis to help you stay hydrated throughout the day. Its elegant design will not leave you indifferent. And with a shock-resistant design, this pretty transparent bottle fits in a compact format and is pleasant to use.
---
4.

Katadyn BeFree 3.0 L

– Large Tank & Quick Filtering Ideal for Hiking and Camping
Specifications:
Material: Plastic
Capacity: 3 liters
Filtration system: Replaceable hollow fiber membrane
Lifespan: 1000 liters
Pros
Lightweight and foldable
Stand in an ultra-compact format
Effective in eliminating bacteria and protozoa
Compatible with 43mm wide mouth bottles
Easy to use and clean
Cons
Filter life could have been better
Opening this top 10 list, here is a filter gourd that folds up to fit in an incredibly small size. With its lightweight design, the BeFree 3.0 L from Katadyn has everything to please hikers and campers. The compressible nature of this bottle means that drinking filtered water is easier compared to models that do not offer this feature.
The Katadyn BeFree 3.0L does not completely purify water, so viruses can still pass. However, it effectively removes bacteria and protozoa to provide clean drinking water. In other words, it's an option we encourage you to consider if you're not going to be filtering incredibly dirty water.
If this filtered water bottle occupies the fourth place in our top 10, it is among other reasons because it filters the water very quickly: you only have to wait a minute to filter two liters of water. Moreover, its large capacity ensures that you will not run out of clean water even when you go on long adventures.
---
5.

LifeStraw Flex Basic

– Great Flexibility and Easy to Carry for Outdoor Use
Specifications:
Material: Plastic
Capacity: 0.65 liters
Filtration system: Hollow fiber membrane filter (0.2 microns) coupled with a carbon fiber filter
Service life: 1,000 liters (for 100 liters for the carbon filter)
Pros
Simple to squeeze
Easy filtered water consumption
Highly efficient filtration
Activated carbon capsule (up to 100 liters) to eliminate odors
Versatile
To avoid bulk problems and easily transport your water, there's nothing like a flexible filtered water bottle like the LifeStraw Flex Basic. It is flexible and equipped with an integrated filter in the straw to retain heavy metals, bacteria, parasites, microplastics and pesticides. It also uses an activated carbon filter to rid the water of potential odors.
Even though you have to suck the water through the straw with the built-in filter, it's easier to drink with the LifeStraw Flex Basic because it's simple to squeeze.
This filter gourd has many advantages to its credit, such as the possibility of using its filter with other containers since it can be screwed onto a normal-sized plastic water bottle. With a lifespan of 2,000 liters (up to 100 liters for the activated carbon capsule), it can also be used as a straw.
However, the mouthpiece is quite small. Another disadvantage: the water level is below the length of the straw. As a result, it is really difficult to squeeze out water, which does not allow full use of the capacity (0.65 liters).
Also, because the straw is almost half the length of the bottle, you can't squeeze or roll up the whole system like the Katadyn BeFree models we recommended. Moreover, the aforementioned drawbacks do not make the LifeStraw Flex Basic a less interesting option.
---
Specifications:
Material: Polypropylene
Capacity: 0.71 liters
Filtration system: Electroadsorption, Activated Carbon (replaceable)
Service life: 250 liters
Pros
Highly efficient filtration
Unrivaled speed and ease
Removes all pathogens
Multifunctional SimpleVent cap
Ultra-efficient and easy to use
The Grayl filtered bottle is undoubtedly the one that offers the most complete level of filtration. Bacteria, protozoa, viruses, bad taste, microparticles, heavy metals… Nothing can resist it. It's the ultimate filtered water bottle that you can take with you on any terrain and in any country.
Its efficiency is superior compared to its most competitors. Whether you are a fan of trekking, camping, sports or a frequent traveler, the Gray filter bottle allows you to secure your water supply. In a few seconds, it transforms any unsalted non-potable water into perfectly healthy and pleasant drinking water.
Its water purifying filter is a concentrate of multi-action technology. The hollow fiber filter and the activated carbon filter are combined with an electrostatic filtration system. It is able to retain the finest particles such as viruses or microplastics. This process delivers extremely pure water, without any risk to health.
Just fill the tank in the water point, insert the filter, and push it down to the bottom of the bottle. In about ten seconds, you get drinking water with a naturally good taste.
Unlike gourds with integrated filter straws, you don't need to suck to drink. And you can pour the clean water into another container to store it or to cook for example. It will especially interest long-distance travelers and hikers.
---
7.

Water To Go

– With a Water Filter that Eliminates Bacteria and Viruses
Specifications:
Material: Plastic
Capacity: 0.75 liters
Filtration system: Activated Carbon (personal filtration system)
Service life: 200 liters (Three months)
Pros
With built-in instant water filter
Nano Pore Technology
Lightweight and slim
Easy to fill, easy to open and close
Cons
When not upright, it tends to leak
What characterizes the Water To Go filter bottle? A high-tech water filter, developed for NASA, and an economical cost in use! It is designed for backpackers, travelers, and adventure enthusiasts of all kinds. It has a high-performance personal filtration system.
The Water To Go filter bottle is flexible, resistant and reusable. This water bottle with built-in filter instantly removes more than 99.99% of contaminants in water. It ensures complete and effective filtration, which goes so far as to filter out viruses. It can treat up to 200 liters of water and offers 3 months of service life.
This model uses nanotechnology. It also uses a complex and recent operating process. Protozoa, bacteria, and viruses are attracted and trapped in the filter membrane by nano aluminas. This is the guarantee of obtaining clean and healthy water of excellent quality. Metals and many chemicals are also removed.
Overall, the Water To Go filtered water bottle is mainly used to purify water from all unfiltered sources that can be found while hiking, traveling or traveling. And it will provide quality drinking water.
---
Specifications:
Material: Tritan and BPA Free
Capacity: 0.65 liters
Filtration system: Granular activated carbon
Service life: 1,500 liters
Pros
Excellent filtering
Cheap price
Easy to carry
Leakproof design
Cons
Difficult suction
Some design flaws
The DoBrass is designed to be a versatile bottle both usable on a daily basis and for hiking. It is available in three colors. The filtration system is very efficient and is made up of 4 levels of filtering: a layer of medical cotton to filter the largest impurities, antibacterial pearls, activated carbon in a coconut shell, and a filtration membrane. With such a filtration system, it can be used with water drawn from anywhere.
Also, the filter offers an excellent service life. It is quick to change. A cover protects the tip of the straw (foldable). It's a good design idea, but the same lid can get in the way of drinking. With all these qualities, the filter represents the main asset of this model.
However, it can happen that the DoBrass is the victim of leaks (especially if it is knocked over), which can be annoying. This is partly due to the hole in the lid, which is designed to facilitate suction. However, the effect of this detail is not significant. The water in the DoBrass is indeed rather difficult to suck up.
The rubber carry strap makes it easy to take anywhere and the bottle comes with a carabiner. Finally, the cover of the DoBrass incorporates a compass… the effectiveness is quite questionable.
---
9.

Epic Nalgene OG

– Single Use Filtered Water Bottle for Outdoor Sports
Specifications:
Material: BPA/BPS Free Tritan Plastic
Capacity: 0.97 liters
Filtration system: Urban filter
Service life: Up to 5 Gallons
Pros
Best value for the money
Simple and safe design
Ultra-light and convenient to carry
Reusable water bottle
Cons
Short straw
You can't empty it entirely
The Epic Nalgene OG Water Filtration Bottle adopts both adsorption and depth filtration to reduce contaminant removal to just one micron. Activated coconut fiber mesh surfaces adsorb contaminants whether they are pharmaceutical residues, heavy metals, herbicides, cysts, or other hazardous chemicals.
Everything about this water bottle is BPS and BPA-free. It is also very durable and you can wash it in the dishwasher. Besides being 100% food grade and FDA approved, all materials are completely recyclable, vegan and gluten-free. If you prefer, you can also use it every day whether at home or in the office.
When it comes to water capacity and filter capacity, you cannot do without this product as it has a water capacity of 32 ounces and a filter capacity of 500 gallons. It's the second largest water capacity on this list, which means you can use it for eight to 12 months without having to replace the filter.
The bottle is also lightweight which makes it convenient to carry. For more convenience, it has a carry loop, making it a suitable option for your hiking, camping and backpacking trips.
This model is available in 12 colors and you are sure to find the color you like. However, you can't completely empty it every time because of the size of the filter.
---
Specifications:
Material: Stainless steel
Capacity: 0..675 liters
Filtration system: Activated carbon filter
Service life: 106 liters (approximately 2 months)
Pros
Adaptable to cup holders
Keeps water cool for a long time
Convenient to carry
Hood that opens with a simple press
Cons
Summary filtering
The price is a bit high
A little effort needed to see
Filter to be changed often
The only metal model in our selection, the Brita stainless steel filter bottle is an object that looks great. This is an interesting alternative if you are looking for a filter bottle to use on a daily basis.
The stainless steel Brita looks like a metal bottle topped with a plastic top (Hermetic seals link these two parts). The cap that flips up effectively protects the mouthpiece for drinking and opens easily with a simple press.
On the other hand, the upper part is relatively fragile and can split at the level of the joint with the metal part in the event of an impact. It is therefore preferable to handle this bottle with a minimum of precautions.
Thanks to its insulated double wall which keeps the liquid inside cool, for up to 24 hours. This temperature conservation feature is the major advantage of this model and justifies its rather high price.
The filtration system is carried out by a carbon filter placed in the straw, which is easy to replace and needs to be changed quite often. Like the Brita Fill & Go, this model is not designed to filter water found in the wild. It is designed exclusively for drinking water, for daily use. However, it can be a bit difficult to drink through the straw.
The stainless steel Brita is designed to fit in most cup holders. This allows it to be easily transportable. And this quality is accentuated by the presence of a very practical handle on the top. However, the mouthpiece is a bit difficult to clean.
---
The Advantages of Filtered Water Bottles
When traveling, tap water is not always drinkable and safe to drink. To be calm and not take risks with your health, the purchase of a filtered water bottle is essential for travelers, backpacker hikers and campers because it offers many advantages. Here are the main ones.
Economical advantage
Buying a filtered water bottle can save money when traveling. Indeed, the quality of the water can vary greatly depending on the chosen destination. In this case, it becomes essential to buy bottled water.
However, depending on the climate and physical activity, buying bottled water can quickly impact the budget of the hiker or traveler. By investing in a filtered water bottle, you will no longer have to spend on buying bottled water and will be able to use tap water free of impurities.
Ecological advantage
Buying a filtering bottle avoids the production of plastic waste linked to the acquisition and consumption of bottled water. This greatly reduces its impact on the environment. This is all the more relevant since it is estimated that in 1 minute, 1 million plastic bottles are sold worldwide.
Instead of storing bottled water every week and then throwing away the plastic bottles, you only have to use one bottle and enjoy clean water.
Health benefit
The water in rivers, lakes, and open wells can be polluted by human, and animal excrement or by sewage from homes. A filtered water bottle can limit and reduce the risk of disease by filtering the water of its pathogenic micro-organisms (bacteria, protozoa, viruses, cysts and parasites) and other chemical pollutants (pesticides) or heavy metals.
On the other hand, although there are many countries in which the inhabitants can drink tap water, it is not always good for travelers to do so.
Our immune system is simply not used to the many bacteria present in the water. Having a filtered water bottle close at hand means that you can avoid illnesses associated with drinking water that does not meet sanitation standards (typhoid, gastroenteritis, etc.)
Practical advantage
When hiking, trekking or simply traveling, it is sometimes impossible to buy bottled water because you cannot find a store. However, when this is possible, the question of clutter arises.
A filter bottle solves this problem by always having clean drinking water on you. It lets you trust almost any water source you can find – streams, lakes, rivers, etc. Basically, you'll always have a bottle of water with you no matter where you go.
Several Choices of Filtration Systems for Different Uses
The choice of filtration system will vary depending on the use and the level of risk you are willing to take for your health. Filtered water bottles can remove/filter up to three harmful elements: chemical compounds, parasites, bacteria and viruses.
Only filter tap water
If you only want to treat tap water which is usually clear, a conventional (hollow fiber membrane) filtration system that treats chemical compounds might suffice.
Filter tap water and other water sources
If you want to treat tap water but also water from other freshwater sources (open wells, rivers or lakes), an activated carbon filter will be needed to remove particles from the water.
However, many filter water bottles have a UV filter instead. Not only is this type of bottle more expensive but also needs to be powered by batteries. Also, compared to an activated carbon filter, a UV filter is not able to remove chemical compounds that can be found in water. On the other hand, it is effective in eliminating viruses and sterilizing water.
Additional features
Filtering the water we consume is necessary even vital when traveling or hiking. But some features offered by filter water bottles can be useful.
The presence of a complementary filter to the main filter
The water treated by the filter bottle may sometimes retain a bad taste even if it is safe to drink. To solve this problem, some water bottles equipped with an activated carbon filter exist. To improve the taste of water from the bottle, the activated carbon retains some of the chlorine and other chemical pollutants.
On the other hand, the presence of activated carbon will require regular replacement of the capsule because the carbon degrades quickly.
The presence of a carabiner or a stopper
A filter gourd will be handled very often. It is therefore important to ensure its ergonomics. This can be improved with tricks such as the presence of a carabiner that secures the bottle to its bag or an additional cap for more hygiene.
Our Selection Criteria for Buying Filter Water Bottles
Before buying your next filtered water bottle, make sure to review the most important features to ensure you get the most appropriate and effective water bottle for your situation. Whether you're camping, trekking, survival preparedness, or need a bottle of water for daily use, this little guide will help you.
The frequency of use
You won't need the same water bottle if you want to use it every day, once in a while hiking, or once a year while traveling. This will also determine the filter change rate, which can be a nasty surprise if you use it more often than expected.
The capacity
A standard water bottle has a capacity of approximately 17 ounces of water. A smaller capacity bottle will be easier to carry but will need to be refilled more often. In our comparison, you will find a capacity of up to 32 ounces.
Note that there are also compact solutions with folding bags.
The Weight
The filtration system incorporated in the filter bottle necessarily makes it heavier than a standard bottle. This is more than compensated by the fact that you can transport it empty and refill it only when needed.
Type of filtration
No need to invest in a water bottle with an advanced filtration system if you simply want a water bottle for hiking. However, if you want to be able to transform any water into drinking water, the cheapest gourds will not offer you a sufficient guarantee of filtration against microelements potentially dangerous to your health.
Filtration systems can vary wildly from model to model. Each system has its defenders and detractors. It's up to you to see which method suits you best.
Materials
The material used is an important factor when it comes to filtered water bottles (Although people mistakenly believe that the material used doesn't impact the quality of the water). This couldn't be further from the truth As different water bottles are made of different materials.
Also, some materials are stronger than others. So you will have to choose which one you prefer. Make sure the plastic bottle is BPS and BPA free.
Other Features
While the other features are generally fancy features, they are generally less important to the daily performance of the water bottle. Also, these features usually increase the cost, so you need to make sure you have enough budget before considering them.
First of all, you have to look for a beautiful design and color, because human beings are generally attracted to beautiful things. You should also consider features like hooks, handles, and carabiners. You can also choose an insulated water bottle.
Complementary Alternatives
A UV lamp can be used in addition to a filter bottle to completely eliminate parasites, viruses, and other pathogenic microorganisms. On the other hand, a UV lamp can only be used with clear water (a filter bottle is therefore necessary).
Other methods such as disinfection tablets, boiling, and hard pump filters can be considered. But these are time-consuming and not as reliable as a filter canteen. Their implementation can also be upsetting. For example, if you run out of tablets and find it difficult to find them or when you go to a place where boiling simply cannot be carried out.
FAQs
What is the lifespan of a filtered water bottle?
The lifetime of a filtering system is expressed in the number of liters of treatable water. During a one-year trip, counting 2 liters of water consumed per day, we can estimate a volume of water to be treated of 700 liters. As a general rule, change the filter after a minimum of two months of use or after filtering 150 liters of water.
While there is no obvious way to tell when the filter is reaching the end of its life, you will notice that your water may not taste as fresh as it once did.
Why is traveling with a filtered water bottle essential?
The answer is simple: you can never know if the water is safe to drink in the places you go or if you can find a store where you can buy bottled water. Also, if you plan to travel in the desert, you clearly need water with you. If you have a water bottle with the right filter on you, you can rely on every water source you come across for clean, fresh, safe water.
In rivers, streams, lakes, etc., there are many bacteria and viruses, and these can be the source of more or less serious health problems. Fortunately, you can purify the water thanks to the filter bottle.
Does a filtered bottle also filter chlorine?
Filter gourds treat water by eliminating pathogenic and polluting microorganisms. If you want your filter water bottle to be able to reduce the chlorine content of the water, it should incorporate an activated carbon filter.
Why do I need to change the filter?
A carbon channel retains polluting influences from the water and prevents them from entering your drink. Sooner or later, it turns out to be complete and its ability to function properly slowly diminishes until it is never again ready to play the race it was supposed to.
It's clearly imperative to switch channels before you go that far or risk letting dangerous contaminants into your drink. A carbon channel like any channel degrades after a while until it is never ready to function properly again.
Our Verdict
Because we cannot do without water, we must ensure that the water we consume is perfectly pure. Obviously using a bottle of filter water is essential to eliminate contaminants. We do our best to offer you a comparison of products that allow you to choose the best filter bottle possible.
If we missed any information or new designs, feel free to leave a comment below or send us a message.