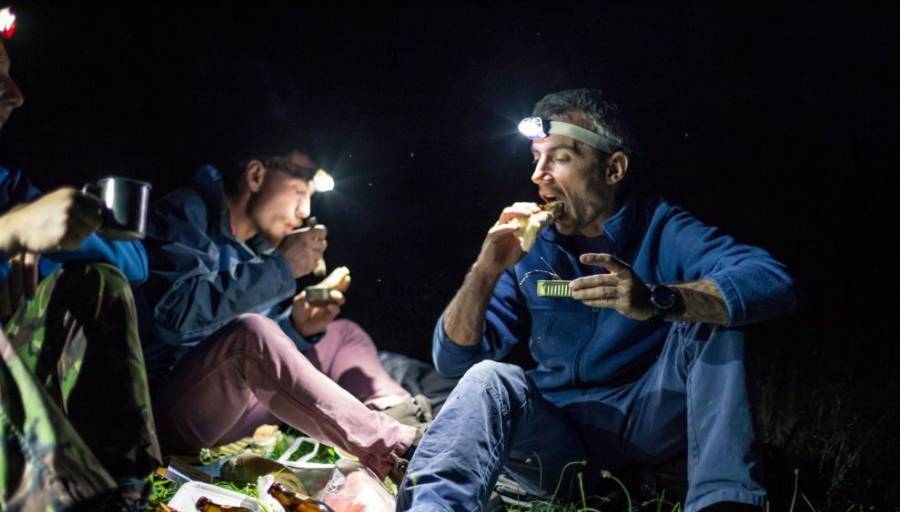 The headlamp is obviously part of the essential equipment that you should think about when you plan to do activities such as camping, hiking, climbing, mountain biking, or even trail running. You can have the best backpack or the best hiking boots, but without the best headlamps, you might have regrets when the sun goes down.
Whether you're an off-piste skier or just want to go camping with friends or on late-night walks with your dog, headlamps are a gadget you definitely need to take with you.
Over the past few years, the technologies that equip them have made impressive progress. Today, there are products that are increasingly light, long-lasting and functional. For this reason, the fierce competition between the leading brands on the market makes the choice complicated.
To save you from being faced with the headache generated by the overbidding observed in the maximum light output evaluated in lumens, the power options (rechargeable, non-rechargeable or hybrid) and the conveniences, find below our recommended and favorite headlamps as well as our buying advice.
Best Headlamps of 2023 – At a Glance
In short, the PETZL Tikka is our favorite and top pick if you are looking for a non-refillable model. On the other hand, if you prefer something rechargeable, we recommend the PETZL Actik Core S20 with your eyes closed. Without further ado, here is our final ranking:
1.

PETZL Tikka

– Great Value and Performance Calibrated for on a Pre-Dawn Hike
Specifications:
Maximum light output: 300 lumens
Range: 65 m
Power supply: three AAA / LR03 batteries
Battery life: up to 120 hours
Waterproof: IPX4
Weight: 85 g
Pros
Phosphorescent reflector to easily find the lamp in the dark
Lightweight and compact design
Optimized for high stability
Simplified push-button settings
Excellent value
Cons
The switch button is a little bit hidden
With an output power of up to 300 lumens, the PETZL Tikka provides ample illumination for proximity. Whether cooking dinner at the campsite or heading out for a pre-dawn hike, this easy-to-use headlamp will serve you well.
It has three levels of white lighting and a red lighting option, which preserves night vision. You can switch between the different settings very easily. Because the Tikka has only one button that allows quick and easy selection of brightness and colors. This headlamp offers two lighting modes, one favoring battery life and the other allowing you to take advantage of its full power.
The PETZL Tikka works with three AAA / LR03 batteries, but it is also compatible with rechargeable Ni-MH alkaline batteries or the Petzl 1250 mAh CORE rechargeable battery (not included). It delivers excellent battery life results in low mode (up to 120 hours), making it a great choice for general home or camping use.
Besides this, the detachable and washable headband of this headlamp has a phosphorescent reflector that helps you find it in the dark. Finally, the PETZL Tikka headlamp is CE-certified and IPX4 rated, which means it can withstand splashes of water from all angles.
---
2.

PETZL Actik Core S20

– Ideal for Illuminating Road During Outdoor Activities
Specifications:
Maximum light output: 450 lumens
Range: 90 m
Power supply: 1250 mAh battery or three AAA batteries
Battery life: 160 hours
Waterproof: IPX4
Weight: 75 g
Pros
Double power supply (rechargeable battery or 3 AAA / LR03 batteries not included)
Quick charge (about 3 hours) and without the need for an adapter
Reflective, detachable and washable headband
Solid and resistant to the test of time
Three useful brightness levels
Cons
Battery life not more than 3 hours
If battery operation seems old-fashioned to you like many people, a USB-rechargeable model would be a perfect choice for you. Fortunately, headlamps of this type are multiplying. And in this category, the PETZL Actik Core S20 is by far one of the best options available to you.
Here we are dealing with a headlamp powered by 1250 mAh capacity battery, which can be replaced by three AAA batteries. It is therefore a versatile solution. But if the Actik Core S20 is in our top 10, it's for its generous battery life of 160 hours.
Throughout its operating life, the lighting performance is constant: the projector remains bright until the end. This changes headlamps whose light intensity decreases as the battery weakens.
In practice, the PETZL Actik Core S20 can emit a light beam of 450 lumens over a distance of up to 90 m. It includes two beam patterns and multiple levels of white brightness. And to adjust the various parameters, the single button makes selection much easier.
Moreover, the Actik Core S20 headlamp is equipped with a reflective headband providing visibility in low light and has an IPX4 rating, which means that it can withstand splashing water from all angles.
---
3.

Black Diamond Spot 325

– Easy-to-Use Option with Reliable Performance
Specifications:
Maximum light output: 325 lumens
Range: 80 m
Power supply: only 3 AAA batteries (included)
Battery life: 200 hours
Waterproof: IPX8
Weight: 80 g
Pros
Excellent value for the money
Reliable overall performance
Long-lasting battery life
Easy to use
Cons
No USB charging option (only uses AAA batteries)
Tried and tested by hikers and climbers for a few years, the Black Diamond Spot 325 is consistently cited as one of the best headlamps on the market. Not only for its lighting performance but also for its variety of features and modes. Whether it's for outdoor adventures or just rummaging through a closet, this headlamp gives you what you need.
Although there are models with brighter and better beams, it is difficult to find one that offers the level of performance and reliability of the Spot 325 at such an attractive price. This feature-rich headlamp has among other things a brightness memory mode, which means that it can return to its previous setting each time you turn it on.
Since the launch of the very first model in the Spot series, Black Diamond has continued to make improvements to offer versatile and solid headlights. This version we recommend casts a powerful 325-lumen beam and has a touch panel for quick brightness adjustments.
You get a full range of lighting choices and flashing and night vision modes. Also, this model is available with dimming and blocking functions as well as PowerTap technology, which allows you to instantly switch the headlamp from full power to dimmed light intensity with a single touch.
When it comes to the design, we have to take our hat off to Black Diamond. Because not only is the Spot 325 light and comfortable to wear, but it is also IPX8 certified. This earned it the ability to withstand immersion under 1.10 meters of water for 30 minutes, which is a good level of safety.
However, the many qualities of the Black Diamond Spot 325 are somewhat marred by one downside: this headlamp only works with AAA batteries for the Spot, which is a big drawback. If you plan on regular use, chances are you'll find a USB rechargeable battery much more convenient, and it'll save you money in the long run.
---
4.

Coast FL85R Headlamp

– Efficient Lighting with Hybrid Power Supply
Specifications:
Maximum light output: 700 lumens
Range: 200 m
Power supply: Dual Power – Rechargeable Battery & 3 X AAA
Battery life: up to 1.45 hours (highest setting)
Waterproof: IPX4
Weight: 1.01 pounds
Pros
Multi-beam design ideal for dynamic outdoor activities
Superior performance to most models in its class
Reflective elastic headband with safety whistle
Well focused shining
Cons
Sealing can do better
Heavy
The Coast FL85R includes three AAA / LR03 batteries, but it is also compatible with rechargeable batteries that can be recharged either inside or outside the light. It has a simple USB connection to either AC or DC to ensure that you can always get juice.
It is CE certified and has an IPX4 rating, which makes it resistant to splashing water from all angles. Its detachable and washable headband is robust. The On/Off button is made of plastic with a rubber coating. It also features a Reflective Strap to increase safety and ensure visibility even in low light.
That said, if the PETZL Actik has our special recommendation, it is among other things for its versatility, its ease of use, as well as for its efficient lighting. The battery life is not the rest either: the 1.45 hours announced (on the highest setting) are a good point for a non-rechargeable model.
Moreover, the lighting performance of this headlamp is interesting. The Coast FL85R weight features two beam patterns, multiple levels of white brightness, and a red light option that preserves night vision. Thanks to the single button of the lamp, the selection of lighting is done with great ease.
---
5.

Black Diamond Icon 700

– Powerful and Versatile Headlamp for All Missions
Specifications:
Maximum light output: 700 lumens
Range: 140 m
Power supply: Icon700 AA rechargeable battery
Battery life: up to 60 hours
Waterproof: IPX7
Weight: 236 g
Pros
Adaptable to all missions, thanks to night vision modes (red, green and blue)
Removable battery easy to store in a pocket
Waterproof up to 1 meter deep
Ultra-powerful illumination
High optical efficiency
Convenient to monitor the battery life with 3 LEDs
Cons
Relatively heavy
The battery is a bit difficult to get in and out
By combining a maximum output of 700 lumens with a robust IP67 waterproof rating – which means resistance to immersion up to 1 meter under the water for 30 minutes, Black Diamond has found the recipe for this superb headlamp designed for the off-piste skiing, mountain racing and all other adventures that require high output lighting.
If you're looking for the best quality headlamp at a reasonable price, we highly recommend the Black Diamond Icon 700. Besides its good light output and quality, it offers a variety of settings, including near and distance modes, as well as red, green, and blue night vision modes to cover the spectrum of night vision needs.
This headlamp has a brightness memory. So you can turn the light on and off at a chosen brightness without reverting to full power. Another feature that makes handling very convenient is the PowerTap technology. It allows an instant transition between full and low power options. A lock mode setting is also available.
As for the power supply of the Black Diamond Icon 700, it is taken care of by a removable rechargeable battery, which offers a battery life of up to 60 hours on the lowest light intensity (8 hours on the highest setting). Note that this performance is made possible by a multi-faceted optical lens design to save battery life.
---
6.

LEDLENSER NEO5R

– Perfect for Nightime Runs or Other Outdoor Pursuits
Specifications:
Maximum light output: 600 lumens
Range: 100 meters
Power supply: Rechargeable batteries (included)
Battery life: up to 150 hours
Waterproof: IPX67
Weight: 105 g
Pros
Multiple proximities and distance modes
Powerful constant luminous flux
Compact and discreet design
Faceted reflector design
If you need a light-emitting headlamp that can withstand a rainstorm and more broadly harsh operating conditions, the LEDLENSER NEO5R would be a perfect choice. It could also be a great choice if you're looking for a headlamp for nighttime running.
With its very versatility, this device is built to last and projects a wide, bright, and quality beam over a range of 100 meters. This makes it an excellent ally for finding trails. It also features a temperature control system to keep the light from overheating.
The output power of the LEDLENSER NEO5R can reach up to 600 lumens of warm white light with the maximum setting. You can of course adapt the lighting to your different needs, thanks to the many settings included (full power for high beam and short range, dimming, flashing, red, green, and blue night vision modes…).
Beyond its flexibility, we like that it's been calibrated to provide consistent illumination. Besides this, switching between the countless modes is not at all difficult: thanks to a switch on the front of the headlamp for easy control.
The very good IPX67 waterproof rating with which the LEDLENSER NEO5R is provided makes it resistant to water and dust. Fortunately, all these features do not have a big impact on weight.
---
7.

PETZL NAO Plus S20

– Intelligent Headlamp with Powerful Beam & Auto adjustment
Specifications:
Maximum light output: 750 lumens
Range: 140 m
Power supply: 2600 mAh lithium-ion rechargeable battery (included)
Battery life: up to 12 hours
Waterproof: IPX4
Weight: 184 g
Pros
A super powerful and very advanced headlight
Lock function to prevent accidental ignitions
Constant lighting over time
Universal charging battery via micro-USB port
Cons
Reactive technology that can be improved: dust and precipitation can upset the sensor
Costly
Obviously, the price of the PETZL NAO Plus S20 might deter many, but its power output and responsive technology are enough to justify such an investment. It is designed to adapt to the object you're looking at.
This headlamp relies on Reactive Lightning technology to automatically adjust the distance and intensity of its beam, which means it uses less energy and you avoids having to switch between modes. The other interesting feature is its intelligent and programmable character.
It is also equipped with Bluetooth connectivity. The PETZL NAO Plus S20 can be used with the MyPetzl Light mobile application. From a smartphone or tablet, you can not only download predefined profiles or create your own personalized lighting profiles (up to 4) to adapt to different activities. You can also follow the battery status to adjust lighting performance accordingly.
When it comes to performance level, the PETZL NAO Plus S20 is outstanding and should suit users who demand the highest levels of performance. It can emit a light intensity of up to 750 lumens, making it an ultra-powerful lamp.
Besides this, wearing this headlamp is comfortable. Because it is equipped with an adjustable headband and an additional top strap for technical activities. This model is also very stable on your head.
To make it work, a 2600 mAh lithium-ion battery is integrated. However, the battery life is somewhat disappointing. And the charging time is nearly 5 hours.
---
8.

Silva Trail Runner 4X

– Lightweight & Designed for Runners and Trail Enthusiasts
Specifications:
Maximum light output: 350 lumens
Range: 75 m
Power supply: 2.4Ah rechargeable lithium battery
Battery life: up to 18 hours
Waterproof: IPX5
Weight: 115 g
Pros
Offers increased stability and control
Low weight and comfortable fit
Excellent lumens per gram ratio
Very good value for the money
Cons
The Max distance is only 75 meters
With the Silva Trail Runner 4X, we have a headlamp that combines high performance, low weight and a comfortable fit, to give an exceptional ratio of lumens per gram.
This headlamp is more than enough for night trail rides. And with a weight of just under 115g, this headlamp offers a light output of up to 350 lumens on the highest setting. Apart from this, other lighting modes are available: flashing, medium and minimum).
It is powered by a 2.4 Ah battery that is rechargeable via USB in about 4 hours. A green/red LED indicator tracks battery status. Another nice thing: an extension cord and a soft hook-and-loop case with several attachment options are included in the package, which allow you to carry the battery safely and warmly in your pocket.
It is made of ABS plastic, aluminum, polycarbonate and thermoplastic urethane. The Silva Trail Runner 4X has an IPX5 rating, which means it's moderately water resistant. This headlamp will have no trouble withstanding low-pressure water currents from any angle.
Its design combining a large spotlight and a long spot beam has been optimized so that you can make less head movement to reduce fatigue and give you better control and balance.
---
9.

Foxelli MX20B Headlamp

– Ideal for Adults & Kids, Running, Camping, Hiking
Specifications:
Maximum light output: 165 lumens
Range: 50 m
Power supply: 3 AAA ENERGIZER Batteries (Included)
Battery life: up to 45 hours
Waterproof: IPX5
Weight: 90 g
Pros
Long-lasting & durable construction
Super bright LED technology
Lightweight and comfortable
Super long battery life
Cons
The red light option could be more effective
Foxelli's sense of innovation is reflected in its MX20B headlamp, which offers reactive lighting. Thanks to an integrated super bright LED light, you can adjust according to the ambient lighting conditions. This not only allows you to have the light you need in every situation but also saves battery life in the long run.
If you are looking for a versatile and reliable headlamp, the Foxelli MX20B is an option you should consider. It offers three light modes (close, far and mixed) and a red light that preserves your eyes' night vision. It is equipped with 3 AAA ENERGIZER batteries, which provide up to 45 hours of run time. This is a big asset if you plan to use it in remote areas.
With its 165 lumens of maximum light output of 50 m, Foxelli MX20B headlamp is more than enough for most adventurers who would like to go camping or hiking.
Some interesting features make its use comfortable and practical. For example, a convenient built-in timer function allows you to turn the light off with one press of a button.
And with a weatherproof rating of IPX5, the Foxelli MX20B is equipped with a patented washable headband, capable of absorbing perspiration and above all adjustable. You'll have no trouble positioning it optimally and it will stay in place during dynamic activities.
---
10.

Ledlenser MH5

– Lightweight Multipurpose Magnetic Rechargeable Headlamp
Specifications:
Maximum light output: 400 lumens
Range: 90 m
Power supply: Rechargeable lithium battery
Battery life: up to 35 hours
Waterproof: IPX5
Weight: 213 g
Pros
Rechargeable Batteries
Above-average light output and waterproofness
High protection against bad weather
Comes with 7-year guarantee
Cons
Short battery life on the highest setting
The light quality is a bit dull
The Ledlenser MH5 closes our top 10, and at the very least, it multiplies the merits that will make you consider its purchase very seriously. For this model, which is one of the most versatile in its range, Ledlenser has adopted a relatively light construction while implementing the variety of parameters that its headlamps generally offer.
It is equipped with a high-quality LED, which offers an output of 400 lumens. However, you are only entitled to two different modes to adapt the lighting to your needs in various situations. The Ledlenser MH5 offers proximity and distance modes among others.
For night reading, the LED red light mode ensures perfect night vision. A brightness memory function makes using this headlamp very convenient. Thanks to this, you can program your light to turn on at a certain brightness.
This model can operate either with rechargeable batteries via USB or with alkaline batteries. This gives it a certain versatility. In terms of battery life, it will run up to 35 hours. Overall, the Ledlenser MH5 will convince you with its sleek design and excellent weather protection to withstand rain and splashes.
---
Best Headlamps for Outdoor Pursuits Buying Guide
According to our experience and the opinions of users who have tested the product, some factors should be considered before making the purchase decision.
The lighting field
Two types of lighting fields can be identified depending on the sport practiced:
Fast moving sports
We can list sports with fast movements: night trails, cycling/mountain biking, etc. In these sports practices, we will generally favor headlamps with a power of at least 200 lumens to see far and anticipate obstacles and at most 600 lumens (or more if your budget allows it).
For mountain biking, headlamps with a minimum power of 500 lumens are recommended: as they consume a lot of energy due to their high power. You can choose lamps with a remote battery system to be installed on the bike frame.
For road races, a headlamp with a minimum power of 200 lumens will be sufficient to see the road and its obstacles. On the other hand, as for cycling, the use of a lamp with a red flashing repeater at the back of the head will be highly recommended so that you see other users and thus remain safe.
Slow-moving sports and activities
Examples of sports in this category include walking, camping, fishing, etc.
For these practices, a lighting power of at least 50 lumens and a wide beam will be adequate to perceive everything around you. This statement is of course to be put into perspective if you practice these activities in gloomy weather or if you go through thick fog, our recommendation applies to mild weather.
Some examples of activities:
Running: prioritize the lightness, fit, and beam distance of your headlamp.
Hiking: Prioritize the lightweight, battery life, beam distance, and mode options (see next point) of your headlamp.
Climbing: prioritize the power of the headlamp and the distance of the light beam.
Bike: Choose the power and beam distance of your headlamp.
Kayaking: Prioritize the fit, beam width, and light output of your headlamp.
Travel and camping: Prioritize beam width/area, battery life, and price of your headlamp.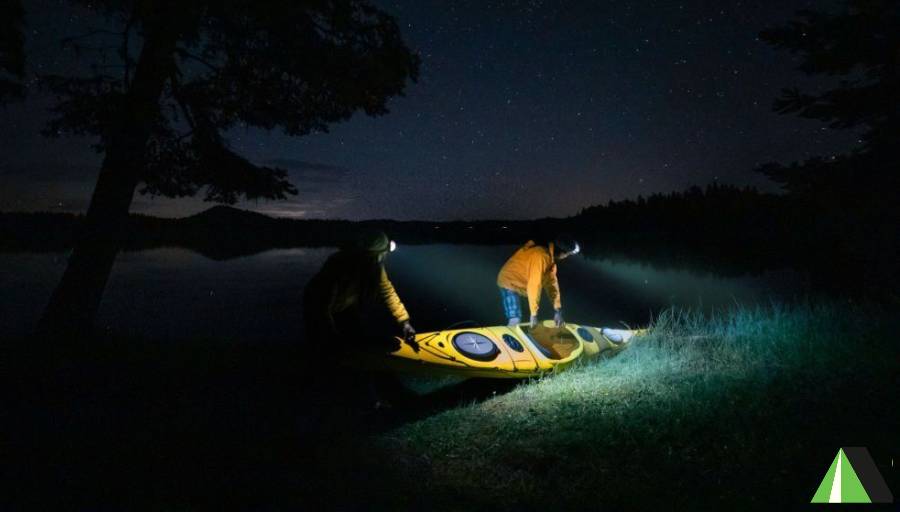 Lighting modes
Headlamps have several different lighting modes that can be useful depending on your sports practice:
Strong mode – This mode is useful for the most intense sports practices. But it is very energy-intensive. Some headlamps have a mode allowing you to vary the intensity and the light power which can be useful to use up the entire battery of the headlamp over a long period. Note that some models even have a "boost" mode.
Boost (or Zoom) Mode – This mode is only found on a few models. This feature projects an extremely intense beam for a short period of time (10-20 seconds). It is pretty useful if you're wondering what's causing that rustle near your camp, right? Keep in mind that this mode is very energy intensive.
Eco mode – This mode favors the battery life of the headlamp over the duration of sports practice. It delivers less power compared to the maximum brightness of your headlamp but will allow you to save battery in case of a critical moment.
Red Mode – The red light from headlamps is meant to preserve your night vision while providing enough light for you to see. Also, a headlamp's red light modes aren't as blinding to your friends, which is great when using a headlamp with a group of hikers.
Front Flasher Mode – This mode allows for more visibility (front flasher). It is particularly useful if you have to cross passages used by motorists or if you want to emit hazard warning lights.
Rear flashing mode – This mode provides additional safety by signaling the presence of its user with a flashing light device on the back (of the head). This solution will be preferred for sports in urban areas. This feature is very popular with cyclists who see this device as an additional way to be seen by motorists.
Battery life
The battery life of the headlamps currently on the market is estimated to be between 2 hours and more than 30 hours of use depending on the lighting modes used. The more intense and powerful the lighting of the headlamp, the more its run time will be limited. See the point on the type of power supply a little further down.
Type of beam
The majority of headlamps on the market offer a wide but not necessarily concentrated light beam. In sports requiring searching (orienteering, raids, or running on inconspicuous paths), a narrow beam will be more reassuring. In the case of trails or races on marked paths, a wide beam will be sufficient.
Light power
The lumen is the unit of measurement of the quantity of light emitted by a light source (in other words the light output). A headlamp whose light output will result in a high number of lumens will consume more energy than a lamp whose light output will result in a low number of lumens.
On the other hand, the higher the lumens, the more powerful and brighter the light will be.
The brightness of the headlamp
Lumens are the standard unit for measuring brightness. You will see headlamps ranging from 20 lumens to 1,500 lumens or more.
Headlamp optics focus lumens, which directly translates to how much light goes where you want it. Well-known headlamp brands like Petzl, Black Diamond, LEDLENSER, ​​and Silva have their own optical technology.
When looking at headlamps from major brands, the lumen count is a surefire way to gauge the brightness of the headlamp. Lesser quality brands with a high lumen count may not deliver as high brightness due to the quality of the lamp optics.
The number of lumens you need depends on what you plan to use it for – the brightest isn't always the best. Most headlamps have a high, medium and low mode. So a high output headlamp can always give you low output alternatives. Some general advice:
Low Lumens (25+): Good for setting up camp in the dark, reading in the tent, doing detail work, walking the dog, storing in an emergency kit, or using whenever you're in a group (an extremely bright light can be distracting).
High Lumens (200+): Good for running in the dark or doing night hikes
Higher Lumens (600+): Good for mountain biking or evening skiing.
Super High Lumens (1,000+): Good for spotting poorly marked trails, for high-speed skiing or biking, or for search and rescue.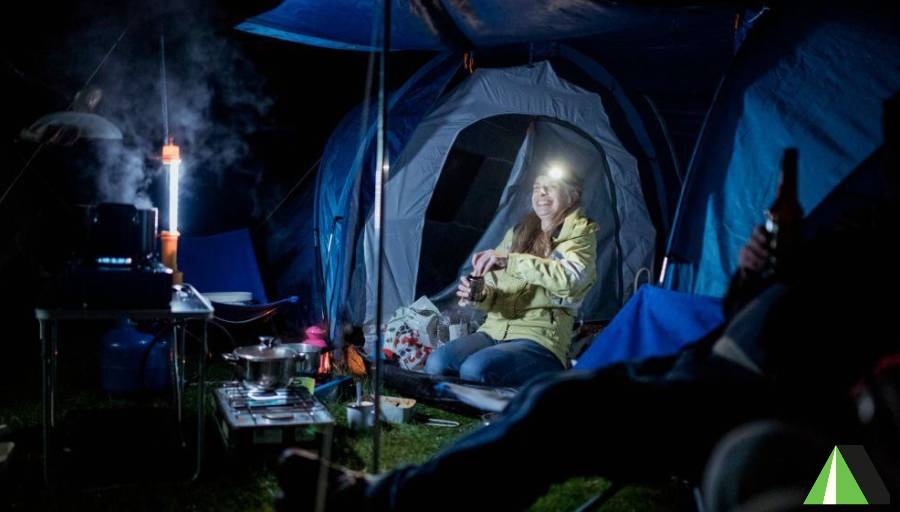 The weight of the lamp
Most headlamps, with batteries or rechargeable batteries included, weigh less than 200 grams on average and are of similar sizes. However, other more specific (more powerful) models have additional straps and heavier external batteries. These will therefore be less comfortable to use.
The type of power supply
Headlamps offer two types of power supply: rechargeable battery or battery-powered. Generally, lamps with rechargeable batteries (via a USB port) will be cheaper to run and more efficient in terms of power than their battery-powered counterparts.
If you choose a battery-powered headlamp, having a second charged backup battery on your person can be useful.
USB or battery-powered power sources
Always bear in mind the battery life remaining in your lamp and its recharging method. If you're looking for a headlamp for weekend walks, evening jogs or dog walking, a USB rechargeable headlamp is a great option. But if you're hiking around the world, a lamp powered by common batteries is an ideal solution.
USB rechargeable headlamps: You can easily recharge them with almost any energy source: wall sockets, portable batteries, mains chargers or solar chargers. Don't forget the power cable, especially if you need a specific/proprietary charger.
Replaceable Batteries: AA or AAA batteries are readily available virtually anywhere and provide instant power. But you will need to bring extra batteries, recycle used batteries and buy new ones. Some headlamps are powered by both USB and batteries, allowing you to get the best of both power sources.
Cold Weather Battery Notes: Has your phone battery ever died in cold weather? This can also happen with headlamps. If you need a lamp for extended use in cold weather, look to headlamps powered by removable batteries. Extra batteries slip easily into your jacket pocket to keep them warm and give you better performance.
The tightness of the lamp
Not all headlamp models on the market are waterproof. The use of a waterproof headlamp is recommended because showers should not deprive you of light. Waterproofing is a very important criterion for the practice of multisport raids or caving for example.
The inclination of the beam
Being able to adjust the inclination of the light beam from bottom to top is a criterion that can be useful for several sports such as orienteering (which requires reading a map for example).
Other things to consider
Headlamps with a light sensor – Some headlamps have a sensor that constantly analyzes the ambient light to adjust the power of the lighting. This system allows both to have your hands really free and therefore to be able to "forget" this device. It also improves the life of the battery by never consuming more than necessary. This technology has been patented by the Petzl brand.
Constant light – Rather than gradually dimming as the batteries drain, headlamps with a dimming feature provide a constant level of brightness throughout the life of the batteries. This is a positive feature, which deserves to be appreciated. The downside: When the batteries run out, the light from regulated headlamps can suddenly turn off. This forces you to replace the batteries in the dark. Dimmer light on an unregulated headlamp gives you advance warning that the batteries are nearing the end of their life.
Child-friendly headlamps – Headlamps designed for children are often smaller, brightly colored, lighter and less powerful. Features like auto shut-off are ideal for young campers. Remember that LEDs are bright enough to cause permanent vision damage, so make sure your child knows how to use their light properly.
Lightweight Design headlamp – Most headlamps designed for outdoor use are about the same size and weight. But if you want to save a few grams, the weight of the lamp is a factor to consider. Weight usually goes hand in hand with features (lighter = less features, heavier = more features), so it's important to know exactly what you want from your light and what you can live without. When you have a clear idea of ​​your needs, you can find headlamps that tick all your boxes and choose the lightest one. Tip: For those really looking to reduce weight, consider lithium batteries. Lithium batteries are lighter than their alkaline and NiMH counterparts and perform better in cold weather. But beware, they are also more expensive.
Lock Mode (lock) – Some headlamps have a lock mode, so a bump or accidental button press will not turn on the light. This feature comes in handy if you throw your light in your backpack or toolbox.
Optic tilt – The ability to adjust the optical block up and down is a nice option. It allows you to position the beam exactly where you want it. This is particularly practical for reading with a headlamp.
FAQs
Which power is the most suitable for all uses?
A headlamp whose power is between 100 and 150 lumens should be able to cover a wide range of uses. If you think that your practices will evolve over time, you can bet on a headlamp with a fairly high power that benefits from several modes such as high, medium, and low. You will never regret your purchase.
Which headlamp for the trail?
It is necessary to favor a light lamp, which offers a beam that can adapt to low and long ranges and can go up to 290 lumens.
Which headlamp for running?
The best choice is to use a compact and light frontal with an adaptable beam. The maximum light output of 100 lumens is sufficient for leisure running.
Which headlamp for hiking?
The best choice is a long-range or battery-powered and waterproof headlamp.
Which headlamp for fishing?
The winning product of the comparison is a versatile and waterproof lamp with a lighting power of at least 80 lumens.
Which headlamp for mountain biking?
Due to the speed, the best option is to choose a light output of 1000 lumens for regulated brightness.
What wattage headlamp is most suitable for mountain hiking?
For a hike in the mountains, a power between 100 and 200 lumens at least should be suitable for this use.
Why do some headlamps have a green beam?
Headlamps with green light beams are less common than headlamps with white or red beams. They are less dazzling and less energy intensive than white beam lamps. They are useful for hunters who more easily spot the eyes of their prey in the forest.
Conclusion
The choice of a headlamp is determined according to different criteria and especially your needs. We have tried to be as exhaustive as possible but obviously, there are always special cases. If you can't find the answer to your question in our guide, feel free to leave a comment or contact us directly. We'll try to put our expertise to use.