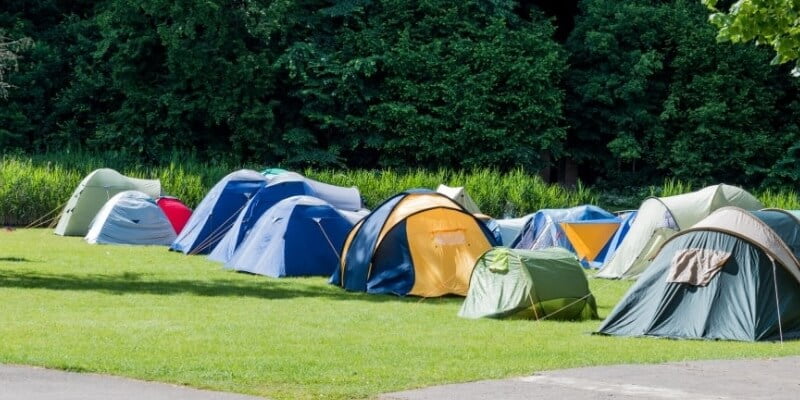 Tents are versatile shelters designed to provide temporary accommodation for outdoor activities such as camping, backpacking, hiking, and various events. They come in a wide range of styles, sizes, and configurations to suit different needs and environments. Each type of tent is designed with specific features and characteristics to accommodate various purposes, weather conditions, and group sizes.
No matter whether you go on a hiking tour with light luggage, plan a week's holiday at the campsite with your friends and family or camp in winter in snow and storm, there is always a tent that is made just for that.
We look at 9 common types of tents and summarize their advantages and disadvantages.
The 9 Most Common Types of Tents
Let's see the 9 most common types of tents step by step…
1. Pop Up Tent
Best For:
Festivals and events
Casual camping
Backyard camping
Beach trips
Traveling with young children
Instant or pop-up tents can be set up incredibly quickly. You take them out of the transport bag and throw them in the air. And when the tent lands on the ground, it is already set up! This feature makes the pop-up tents perfect for festivals and newcomers to camping.
Pop up tent is made possible by a simple trick. The flexible poles are ring-shaped and firmly connected to the tarpaulin. During dismantling, the tent is twisted together with a little force until it looks like a round, flat disc.
If you let go of the pane, the spring force of the fiberglass poles will erect the tent by itself. Currently, there are pop up tents only in small sizes for 1-5 people.
Recommendation: Weanas Easy Pop Up Tent is light and instant setup. Thanks to the all-around sewn groundsheet and inner tent, it cuts a fine figure even in the rain and cold. It has a dismantling aid that makes it easier to fold the tent up.
Advantages:
It only takes 10 seconds to set up and 1 minute to dismantle
It can stand without bracing
Takes very little floor space
Easy to carry
Affordable
Disadvantages:
Dismantling requires the right technique and a little practice
Nothing for the rucksack
Difficult to repair
Less customization
---
2. Dome Tent (Igloo)
Best For:
Backpacking and hiking
Casual or weekend camping
Festivals and events
Short getaways
Fair weather camping
Dome tent is small. This type of tent comes in different shapes. It is the egg-laying woolly milk pig among the tent types: You can set it up in 15 minutes. It is reasonably stable, compared to pop-up tent, in the wind and offers more space than the pop-up tent. Dome tent is available for a little money.
It is not outstanding in any of its important properties (structure, stability, space, weight), but it does not have any major weaknesses. Therefore, it is suitable for hikes, small groups, bad weather and festivals. It is rightly the most common type of tent.
Dome tent consists of two poles, which intersect at the tent top. Usually, the inner tent is hung on the underside of the arches. The outer tent is then simply pulled over it. However, most extended dome tents have an apse. You can stow your luggage and offer space for 2 to 5 people.
Recommendation: Coleman Carlsbad dome tent has space for 4 people, 2 entrances for good ventilation in summer, and 2 vestibules with plenty of storage space for your luggage. This also makes it suitable for a longer stay on the campsite.
Advantages:
Can be set up without pegs
Universally applicable
Available in different sizes and shapes
Good value for the money
Lightweight
Disadvantages:
Small apse
Limited room divisions
Not very stable in heavy winds
Inner tent can get wet on rainy days
---
3. Tunnel Tent
Best For:
Small group or family hiking
Long-distance hiking and thru-hiking
Solo or small group camping
There is a reason why tunnel tents are so popular: Tunnel tents are real space savers and the shape allows perfect use of space. That's why we can comfortably stand upright (1.90 meters, 100 kilograms) in larger tunnel tents. This is useful for example when moving.
Small models are very light because they create a lot of space with little material. That makes them interesting for trekking fans. Several parallel tent poles give this type of tent the shape of a tunnel. The sleeping cabin is at the back of the tunnel. The tent has a large apse at the front. In larger models, the apse can accommodate a complete seating group.
The front wall is often removable and the side walls can be opened – the apse becomes a pavilion! There are also tunnel tents that are small enough for 1 person and large enough for 8 people.
Recommendation: CMARTE big tunnel tent for 6-8 people has a spacious apse where you can store your equipment at night and relax during the day when the weather is not great. 3 doors and large windows ensure excellent ventilation on hot days.
Advantages:
Best use of space thanks to steep walls
You can comfortably stand upright
Very stable in windy conditions
Comfortable for extended stays
Good ventilation
Disadvantages:
Not free-standing
Needs a large floor space
The high profile makes it prone to crosswinds
---
4. Geodesic Dome Tent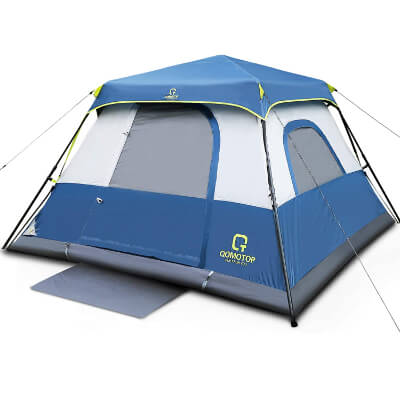 Robust – the geodesic tent is an indestructible fortress. It protects against wind, rain and snow better than any other type of tent. This makes the geodesic a reliable companion for expeditions and windy areas such as mountains and coasts.
The geodesic is a hemispherical tent with three or more crossed poles. So it has more poles than the dome tent – that's what makes it so stable.
However, it is also relatively heavy and expensive. The poles also give the tent its name: They form geodetic lines on the tent's surface.
In order to further increase the stability against the wind, Geodesic tents have a low cross-section. They offer space for 1-4 people.
Recommendation: The OT QOMOTOP is not the lightest tent, but its construction and high-quality materials such as the aluminum frame with T6 hardness make it extremely robust. It can withstand extremely strong winds and you set up within a few minutes.
Advantages:
The geodesic is extremely robust and resistant to rain, wind and snow
This type of tent is made of high quality materials and lasts longer than other tents
It has 2 or more entrances: One entrance is always protected from the wind
Disadvantage:
The robust design makes the tent comparatively heavy
Little headroom, too small for larger groups
High price: costs significantly more than other tents of the same size
---
5. Inflatable Tent (Air Tent)
Instead of tent poles, the inflatable tent has tubes filled with air. They are simply inflated with a hand pump or an electric pump because the hoses are connected to the tarpaulin. The air tent stands up by itself – and stands in a few minutes!
Most inflatable tents are tunnel-shaped. They are surprisingly wind-stable – the air hoses sway in the wind but don't break like tent poles. However, inflatable tents are surprisingly heavy because of the robustly sheathed tubes. They weigh significantly more than comparable tents with poles.
Inflatable tents are available for 2 – 8 people. Most of the models are large and have plenty of space inside the tent. The comfortable structure and the most upscale features such as a heat-repellent coating and darkened sleeping cabins also make it the perfect glamping tent for campsites.
Recommendation: HEIMPLANET is an experienced tent manufacturer and expert in air tent technology. HEIMPLANET Original air tent for 5 people with its large apse offers enough space for a comfortable weekend with friends and family and is extremely bright thanks to large windows and doors.
Advantages:
Setup and dismantling only take a few minutes
Large models can easily be set up by one person
Surprisingly easy repair of the air hoses with adhesive patches
Disadvantage:
Inflatable tents are heavier than other types of tents
They are new and still comparatively expensive
Occasional re-pumping may be necessary if the temperature fluctuates significantly
---
6. Pyramid Tent (Tipi)
Pyramid tent is a tall tent in the shape of a pyramid. It is constructed very simply: a tarpaulin is placed over a single central tent pole and tensioned at the corners. That makes the pyramid tent very light. It is a good trekking tent.
Pyramid tents are usually single-walled. This quickly leads to problems from condensation. However, the shape of the tent allows very good ventilation: Warm, moist air rises and can leave the tent through the opening at the top of the tent.
Better-equipped pyramid tents bring a sewn-on groundsheet and a mosquito net for the entrance. Some models even offer an optional inner tent – but this is an exception.
There are many models for 2-8 people available on the market. In large pyramid tents, you can stand comfortably in the middle of the tent.
Traditionally constructed tipis with external tent poles have a very special advantage: The large tent height allows open fire in the middle of the tent – a practical way to heat the tent in winter.
Recommendation: Mil-Tec Pyramid Tent is absolutely weatherproof. It comes complete with extra-light aluminum poles and an inner tent. It weighs only 14.02 pounds – with 105sq ft space.
Advantages:
Low weight: the simple construction makes the tent light
Fast assembly: only one pole needs to be set up
Even tall people can comfortably stand upright in the middle of the tent
Disadvantage:
The tent pole in the middle can cause bruises and headaches
Inappropriate use of space in the edge area because of the sloping walls
Not free-standing: without bracing, the tent tips over
---
7. Multi-Room Tent
Multi-room tent consists of several sleeping cabins that lead into a central living area. So it has several rooms like a "real house". The sleeping cabins have their own doors.
This design is great for families and groups camping. Everyone has a bit of privacy in their private compartment, and in the evening everyone can relax together in the living area. With its steep walls, the living area allows camping furniture to be set up.
Multi-room tents are big and heavy. They are therefore best suited for camping by car.
To reduce weight and price, some manufacturers include thin fiberglass rods. These then break quickly. Better: steel or aluminum bars!
There are multi-room tents for 8-12 people. Small families with 4 members often opt for large 8-person tents – more space means more comfort.
Recommendation: KTT Large tent has 2 Rooms, Straight Wall, 3 Doors and 3 Windows. 3 Doors and 3 Windows supply the tent with fresh air. Thanks to Fiberglass Tent Poles, it is more robust than other tents in its class.
Advantages:
Lots of privacy and retreat options thanks to separate rooms
The central living area offers plenty of space for camping furniture
Comfortable standing is possible in the living area
Disadvantage:
Simple models with thin rods are not very stable in the wind
It takes a long time to set up and may require more than one person
Lots of seams that can potentially leak. Take the seam sealer with you!
---
8. Backpacking Tent
These tents are not in the shape of a rucksack. They are made to be carried in a rucksack for days on hikes. The ideal backpack tent is therefore light, stable, weatherproof, quick to assemble and dismantle, and offers enough space to sleep and stow your luggage.
Backpack tents are free standing. You can build them up quickly and in almost any location because they don't take up a lot of space.
However, it is tight in the inside – these small tents offer space for 1 – 3 people. And most models make it difficult to sit upright. But the tent is easy to carry during the day.
Good models weigh less than 1000 grams per person.
Recommendation: Forceatt Cloud-Up 4 Seasons tent for 2 or 3 people is made of nylon and aluminum. That makes it robust and very light at 2.5 kilograms. The self-standing inner tent keeps warmth in and insects out.
Advantages:
Very light: Less than 1000 grams per person
Freestanding: The tent can be set up and taken down quickly
The low profile ensures wind stability
Disadvantage:
Little headroom: Sitting upright is often not possible
Only available in small sizes for up to 3 people
High-quality, lightweight materials such as aluminum make the tent comparatively expensive.
Reading tip: In our guide The budget backpacking tent – features, advantages & disadvantages, we answer all the important questions about this interesting type of tent.
---
9. Rooftop Tent
---
10. Tarp Or Hammock Shelter
The simplest and lightest tent construction is the tarp. It is a tarpaulin with loops to attach guy ropes to. The tarp is tensioned between 2 trees or a tree and the ground. Alternatively, you can use a trekking stick or branch as a tent pole. Then only the corners of the tarp have to be attached to the floor.
You will have a roof for the night within a few minutes. But no more: A tarp is open all around and offers no protection from insects and changing winds.
Because of its low weight and quick setup, the tarp is perfect for trekking and people who want to experience as much nature as possible while camping. Depending on the location, the weather and the desired size, there are numerous options for setting up the tarp:
Recommendation: It doesn't get much easier – KALINCO Hammocks Tarp is 10X10FT in size and weighs only 2.38 pounds – but it only keeps out rain and sun. It is completely waterproof and has many sensibly placed loops for tensioning. You prefer to replace the supplied pegs with better models.
Advantages:
Tarp is extremely light and hardly takes up any space in the backpack
Great outdoor feeling: you (almost) sleep outdoors
Optimal ventilation: on hot summer days it is pleasantly cool under the tarp
Disadvantage:
Not closed all around: No complete protection from wind and rain
No protection against insects such as mosquitoes and spiders
Not free-standing: assembly only possible with bracing
---
Final Thoughts
We have several tents. A large 6-person tunnel tent that we used to camp with friends and family. The construction takes a little longer, but the large apse is worth its weight in gold in rainy weather.
If there are only two of us traveling, our trusty, Coleman 4-person dome tent accompanies us. It has a good size for 2 people + luggage and has a significantly smaller footprint than the large tunnel tent. This makes it easier to find a nice spot on the campsite.
However, when you buy a tent, think about beforehand how big it has to be, how heavy it can be, whether you want to set it up on your own, how much money you want to spend on it, and also what material the tent should be made of. Because each material has advantages and disadvantages for you (we wrote a separate article).
Hope this guide helped you.
Don't hesitate to share your opinion in the comment section below.