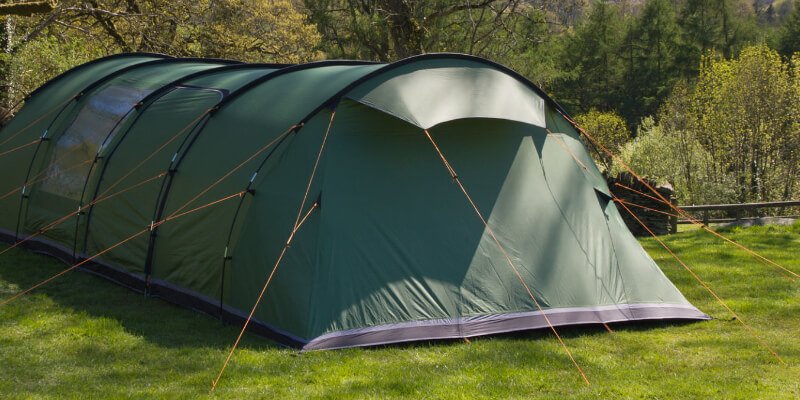 Whether you're planning a family camping trip, a group hiking excursion, or a festival getaway, having a spacious and reliable shelter is essential. If you want to camp with your family or a large group of people, a 10 person tent is the best option instead of carrying multiple tents.
In recent years, advancements in tent technology have led to innovative designs that offer not only sufficient space for larger groups but also improved durability, weather resistance, and ease of setup. In this buying guide, we're going to offer you a list of the top ten best camping tents for 10 people.
Throughout this guide, we will delve into the key features of each tent, including capacity, layout, ventilation, storage options, and overall design. We'll also touch on the materials used in construction, the ease of assembly, and any additional accessories that might enhance your camping experience.
Best 10 Person Tents in 2023
Without further ado, let's explore the top contenders for the best 10-person tents of 2023…

If you like camping with a group or family, a spacious, sturdy, and versatile tent is a must-have. This is exactly what Ozark Trail 10 person tent offers. Ozark Trail Instant Cabin Tent tent is equipped with practical features that will make you feel almost at home.
With the dimensions of 165 x 120 x 78 inches, you have enough space to settle in the tent without huddling together like sardines. You can store furniture and certain outdoor items and where you can even meet for group meals or very lively moments of relaxation. The rest can be divided into 4 large bedrooms as well.
The surface allows you to move freely since the large height of the tent prevents you from having to stoop or crawl to move inside. To make the most of it, the size of the sleeping area can be adjusted according to your needs, thanks to a rather practical divider.
You are effectively protected from the sun, rain, wind, and even insects. To ensure that everyone is very comfortable, the air circulation has been optimized to ensure total comfort for the occupants. You will therefore appreciate the multiple strategically placed windows. You can place stakes to transform the entrance into a canopy and protect you from the sun while letting air circulate.
The water column is a high rating. You don't have to worry about water getting inside the tent. Moreover, the floor is covered with a waterproof mat and sewn directly to the structure. This prevents the penetration of water and humidity and even that of insects.
The "Dark Rest" feature allows you to sleep/nap during daylight hours easily. To prevent insects, you can add mosquito nets at the entrances and windows that block insects of all kinds when you need them. For example, to let the air circulate during the hottest moments of the day.
The frame is made of steel. For easy movement, the Ozark Trail 10-person tent comes with a very practical carrying bag. Other accessories are also included for your convenience: anchor ropes and sardines as well as a repair kit. You can assemble this tent in less than a minute.
Pros
Ideal for large families or large groups
Simple and intuitive assembly
Good weather resistance
Insect-free living space
Sewn-in tent floor
Lots of pockets and storage space
Cons
Not heavy duty
Doesn't come with rainfly
---
Coleman offers you a camping tent for 10 people, allowing you to stay even when you are hiking. It will make you feel like you are at home with your family. With a capacity to accommodate 10 people, sufficient space and conviviality are guaranteed. You won't go through like you're in a tight spot.
Since you often camp in places a little wild with rain, insects, and all the other whims of mother nature, the manufacturer has designed this tent with protected windows and UV protection resistant to solar rays. It is designed with strong materials that can resist water.
The 21 m² living space tent has a standing height of 80 inches, a large living area, and 17 by 9 feet with its own sewn-in floor for insect-free and well-tempered bedrooms. The angled windows also keep it open in the rain and help keep the water out while allowing for extra air circulation.
The 19mm stainless steel poles are a great choice to resist rust (if you are camping near the beach) and provide the tent with resistance against wind and storms. And with a water column of 5,000 mm for the outer tent and the sewn-in tent floor with 10,000 mm with waterproof seams, you always stay dry and can use the interior in bad weather.
It has a hinged door, which offers easy in and out access. The tent floor for the living area is shaped like a tub to keep moisture out and provide comfort. Coleman WeatherMaster camping tent comes in a large, practical carrying bag with accessories such as guy ropes, pegs, assembly instructions, and a repair kit.
The price is average but the installation guide is not too clear. Also, this model doesn't have been designed with sleeping cabins to separate everyone's space like the Ozark Trail. Otherwise, this model could be a great choice for both hikers and campers.
Pros
Wind and weatherproof frame
Big and durable
Lots of storage pockets
Angled windows
Fairly small to pack, and lightweight
Quick and easy to set up
Cons
Doesn't have a cover over an entrance or a mesh porch area
---
3. NTK Arizona GT 10 Person Sport Camping Tent

This high-rated family tent from NTK has a unique design that is narrower than many other models but is very long. It can accommodate seven people lying crosswise and have enough room for three people who can sleep against the side of the tent.
It is an ultra-spacious tent with 2 spaces. The XXL dimensions are; width: 2.45m, length: 5.30m, and inside height: 2.05m. It has a large space for meals which can also be used for sleeping. There is also the possibility of not compartmentalizing and of making a large dormitory.
This tent is fitted with excellent waterproof protection with a flysheet that goes all the way to the bottom and a raised bathtub floor to protect you from the cold. It is 100% waterproof with up to 2500mm of rainfall.
NTK Arizona GT tent is made of polyester and polyurethane with UV protection. A detachable divider included in the package helps you to divide the tent into two sides. It's also super easy to pitch and you should have your tent complete in no time. The ground is very durable.
This tent features large openings with two doors and three windows. It also has mosquito nets and removable separation between the two rooms. It is not too heavy to carry either. And could be a great tent for festivals and family camping trips!
The frame is made of 100% virgin NANO-FLEX fiberglass rods with shock-absorbing fiber, gold-plated rings, and color-coded aluminum quick-release system for easy installation. Floor with anti-mold coating featuring silver threads.
The package includes a heavy-duty carrying bag. However, there are no clear instructions at all. Although it isn't an overly complicated tent, instructions would have been helpful for the first-time setup, even for experienced people.
Pros
Sturdy and has plenty of room
Easy to put up and pack away.
Waterproof full-coverage rainfly
Durable and high-quality frame
High-quality floor
Includes zipped stuff bag
Cons
You need to keep the rain cover on for U.V.
No instructions
---

This large tent is one of the best you could dream of if you are a large group of campers. Indeed, its large dimensions, as well as its characteristics, allow unmistakable comfort and practicality with maximum safety. With its tunnel shape, the Skandika Hurricane offers ample space for the needs of a large group.
The large living room allows you to gather quietly as a group around a good meal for memorable moments of conviviality. There is a hook to hang your lamp very easily. You can store your belongings in storage pockets for maximum comfort in the bedrooms. Thanks to removable partitions, designed to separate the two large cabins from the tent if necessary. This allows you to have a maximum of space and to be very comfortably installed when the group is smaller.
It is also not necessary to squat to move around in this large tent as the ceiling height is 2.15m. Even very tall people can find it easy to move around and inside the tent itself. To allow sufficient air circulation throughout the tent, several large windows are fitted to your tent. It is associated with multiple entrances, which will allow you to enjoy the fresh ambient air.
You do not have to worry about the intrusion of insects because all ventilation openings and entrances are equipped with mosquito net doors. Even the groundsheet helps prevent insects from coming down to disturb you. To facilitate cleaning, the groundsheet is also easily removable.
Moreover, the whole tent is waterproof with a very high waterproofing index. And with its 5000 mm of waterproofing and waterproof sealed seams, it will protect you against rain even when it is very abundant.
As for its fiberglass and steel poles, they keep the entire tent stable. The breathable fabric it is made with is very strong and durable. This is a quality PU-coated polyester.
This tunnel tent comes with the necessary accessories such as anchor ropes, sardines, and an assembly instruction manual. It is also easy to transport because the package includes a nice carrying bag.
Pros
Large dimensions offer plenty of space
Very pleasant configuration
Ease of assembly
Practical storage
Good height
Budget-friendly
Cons
Removable partition offers little privacy
---

Peaktop 10-person dome tent is designed to facilitate camping for large groups who wish to equip themselves with a spacious and comfortable tent that is capable of effectively protecting them from the elements. It has all the characteristics and many more that we want you to discover.
As much as to tell you right away, this tent will not bring you the level of comfort of the other models in our comparison, which is normal since it costs 2 to 3 times less expensive. In addition, there is no possibility of standing here, we are in a classic tent format: everything is done squatting or kneeling.
It has 3 bedrooms to accommodate 8 people. If you want to accommodate additional people, it will be through sleeping in the main room.
This tent is made with a resistant type of polyester, ideal for providing good weather resistance. It can also effectively manage light winds and protect you against rain. With its high level of waterproofing of 4000 mm, this tent is ready to withstand heavy rains effortlessly.
Both the inlets and the ventilation openings allow good air penetration. The large doors allow you to enter the tent without having to stoop, for example. In addition, the groundsheet prevents the intrusion of insects while protecting users from humidity and cold.
Peaktop dome tent is made up of 3 reasonably sized bedrooms that allow you to sleep comfortably without getting stuck. For more practicality, the dimensions of the rooms are modular to get better space to store your belongings.
The large living room is suitable for group meals or simply for moments of relaxation in the greatest conviviality. We also appreciate the overall strength of the tent despite its affordable price.
The breathable fabric promotes optimal circulation of ambient air throughout the tent. It has fiberglass poles that resist shocks and wind. Peaktop large dome tent is easily transportable because it comes with a practical and easy-to-lift carrying bag. That is also suitable to store simply inside the tent when not in use.
Pros
Ease of use
Good ventilation
All bedrooms are fitted with mosquito net
Resistant quality materials
Easy to pitch and transport
Excellent value
Cons
User manual isn't well written
Poor design
---

This is a brand new and unique design factory-sealed 10-person camping tent from Ozark! This cabin-style family tent has large windows on all sides. Its great waterproofing will protect you from the heaviest rains of spring or summer, and the sturdy floor will always keep you dry.
The package includes a room divider so that you can make separate living and sleeping spaces. The center height leaves a lot of room to move around. You can comfortably fit two queen airbeds or up to 10 campers in sleeping bags on the floor.
Ozark Trail cabin tent also features a gear loft and electrical cord access. Additional accessories such as electrical cord access, rainfly, carry bag, gear loft, and tent stakes are also included in the order.
The overall dimensions are 168.0 x 120.0 x 86.0 inches. It is quick and easy to assemble. The door becomes a sunshade and much more. However, due to the large; you have to add some additional guy ropes and stakes in high winds but it did quite well.
This model is made of durable 68D coated polyester fabric for long-lasting rain protection. As mentioned, it is fully taped with factory-sealed seams to provide dry zone camping with leak protection. The floor is waterproof and sealed to prevent insects from entering.
Its height means that you can enter it standing, as well as easily introduce tables or mattresses. Once the separation of the cabins is removed and the rooms are joined, it is possible to sleep in the tent even with 10 or 12 people, including backpacks.
Pros
Decent quality for the price
Sturdy and durable construction
Large capacity and height
Stay dry design
Easy to assemble
Cons
Only one side door
Doesn't come with instructions
---

UNP is one of the best affordable 10-person camping tents on the market. An incredibly low cost accompanies its quality and positive characteristics. Its waterproofing and fireproofing fabric generate a very high level of protection, both for you and your family. The large size allows you to move without limitations within it.
The comfort offered by the product is completed with appreciable details including a torch hook, pockets, and two doors. The small living room does not go unnoticed. And with extra space, you can eat comfortably and accommodate 2 more people.
UNP large camping tent allows you to accommodate several family members and friends, and easily distribute them into a comfortable and versatile living room.
It is made of first-class polyester to prevent infiltration and fires, thanks to its flame-retardant layer. The rods are made of fiberglass and virtually indestructible fiberglass, so you are always safe with durable support. It can withstand any strong wind without flying off or bending the rods.
The tarpaulin significantly blocks the sun's rays, avoiding excess light inside the tent or unpleasant temperature increases. This feature has been widely praised in user reviews and opinions.
This model is also relatively light despite its large size. It does not exceed 23.1 pounds. You can carry it anywhere you want easily! However, the instructions are a bit confusing for those who have no experience in setting up tents. It is therefore helpful to have someone with experience nearby or to be patient.
Overall, the UNP 10-man tent is the most excellent budget option to be found in 2023.
Pros
Spacious
Good ventilation
Large view
Made of high-quality materials
Reasonable price
1-year warranty
Cons
Only one zipper
Height isn't convenient for tall people
---

This conical-shaped 10-person tent will give you the impression of recreating the atmosphere of the magnificent tipis of the American Indians. Its design is very successful and its configuration is very studied to allow you to go camping safely with a group of friends or members of your family.
With a waterproof rating of 3000mm, this tent is made to protect you from the rain during your stay in the woods. It can withstand relatively heavy rains while keeping you dry indoors. The different characteristics of this model make it truly functional and practical for long camping sessions.
Its heat-sealed and reinforced seams greatly contribute to the waterproofness of this tent. So that it can withstand the winds, the GRAND CANYON tent is equipped with support rods and steel sardines. These elements also ensure good stability. However, this tent is not really adapted to withstand strong winds.
It has only one unique room in which all campers will enjoy being together both during meals or games and also to rest. Privacy is not really to be sought when you decide to look for this tent. So when going to bed, all you have to do is unfold each other's sleeping tents and everyone can find their place in this 10-person tent.
Its single vertical bar is a good height and gives the right ceiling height which is practical. No matter how tall you are, there is no need to crawl to get inside this tent.
To allow all occupants to be very comfortable there, it has ventilation openings on the roof and on the side walls. They promote excellent air circulation. To avoid the intrusion of insects, mosquito nets have been integrated into each opening.
You will therefore appreciate enjoying the fresh air without indelicate intrusion. Besides this, the sewn-in groundsheet can also prevent the penetration of insects.
The assembly is so easy to achieve and intuitive. Its steel rods and steel sardines also greatly facilitate the installation of this tent. To simplify both the storage and transport of this tent, individual covers are available. It's very small dimensions, and after folding it will be very practical to carry.
Pros
Enormous space
Simple and intuitive assembly
Sturdy and very reliable
High-quality materials
Good ventilation quality
Cons
8 places rather than 10
Lack of occupant privacy
Poor sealing
---
9. Skandika Nimbus Extra-Large Tent for Family

Skandika Nimbus's 12-person tent will delight large groups of campers. Its dimensions allow for having a large living room as well as various in which everyone will have fun resting or spending well-deserved moments of conviviality. With its impressive weather resistance, you can count on it to enjoy quality camping stays.
It has plenty of space and a large living room that will not only allow you to enjoy your friends during moments spent in a group around a dish, a game, or a meal but also store your small things easily.
Its ceiling height of 2.15 m will allow you to move inside the tent regardless of your size without having to bend down. And if you need to enjoy moments in the great outdoors, you can transform the front facade into a protected awning. For that, nothing is more practical than this panel with a zipped entry door which allows having a very easily modular configuration.
The three cabins, that act as a bedroom, can accommodate a small group of campers each. To allow you to adjust the size according to your needs and preferences, a removable partition is available.
To store your belongings both in the living room and sleeping cabins, storage pockets have been integrated to allow you to place small items that you may need to have within reach tomorrow.
In addition, a lamp hook is also integrated to light up more easily during the night. As for daylight clarity, thanks to the many windows available in this tent. They allow light to pass delicately. They are strategically placed to promote optimal air circulation inside the tent.
To avoid having to put up with the insects, mosquito nets are on each of the openings and entrances and allow to block the small indelicate critters. The groundsheet will protect you not only from the intrusion of insects but also from humidity.
Skandika Nimbus camping tent is made with superior quality polyester. Its 5000mm waterproofness and taped seams have a lot to do with it. To allow this tent to better cope with even strong winds, it has been given a finish that is not only more successful but above all more resistant. Its fiberglass and steel poles guarantee good stability despite gusts. Extendable ropes also help to suck for even more durable use of your tent.
Pros
Living room convertible into a terrace
Enough space
Practical details available
Easy to assemble and dismantle
Good airflow
Cons
Heavy
Some parts of fabrics are thin
Perfectible tightness
---

Now you reach the last place in our ranking of the best 10 person tents for your group camping trips. Whether with family or friends, this 10-person Tipi tent will allow you to spend time together. It is very spacious and offers each camper sufficient space to feel very comfortable, especially at bedtime.
With a phenomenal ceiling height of 2.95m, this tent can accommodate all sizes without occupants having to bend over. It has a large diameter of 5 m which allows occupants to have maximum space both for moments of relaxation and at bedtime. This obviously allows the air to circulate well.
Windows and other ventilation openings are available with this tent to explain the comfort of use. These openings bring fresh air inside the room and allow it to be illuminated with sunlight. It is also able to prevent the intrusion of insects inside the tent.
Skandika Molde Teepee tent is made of a single piece that serves as a living room and a sleeping place. This is not really conducive to privacy, and this is the fault that can be compared to this Tipi-shaped tent. However, there are practical organizer pockets that make it easier to store small items.
The total weight is quite light; around 13 kg. It is made with premium polyester with a waterproofing level of 4000 mm. Sealed seams also keep you dry even in heavy rain. The tent-sewn groundsheet is waterproof. You can continue to sleep dry even in heavy outdoor rain.
The steel arch of this tent ensures stability and robustness in the face of relatively strong winds. Other attachments are coming with the purchase and contribute to the good stability of the tent.
Skandika Molde Teepee tent is also easy to assemble and comes with all the accessories for rapid assembly. It offered all these advantages at a very reasonable price. So if you have a small budget, we highly recommend this model.
Pros
Big space
Ease of assembly
Weatherproof with sturdy steel pole
Window with blackout option
Ventilation openings and mosquito nets
Cheap price
Cons
Lack of privacy
Strength and impermeability
---
Best 10 Person Tents Buyer's Guide
Let's see what are the main features you should consider before buying a 10-person tent.
Type of tent
There are several types of tents. This actually relates to the shape of the tent. And each type offers a visual that may appeal to some and not to others. The characteristics of the 10-person tent can sometimes vary depending on its shape. You usually have a choice of tunnel, dome, or tipi-shaped tent.
Actual size
Of course, it all depends on the number of people who generally make up your camp of campers. That said, don't settle for the number of people the manufacturer advertises. Take a look at the actual dimensions of the tent you are interested in. This will allow you to know in a concrete way if all the occupants will be really well-installed and comfortable.
Camping area
This is about the climate of the area where you are going to camp. Look for sturdier materials if you want to camp in the mountains where the winds get very strong.
If you have to camp in the middle of winter, it makes sense to equip yourself with a tent with resistant materials that will allow you to face harsh climates while maintaining optimal stability. For outdoor camping, there is usually no need to look for a tent that is too complicated in terms of climate-related features.
In all cases, make sure that gusts of wind do not risk sweeping your tent in its path. Glass fiber and steel poles are commonly used because they are strong and offer excellent stability.
Waterproof rating
Ideally, go for a 5000mm water column to make sure you face torrential rain without the risk of getting wet. Breathable and waterproof fabric is commonly used to protect occupants from the elements. If the rains are reasonable in the area where you're going camping, you can go down to 4000 or even 3000 mm.
Also, consider the quality of the seams. Indeed, sealed seams are a guarantee of safety. Best 10 person tents with a flysheet offer better protection against water and humidity. Besides this, equally waterproof groundsheet is a must in order not to be disturbed by humidity.
Configuration of tent
Most 10-person tents are equipped with a large living room with at least 3 bedrooms with ideally modular dimensions. The living room is used for friendly meetings between occupants and the storage of certain luggage.
You should prefer a ceiling height of at least two meters for obvious reasons of comfort while moving inside the tent. In addition, integrated storage pockets are very practical to have certain frequently used items close at hand without creating a mess in the common room.
On the other hand, teepee-shaped tents do not have a room but a unique room.
It's up to you to see what you prefer.
Floor
The floor is essential for a number of reasons. Because the material not only needs to be very strong to withstand rocks and debris but also to give you weather protection.
If you want maximum waterproof protection, you should always choose a 10-person tent that floor has a bathtub. This is where the floor material rises a few inches up the walls and protects the side from any groundwater that might be there after a heavy storm.
Rainfly
Anyone who has ever been in an uncovered tent knows that after a thunderstorm, condensation can form. This makes the inside of the tent damp. This negates any waterproofing and can cause great discomfort if something touches the sides of the tent.
One way to end it is to use a rainfly. The rain fly is especially vital for these types of tents as many of them have mesh roofs instead of the usual camping gear.
The reason for this is the amount of heat generated and oxygen consumed by ten people in a tent: a mesh roof lets moisture out of the tent while still allowing air to enter. A mesh roof allows moisture to escape the tent while still allowing air to pass through. The midge is then placed all over the tent to keep water out, making it the perfect camping solution for a large tent.
This includes all windows and the bottom of the tent. It is important to check that all the fly sheets will cover the interior material of the tent.
Tent poles
When you are dealing with a tent of this size, the poles are going to play an even more important role in supporting the weight and protecting the structure. As with any tent, they should be easy to set up and transport.
The materials used on tent poles are fiberglass or aluminum. Fiberglass is strong and lightweight, but it can lack stiffness, which is sometimes necessary for a tent when conditions are not ideal. Aluminum is slightly lighter than other metals. Although aluminum is heavier than fiberglass, it can support a more rigid structure.
The quality of tent poles is important in tough conditions and they come together with strong lines.
Doors and windows
Door is obviously an important part of these tents because you want a wide and comfortable space to get in and out. You want it to be secure. Doors also play an underrated role in the enjoyment of your tent. Because if you have one that is too small or in the wrong place, it is going to be very frustrating.
You also want your door zippers to be of high quality.
Windows are often a personal preference, but most people want to let in light and air. Windows are not only important for letting in light but also play an important role in ventilation.
Ventilation
Ventilation is also an important feature of any shape of 10-man tent, but it is only increased when it is a tent that can hold many people. If you've ever been in a tent with many people and little ventilation, you know how hot it can get.
The same principle applies when you are in an office. The heat from people and electronics can heat up the room very quickly and cause people to sweat. Once that happens, the air can get thick and wet, which is very unpleasant.
Ventilation comes in three different forms because the canvas of the tent needs to be breathable. As we mentioned, it is important to have a trellis roof, as well as windows and doors.
Total weight
Tunnel or dome tents are generally heavy while tipi shapes are light. Depending on whether you have to transport the tent on your back or by car, it is essential to choose a more or less light tent. For reasons of practicality, it is necessary to have a bag for transport and storage.
Other features
An easily erected tent is a must to get it up and running quickly, especially if you need to move it around frequently.
Accessories supplied with the purchase and a repair kit are much appreciated.
Another detail to focus on is a hook for the flashlight.
FAQs
How much does a good 10 person tent cost?
On average, the prices for the best 10 person tents vary between 200 and 500 dollars. The range for the products price in this list is from 250 to 600 dollars. Keep in mind that investing in a higher-priced tent can lead to better longevity and overall comfort.
Where can you use a 10 person tent?
You don't buy a tent for 10 people straight away. This shows you that this type of tent can be used for certain areas. Of course, you can also use such a tent for camping.
However, you have the choice between the different models. For example, there is a geodesic, a tunnel tent, and many others. Before making your selection, you should find out what weather to expect. Due to the transport, your tent should have a low weight but large enough to offer protection for up to 10 people.
There is also a patio 10 person tent, which most people know as a party tent. As a rule, this tent does not have a floor and can be set up anywhere.
A party tent is large. Since this type of 10 person tent is rarely used, you should consider whether it makes more sense to rent this tent for the occasion before buying. There are enough options to rent a party tent.
Are large tents safe?
Large tents are perfect for families and large groups. They are no less safe than smaller tents and the larger space even means that accidents and collisions will be less likely. These tents are more exposed to weather conditions, but strong materials and well-made construction will keep you safe.
Does a 10 person tent take up a lot of space when folded?
10-person tent is going to take up a lot more room when folded up and isn't exactly something you can take on a backpacking trip. Tents typically weigh between 30 and 35 pounds, it's a big weight to carry. However, with this type of tent, you shouldn't take them very far, so their weight isn't a big deal.
Are 10-person tents difficult to set up?
The complexity of the setup can vary depending on the tent's design. Many modern tents feature color-coded poles and clear instructions to simplify the process. However, larger tents might still require more effort than smaller ones due to their size.
Can I use a 10-person tent for backpacking trips?
Most 10-person tents are quite large and heavy, making them impractical for backpacking. And due to their weight and size, they are better suited for car camping, group trips, or base camps.
Are large 10-person tents get hot in summer?
10-person tent can get very hot if not well-ventilated because it can generate a huge amount of body heat. This will obviously be worse in hot conditions. Ventilation in these tents is always important. But if you're in the sun, a mesh roof, lots of windows, and an air vent would be a good idea.
Conclusion
For enjoying a good family or group camping experience, buying a camping tent for 10 people is a good idea. These are the most suitable for campsites and hikes bringing together several people. As we've seen here, there is clearly a lot to consider when choosing the best 10 person tents and you need to make sure that you choose a tent that will match your situation perfectly.
Once you have all the information, choosing a good 10 person tent will be a snap. But everything will depend on your budget and the camping season. Make sure to choose a 4-season tent if you intend to camp in the winter period. You also want to get a tent that is going to match your own personal preferences. Because this plays a huge role in what is going to be the best family tent for 10 people.
Hope this guide helps you make a wise decision.
We also have reviewed: