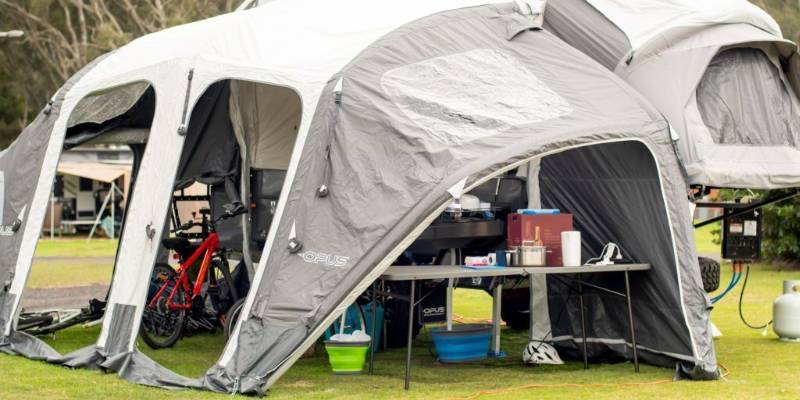 When the tent is ready, the holiday really begins. Inflatable tents not only save valuable time during assembly and disassembly but the holiday can start after just a few minutes.
For the passionate outdoor enthusiast, choosing the right inflatable tent can be an exhilarating yet daunting task. With so many options available, ranging from compact two-person shelters to spacious family-sized abodes, it's crucial to sift through the offerings and find the perfect fit for your unique camping needs.
Today, we're going to uncover the best inflatable tents for 2023. Through meticulous research, hands-on testing, and valuable insights from seasoned campers, we've summarized the 9 best inflatable tents that not only excel in their design and functionality but also promise to elevate your camping experience to new heights.
In the subsequent buying guide, we'll also show you what to look out for when buying an inflatable tent and how to find the right model for your needs.
Best Inflatable Tents in 2023
Our ranking of the best inflatable tents for camping & hiking in 2023…
1. Pavillo Bestway Sierra Ridge Air Pro
Key Features:
Capacity: 4 people
Water column: 5000 mm
Weight: 15.1 kg
Pack size: 72 x 34 x 33 cm
Sierra Ridge Air Pro tent can be set up quickly within 8 minutes. Inside the tent, there are two bedrooms, which makes the tent perfect for 4 people. It has enough space in the living room of the awning to spend hours in the rain. With a water column of 5000 mm, bad weather doesn't stand a chance in this tent.
Another big advantage is that this tent can be closed completely so that insects cannot get inside. Compared to many other inflatable tents on the market, the Sierra Ridge Air Pro scores with additional slots on the outside, through which cables for the power supply can be fed.
Luminous tensioning ropes and practical inside pockets make your outing even more pleasant. With all the benefits, it's easy to overlook the fact that the bedroom could be a bit bigger and darker. However, in the forest ground with roots, the material rubs against itself relatively badly.
It is a practical inflatable tent that leaves nothing to be desired, especially for families with small children. An air pump and heavy-duty carrying bag are supplied with the tent.
Pros
Fast and easy setup
High water column rating
Good ventilation
Built with cable management
Two large entrances
Two separate sleeping cabins
Cons
Bright bedroom
Small sleeping cabins
Tips: Those who like to travel in larger groups will also find the Sierra Ridge in a version for 6 people.
---
2. Vango Ringstead Air Adult Mixed Inflatable Tent
Key Features:
Capacity: 4 people
Water column: 3000 mm
Weight: 17.3 kg
Pack size: 49.8 x 41.8 x 41.4 cm
Ringstead inflatable tent from the Vango brand is a tunnel tent that is constructed in a mirror image. There are sleeping cabins at both ends of the tent, which ensure privacy during outdoor holidays. It is strong and light, with a 3,000 mm HH rating.
The sewn-in groundsheet guarantees that no water gets into the tent, even on rainy days. Thanks to the darkened sleeping cabins, which guaranteed long and restful sleep even after sunrise. The drop-down doors make this tent ideal for pram or wheelchair access.
However, the living area is a bit tight. Four people would find little space in the small anteroom in bad weather. At 17.3 kg, the tent is also comparatively heavy.
If you need a place to retreat to when camping and can put up with the relatively heavyweight, the Vango Ringstead Air is a good choice. A double-acting pump is included that allows both quick inflation and deflation.
Pros
Sewn-in groundsheet
Two sleeping cabins
Darkened sleeping cabins
AirBeam Technology
Good ventilation
Cons
Small lounge area
Difficult to setup
---
3. HEIMPLANET Original Fistral Tent
Key Features:
Capacity: 1-2 people
Water column: 5000 mm
Weight: 2.5 kg
Pack size: 34 x 20 x 20 cm
The Heimplanet Fistral is one of the few inflatable tents on the market that is designed for 1-2 people. The air linkage has been placed on the outside, which makes it an absolute eye-catcher.
In contrast to its big brother, The Cave, the tent convinces with significantly less weight and a small pack size. It can also be used on hiking tours or other outdoor activities. The base is small, making it suitable for solo camping or hiking.
This tent will fit in the queen air mattress & the ground area is 4.2 m2 (45 square feet). However, the weight of an air pump must be added to the lightweight Fistral in the luggage as this is not included in the scope of delivery.
Thanks to the geodesic frame structure, this tent is extremely stable. It can withstand windspeeds up to 110mph. It is an ideal outdoor tent for extreme weather conditions. Anyone who accepts the high acquisition costs has made an excellent choice with this tent.
Pros
Stylish design
Good workmanship and high stability
Very compact and lightweight
High water column
Many storage options including gear loft
Repair set included
Two entrances
Cons
High acquisition costs
Small area
Without a pump
---
4. Portal Outdoor Alfa 4 for Families
Key Features:
Capacity: 4 people
Water column: 4000 mm
Weight: 10.47 kg
Pack size: 23 x 23 x 68 cm
Portal Outdoor Alfa 4 tent trumps with a large interior area and separate sleeping cabin. Thanks to the generous construction, there is enough space for luggage and outdoor equipment. The sewn-in base plate offers additional protection against insects and moisture.
The many practical pockets in the living room and in the sleeping cabins allow you to stow away your belongings and keep things tidy. It is also easy to put up and take down.
However, the tent does have one shortcoming: only a large entrance to the sleeping cabin was sewn up. So it can easily happen that the neighbors are woken up when you leave the tent at night or in the morning. A repair kit is also not included in the package. However, A transport bag, air pump and pegs are included.
Additionally, it features window blinds that can be effortlessly rolled up and stowed away, providing you with the privacy you desire. This tent is ideal for couples and families who are willing to compromise their privacy.
Pros
Large indoor area
Sewn-in groundsheet
Comparatively easy to set up
Small pack size
4000 mm water column
Lots of practical pockets
Cons
Just a sleeping cabin
No mosquito net at the entrance
180cm high
No repair kit is available
Tips: The manufacturer Portal also offers the tent in the same structure for five people with larger dimensions.
---
5. Berger Inflatable Van Awning
Key Features:
Capacity: 2-4 people
Water column: 3000 mm
Weight: 14.3 kg
Pack size: 70 x 36 x 29 cm
The Berger motorhome awning extends the space of camper vans with a height of 180 to 220 cm. The quick set-up and dismantling are particularly practical for anyone who wants to travel frequently. So it is a good choice when extra space is needed when traveling by minibus.
The sewn-in tent floor protects against wetness on the ground and protects the camping equipment from moisture. The tent is 320 cm wide at the bottom and 250 cm wide at the top, which is enough to cover a sliding door. The Berger van awning is also available in a larger version that offers additional sleeping space.
Both entrances are equipped with mosquito nets, which allow good air circulation and at the same time protect against insects. The tent can also be attached to a piping strip on the roof.
The transparent film windows appear opaque when viewed from the inside on the front wall, and from the outside on the side walls. This ensures you can enjoy undisturbed privacy within your awning.
Pros
Fast cultivation
Sewn-in tent floor
Two entrances including mosquito nets
Good air circulation
Back panel can be rolled up
---
6. Stylish tent The Cave by HEIMPLANET
Key Features:
Capacity: 2-3 people
Water column: 5000 mm
Weight: 4.8 kg
Pack size: 40 x 32 x 23 cm
The CAVE is extremely strong and offers weatherproofness and durability. The air tubes are located outside of the actual tent, giving The Cave its innovative design. Thanks to this unique construction, it can be set up in just a few seconds.
The robust material is ideal for outdoor adventures in all seasons. The dome tent shape also makes it perfect for rough weather conditions and gives it enormous stability during high wind. A pocket in the tent sky, the Gear Loft, helps to keep the tent tidy.
However, longer stays in the tent are not necessarily comfortable with the 102 cm inner tent height as there is only space when sitting. In addition, as an outdoor tent for 2-3 people, it is quite heavy and expensive compared to conventional tents.
If price and weight are not an issue, HEIMPLANET's The Cave is a great tent for outdoor adventures all year round. A pump must be purchased separately by yourself. A pump adapter is included.
Pros
Set up in seconds
Innovative design
Weatherproof
Extremely wind stable
Many inside pockets including gear loft
Good ventilation system
Cons
Little space
Doesn't come with air pump
Low height
Price intensive
---
7. Vango Odyssey Air Tent for Six People
Key Features:
Capacity: 6 people
Water column: 4000 mm
Weight: 17.5 kg
Pack size: 71.4 x 42.6 x 39.2 cm
The Vango 6-person Odyssey is a great inflatable tent, especially for larger groups. It is a classic dual-entry tunnel tent that offers generous living space. With this 6-person tent, nothing stands in the way of a camping holiday with children or other adults.
It has a spacious Light Out bedroom area with a toggled divider. In the large living area, there is even space for a table and chairs on rainy days. With a standing height of 190 cm, the tent is also suitable for taller people. The wall between the bedrooms can be removed to create one large space.
The side door can be closed completely. Linked-in groundsheet makes it easy to clean. You can also attach or detach it from the living area. Although the large windows in the lounge area provide plenty of light, they cannot be opened.
The sleeping area features a dual-layered material to ensure a darker and more secure environment while you rest. It can be set up by just one person within a few minutes, relieving the other holidaymakers.
Pros
Front and side entry
Darkened sleeping cabin
Standing height of 190 cm
Many inside pockets in the sleeping cabin
Light-flooded living room
Sleeping cabins can be converted into one large room
Cons
Side entrance without mosquito net
Windows cannot be opened
Large pack size
Groundsheet not sewn to the ground
---
8. Neptun Inflatable Tent for 3 People
Key Features:
Capacity: 3 people
Water column: 5000 mm
Weight: 15 kg
Pack size: 69 x 35 x 35 cm
The 10T Neptun 3 is extremely slim with its small pack size. The material and the workmanship are convincing. With a water column of 5000 mm, it can withstand even heavy rain. It is a good option for those who don't have much space in their luggage and don't mind fiddling around with additional attachments.
It has separate sleep and living area for 3 persons. The three ventilations ensure sufficient fresh air and a pleasant climate inside the tent. Also, the groundsheet is sewn in to offer excellent protection against insects and moisture
10T Neptun 3 inflatable tent is made of durable polyester with UV-resistant and waterproof coating. However, the tent must be fixed with pegs and guy ropes for a good stand. Two eyelets for pegs are missing at the entrance, which would further increase stability.
Pros
Small pack size
Continuous floor pan
Insect nets at the entrance
Breathable material
Good value for the money
High water column rating
---
9. Outwell Woodburg Air Tent
Key Features:
Capacity: 6 people
Water column: 4000 mm
Weight: 20 kg
Pack size: 93 x 49 x 49 cm
Outwell Woodburg tunnel tent has four rooms and offers additional space for gear and luggage, making it especially suitable for families and large groups. If necessary, one of the sleeping cabins can be expanded to create even more space in the common area.
The length of almost seven meters can be both an advantage and a disadvantage. It has 3 separate bedrooms. If necessary, one of the cabins can be expanded and thus offer additional space. Given its size, however, it is not surprising that the tent tips the scales at just under 20 kg and is very large when packed.
In strong winds, the tent can lose stability if it hits the wide tent wall head-on. Overall, the Outwell Woodburg inflatable tent could be a good option, especially for large families who travel with their own vehicles and like to vacation in warm areas with little wind.
Pros
Very spacious
Simple construction despite large dimensions
Well divided and structured
Practical room layout
Cons
Large pack size
Unstable in strong winds
No mosquito net
---
What You Need to Consider When Buying an Inflatable Tent
The market is teeming with a diverse array of inflatable tents. To help you navigate this bustling landscape, we've crafted a list of key factors that you should consider before making the purchase decision.
Assembly and disassembly
The big advantage of an inflatable tent over a traditional tent with poles is that it can be set up quickly. When the air chambers are filled with air, the tent retains its shape and stability.
A distinction is made between tents with a continuous tube system and tents that have separate air tubes. The latter has to be supplied with air in several places, which means that assembly and disassembly take more time.
On the other hand, one advantage can be that in the event of a puncture, the tent does not collapse completely, but only a small part of the tent becomes unstable. It is helpful if the valve is not only suitable for inflation but also if the air can be completely released for decompression.
Size
The market offers a wide range of different tent sizes. If you are looking for a one-person tent, you will find it just as much as someone who needs a large tent for 8 people.
Basically, inflatable tents are designed more as family tents or for several people, since their simple system simplifies a lot compared to the complex construction of conventional tents. If a tent is designed for more than three people, it usually has cabins that offer privacy even if children or other adults are on vacation with you.
Comfort
Those who value comfort will opt for a larger tent that offers more space to stay on rainy days and to store personal belongings. It is an advantage if the tent is high enough to stand in.
Water column
For a relaxed camping holiday, the tent must offer dry shelter even in the rain. From a water column of 1500 mm, tents are considered temporarily waterproof. Our recommendation for dry outdoor fun is a water column of 3000 mm.
Weather and stability
Air tents are considered to be very stable and have the advantage that the air in the air chambers simply vibrates in strong winds. This puts less strain on the tent walls than tents with poles.
So-called igloo tents or dome tents are a good choice if the tent has to withstand strong wind conditions. Due to their construction, they are equally equipped against the wind from all sides.
With tunnel tents, on the other hand, the wide side is exposed to the wind and the tent walls are subjected to greater stress. The wind hits the front and the tent can lose stability.
Tips: No matter which type of tent meets your personal needs, it must always be secured with ropes and fixed to the ground with pegs.
Packing size
The packing size of the tent is not only important when hiking or cycling – every extra centimeter is also important in the car. The thicker material of an inflatable tent makes the tent sturdier, but at the same time bulkier when packed than conventional pole tents.
For easier assembly, an air pump must be transported in addition to the tent.
Weight
Compared to other types of tents such as concrete tents or wedge tents, inflatable tents are absolute lightweights. The missing tent poles save weight, but the air pump required for assembly must be taken into account in the total weight.
When transporting in the car, the weight probably plays a minor role. On the other hand, if you have to carry the tent on your back, you should consider that an air tent is larger and more unwieldy than tents with tent poles.
Air pump
Many models can only be operated with an air pump since the human lung cannot provide the pressure required for inflation. Sometimes an air pump is already included in the scope of delivery. These are available as hand or foot pumps, but electric pumps can also be an option.
Material
The inflatable tent must be UV-resistant, waterproof and made of durable material. It is important that the air chambers are sewn twice. This protects them from damage from sharp objects and guarantees that they do not lose any air when inflated.
These materials are commonly used in the processing of inflatable tents:
Polyester
Pros:
Cons:

Durable
Weather-resistant
Fast drying
UV-resistant

Weak insulation against heat and cold
Most manufacturers use polyester for the tent walls, air tubes and floor.
Ripstop nylon
Pros:
Cons:

Very strong and sturdy
Lightweight
Tear-resistant
Waterproof
Ripstop nylon is often used to finish the floor.
Furnishing
Tent pockets in different places in the tent are particularly useful and help to keep the tent tidy. Cell phones or flashlights can be stowed there overnight. Additionally, some tents have overhead netting for storing personal belongings.
Some manufacturers integrate small slits on the outside through which cables can be routed for a power supply in the tent. A net at the tent entrance protects you from small animals and insects.
Included accessories
Most inflatable tents come with an air pump. A bag for storing the tent is part of the basic equipment. An included repair kit also provides a quick remedy in the event of damage to the air hoses. Some manufacturers also offer individual parts that can be reordered.
Doors and windows
Especially with large tents, it is helpful if there is more than one door. Then the tent is easier to leave when other people are still sleeping.
Many manufacturers of inflatable tents use PVC film for the windows, which protects against rain and insects, but prevents good air circulation. Therefore, the tent should be breathable and ensure ventilation. If this is not the case, condensation will form on the inside of the tent overnight – the result is a wet tent.
FAQs
How does an inflatable camping tent work?
On the outside, an inflatable tent differs only slightly from a classic tent with tent poles. Instead of tent poles, the inflatable tent has air chambers that are inflated. This gives the tent its stability and therefore stands without any poles.
How stable are inflatable tents?
Inflatable tents are considered very stable. The tent walls are less stressed, especially in strong winds, because the air-filled chambers are much more flexible than tent poles and swing with the wind.
How long does it take to inflate the tents?
The big advantage of inflatable tents compared to tents with tent poles is that they save a lot of time. This means that even large tents can be erected in just a few minutes without any problems.
How popular are inflatable tents?
Inflatable tents are becoming more and more popular with campers since the tedious task of plugging the tent poles together and threading them through the respective tunnels is no longer necessary when setting up and dismantling. In addition, inflatable tents have been continuously developed in recent years, so that they do not lose any of their quality today. Air tents are also very durable. Puncture holes are rare and can be easily repaired.
How do the tents react in extreme heat?
You may remember it from physics class – air expands when it is hot. It's the same with inflatable tents. The material is then subjected to greater stress and can show fine cracks over the medium term, making it less durable. When buying, you should pay attention to good material quality and when camping, you should pay special attention to the choice of the pitch – a pitch with shade is most suitable for an inflatable tent.
It is therefore advisable not to inflate the tent to the full, especially in the summer months!
How expensive are good inflatable tents?
The price varies depending on size and quality. On average, a tent with a capacity of about 4-6 people can be expected to cost between $300 and $500. In the meantime, however, significantly cheaper models can also be found. If you are looking for a high-quality tent, you should expect over $500.
Which type of inflatable tent is best?
Dome or igloo tents are considered to be very stable in strong winds. The wind direction doesn't matter to them, since the wind hits all surfaces equally. Tunnel tents, on the other hand, offer a larger attack surface and are therefore more stressed.
For which terrain are inflatable tents suitable?
Inflatable tents, like all other tents, should be set up on the level ground. The ground must be cleared of sharp objects and large stones before setting up to avoid puncture holes. It is also helpful if the ground is suitable for pegs or if the tensioning ropes can be fixed to the ground or trees. Only then will the air tent have the necessary stability.
How to repair a damaged air hose?
The hardest part of repairing is finding the puncture hole. Once the hole has been located, it has to be patched – similar to a bicycle inner tube. If the hole is too small to hear the air escaping or to feel it on your skin, the tent must be dismantled. If the hose is then held under water, air bubbles form at the point of the hole.
Does the tent lose air overnight or in the heat?
No. inflatable tent manufacturers also take temperature changes into account when producing inflatable tents. Inflatable tents generally only lose air if they have a puncture. In this case, they can be easily repaired.
Conclusion
An inflatable tent is ideal for all campers who prefer a quick and easy setup! It can be a huge relief on vacation, especially for families with children. If you are traveling with your own vehicle and can plan space and weight for the tent and the air pump, you have made an excellent decision with the purchase of an inflatable tent.
we compared the most popular products available today. In addition, you're now conscious of all the important information about inflatable tents that you need to make a purchasing decision.
If you have any questions, leave a comment below and we'll answer them.