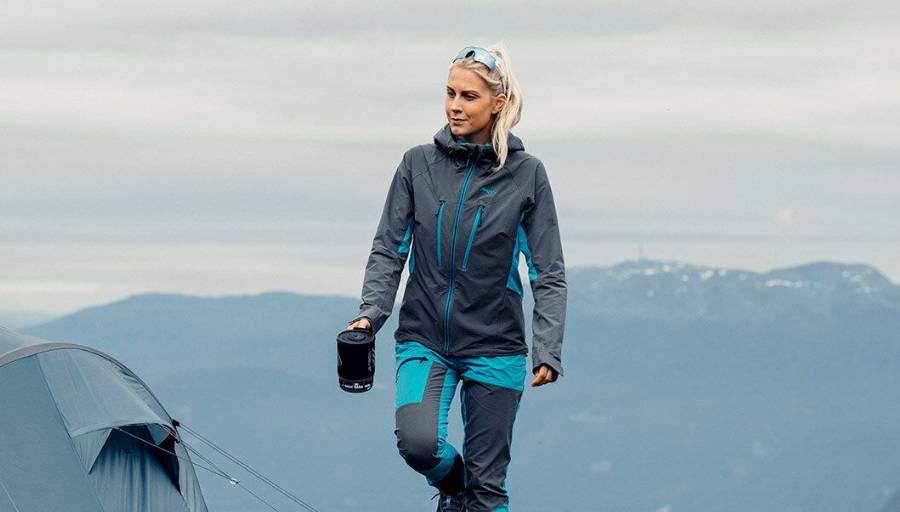 For a few years now, it has been easy to find hiking clothing that borrows softshell technology. Often put forward for outdoor physical activities, it has even become a generic term for jackets that combine water-repellent, windproof and breathable properties.
It is sometimes even decried because considered too heavy by some and too impractical for others. To disentangle the true from the false, let's see together what is a softshell jacket and what are its advantages and disadvantages.
What is A Softshell Jacket?
To understand everything about softshell jackets, we need to look at their etymology. This Anglicism comes from two terms: "soft", which means soft/light and "shell", which means shell.
It is understood that this term encompasses the notions of protection through the shell and lightness through the adjective soft. More than a particular piece of clothing, the softshell jacket is built with a unique technology combining lightness and protection.
Composition of the softshell material
To understand the softshell technology, we will have to look at its composition. It is designed in 3 superimposed layers from the outside to the inside:
A water-repellent outer layer
A breathable central membrane
A fleece-like inner layer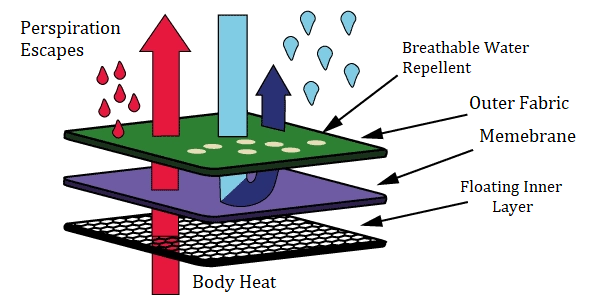 Jackets designed using softshell technology therefore have three crucial points: great breathability, fleece-type internal warmth and a water-repellent effect on the outside.
These three aspects then directly echo the notions of protection and lightness from which the name of this softshell technology is derived. Connoisseurs will have recognized the main features of the 2nd and 3rd layers that every hiker should wear during a day's hike.
Most softshell jackets combine the benefits of the 2nd and also the 3rd layer for hiking, ie warmth and protection against the rain.
The advantages of the softshell jacket
Thanks to its revolutionary design, the softshell jacket has several advantages for hikers of all experiences:
The diversity of softshell clothing: in specialist stores, you will find different shapes and designs of jackets, but also pants and even gloves that use softshell technology.
The protective effect: a softshell jacket combines the effect of a windbreaker, a rain jacket and a fleece. A softshell jacket has a significant 3-in-1 function.
The versatility of use: in the context of hiking, a softshell jacket is extremely versatile. They are especially useful in winter, spring, and fall. Also, their triple protection allows you to use it in case of strong wind, light rain or dry but cold weather.
The lightness of wearing: Softshell jackets generally offer a weight between 400g and 600g. Despite their protective triple layer, they are no heavier than a simple demi-season coat.
The flexibility of the jacket: Softshell jackets have the advantage of being practical for carrying out movements. It is designed using a stretch-type fabric and elastic. Softshell jackets are then very popular with hikers but also joggers. Softshell technology is even used for physical outdoor trades such as construction because it offers good protection while remaining comfortable.

Some disadvantages of the softshell jacket
Like all very versatile materials that combine many interesting technical aspects, the softshell jacket has disadvantages linked to its advantages.
In other words, what can be its strength is also its weakness:
Softshell jackets are not waterproof: they are often water-repellent and hold up very well to short or low-intensity downpours, but are not as protective as hardshells (these waterproof jackets). Forget your soft-shell jacket in a heavy summer shower!
They are sometimes devoid of hoods: some softshell jackets do not have a hood, which can be an inconvenience for hikes in uncertain weather.
They have difficulty withstanding strong winds: Although equipped with a windproof effect, the softshell jacket is not very protective against strong winds.
They are heavy in a backpack: with an average weight of 500g, softshell jackets are light when worn but quickly become heavy when in a hiking backpack. As you know, every gram counts and 500g more, what's more, because a jacket that folds very badly, can change everything!
To sum up the disadvantages of the softshell jacket, they are the counterpart of its advantages. The versatility of the material, with the combination of warmth, windproofness and water-repellent effect creates a weakness among all these aspects.
The heat effect will be less if you were wearing a real fleece. The windbreaker alone will be much more effective than the softshell. As for heavy rain, it is better not to wear a softshell jacket when you are under it! It is therefore to be avoided in extreme conditions but a real blessing for mid-season periods.
Different criteria for choosing a softshell jacket
If you're still hesitating about buying a softshell jacket, it's because you're not quite sure what criteria to base your judgment on. It has both advantages and disadvantages and you don't know if your sports practice lends itself well to wearing a softshell jacket.
Don't panic! Let's see the main criteria to check before making your choice:
Your outdoor sports practice: as we have seen, the softshell jacket supports movement very well but not in extreme weather situations. It is therefore necessary to abandon the idea of ​​​​carrying a softshell jacket if you practice climbing, mountaineering or winter sports.
The duration of your hikes: it fits very poorly in a backpack and can quickly become cumbersome. This is why it can be perfect for a day hike but useless for multi-day hikes, such as the long trail.
The climate: very versatile, the softshell jacket is therefore very practical in changing and temperate climates where the weather is variable but where the weather events are not extreme. It can then be your favorite clothes in the oceanic climate. Conversely, it is not well suited to mountain climates, which are more humid and windy or to the Mediterranean climate.
Protection: the variety of softshell jackets is virtually endless. Depending on the model, some are more water-repellent while others emphasize the fleece lining. Choose it according to your own preferences.
Your budget: you will find softshell jackets for the whole family at affordable prices (around $40) as well as high-quality jackets are much more expensive. It's up to you to see according to your financial possibilities!
Some reputable softshell jacket manufacturers
Many hiking clothing manufacturers offer softshell technologies. Here are some well-known brands to discover near you that offer models of good quality.
Columbia
Columbia has the advantage of presenting softshell jackets of several types: both very light and heavy, which can be worn on cool summer mornings, but also the warmest to wear in winter. They can be light without a hood such as the Heather Canyon models. Or with greater protection as the Gate Racer softshell jacket. Note that, for women, the models of softshell jackets are less numerous but of just as good quality!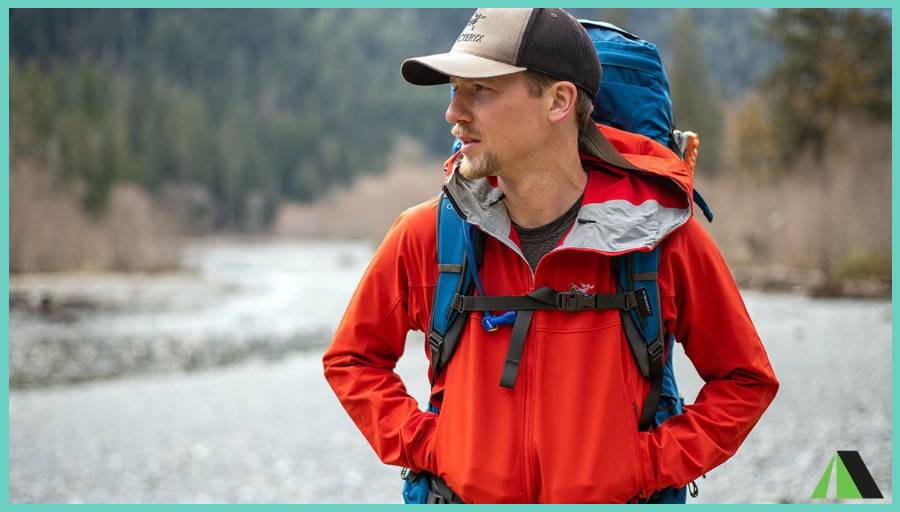 The North Face
Combining both lightness and quality, the North Face also offers interesting softshell jackets for both women and men. For men, we find the very light Apex Bionic 2 jacket. However, there are more versatile jackets for women than for men, including the Arrowood Triclimate model.
Black Diamond
Black Diamond offers very interesting softshell jackets for the hiker such as the Alpine Start model, which has the advantage of lightness! This jacket is one of the cheapest models on the market.
Arc'teryx
Few people know Arc'teryx. However, it is one of the leaders in clothing for outdoor sports and hiking. It is certainly the brand that offers the best quality, but this is necessarily reflected in the price of the jackets, which is slightly higher than other brands.
Discover the Gamma LT jacket, which is very light. Or the Gamma MX jackets, much more protective and even recommended for climbing!
Also for women, Arc'teryx offers a wide variety of softshell clothing, ranging from simple sleeveless jackets to rainproof anoraks breathable. The prices are also very varied: from $150 to more than $300 for semi-professional quality.
Conclusion
The term softshell does not designate a particular garment but a 3-in-1 technology combining the effect of a fleece, a windbreaker and water repellent. This ultimately results in warm, protective jackets or pants against light to moderate wind and light rain.
But be careful, because these advantages and this versatility also lead to making these softshell clothes very unsuitable for difficult or extreme conditions. Although perfect for changeable, windy and rainy weather, the softshell jacket does not support driving rain, snow or even strong winds.
Although very impractical for hikes lasting several days, the softshell is nevertheless ideal for family day hikes in an oceanic climate.
---
These guides might interest you…