With the Forge, Tecnica has launched a revolutionary new product on the market: the Italian brand has innovated by designing the first thermoformable hiking boots. Like ski boots, you can adapt the shape directly to your feet. So, no more blisters then?
The Tecnica FORGE S GTX hiking boot brings a novelty in the field of hiking: the boot is indeed announced by the manufacturer as thermoformable with a significant contribution to the level of comfort.
Tecnica Forge S GTX Boots Review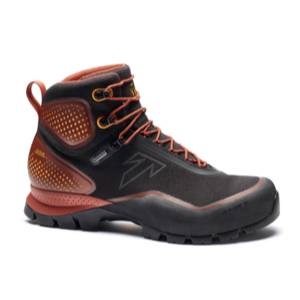 TECNICA Men's Forge S GTX Hiking Boots
Technical Description:
Weight: 2 lbs. 11.68 oz.
Waterproofing: yes
Type of Waterproofing: GORE-TEX Extended Comfort membrane
Materials: Elastic fabric (upper) Gore-Tex (lining)
Footwear Height: Over-the-ankle
Footwear Closure: Lace-up
Upper: 1.8mm nubuck leather/stretch fabric
Lining: GORE-TEX Extended Comfort membrane
Sole: Vibram (the universal reference)
Midsole: 2-layer EVA/1-layer ESS
Support: Thermoplastic urethane shank
Outsole: Vibram Forge with Megagrip
Can Be Resoled: Yes
Sustainability: Contains recycled materials
Best Use: Backpacking
Best Price: Check On Amazon
Pros
Ergonomic thermoforming
Excellent design and shape
Lightweight and compact
Superimposed tongue
Very flexible sole
Cons
Precision of support on the front tip
Comfort and support
When I started to test these boots on my feet, I immediately tasted their lightness (585 g for the shoe against 820 for my Lowa). If I felt it right from the start, I imagine at the end of a day and, even more so, of a trek… Another very positive feeling is that the sole is particularly flexible.
The roll of the foot is fluid and natural even if the thermoformed synthetic fabric lacks a little flexibility compared to leather. In addition to having a shoe already on your foot, you don't need to break it to make it. Tested on dirt, grass, rock, snow and mud, Vibram Megagrip rubber adheres very well to the ground, even downhill.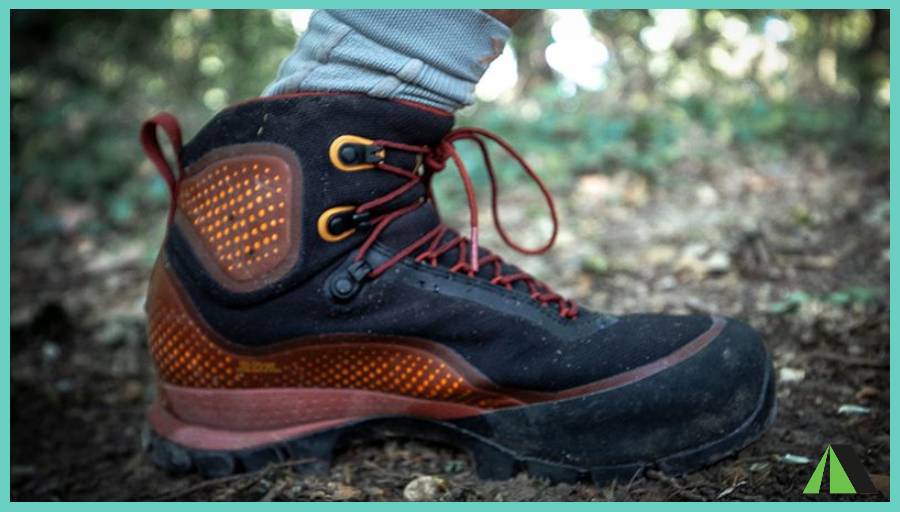 The high upper is also flexible and allows great flexibility of front-to-back movement with a small indentation at the rear of the collar. It is not specifically padded but it remains comfortable.
Another design asset that I appreciated is the one-piece overlap tongue system that overlaps the necklace like a sheet that is rolled up on itself and connected by fabric to let nothing pass.
Indeed, when others shift on the outside of the foot over the years and steps, it remains structurally in place. Thus, it will never press on the outer malleolus or leave an open space on the ankle (earth, sand, water, snow, etc.).
The self-locking laces system is simple and quite effective. Once the right tightening compromise has been found, ankle support is quite satisfactory, even if it could be more precise. The round and thin but robust laces. However, the double-knot became mandatory after several hundred meters.
Waterproofing and breathability
A very important element in the choice of my hiking boots is waterproofing. I quickly tested it and the Tecnica Forge S GTX lived up to its promises. Almost submerged to the top of the stem for several minutes, I suffered absolutely no water intrusion. We can therefore cross lookouts without apprehension.
The Gore-Tex membrane manages breathability well, even if it honestly does it slightly less well than leather does. I had no feeling of suffocation or overheating of the foot which bathes in its tropical humidity. Besides this, the outer synthetic fabric showed real resistance to abrasion despite rubbing on rocks and branches. It's here to stay.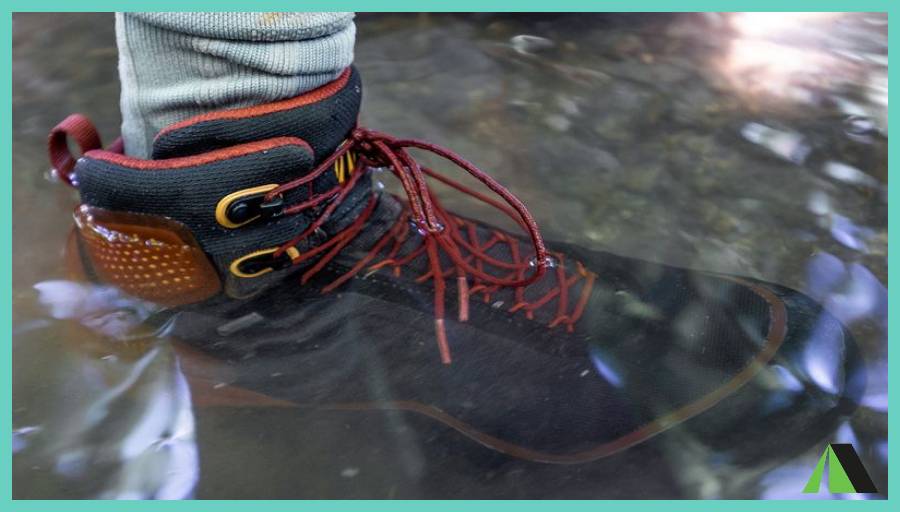 Uses
With its flexible sole and high upper, the Tecnica Forge S GTX boot is mainly designed for hiking with unevenness and treks. On the other side of the same coin, the tip has shown limits of precision of support during more technical passages on committed routes. In this case, hiking boots with more rigid soles will be preferred.
However, its front stone guard is very wide and the sole is strong enough to protect the arch of the foot on rocks or rungs when using via Ferrata.
The verdict
The Tecnica Forge S GTX hiking boot is a great innovation and convincing! The possibility of being able to thermoform the sole and the liner certainly saves time in terms of walking comfort. I didn't feel any unpleasant friction or pressure points, causing no blisters or irritation.
The other advantage is its tongue system which ensures its good positioning on a long-term basis. To conclude on a subjective dilemma, you will have to choose between the leather version (more effective) and the S version, (more aesthetic)… It's up to you.
See Also…