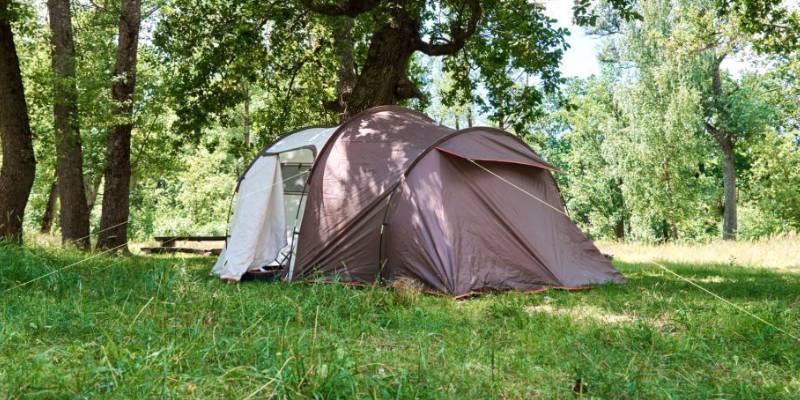 Tunnel tents not only offer a lot of space but are also stable and easy to set up. A quality model is the best way to increase comfort, safety and enjoyment at the campsite.
Do you want to know which tunnel tents are top notch?
You are right here. We've spent hundreds of hours testing and analyzing tents for you. Here is our list of the best tunnel tents on the market!
Our Experiences
Examined tents: 18
Days of camping: 380
Hours of research: 284
Camper Interviews: 72
Best Tunnel Tents Reviews 2022
In this list, you will find our top tunnel tents for 4 to a maximum of 10 people, tents with classic fiberglass poles and modern inflatable tents.
For each tent, we have detailed test results and analyses for you on sleeping comfort, weather protection and the time it takes to set up the tent.
In addition, you will find useful information on practical features such as mosquito nets and darkened sleeping cabins.
Have fun browsing the leaderboard!
The Midnight Dreamer is a top-rated tunnel tent with lots of extras. It offers some features that you wouldn't expect from a mid-range tent.
If you want to stay mobile when camping, you can use the Midnight Dreamer, which weighs around 11 kg. This is not yet a value in the trekking tent sector, but it cuts an excellent figure as a base camp made of light aluminum poles. The slim packing dimensions also save a lot of space in the trunk.
Late risers will be happy about the darkened tent ceiling of the tunnel tent. Those who like to sleep in while camping should pay particular attention to darker sleeping cabins. Two outer doors and wide mesh ventilation on the back help immensely on hot summer nights.
A protective roof in front of the side entrance, plus a whopping 5,000 mm water column and, on top of that, the stabilizing Storm Guard System, which has been tested for wind speeds of up to 130 km/h: Robens has given the Midnight Dreamer proper protection against bad weather.
If you are looking for a well-made tunnel tent for four people without any real weaknesses, you should grab it.
---
The Outwell Nevada 5P is packed with innovative convenience features. It is the tunnel tent with the best sleeping space and living comfort in our test. It also has impressive weather resistance.
The huge windows of the living room are tinted, which protects against the sun and prying eyes. The bedroom doors have magnetic locks and can be opened almost silently. Variable equipment hooks on the ceiling allow you to hang your camping lantern in exactly the place where you never hit your head.
So much luxury weighs heavily: With its 21.1 kg weight, the Nevada 5P is one of the heavier models in the test field and it prefers to be towed to the campsite by two people.
Unlike many other tunnel tents, it really offers enough space for 5 tall people. The bedrooms are 2.30 meters long. The open airy living room with a standing height of 2.15 meters is large enough for a group of tables and camping cupboards with your luggage.
You don't even have to be afraid of really bad weather. The heavy 150D polyester tent fabric with a water column of 6,000 millimeters reliably keeps out rain. Also, the fiberglass poles with storm reinforcements have been tested up to wind force 9.
If you are looking for comfortable, robust accommodation and are not afraid of the high weight, you will be happy with this tent.
---
The Vango Capri Air 600 XL is a real eye-catcher on every campsite because of its sheer size and the spacious canopy.
If you long for glamping in a spacious residential palace, you are in good hands at the Capri Air. The inflatable tunnel tent measures a full 18 m² without a veranda. In addition, the entrance is particularly spacious – the large veranda with a canopy protects our shoes or the camping stove. The wide doors are not too narrow, even for bicycles, and allow good ventilation.
We buy the living comfort with a proud weight of around 24 kg, which we first have to carry in the direction of the installation site. If that doesn't bother you, you get a large air tent that can be inflated in no time at all.
The stable Air Beam air linkage is not the only advantage in terms of wind resistance. Vango has donated a special strap system that provides additional support in strong winds.
---
Our entry-level tip for vacationers on a tight budget and newcomers to camping: CampFeuer XXL tunnel tent. Despite its size, it belongs in the attractive entry-level class and is therefore recommended for all bargain hunters and campers who simply need a reliable roof over their heads.
The 6-person tunnel tent has accompanied us at various festivals for a long time. Back then, we didn't want to set up a premium tent for major events. That's why we chose a simple and particularly large tunnel tent – in case the tent neighbors drop by for a visit. The great headroom of 215 cm for easy changing was a reason for us to buy it.
The floor tarpaulin is only inserted, and the equipment is rather standard fare. On the other hand, a water column of 5,000 mm is particularly water-repellent and is not found on every entry-level model. The large windows are also great and allow plenty of natural light into the spacious living area.
If you are looking for simple but large accommodation for four to six campers, you should consider the Campfeuer XXL as a closer choice.
---
The Portal Outdoors Gamma 5 is really lightweight tunnel tent of this size. In addition, it offers one large bedroom and an oversized living area, enough comfort for the whole family and is ready to use in a few minutes.
Good news for weekend campers: Thanks to its separate air hoses, it can be set up in around 7 minutes – with a bit of practice. We don't always want to pack a heavy, complicated tent when time is limited at our holiday destination. With this model, relaxation can start earlier and we can enjoy the first cool drink in front of the new accommodation in no time.
Portal Outdoors Gamma 5 tunnel tent is interesting for outdoor fans, adventurers and families with prams: we love the extremely wide and high doors! The entrances are completely barrier-free, we can easily roll the mountain bike or stroller into the tent.
---
Other Recommended Tunnel Tents
The top tunnel tents listed here may not have won any of our coveted awards, but we still recommend them!
For technical details, special features or advantages and disadvantages, take a look at our extensive tests and reviews in this list of the best.
If you want to stay flexible, grab the Ferrino Chanty 5 Deluxe! The large tunnel tent scores with two separate inner tents that can be adapted to all conceivable holiday needs: couples holidays, family camping or the suddenly rainy garden party. With the weatherproof space miracle, you always have the right accommodation.
---
The Coleman Valdes 6XL Air BlackOut is a large six-person air tent that has 21 square meters of total usable space. It offers plenty of storage space for family and friends. The comfort tunnel tent has a canopy, darkened sleeping cabins and many extras. Read our full review.
---
Pinto Mountain 5 Plus tunnel tent offers space for the whole family. The darkened sleeping area can easily be divided into two separate cabins using a partition. The spacious living area with 1.95 m headroom has two high doors, three PVC windows and a canopy. Read our full review.
---
For campers who are particularly sensitive sleepers, it's worth taking a look at the Coleman Oak Canyon 4 with extra dark and spacious sleeping cabins. This modern tunnel tent has a number of comfort features such as a fold-out canopy or hinged doors that are particularly easy to operate.
---
The Coleman Rocky Mountain 5 Plus is a well-equipped 3 room family tent with a darkened sleeping compartment and an impressive 4,500mm hydrostatic head. It offers more than 11 m² of fully protected space and was awarded the Red Dot Design Award 2017. Read our full review.
---
Therm-a-Rest Tranquility 6 freestanding tunnel tent with two entrances and separate fly is strong, comfortable and easy to set up. In addition, the design is unique. It is suitable for smaller groups and adventure travelers looking for a lightweight group tent for short trips.
---
Coleman Galileo 5 tunnel tent is solidly made and offers enough space for the whole family in three rooms. The large living area has two exterior doors. The sleeping cabin is divisible for maximum flexibility. The headroom is comfortable at 1.95 meters.
---
The Easy Camp Hurricane 500 is a 3 room inflatable tunnel tent for 5 people. It's a little smaller than we initially thought. On the other hand, it can be well-ventilated thanks to the side entrance, having a standing height of 1.90 meters. It is extremely light for an air tent.
---
As a Vis-a-Vis tunnel tent, the Skandika Montana 8 offers enough space for eight people in two opposite sleeping chambers, each with two cabins. Particularly interesting: children (and parents!) have so much more privacy than in most other tents.
---
With a weight of just 7.9 kg, the compact tunnel tent Super+ from CampFeuer is easier to transport than many other group tents. In addition, it is cheap to buy – an important criterion for beginners. However, if you camp a lot, you will miss a few comfort functions.
---
FAQs
Which is better – tunnel tent or dome tent?
Both types of tent have advantages and disadvantages. A tunnel tent is the better choice if you want to accommodate many people and need a lot of space. On the other hand, dome tent is small and handy. It is lightweight and a good companion on a hike. When buying both tents, you should ask yourself how, when and where the tent will be used.
Note: A dome tent is a great addition for children who would like to have their very own tent at the campsite. You get space-saving variants that are also great as a play tent.
Which accessories belong in the tunnel tent?
Since the tent offers plenty of space, you can really let off steam here when it comes to camping equipment. Where there is just enough space for a sleeping mat and a sleeping bag in a small tent, thick air mattresses or even folding camp beds also fit in the sleeping cabins.
It is also a cool idea to turn a separate tunnel tent into a party tent. If the tent has removable partitions, you can create a large interior space by placing a table with benches. So you are well protected from wind and weather.
Line the tent floor with warm mats. Even on warm summer days, the temperatures drop significantly overnight and the cold gets from the ground into the tent.
How much does a good tunnel tent for camping cost?
Tunnel tents can be divided into three different categories: We have selected various tunnel tents for you, from the most expensive product for over 500 dollars to the middle price range at 300 dollars and the inexpensive product for 150 dollars.
Conclusion
As we have seen, tunnel tent is perhaps the best you can get in terms of protection, interior space and ease of assembly. You can choose the materials and sizes that best suit your needs. Whether you want to go on an adventure or take the family on vacation, a tunnel tent will always be an excellent ally.
Whether you paid dearly for it or got it at an affordable price, we always recommend that you do a minimum of maintenance that will extend its life and prevent your holidays from turning into a nightmare.
Don't fold your tunnel tent the same way all the time. Over time, the areas where the fabric is folded will wear out, forming cuts that could make your curtain unusable. Store your tunnel tent completely dry, mold could form which ruins the fabrics, making them unrecoverable.
For the rest, whether you are a lone adventurer or a quiet camper, we just have to wish you a wonderful holiday!