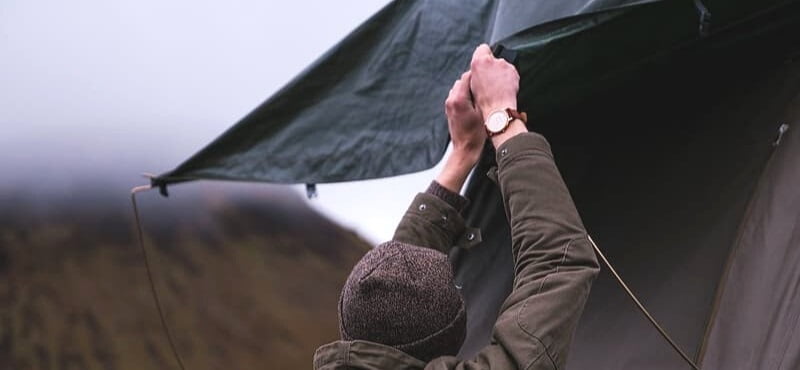 For many people, there is nothing better than spending vacation or weekend time in their own tent in the middle of nature or on the campsite. But camping in the open nature also means being mercilessly exposed to the weather. Sudden summer rains are part of this season, but that doesn't mean your camping is over.
However, camping in wet conditions requires some additional planning and specialized gear to ensure your comfort and safety. Find out here my awesome set of tips and strategies for camping in the rain to protect yourself and turn the situation to your advantage.
Tips for Camping in the Rain
1.

Protect your things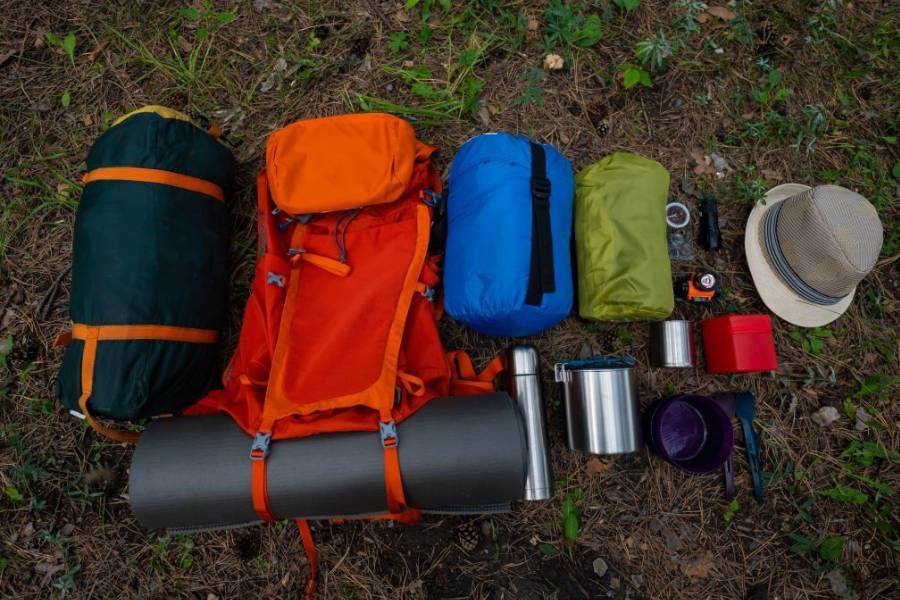 If you're like the rest of the world, you probably have a million plastic bags at home. Luckily, they are perfect for waterproofing your precious things. You just have to put your things in a plastic bag and they will protect your valuable gear just like any other expensive waterproof bag.
2.

Invest in a quality tent or tarp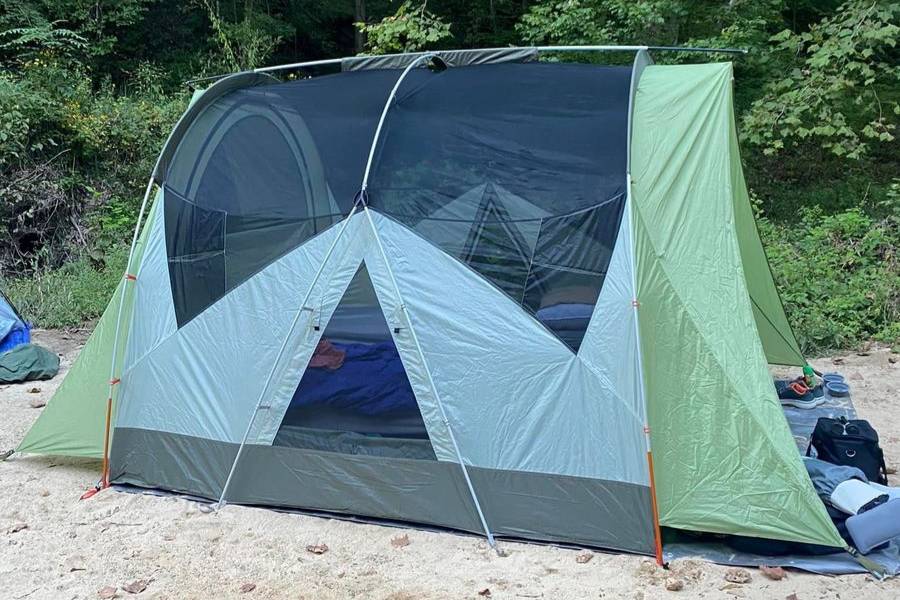 To protect yourself from the rain, you should mount a tarp. If possible, put the tarpaulin across the entire campsite.
When choosing the tent or tarp, prefer the one with the ventilation opening. Because it will prevent condensation and allow air circulation. Also, try to find a tent with a waterproof exterior. You can find different types of tents on the market for variable use.
3.

Choose the right place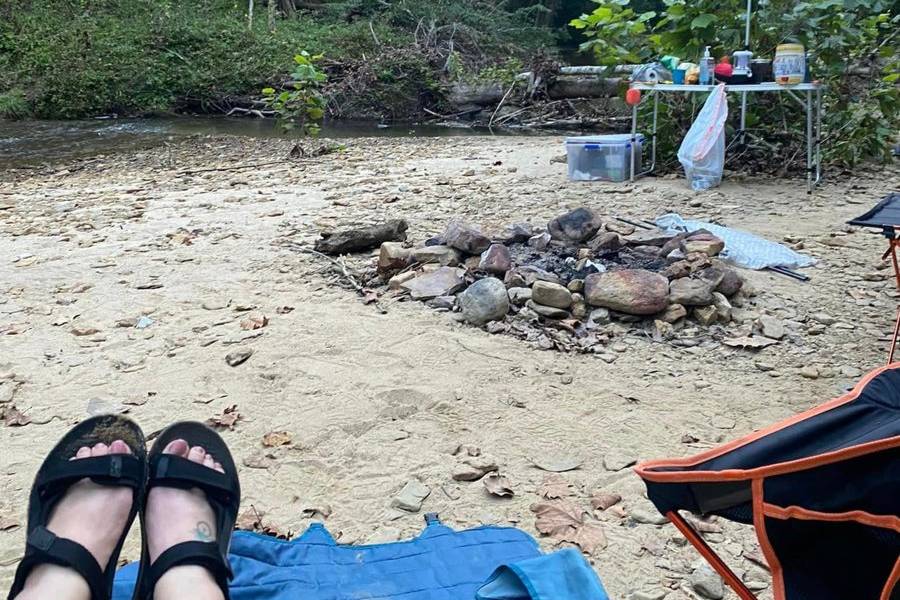 Possible rain can be overcome even before setting up a tent. Choose a slightly elevated pitch and the rain will not go into your tent, but away from it. Also, I recommend not to bend your tent under a tree because the leaves keep water that can drip even when it stops raining.
4.

Rain can be fun for you
Bad weather doesn't have to ruin the party. When you are meant to be in a tent, use it as best you can. Besides basic camping equipment in the rain, you can bring playing cards and board games and have some fun during the rainy afternoon.
5.

Prepare a dry place to sleep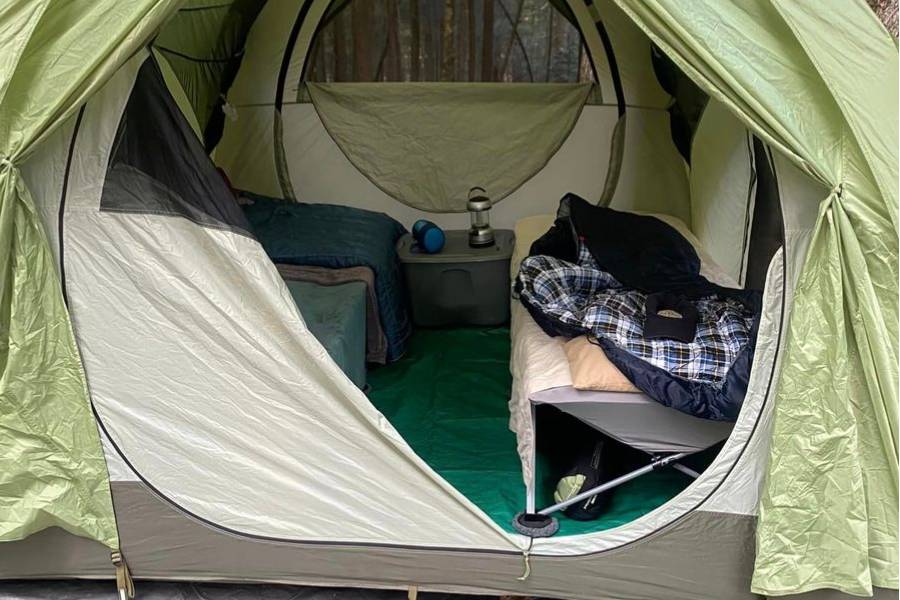 If it suddenly starts raining and rain starts to get into a tent or sleeping bag, a hammock can save the day. A hammock can be used as a dry place to sleep because it doesn't touch the ground. So, if you believe that rain can be fun and if you accept it as a part of the whole camping experience, choose your perfect pitch now!
How to Stay Dry in the Rain
Here are 6 tips on how to stay dry on your camping holiday despite rainy weather…
6. Choose t

he right campsite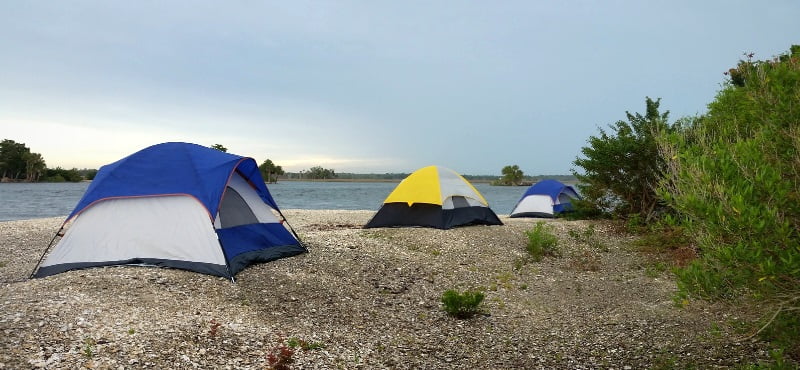 Rains can turn the camping trip into a horror vacation, so it is better to be safe than sorry: Especially in the mountains, the weather can change within minutes and suddenly you find yourself in the downpour.
Here are a few tips on how you can protect your tent from the rough seas:
Always look for a flat and slightly elevated place regardless of whether rain is forecast or not.
Holes and depressions should be avoided when it rains. Otherwise the tent will quickly be underwater.
It is also important to keep your distance from creeks, which can turn into raging rivers in heavy rain.
If you pitch your tent under trees, you can be surprised by falling branches when it rains.
Ideally, the tent entrance should be on the leeward side so that as little rain as possible penetrates when the tent door is opened.
If you don't want to get wet when it rains, pitch your tent on campsites near toilets and showers.
Recommend you to read: How to choose your campsite in the mountains?
7.

Set up your tent correctly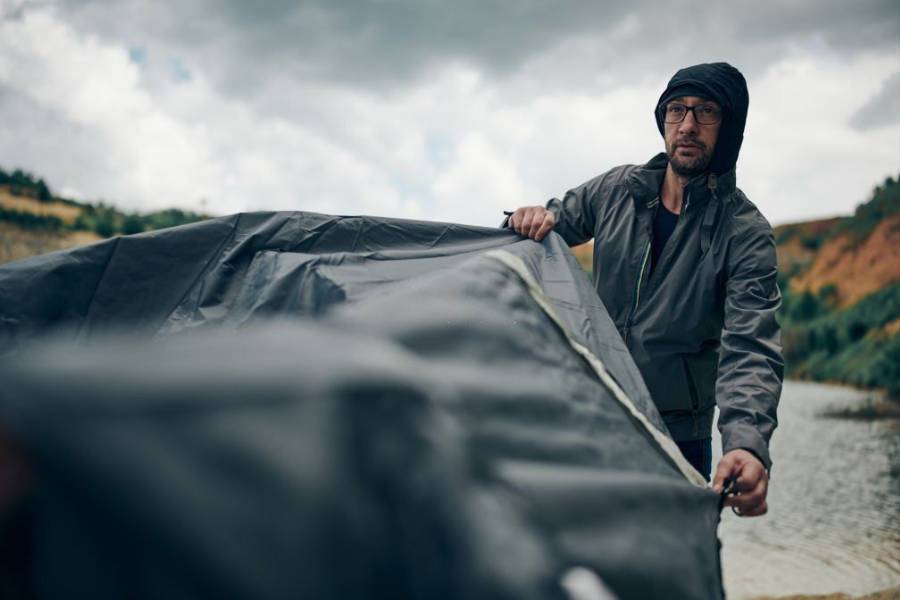 Just having the right campsite is not enough. The right setup of the shelter also decides whether you have a dry and restful night ahead of you or whether you wake up in the middle of a small deluge. That's why avoid sagging walls on the flysheet. Tighten the guy ropes properly and create adequate tension on the tent roof and on the side walls.
The inner tent should not touch the outer tent at any point. Anchor pegs well in the ground. Again and again, hit the rainwater from the inside of the tent walls.
8.

Protect the tent floor
A simple trick that can help immensely: a large tarpaulin or groundsheet between the tent floor and the ground protects against unpleasant ground moisture. The film should be several millimeters thick so that the sleeping mat and sleeping bag cannot get damp. The tarpaulin also protects your tent floor from the stony ground!
The tarpaulin must not protrude under the tent floor. Otherwise the rainwater will collect even below. I also have reviewed the best backpacking tarps, you can them check out here.
9.

Use plastic bags
Even if we are not great friends of synthetic plastics, they help immensely in this case. Large garbage bags or small zipper all-purpose bags protect against moisture in several ways: On the one hand, practical plastic bags protect valuable contents from external moisture.
Rain ponchos are also ideal for keeping your backpack and luggage dry when you are already hiking in the rain. Electronic devices like mobile phone, camera, smartwatches, batteries, etc. can be stowed away waterproof in zipper bags in the backpack.
For longer treks, I recommend you stow spare clothing in garbage bags. Food and medication are also better off in small plastic bags. Simply wrap a garbage bag around the firewood, so it will definitely stay dry for later.
10.

Wet objects belong in the awning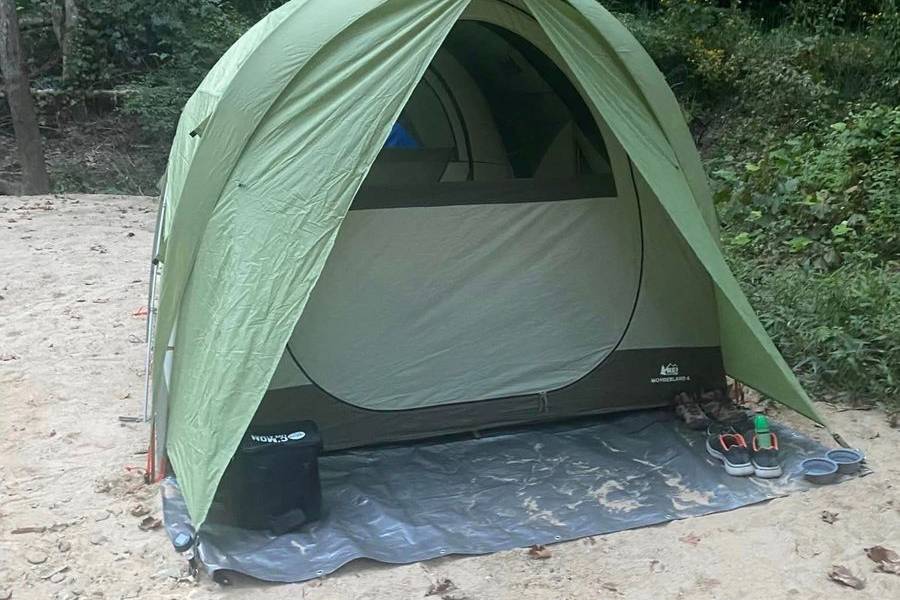 Everything that is wet stays outside such as wet shoes, trousers, jackets and rucksacks. Because this is the only way to prevent condensation from forming in the inner tent. Simply hang up wet clothing and equipment in the awning so that they can drain properly.
Regular ventilation also prevents condensation from forming inside the tent.
11.

Provide ventilation
Regularly opening the ventilation flaps even in heavy rain and storms allows the moist and warm air inside the tent to escape to the outside. In this way, you can prevent the formation of condensation, which can mainly occur on the inside of the tent walls or on the floor.
What to Do at the Campsite When It Rains?
Rainy days with children on the campsite can turn into a torture for little campers and a big puddle for parents who have to find a way to pass the time. Let's see some little tricks to make rainy days camping fun too.
12.

Let them have fun in the rain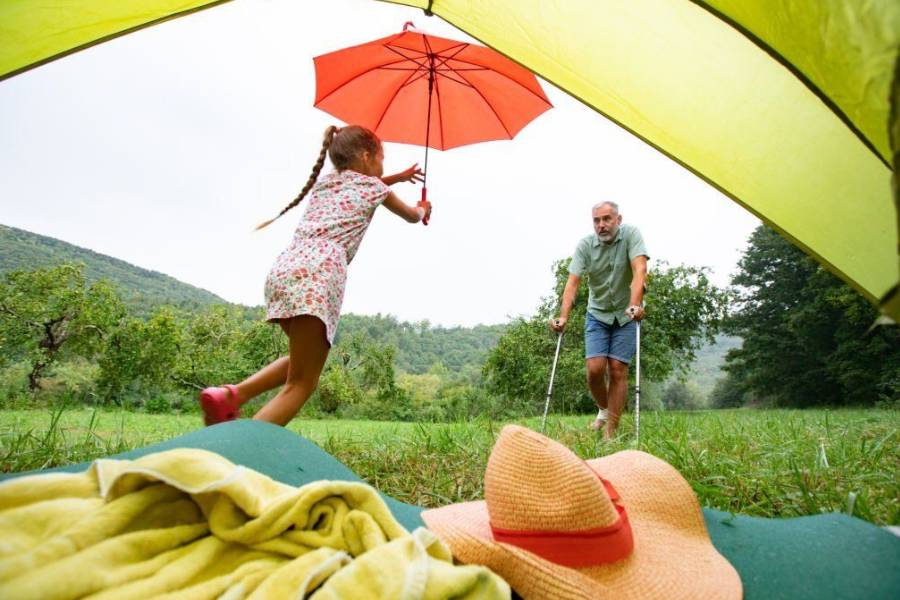 Even if it rains, no one forces you to stay close to a tent to get bored. With umbrellas and raincoats, you can safely go out and start discovering the attractions of the place. Umbrellas are definitely the best solution if there is not much wind while raincoats are the ideal solution if it's windy. When tightly closed, they can keep the rain out of their clothes.
For small kids, it is always good to buy high boots. In this way, they can have fun jumping in and out of puddles. This can be a worthy time pass that can remind us of our childhood. It is an ageless game that can entertain even the most technological child in this world.
13.

Coloring the books
Coloring books are not just a time pass to relax stressed people. On a rainy day, they can become excellent entertainment for children who are bored and who do not want to go outside.
Based on the age of your kids, you can decide to choose a simpler or more complicated subject to color. Pencils and markers are the perfect colors to fill in the spaces on the pages of coloring books. But in the case of drawings for small kids, crayons can also be fine. When they start drawing, they will not notice the rain and will lose track of time.
14.

Box or card games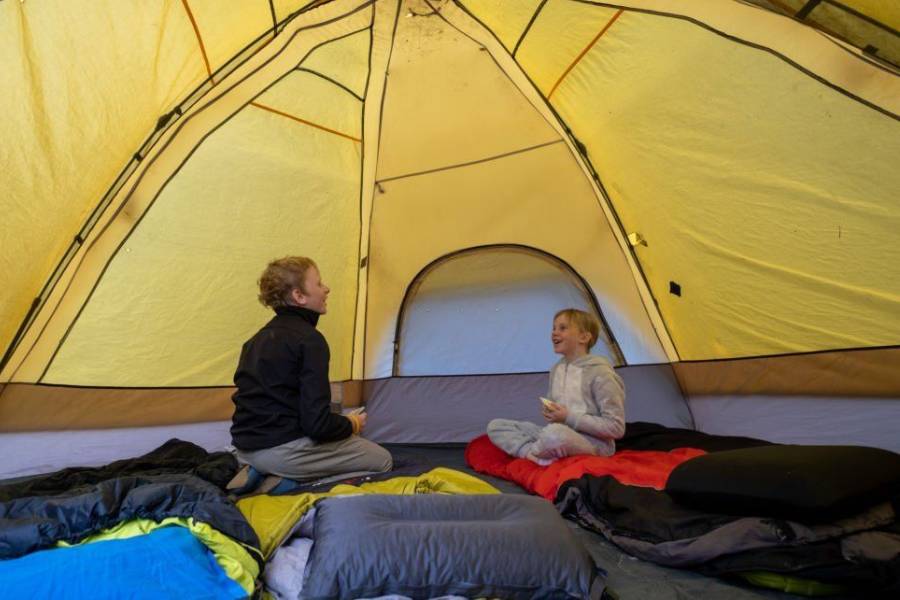 A board game is a great choice for keeping your kids busy and spending time with them at the same time. In order not to take up too much space in the car or tent, it is a good idea to choose a board game that allows kids and adults to have fun for a long time.
If you have a little space in your luggage, a deck of cards or some games are certainly an excellent alternative to boxed games. Because they reach the campsite without their own vehicle.
15.

Create an origami
After all, those who go camping always have sheets of paper with them or they can make one out of a box or magazine, Origami is a great pastime that allows everyone to create something, and at the same time, keep their head busy.
If you have no idea what to do with this card, you can search on YouTube. You can lots of videos and instructions for making simple or complicated origami. Based on your experience and the age of the children, you can decide which model to make them.
16.

Books to read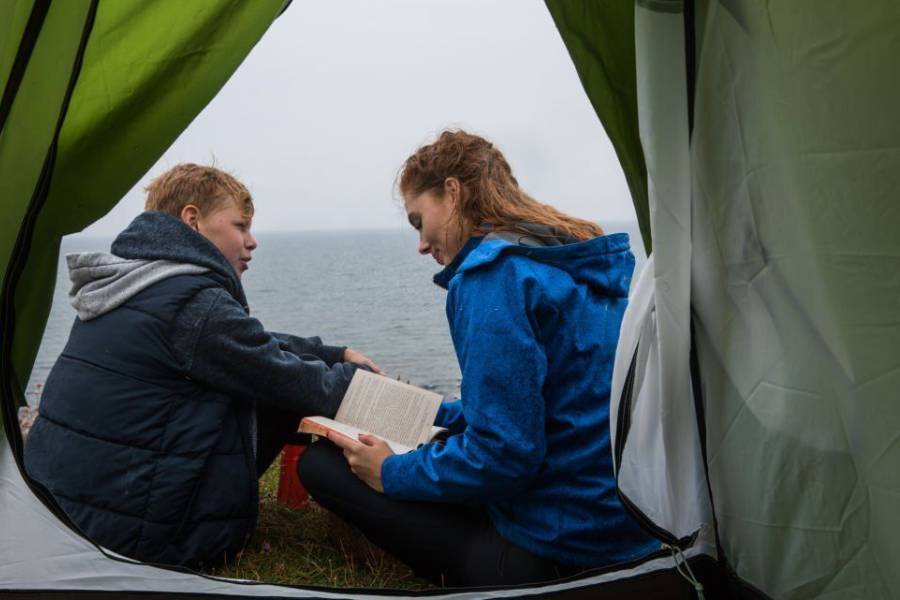 It may seem like a poor choice for kids or young people, but reading a book is always a great companion and allows you to let your imagination run wild. For those who forget to bring books from their home, stop at motorway restaurants or supermarkets to buy a couple just in case.
Even if it doesn't rain, reading a book before bed is a great way to get to sleep. Also, reading is a great workout for memory to improve your vocabulary.
Recommended Steps to Take After Camping in the Rain
Here are the recommended steps to take after camping in the rain. You should follow these tips to take care of your gear.
Let your tent, clothes and sleeping bags air dry before packing them away. Once you get home, set it up again to dry completely.
Wipe off mud and water from your shoes. Remove any insoles or inserts and let them dry separately. Stuff newspaper or paper towels inside your shoes to help absorb moisture.
If some items are still wet, pack them in a separate plastic bag or waterproof container to prevent them from soaking other gear.
Take the time to organize your gear, so you know where everything is when you're ready to camp again.
Wash and dry your cooking utensils and equipment thoroughly. Make sure to remove any food residue to prevent attracting wildlife.
Collect all your trash and dispose of it in designated bins or follow Leave No Trace principles if there are no facilities available.
Before leaving, do a final sweep of the campsite to make sure you haven't left anything behind.
If you had a campfire, ensure that it is completely extinguished. Pour water over it and stir the ashes to ensure there are no remaining embers.
If you're driving to a new location, make sure you're prepared for potentially wet and slippery road conditions.
Conclusion
Camping in the rain can be a test of resilience, but with the right knowledge and equipment, it can also be an incredibly rewarding experience. As you can see from reading the 16 tips I have given you above. With a little organization, you will still be able to enjoy your excursion despite rainy weather conditions.
Now camping in the rain is not a problem for you. If you have any questions, you can ask in the comment section below.
Related Posts: