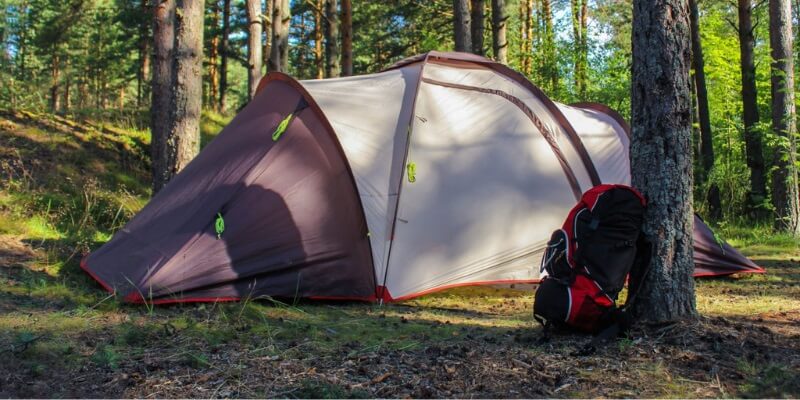 In our detailed guide, we describe what a tunnel tent is and what it is particularly suitable for. We explain the advantages and disadvantages of a tunnel tent, how it performs in the wind, rain & cold, and what equipment a good tunnel tent should have.
This post is for anyone who wants to buy a new tunnel tent or just wants to know everything about their tent.
The Coleman Rocky Mountain 5 is a tunnel tent for 5 people and has many comfort functions
What is a tunnel tent?
Tunnel tent is a very versatile and popular type of tent. Several parallel rod arches give it the shape of a tunnel. In the lower part, the walls are perpendicular to the floor and form an evenly curved span.
In contrast to the dome tent for example, each tent pole in the tunnel tent stands individually, the poles do not cross each other.
The main features
The greatest strength of the tunnel tent is near the ground. The tent walls are vertical and the space in the interior can be used optimally right into the corners. In a tunnel tent, you have more space than in other types of tents.
The biggest disadvantage of the tent: When the tent poles are put together, a tunnel tent cannot stand on its own. A tunnel tent always has to be anchored with tent ropes. Otherwise, it will simply collapse! So you should plan a few extra minutes when setting up.
What types of tunnel tents are there?
Entry-level tents are very inexpensive, simply equipped, and large enough for 3 – 5 people with a lot of luggage. They are suitable for weekend trips to campsites and festivals.
Trekking tents have great strength: They are light and have a small pack size. That makes them a good companion on trekking tours. They offer space for 1 – 3 people.
Family tents can be as big as an apartment. They have several sleeping cabins, space for up to 8 people, and offer the option of setting up a weather-protected seating group in the apse. A family tent can take up to half an hour to pitch, so they are best for a long campsite holiday.
Inflatable tents do not have tent poles. They have air chambers that are inflated with an air pump or compressor. The tent will stand up by itself. You stand particularly quickly and without great physical exertion.
Expedition tents are indestructible fortresses that defy any weather. They have features such as ventilation flaps that can be closed from the inside, which distinguish them for camping in storms and snow. However, they are also expensive and usually not too big.
What sizes are tunnel tents available in?
There are different sizes of tunnel tents that are small enough for 1 person and large enough for 8 people. Because of their design, tunnel tents have an excellent interior-material ratio.
The smallest tunnel tents are ultra-light. They only weigh around 1 kilogram per person and have a floor area of ​​around 4 square meters.
Large tunnel tents have a spacious apse and often a height of 2 meters and more. These giants have a footprint of more than 20 square meters.
Tip: You can comfortably stand upright in large tunnel tents. This is not only pleasant when moving in the tent.
How many rooms does a tunnel tent have?
Depending on the size, a tunnel tent has 1 to 4 rooms. There is always a spacious vestibule and a sleeping cabin. In some large tents, the apse can be divided into an open veranda and a (smaller) closed apse by moving the outer wall.
Large tents often have several sleeping compartments.
Basically, a manufacturer can always add another pole arch to the tunnel tent to add another room.
How cozy is it in a tunnel tent?
Tunnel tents are very cozy. Compared to other types of tents, tunnel tents have extremely steep walls. This is why large tunnel tents are around 2 meters high. You can stand comfortably in them.
High-quality models also offer numerous comfort functions that make staying in the tunnel tent very pleasant. These include darkened sleeping cabins, barrier-free doors, and guides for power cables.
The spacious apse allows you to set up chairs, tables and shelves. You can stay here comfortably in bad weather. In small tent models, it is still possible to sit comfortably.
Tip: The apse of some models can be opened on 3 sides. You can transform the awning into an airy pavilion that offers protection from the sun.
How easy is it to pitch a tunnel tent?
First, the outer tent is set up and tensioned. Then you hang the inner tent into the ready-made outer tent. This is useful when it rains – the inner tent stays nice and dry.
However, this type of construction also has a major disadvantage. Because the tunnel tent has to be guyed with pegs and storm lines even in fine weather, the construction takes longer than with other types of tents.
Small tunnel tents are easily set up by one person, 4 hands are more practical for large tunnel tents.
Tip: With the right technique, you can also set up large tunnel tents on your own: First anchor the head end of the tent in the ground and then pull the tent out like an accordion!
How long does it take to set up?
Attaching the storm lines and pegs and hanging the inner tent takes time. For a small tunnel tent, you need about 5-10 minutes. You can build a large tunnel tent for a good half an hour – most of the time is needed to brace yourself.
Tips: When the tent is dry, you can leave the inner tent in the outer tent when you take it down. This speeds up the next build. When there is no wind, it is sufficient if you only guy the head and back of your tunnel.
How well can you sleep in a tunnel tent?
You can sleep very comfortably in a tunnel tent. Thanks to the steep tent walls, you have a lot of free space over your face when you are lying down. Because of their shape, larger tunnel tents can also be divided into cabins quite flexibly.
That is why each person has around 1.7 m² of lying surface available for most models. For comparison: a normal insulation mat has an area of ​​1.2 m².
In many tunnel tents, the partition walls between the sleeping cabins can be removed – so you can combine several cabins into one large sleeping area if you wish.
Darkened sleeping cabins allow you to sleep comfortably in the morning.
Tip: Most people find a 2-meter x 0.7-meter lying surface to be sufficiently large. Children need less space.
How much space is there for luggage?
Even small tunnel tents have an extraordinarily large apse compared to other tents. That's why they offer plenty of space for your luggage. There is more storage space in the gap between the inner tent and the outer tent as well as in pockets that are sewn into the inner tent of most tunnel tents.
Where can you set up a tunnel tent?
No, a tunnel tent cannot be pitched everywhere. The storm lines take up a lot of space. As a rule of thumb, the tensioning makes the tent twice as wide. This makes setting up the tent a difficult undertaking on well-filled campsites and in forests.
Attention: Not every surface is suitable. The tent must be attached to the ground with pegs. In a pinch, you can also attach your accommodation to trees or bushes. However, smooth rock or asphalt does not offer the tent any support.
Tip: On difficult surfaces, you can also anchor your tent to rocks you have brought in or with sandbags.
What tools do you need to set up a tunnel tent?
The best and safest way to drive the pegs into the ground is with a hammer.
Why?
Well, when the pegs are entered with your foot, the earth channel quickly wears out!
We like to use a relatively heavy & hard hammer with a herring puller. Such a hammer can also cope with solid ground – and you can easily bring the pegs out of the ground again after camping.
How stable is a tunnel tent in windy conditions?
At least the two outermost poles of a tunnel tent have to be braced to the front and back so that the tunnel tent stands at all. This is enough in good weather – not in bad weather.
Because of its high profile, the tunnel is very susceptible to Crosswind. We have often seen badly guyed tunnel tents that fell over in a strong gust of wind. Unfortunately, a tent pole breaks quickly.
Better: Tension the tunnel tent to the side and pull the storm lines nice and tight. The tent is extremely storm-proof when it is well-tensioned – which is why it is often used for expeditions in cold and rough areas.
Tip: If you put the tent with the narrow side in the wind, the wind stability increases enormously!
How good is the protection from heat?
Unfortunately, many tunnel tents heat up very strongly in the sun. A common problem: the sleeping compartments are only ventilated – if at all – through a very small air inlet.
However, there are also really well-ventilated tunnel tents that stay comparatively cool in the heat. Have cool tunnel tents:
Several entrances to the apse through which a lot of air is exchanged with the surroundings
Another entrance or a large ventilation opening as high as possible in the sleeping cabin
An outer tent that doesn't quite reach the ground so that cool air can flow into the tent from below
Tip: A rescue blanket stretched over the tent reduces the sun's rays in the heat.
What materials are tunnel tents made of?
Different materials are used to make tunnel tents. Entry-level tunnel tents usually have fiberglass poles and a PU-coated polyester tarpaulin. This makes them comparatively heavy and not very robust against mechanical loads.
High-quality, lightweight trekking tents are often made with aluminum poles and a nylon tarpaulin with a silicone coating. They are light and robust.
Large family tunnel tents sometimes come with a cotton tarpaulin. They are extremely heavy, but have a very pleasant room climate on hot days – cotton is permeable to air.
What about weight & pack size?
Tunnel tents have the best interior-to-material ratio of all types of tents. Small tunnel tents made of high-quality materials such as aluminum and nylon are therefore very light: They only weigh around 1 kilogram per person and have a pack size of around 3 liters per person.
Large tunnel tents on the other hand are often surprisingly heavy.
Tip: The easiest way to reduce the weight of your tunnel tent is to use good aluminum pegs.
Where can I buy a tunnel tent?
Tunnel tents are one of the most popular types of tents. You can buy them at virtually any store that sells tents.
Amazon has a very large selection of affordable entry-level tents, ultra-light trekking tents, and large family tunnel tents. You can find practically every tent manufacturer here.
Walmart also has a wide range of tents and offers you the option of returning a tent free of charge within 30 days if you do not like it.
eBay specializes in outdoor and mountaineering and has a huge selection of lightweight trekking tunnel tents.
How expensive are they?
Depending on the equipment, quality and size, tunnel tents cost between 50 and 1500 dollars. A beginner tent for 4 people, which is sufficient for occasional camping in good weather on the campsite, is available for around 100 dollars.
Large family tunnel tents cost two to three times as much, and a sturdy cotton tent for 6 people can cost 800 dollars.
The most expensive are particularly robust expedition tents. They regularly cost more than 1000 dollars.
Who is a tunnel tent suitable for?
For anyone who wants a sturdy and tall tent with a lot of interior space to accommodate a lot of people or a lot of luggage. And you have no problem investing a few extra minutes in setting up the tent with pegs.
What equipment does a good model have?
What is "good" of course depends on the purpose for which the tent is used. A family tent that is set up right next to the car only once a year does not need poles made of light (and expensive) carbon. We are therefore giving recommendations here that apply to as many tents as possible:
Good ventilation
A good tunnel tent has at least 2 entrances and permanent ventilation on each side. This increases comfort considerably in summer.
Suitable pegs
Since tunnel tents always have to be anchored with storm lines and pegs, you should also have suitable pegs in your luggage. With our tunnel tent, we have had good experiences with these aluminum screw pegs on soft ground and with these pegs made of forged steel on hard ground.
Darkened sleeping cabin
A new trend, not only for tunnel tents: The sleeping cabins are darkened by special, particularly opaque fabrics. That makes it easier to sleep longer in the morning.
The reduced solar radiation also ensures cooler temperatures in the tent during the day. Many manufacturers already have darkened sleeping cabins in their range under different names; Coleman calls this technology, for example, the blackout bedroom.
2000 mm water column
An outer tent with at least 2000 mm water column and sealed seams stay dry even in days of continuous rain.
Which tunnel tents are recommended?
There are many good tunnel tent models for almost any purpose. We choose three tents that we consider particularly recommendable in their respective areas of application.

Entry-level tent: The Campfire 4-person tent
The CampFeuer 4-person tent (current price on Amazon) is an inexpensive but well-constructed tunnel tent with mosquito nets on the sleeping cabin and plenty of space for luggage in the large anteroom.
What we like a lot
The low price in combination with its sensible layout makes this tent a tip for beginners: it is available for around 100 dollars. Thanks to its exemplary ventilation through 3 entrances and a window, the tunnel stays pleasantly cool in summer.
As with all tunnel tents, the anteroom is extremely spacious and offers enough space for bulky luggage such as camping furniture and cool boxes.
What we don't like so much
There is some room for improvement when it comes to bad weather protection: Basically, the tent with a water column of 3000 mm and sealed seams is absolutely waterproof.
However, the walls of the awning are not pulled all the way down to the ground: In strong winds and rain, luggage can get wet in the edge areas. The enclosed pegs serve their purpose but should be replaced with better models when camping regularly.
Family tent: Vango Odyssey Air 800
The inflatable Odyssey Air 800 from the Scottish manufacturer Vango has air tubes instead of classic rods. It has 5 rooms with a total usable interior area of ​​18.09 m² – plenty of space for up to 8 people. There are also 2 sleeping cabins on the left and right of the tent. The middle of the tent serves as a living area.
We like that
Very much. The tent is very spacious. When fully occupied by 8 people, each person has 2.26 m² of space. In the living area, you can stand and even set up a small group of seats.
The outer walls completely reach the covered floor all around, the sleeping compartments also have a second, sewn floor. Therefore, the tunnel is also suitable for cold and wet weather.
Thanks to air technology, the tent can be set up by one person within 20 minutes – this is extremely fast for a tent of this size.
We don't like that very much.
While the ventilation of the living area through the two opposite entrances works well, the ventilation of the sleeping compartments is not optimal on hot summer days: There are only a few relatively small ventilation openings.
This is why it can get comparatively warm in sleeping cabins between sunrise and sunset. Overall, however, the Vango Odyssey Air 800 is an excellent family tent.
Trekking tent: Coleman Cobra 3
Tents that you carry over longer distances, be it on a hike or when traveling to the festival by train, should be one thing above all: light. The Coleman Cobra 3 for 3 people weighs only 2.9 kg and has a pack size of 20.5 liters.
We like that
The tent is incredibly light – it weighs less than 1 kilogram per person. The interior space is really big for a trekking tent. In addition, there are 2 generous vestibules on the sides for luggage.
We also like the workmanship a lot. A water column of 3000 mm for the outer tent and 5000 mm for the ground means that it stays dry inside even with prolonged rain. The price-performance ratio is excellent.
We don't like that so much
As with many other tents, we also complain here: the ventilation could be better. We don't understand why the inner door only has a mosquito net on a small ventilation opening.
The supplied pegs also seem unstable – here it makes sense to purchase a more robust floor anchor. However, we think: You get a great tent for a really cheap price.
Tip: Many tents come in several different sizes. For example, the Coleman Cobra is also available in an even lighter version for 2 people.
Tunnel tent: these are the advantages
Here is a quick summary of the advantages a tunnel tent has over other types of tents:
Advantages
Very universal type of tent: small tents are light and large tents offer an incomparable amount of space.
More spacious than other tents: the best interior-to-weight ratio of all tent types.
Large apse with plenty of space for luggage and for living and cooking in bad weather.
When properly tensioned, tunnel tents are very stable, even in strong winds.
Family tents have a standing height of 2 meters, but small models can still sit comfortably.
The manufacturer can flexibly divide the interior into several cabins using partition walls
Tunnel tent: these are the disadvantages
Of course, the tunnel tent also has some disadvantages compared to other types of tents, which we have summarized here:
Disadvantages
The erection can take a little longer: the tent must always be tensioned when erecting. Without the tent ropes, it simply falls over.
Because of its high profile and large broadside, it is more susceptible to wind than other types of tent.
Even a guyed tunnel tent can collapse completely in the wind if the guy is incorrect.
The construction needs space and is not possible on every surface (rock, asphalt)
And because of the long distance to the entrance, the ventilation of the sleeping cabins is not optimal in many large tunnel tents
What alternatives are there to a tunnel tent?
It depends on what you need the tent for. A dome tent can be pitched without pegs in good weather but offers less space for luggage and other accessories. A pop tent is set up in a few seconds but has a large pack size.
Tip: Our overview of the different types of tents will help you to find the right model for you.
Thanks for reading.
If you have any questions, ask in the comment section below.