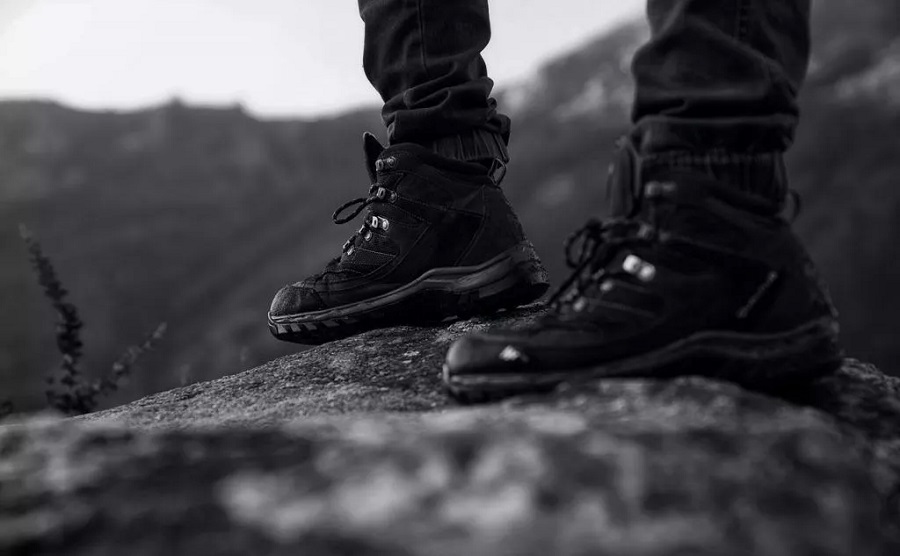 The pair of Salomon Quest Prime GTX shoes combines both comfort and lightness.
The pair of Salomon Quest Prime GTX boots are comfortable and lightweight that adapts perfectly to the most difficult terrains. Its Contagrip sole and studs provide good grip when walking. Its cushioning, robustness, and good foot support are its main assets.
We are going to share your experience with the Quest Prime GTX. To find out how this incredible pair of boots stand out from its main competitors, we invite you to continue reading the article.
Salomon Quest Prime GTX hiking Boot Review
Technical Specifications:
Weight: 570 grams
Waterproof: Yes (Gore-Tex)
Midsole Height: 22mm/10mm (12mm Drop)
Upper Material: Water Resistant Textile
Gore-Tex: Yes
Contagrip: Yes
Sensifit: Yes
Quicklace: No
Designed For: Backpacking
Color Option: Yes
Pros
Slim and lightweight
Good level of protection and comfort
It offers good cushioning on steep trails
The Contagrip sole offers perfect grips on all types of ground
Tackles the toughest trails with ease
Cons
It does not provide enough heat in cold weather
The locking eyelet is not secure enough
Doesn't suit all foot shapes.
Comfort level
The distinctive sign of the Salomon Quest Prime GTX is undoubtedly its comfort. It is mostly due to the design of the midsole of the shoe. Indeed, its dual-density EVA foam sole absorbs shocks to guarantee you a light walk.
In addition, an integrated molded part on the sole helps support your foot. The tongue and the collar are also padded to allow you not to have the foot too tight.
Item weight
The Salomon Quest Prime GTX has a light weight of only 570 grams. It's an incredible asset if you look at the level of comfort and grip it provides. Despite its advantageous weight, it is heavier than some pairs that have the same characteristics.
Among these formidable competitors are Lowa Ticam II GTX and the Scarpa Rush TRK GTX.
.
Good traction
The pair of Salomon Quest Prime GTX boots have exceptional grip. It owes it in large part to its Contagrip rubber outsole and its large studs. This type of crampon and the sole together greatly facilitate grip and traction on different types of ground.
They make it easy to go up and down steep slopes.
Stability and Support
The Salomon Quest Prime GTX is equipped with an "Advanced Chassis" system. It is represented by a thermoplastic polyurethane structure. It is a particularly robust and flexible material.
It offers perfect resistance to slipping. This gives you good foot support. You will be able to feel a certain stability even on uneven terrain. In addition, the insole provides good arch and heel support.
Impermeability and sealing
The Gore-Tex membrane present on the Salomon Quest Prime GTX offers a perfect seal to the boot. It helps keep your feet dry when walking. You can therefore venture into rainy or humid places without any problem.
However, the insulation system is not partitioned. It is designed this way to be able to adapt to all seasons. The upper of the shoe is made of breathable leather. It prevents sweating.
Toe and ankle protection
The pair of Salomon Quest Prime GTX boots offer high protection to your feet. They are comfortable to wear for all hiking activities. Indeed, a rubber stone guard is located at the tip of the boot. It protects your toes by absorbing any shocks.
The presence of rubber along the heel cup also adds additional support. Besides this, the recycled rubber Ortholite insole provides good cushioning.
Build quality and durability
Salomon pairs of boots are known for their exceptional quality and good durability. The pair of Salomon Quest Prime GTX boots continues in this line.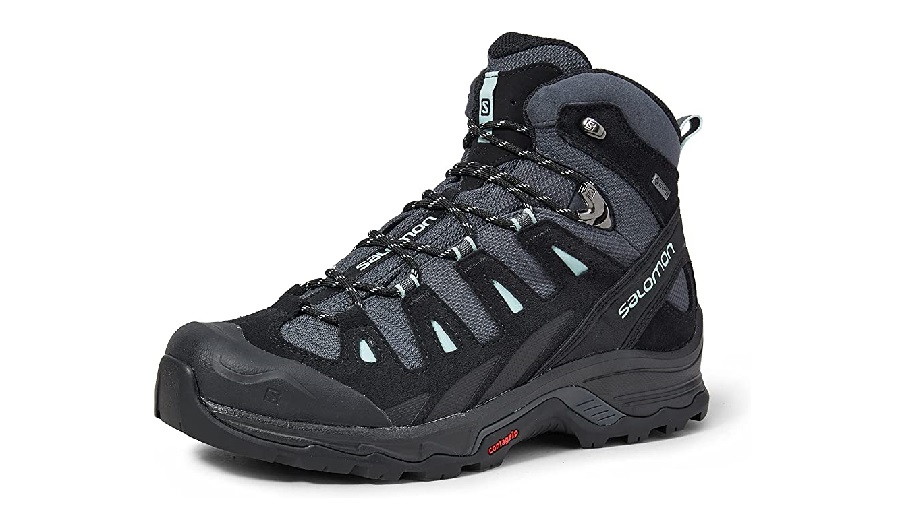 The synthetic material upper integrates a perfect alloy of suede and rubber. This alloy offers good wear resistance. However, it is important to waterproof the synthetic fabric of the shoe because it absorbs dust and dirt. This sometimes causes rust.
Shape and size
The Salomon Quest Prime GTX fits more or less as the brand indicates. It is still very wide on the sides. This gives a lot of space to the foot. It is therefore more reserved for hikers who like loose shoes that do not oppress them. It does not have any tightening areas on the sides to remedy this particular problem.
However, there is a lacing system in the form of locking eyelets. It allows tightening the collar of the boot.
Other Salomon Model
For this test, we have selected the Salomon X Ultra 3 GTX boots. It is as comfortable as the Salomon Quest Prime GTX. However, the big difference lies in the presence of a solid lacing system. It holds the ankle and foot much better inside the shoe.
In addition, it also has generous padding around the ankle which allows optimal comfort. It remains much more expensive and is therefore not within everyone's reach.
Final Thoughts
Competition is fierce in the market for lightweight backpacking shoes for long-distance hiking. The Salomon Quest Prime GTX offers an optimal comfort and pleasant support on steep terrain. It is one of the most practical pairs of shoes for tackling technical hiking routes. It has a perfect balance between comfort and grip.
These are made of suede and mesh which tends to get wet faster. However, they don't offer optimal temperature management despite their thermal insulation system.
See Also…