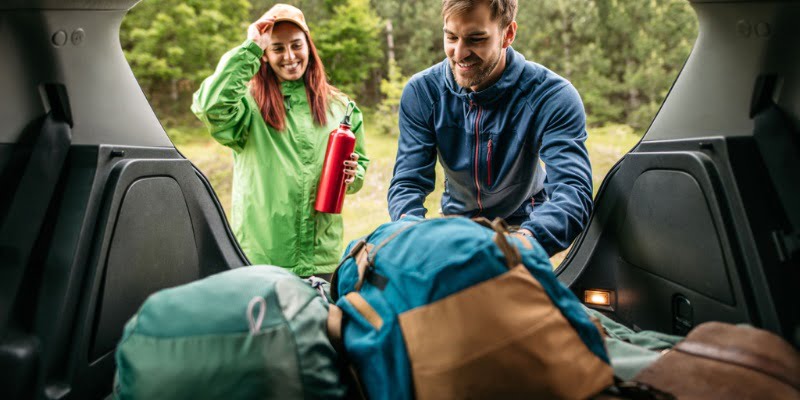 Are you looking forward to your next camping holiday and want to prepare yourself optimally for rain? You are right here! With my camping in the rain checklist, you are well prepared even in really bad weather.
A waterproof tent with at least 2,000 mm water column is a good start, but it doesn't stop there. It takes more to keep your tent dry and cozy. Plastic bags, extra-wide tent pegs, a waterproof backpack, and of course the right rain gear make your camping trip much more pleasant.
I have put together the most important and best equipment for you and explained how to use them correctly.
Would you like to know why smart campers pack old newspapers when it rains? Read on!
Camping in the rain checklist
1. Quick-drying towels
Towels are a great invention, especially when everywhere's wet and humid. Towels can be used to dry off the tent floor, your camping furniture and even yourself after a (rain) shower!
But what if the towels themselves got damp? You pack a huge pile of spare towels. Or a single quick-drying polyester towel.
The microfiber towel absorbs moisture extremely well and dries much faster than a normal cotton towel. It feels pleasantly fluffy on the skin and weighs 50% less than cotton cloth.
You save a lot of valuable space and weight in your luggage.
---
2. Waterproof pack sacks
Packsacks are the high quality and more sophisticated substitute of plastic bags. With these ultra-light drying bags, you can perfectly protect your food, wallet and notebook from moisture.
Good packsacks are equipped with multiple straps and clips. They can therefore be opened easily and closed particularly securely.
Another big advantage: The PU-coated polyester bags are so robust that you can use them endlessly. That is why they are more environmentally friendly than normal plastic bags.
---
3. Cozy blankets
A few extra blankets are always a good idea when camping, especially when it's raining heavily. Because when it rains, the temperature drops and the humidity increases.
That is why you will look forward to a warm, dry additional layer at night. But blankets also spread coziness during the day. Thanks to a blanket laid out on the tent floor, the floor is no longer damp and cold, but pleasantly warm and soft.
When you are wrapped in a cozy blanket and have a hot cup of tea, the gentle drumming of the rain on your roof is a wonderful experience.
---
4. Windproof gas burner
When it rains, you want a reliable, waterproof and windproof tool to light your gas stove, a campfire or something else.
Matches are the exact opposite of waterproof and windproof. A small gas burner is ideal.
It works perfectly in high humidity and you can use it at all possible angles without burning your fingers. Even strong winds cannot blow out your gas burner.
Do you find the drumming of the rain on the tent roof as relaxing as I do? Listen to the rhythmic sound of the rain as you read the packing list.
---
5. Extra long rain ponchos
You will need rain ponchos for you and the rest of your group to go outside when it rains.
A rain poncho can be thrown over remarkably quickly. This makes it particularly useful for short trips outside the city area. You can also wear your poncho when you arrive at the campsite while you pitch your tent.
A good rain poncho is much longer and wider than a normal rain jacket. This will protect a much larger area of ​​your body from moisture.
The poncho is wide enough that you can transport your backpack and other luggage under the poncho dry through the rain. That is why it should not be missing on any camping packing list.
---
6. Spacious pavilion
A large pavilion is a must-have for any camping group that spends time in wet nature. Under the waterproof canopy, there is plenty of freedom of movement and enough space to set up a table and several comfortable camping chairs.
A good gazebo has removable walls that you can use to protect yourself from side rain. Because it is often windy especially when rains, the pavilion should have sturdy poles made of steel or fiberglass. I do not recommend folding pavilions made of aluminum as they are more suitable for good weather. It is much lighter and more spacious under a pavilion than in tents and caravans.
I love to enjoy the view of nature and the fresh, clean air on a rainy day, while the rain beats rhythmically on the pavilion roof.
---
7. Strong extra tent pegs
Make sure you have packed some extra strong tent pegs! When days of rain have softened the ground, the standard tent pegs that come up with most tents will no longer find a hold.
Wide tent pegs are ideal for soft floors. A strong signal color makes it easier for you to find it in the muddy ground if a line should come off.
Pack a few more pegs than you need. They will be your savior when the rain is accompanied by strong winds. Or you want to open a tarpaulin as additional rain protection.
---
8. Protective groundsheet
Groundsheets are the ultimate protective shield between you and the wet ground. They prevent your tent floor from being damaged by branches and sharp stones and water from entering the tent through small holes in the floor.
In addition, the groundsheet insulates the tent floor against the cold and lets you sleep warmer and more comfortably at night. So put at least one sheet under your tent.
The groundsheet should be about the size of your tent floor. Also, make sure that no parts of the sheet are sticking out from under the tent. Otherwise, the groundsheet will collect rainwater under the tent. Therefore, fold in protruding corners of the sheet and stow them under the tent.
Another advantage of the groundsheet is that you can more easily clean your tent of mud after the rain. The tent floor is clean and the sheet can be easily washed off in the shower.
---
9. Bright lighting
When it rains, it's dark and gray – but you can do something about it! Good lighting is always a must on any camping holiday.
Pack a bright, handy, and waterproof flashlight to explore the campsite at dusk.
A headlamp gives you light while you pitch your tent under the cloudy, gloomy sky.
Very important: don't forget your camping lantern! With the lantern, you light up your tent when you want to eat or read.
Would you like to make a pleasant ambience appear warmer through the tent? Place LED fairy lights in your tent or on the roof of the pavilion. In addition, light some candles, which spread coziness with their flickering.
Professional tip: Lamps with 18650 rechargeable batteries are often much brighter than lamps with AA batteries.
---
10. Impregnation spray & seam sealer
You should waterproof your clothes and tent before arriving at the campsite. You can find detailed instructions here.
In an emergency, however, it is always practical to have a good waterproofing spray on your packing list. Do your shoes get wet in the first small puddle? The waterproof jacket of your neighbor is leaking? You can help.
One of the most common storm damage to the tent: The wind pulls too hard on the tent fabric and a seam becomes leaky. To prevent your tent from running full of water in the rain, you have to seal the seam with a seam sealer. Your tent will then be as waterproof as a new tent.
---
11. Stable ropes
A small roll of paracord is an incredibly useful accessory when camping. Are you wondering what you need the rope for?
You need it when a guy line on the tent breaks in the wind or you want to tighten the anchoring of your pavilion. With a tarpaulin or some tarps, you can build a rainproof shelter.
An improvised clothesline in the awning will help you dry your clothes. Many tents have equipment loops on the roof for this purpose, which you can attach to the leash.
---
12. Soft awning carpet
Do you love getting out of the sleeping cabin barefoot in the morning and don't want to end up in wet grass or mud? Then an awning carpet is right for you.
If your awning has a floor, the carpet is still worth it. The carpet is warm and soft – it protects you from contact with the cold, damp tent floor.
A good awning carpet is soft and breathable so that no unpleasant smells can build up under the carpet. At the same time, carpet is water and dirt repellent. Small amounts of water or mud that you carry into the tent with your shoes are not a problem.
Pro tip: If it's really muddy, put a waterproof tarpaulin under the awning carpet.
---
13. Waterproof clothing and shoes
Your rainwear should be light, waterproof, and breathable. Clothing with at least 4,000 mm water column and more than 4,000 MVTR breathabilities reliably protects you from rain and feels comfortable even during physical activity.
Make sure that the rainwear has taped seams, wrist cuffs and an adjustable hood.
Avoid wearing cotton under your rain gear. Cotton absorbs moisture instead of passing it on to the outside.
Pro tip: take a spare set of underwear with you in a waterproof packing bag. If your equipment is flooded, you are on the safe side.
---
14. Exciting entertainment
Sometimes one or the other plan falls through in rainy weather. Of course, you don't have to sit in the tent all day and stare at the wall.
Use the free time to read the book you've always wanted to read. Or play an exciting game with your family and friends! Here are some ideas for you.
Uno– the classic for big and small
Black Stories– brains for puzzle fans with a lot of black humor
Settlers of Catan (card game)– the duel for the principality
Just One– can you guess the secret word?
Munchkin– a card game full of monsters, treasures and humor
All the games in this list take up little space in your luggage and can be played at a small table and on the tent floor.
---
More knowledge for you
You now know which important pieces of equipment you should always have with you in the rain. If you need more knowledge about camping in the rain, check out how to stay dry in the rain.
Would you like to know how to turn your tent into a cozy oasis on wet days and which activities are still fun? Learn here how camping in the rain is fun!
If it not only rains but also the rumble of thunder and lightning strikes near your tent, you are in danger. Find out how to camp safely in a thunderstorm.
Pass on your wisdom
Camping in the rain is a skill. Knowing how to have fun in nature despite the bad weather and stay dry makes inexperienced campers jealous.
Do you still remember the days when you sat in a cold, damp tent yourself? Share your experience of camping on rainy days. Or tell me what equipment do you take with you when camping in the rain.
I wish you a great time in nature!
Thank you for reading.