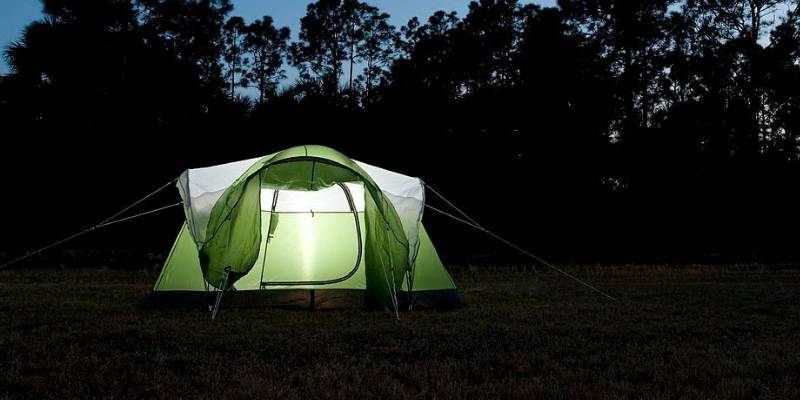 Camping enthusiasts know that a reliable source of light is essential when spending time in the great outdoors. Camping lanterns have a wide range of applications such as lighting the tent or campsite, a light source in the garden, or outdoor lighting with a motion sensor.
What is the best lantern for camping?
Today, the market is flooded with a wide range of camping lantern options, and each offers unique features, designs, and capabilities to enhance your outdoor experience.
To help you find the best camping lantern for your needs in 2023, we've compiled a list of top-rated options that combine innovation, durability, and performance. We'll highlight their key features, advantages, and potential drawbacks.
So, whether you're looking for a lantern with long battery life, solar charging capabilities, or versatile lighting modes, we've got you covered. You can also find our well-considered purchase decision guide at the bottom of the post.
Best Camping Lanterns of 2023
Our favorite camping lantern is the Black Diamond VOLT Lantern. It offers high performance battery, mobile phone charging, Stepless dimming, blink mode, battery indicator, and more.
Here is our updated ranking of the top 8 best camping lanterns in 2023…
| | | | | |
| --- | --- | --- | --- | --- |
| Image | Name | Material | lumens | Price |
| | Black Diamond Equipment | Plastic | 250 | Check |
| | ThorFire CL01 LED | ABS | 125 | Check |
| | Goal Zero Lighthouse | Plastic | 400 | Check |
| | UCO Original Candle Lantern | Aluminum | 20 | Check |
| | Primus Unisex Lantern | Aluminum | 330 | Check |
| | Lamplight Farmer's Lantern | Metal | N/A | Check |
| | Etekcity Camping Lantern | ABS | 140 | Check |
| | Petzl NOCTILIGHT Headlamp | Plastic | N/A | Check |
Key Specs:
Luminosity: 250 lumens
Weight: 224g
Features: Dimmable
With its small dimensions, Black Diamond Equipment is a practical lantern for camping. It is made with an eco-friendly design. It will follow you in all your camping sessions to support you without flinching.
When packing, it can be locked so that it does not accidentally turn on in the backpack. Despite its compactness, the VOLT Lantern shines brightly and at the lowest level for up to 20 hours. It is infinitely dimmable between 10 and 250 lumens.
If the battery is running low, it automatically switches to the batteries used. And with the USB input and output, both the lantern and the cell phone can be charged on the go. Black Diamond Equipment lantern can be used standing on the table or hanging.
Point of View: A small all-rounder for every excursion. Like a rechargeable headlamp, it offers more flexibility with power options.
Pros
Excellent battery
Mobile phone charging
Stepless dimming
Blink mode
Battery indicator
Hangs or stands
Cons
Small battery compartment
Large size
---
Key Specs:
Luminosity: 125 lumens
Weight: 168g
Properties: foldable, hand crank, cool white, 2 levels dimmable
Thorfire camping lantern is perfect for indoor, outdoor and emergency use. It has two lighting modes: High and Low. The peculiarity of this product is its compactness. When unfolded it functions as a lantern, when folded it can be used as a flashlight. In two modes it shines 125 lumens or 30 lumens bright.
The light lasts 40 minutes on the higher setting and about 4.5 hours on the lower setting. If the battery is low, a hand crank can be used to provide additional burn time. Mobile phones and other devices can also be charged in this way.
Thorfire camping lantern is only 5.9 oz in weight. And as small as your phone, so you can easily fit it in your backpack or emergency kit. You can charge this device either via a regular 5V USB charging cable or hand cranking when you are out of the power supply.
Point of View: A handy lantern and flashlight that can be operated with a crank in an emergency. You can open it at various lengths and easily control the amount of light it shines.
Pros
2-in-1 torch and flashlight
Foldable and lightweight
Integrated crank
Mobile phone charging system
Smart protection chip
Cons
Small battery
Made of plastic
---
Key Specs:
Luminosity: 400 lumens
Weight: 350g
Properties: 180° or 360° light, 2 levels dimmable, warm white
The Goal Zero Lighthouse 400 is the brightest camping light in our comparison. LEDs are installed as illuminants. The light can be adjusted to 180° or 360°. In the brightest mode, the battery runs for up to 4 hours. And with dimming and 180° mode, it even manages 350 hours.
This lamp gets very bright and has a wide illumination area. It's also great for taking to the bathroom at night. You can recharge the internal battery from any USB port or use the built-in hand crank to charge up instantly and never be left in the dark.
It is robustly built and weatherproof for outdoor use. The base is magnetic for setting up and the lantern is equipped with a carrying handle for carrying or hanging. You can easily install it with its folding legs; a unique and totally ingenious mechanism.
Point of View: A durable and very bright lantern for camping and the garden. However, the adjustment knob is small and slick, making it a bit hard to turn.
Pros
Excellent brightness with 400 lumens
Mobile phone charging
180° or 360° light
Long battery life
Collapsible legs
Cons
A little bit expensive
Small adjustment knob
---
4. UCO original – Best Camping Lantern with Candle
Key Specs:
Luminous intensity: approx. 20 lumens
Weight: 181g
Features: Candlelight
This is a compact camping candle that creates a cozy atmosphere. The small candle is placed in the lantern and the light is reflected by a reflector. It will provide ample light and help to remove condensation. It has a burning time of up to nine hours.
UCO Original Collapsible lantern fits in a small space, making it suitable for both camping and backpacking. However, the glass gets hot as well as the metal around the glass – but not the bottom of the lantern and cools down quickly once the candle is out.
For transport, it can be folded up and stowed in the supplied cover. A carrying handle and a hook for hanging are installed on the top. UCO Original lantern can easily be ignited through an opening in the glass fireplace.
Point of View: A sturdy and small lantern that provides cozy candlelight when camping. It collapses down to 4.25 inches, making it a great choice for backpacking and emergencies.
Pros
Candlelight ambience
Lightweight aluminum body
Foldable and handy
Robust
Cons
Special candle needed
Not very bright
---
Key Specs:
Luminosity: 330 lumens
Weight: 370g
Properties: Piezo ignition, gas cartridge required, dimmable
This lantern is screwed onto a gas cartridge, burns soot-free, and shines very brightly. The built-in frosted glass breaks the light into a pleasantly warm glow. Thanks to the piezo ignition, there is no need to carry a lighter with you. The transport box is stable and protects the lantern.
Primus camping lantern can be mounted on both screw and plug-in cartridges. It is adaptable for almost all screw gas cartridges on the market. The quietly burning lantern is particularly suitable for campers who travel with a gas cooker and do not want to carry an additional battery.
It has a hook at the top of the head, you can attach the LED lantern to the car engine, car below, or elsewhere. The durable material guarantees excellent break and wear resistance.
Point of View: The best gas lantern for trekkers and lightweight campers. The workmanship is absolutely top notch. The operation is also quite simple.
Pros
Noiseless operation
Best gas lamp
Robust
Piezo ignition
Multi-color and beautiful finishing
---
Key Specs:
Luminosity: N/A
Weight: 175g
Properties: Fuel
A classic among outdoor lanterns: the hurricane lantern from Lamplight. The construction guarantees economical consumption, so the lantern burns for up to 20 hours. However, you can only use fuel or pure lamp oil.
It is not only stylish but also sustainable. The base is a renewable and resource-saving material, which stands for sustainability and longevity. Lamplight Farmer's camping lantern is bright enough to light a dark path and can illuminate a small balcony. The heavy gauge wire handle keeps your fingers from being burnt.
The lantern is sometimes called the Storm Lantern for a reason. It is robustly built and weatherproof thanks to the galvanizing. The flame is protected from the wind and can burn calmly and evenly.
Point of View: A lantern with cult status. Perfect for the patio, garden or camping. If you care properly, it will last a long time.
Pros
Classic design
Thrifty
Good craftsmanship
Easy to use
Good value
---
Key Specs:
Luminosity: 140 Lumens
Weight: 285g
Features: waterproof, heat and cold resistance
Etekcity is an excellent outdoor lantern for camping. With a weight of less than 10 oz, this model is easy to collapse into a small size, so you can pack it in a backpack or emergency kit. It is a versatile lamp, perfect for camping, hiking, night walking, or emergencies such as a power outage.
Etekcity camping lantern is equipped with 30 LEDs and achieves outstanding brightness without blinding you when you look at it. And with its 360° wide-angle design, it covers a particularly large area. In addition, the lights are IP44 certified, which means waterproof.
It features the latest lens technology for glare-free warm white light and high energy efficiency. The battery lasts all night (up to 30 hours of bright light) if it can be charged fully during the day. This model is also lightweight. That would be conceivable.
Point of View: A super bright and wide-angle outdoor lantern. It can illuminate you under the tent with a light of 140 Lm. After fully charged, it will provide up to 50 hours of light.
Pros
Very bright
Solar powered
Motion detector
Compact and light
Cons
Installation process isn't easy
---
Key Specs:
Luminosity: N/A
Weight: 85g
Properties: In combination with Petzl headlamp
For campers and trekkers with a Petzl headlamp, this model doubles as a protective cover and a lantern. The headlamp is placed in the case and can be used as a lantern due to its nature. This model is red at the base and has a black zipper. It will easily find its place in your camping or roaming hiking needs.
This is a small camping lantern that can be used standing or hanging. It is also possible to attach it to a belt, for example. In addition, the case is extremely light and therefore hardly adds to the weight of the equipment. The protective cover weighs 72 g.
It is very compact and light, you can store your headlamp in a bag when you're not wearing it. The manufacturer also offers a 5-year guarantee against any defects in material or construction.
Point of View: The lightest camping lamp in our raking, weighs just 85g. It is compatible with a wide range of Petzl headlamps. However, it can be tricky to wiggle; make sure to set the right setting before you zip it up.
Pros
Cheap price
Protective cover
Widely compatible
Lightweight
Cons
Only in combination with a headlamp
Not all Petzl models fit
---
What is There to Consider When Buying a Camping Lantern?
Choosing the best camping lanterns depends on a few features. This way everyone is guaranteed to see the light when making a decision!
The following properties are particularly important when buying a camping lantern:
Operating mode
Luminosity
Burn time
Weight
Size
Furnishing
Operating mode: How is the camping lantern powered?
Basically, you can choose between three drive types for camping lanterns:
Fuel lamps
Fuels used for lanterns are typically kerosene, lamp oil or gas.
Gas can usually be plugged or rotated onto gas cartridges. If you have them with you for cooking anyway, you can use such a model. These types of lamps are characterized by their bright light. But they are usually noisy and associated with a certain safety risk. Camping candles also belong in this category. Above all, they provide a nice ambience, but can become very bright with a reflector.
Attention: fuel lanterns should never be used in a tent or similar because of the increased risk of fire!
Rechargeable battery lanterns
Cordless and battery-operated lanterns are safe alternatives to fuel lanterns. Before the trip, the burning time should be checked and extra batteries or a way to charge them (power bank, solar charger) should be taken with you.
These lanterns are not recommended in winter as the batteries lose their charge at low temperatures. When it comes to batteries, you should definitely pay attention to the correct battery type, otherwise the lantern can break (e.g. lithium instead of alkaline batteries).
Solar lanterns
The most sustainable variant of outdoor lamps. They are particularly suitable for long outdoor activities, as no fuel or batteries have to be carried along. They are also lighter than other options.
Most solar camping lanterns have a built-in backup battery should the sun not shine. Some manufacturers rely on battery/rechargeable batteries and solar in combination.
Luminosity: How bright should the camping lantern be?
Depending on the application, the brightness of the camping lantern is decisive. Before buying it should be clear what the lantern is used for. To find your way around in the tent, a lower lumen number is sufficient than for cooking or reading.
With many models, the luminosity can be adjusted in steps or even continuously. Some manufacturers even let you choose whether 180° or 360° should be illuminated.
Burn time: How long does the camping lantern shine?
Before the trip, it is necessary to consider how long the lantern should ideally burn. The longer the lamp lasts on one charge or fills, the better.
It is best to estimate the period of use higher, just to be on the safe side. It is important to remember that the lamp will run out faster in a brighter setting. If possible, the lantern should be used dimmed for longer periods.
Weight: How heavy can a camping lantern be?
When trekking or camping, an ultra-light lantern is suitable, which turns a headlamp into a lantern with a protective cover. Other models are very light thanks to the solar drive. Rechargeable batteries and batteries are comparatively heavy. A fuel-powered lamp that matches other equipment, such as the stove, will help.
If you are traveling by car or RV, you can also use a heavier lamp.
Size: What are the dimensions of a camping lantern?
The dimensions of the lamp also depend on the type of travel. Those who are traveling with a backpack prefer a very small or foldable lantern. Larger models are available for motorized campers, which can also illuminate the entire campsite if required.
Equipment: What accessories does the outdoor lamp have?
Suspension: Most lamps have a hook, handle, or other suspensions so that they can be conveniently placed in the tent or gazebo.
Cell Phone Charging: Many battery-operated lights come with built-in cell phone charging via a USB cable. MP3 or GPS devices can also be loaded with it.
Crank: In an emergency, devices with a hand crank are convincing. In this way, electricity can be generated. For example, the mobile phone can be charged or the light can be used.
Handling: The placement of buttons and such as charging or lighting the lamp should be checked before the purchase. The easier and faster, the better.
Foldable: Some models can be folded up for easy storage and sometimes used as a flashlight.
Legs: Lanterns often have collapsible legs that provide a secure footing.
Weather resistance: Many models are waterproof or at least splashproof. Depending on the application, this should be an exclusion criterion. Above all, outdoor lanterns that are attached to the house all year round should have a corresponding certificate.
FAQs
Which LED lantern is suitable for camping and hiking?
Light and small models are particularly suitable for camping and hiking. Foldable models are also ideal. Look for lanterns that offer both high and low brightness settings to conserve battery when needed.
Which outdoor lantern is best for camping?
As you have seen, there are many different outdoor lanterns that are well-suited for camping. In our comparison, you can read the winner.
How expensive are good camping lanterns?
The price of good camping lanterns can vary significantly depending on various factors, including the brand, features, brightness, and durability. Expect to pay between $20 and $60 for good camping lanterns.
What are the advantages of an LED outdoor lantern compared to other lamps?
Outdoor lanterns are much more robust and often water-resistant. They also work with batteries or fuel and therefore do not have to be connected to electricity.
How long do outdoor lanterns last?
With proper use, outdoor lanterns can last for years, if not decades. The individual burn time varies depending on the model and should be checked before the purchase.
What alternatives to camping lanterns are there?
Flashlights and headlamps are popular alternatives to camping lanterns. However, these products do not provide even lighting as a lamp does.
Conclusion
Choosing the right camping lantern often determines cozy evenings and mornings. Anyone who wants to cook or read in a relaxed manner, even though it is dark, opts for a camping lantern.
Now you know the best and most popular outdoor lanterns in each category and what should be considered when buying. With this information, you're guaranteed to find your favorite!