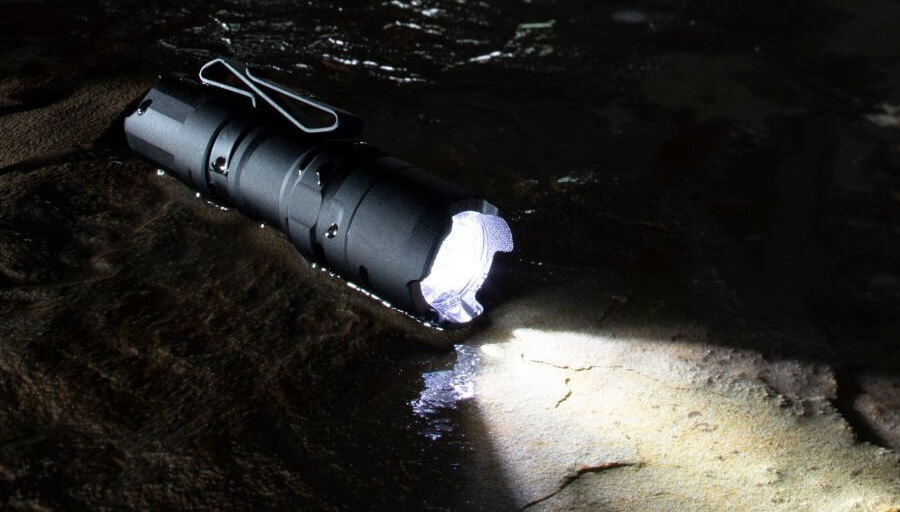 For your outdoor adventures (hiking, trekking, bushcraft) or your sporting activities (fishing, hunting, etc.), a flashlight will be a powerful ally. For these activities, you will need good power, long battery life, long range and additional features. And that is precisely what we offer you today through our selection of the best brightest flashlights.
We will first present to you 7 references from the powerful flashlight market, with their characteristics and strong points. They all offer a powerful lighting system. And then we have a complete buying guide that takes up point by point the essential criteria to know before buying a powerful flashlight.
1. OLIGHT Warrior 3S Tactical Flashlight
Specifications:
Power/range: 2300 lumens / 300 meters
Weight: 360 grams
Battery life: 55 days
Features: Waterproof (IPX8), battery level/brightness indication, double switch, tactical and strobe mode
Power supply: 5000mAh Lithium-ion battery, MCC3 USB recharge
Pros
Compact and well made
Good battery life
Multiple powerful lighting modes
Submersion tightness
Our top 7 opens with a flashlight from the Olight brand, a reference on the outdoor flashlight market which highlights unparalleled manufacturing quality, robustness and durability. The Warrior 3s is no exception to the rule by offering a technical sheet that takes up the characteristics of a flagship model of the brand.
The Warrior 3 has powerful lighting up to 2300 lumens (28% more than the M2R Pro which precedes it) with a generous range of 300 meters. To activate it, you have a button on the back to choose between two levels of brightness. It also has a tactical operation.
Arranged on the side of the flashlight, buttons give it good ergonomics and allow you to adjust the brightness while indicating the battery level and the level of brightness you will be choosing.
The extremely generous battery life is up to 55 days. It is made with a 5000mAh and 3.6V Lithium-ion battery, which you can recharge using a magnetic system based on a port USB MCC3. Because it is built for the outdoors, the Warrior 3 is 1.5 meters drop resistant and IPX8 waterproof.
---
2. OLIGHT Warrior X 3 Rechargeable Tactical Flashlight
Specifications:
Power/range: 2500 lumens / 560 meters
Weight: 540 grams
Battery life: 8 hours
Features: Waterproof (IPX8), resistance to a fall of 2m, 2 lighting modes with variable intensities, Warrior tactical ring with tip, crenellated breeze head-glass, battery indicator by vibration
Power supply: 5000mAh Lithium-ion battery rechargeable with MCC3 USB cable
Pros
Solid construction
Versatile tactical flashlight
Many features
Submersion tightness
Cons
Expensive
Perhaps more suitable for tactical use
We continue our selection with another Olight flashlight model, the Warrior X 3. As with the Warrior 3S that we mentioned just before, the Warrior X 3 is an improved version of the Warrior X Pro. All the quality of Olight manufacturing is found in the Warrior X 3, making it durable, robust and waterproof.
Its technical data sheet highlights updated characteristics to offer even more performance: the luminous flux thus increases by 19% to reach 2500 lumens allowing a comfortable range of 560 meters. It is designed as an all-purpose tactical light. The Warrior X 3 brightest flashlight includes features and functionality which allow it to be used for professional and/or tactical use.
You will find on this model a crenellated attack headset with 3 zirconium beads, which allows you to break the glass. And with a Warrior tactical ring in steel, it is more practical and safe to use. This flashlight also has a punch point for you to use as a defense tool.
It has several lighting modes and good battery life thanks to its 5000mAh Lithium-ion battery rechargeable with an MCC3 USB cable. The low battery indicator is based on a silent and discreet vibration system that alerts you without distracting you from your research.
---
3. Coast XP11R Rechargeable Dual Power LED Flashlight
Specifications:
Power/range: 2100 lumens / 327 meters
Weight: 272 grams
Battery life: 7 hours
Features: Waterproof, tactical handle ring, battery indicator by vibration on three levels, Rechargeable Pack & 3 X AAA.
Power supply: 5000mAh Lithium-ion battery rechargeable with USB cable
Pros
Robust construction
Convenient to carry
Good range of the light beam
Versatility between normal mode and tactical mode
Submersion tightness
Cons
Not the best battery life
Coast XP11R flashlight highlights an excellent light beam range. Indeed, its maximum power of 2100 lumens guarantees a maximum range of 327 meters. Like the previous reference, the Coast XP11R is a versatile tactical flashlight at a cheap price.
Its very robust design is based on an improved stainless steel rear part which is compatible with an optional push-to-lock remote pressure switch (for use in patrol, rescue, or with a long weapon, etc.). Also, its chiseled body, serrated head and tough heel will make it a very good tactical work tool.
The battery life of 12.5 hours of use may not be the best on the market, but it has absolutely nothing to be ashamed of when faced with competitors or other models from Coast, especially considering its lighting distance. This model not only features Standard Light Modes but also Coast'S Signature Turbo Mode for critical situations.
Thanks to its solid design, the Coast XP11R will make the outdoors its playground. It is resistant to drops of up to 1.5 meters and able to withstand immersion in the water thanks to its waterproofness guaranteed by the IPX8 standard, this flashlight will be a great tool.
---
4. IMALENT R60C Long Beam Tactical Flashlight
Specifications:
Power/range: Up to 18,000 lumens / Up to 1038 meters
Weight: 644 grams
Battery life: Up to 30 hours
Features: Waterproof (IPX8), 6 lighting modes, drop resistance up to 1.5m, battery level indicator, magnetic charging via USB port, locking function
Power supply: 3 Li-ion 21700 4000mAh rechargeable batteries
Pros
Power and range
Submersion tightness
5 modes for flashlight
Compact and reliable
Cons
Elite rate
Quite imposing dimensions (width)
Imalent offers us an alternative to Olight flashlights with its R60C model. The technical data sheet holds a candle to the tenors of the market. Indeed, this flashlight is based on a system of 6 high-performance LEDs, which are capable of reaching an output of 18,000 lumens in high-lighting mode.
However, if you don't need such a lighting range, the Imalent R60C flashlight has five lighting modes with memory function, including a turbo strobe mode for tactical situations. These five brightness modes allow you to vary the light output between 300, 1000, 2000, 3300 and 6000 lumens.
It is made of aluminum alloy with a type III hard anodized surface treatment. This flashlight is sturdy and solid; accidental drops or immersion in water will not be a problem for the R60C. This power translates into a very impressive range of up to 1080 meters.
However, this model is quite imposing as evidenced by its width and weight a little larger than average. At the same time, these values ​​are nothing unusual in the absolute and will not hinder its usefulness or ease of use in the outdoors.
---
5. PowerTac Warrior G4-FL Compact Powerful Flashlight
Specifications:
Power/range: 4200 lumens / 250 meters
Weight: 200 grams
Battery life: 15 days
Features: Waterproof (IPX8), automatic locking, 5 lighting modes, proximity sensor preventing overheating
Power supply: 5000mAh Lithium-ion battery, USB recharge
Pros
Small and easy to carry
Different brightness levels
Impressive compact
Lifetime guarantee
If you're looking for the best brightest flashlight for long-term use you should consider the PowerTac Warrior G4-FL. This outdoor light incorporates all the elements that make the manufacturer PowerTac a reference on the market.
Indeed, its maximum power of 4200 lumens is provided by 4 high-performance LEDs. This generous power is also reflected in a range of light beams, capable of reaching 250 meters. With very versatility, the PowerTac Warrior G4-FL is not designed for purely tactical use but can be useful in all circumstances.
Technological advances are present in this model, so you can use it with complete safety. For example, the presence of thermal and proximity sensors prevent overheating by reducing the brightness if the lamp should encounter an obstacle near its lens. A locking system also prevents the light from being operated inadvertently.
This model is easy to use and has a rotary switch that allows quick access to different levels of brightness smoothly and gradually. Its 15-day battery life is ensured by a Lithium-ion battery, which is rechargeable via a magnetic USB port. And to ensure you a first-class grip, the body is flexible and non-slip.
---
6. ALONEFIRE G200 Tactical Powerful LED Flashlight
Specifications:
Power/range: 4000 lumens / –
Weight: 265 grams
Battery life: –
Features: Waterproof (IPX5), battery and charge level indicator, 5 lighting modes
Power supply: Rechargeable Lithium-ion battery (USB)
Pros
Powerful and bright
Lightweight
Accessible price
Good battery life
Cons
Resistant to rain but not to immersion in water (IPX5 standard)
Our next selection of the best brightest flashlight is ALONEFIRE G200. We present to you a product with an unbeatable price. Indeed, the Alonefire G200 flashlight incorporates many elements that are usually found on high-end flashlights, but here benefits from a lower selling price.
This model is based on XHP50 LED technology with power capable of reaching 4000 lumens. Five lighting modes are available: high, medium, low, strobe or SOS. The first three allow you to vary the intensity of the light beam while the strobe activates a strobe function and SOS sends a distress light signal.
With a lightweight and compact design, ALONEFIRE G200 flashlight is powered by a high-capacity Lithium-ion battery, which is rechargeable via a USB port. A charging indicator, as well as overload and overcurrent protection, will make the charging process more intuitive and safer.
On the other hand, the robustness of this model isn't noticeable. Their immersion resistance is absent here. However, this flashlight only has an IPX5 waterproof rating, which ensures use in the rain.
---
7. Klarus XT11X Extreme Bright Tactical Flashlight
Specifications:
Power/range: 3200 lumens / 283 meters
Weight: 136 grams (without battery)
Battery life: Depend on output
Features: IMR 18650 3100mAh Lithium-ion battery, CREE XHP 70.2 P2 LED Light, AR coated; Scratch resistant.
Power supply: Rechargeable Lithium Polymer (USB)
Pros
Compact flashlight with a very robust design
Easy switch between 2 using demands
Waterproof up to IPX8 standards
Excellent value
To conclude our selection of the best brightest flashlights, we present to you a product for versatile uses. The Klarus XT11X is the latest evolution of the XT11 range from Klarus. It is the most powerful model of this range but also the most robust. It works perfectly, even in extreme temperatures from -40°C to +40°C.
Despite its relatively small dimensions, the Klarus XT11X flashlight offers amazing performance. Thanks to the XHP70.2 P2 LED, it provides an intense light of 3200 Lumens which carries up to 283 meters. This device offers 3 lighting modes ranging from moonlight to dazzling to SOS mode.
It measures 5.94inches in length, 1.61inches in diameter at the level of its head and its body is 1inch in diameter. You can slip it into your pocket or wear it around your neck using the supplied military pattern strap. This is a tactical flashlight with one of the best prices on the market.
It is made of aircraft-grade aluminum alloy, which is very sturdy and withstands a drop from a height of 1.5m without flinching. It can also accompany you in any weather because it is perfectly waterproof (IPX-8 certification). This model is also very popular with hikers and even security guards.
---
Why take a flashlight on a hike or camp?
As we explained in the introduction, a flashlight is essential for hiking and camping. Indeed, when the sun goes down, it is important to be able to direct yourself without taking any risks or putting yourself in danger. Thus, a flashlight will allow you to clearly see your way to navigate or set up your shelter, and above all to be seen which will allow you to send SOS if you should get lost or injured.
Also, even if you were able to set up your tent before the sun went down, you might have to tinker or adjust your setup in the middle of the night due to a gale. In this case, a flashlight will be essential.
Best brightest flashlights buyer's guide
To choose the most powerful or brightest flashlight, our buying guide will give you all the key criteria to know before you start.
The type of flashlight
There are different types of flashlights on the market, but the brightest flashlights in the strict sense of the term are represented by the first product category:
"Classic" flashlights: this is the most common type of flashlight on the market. Its cylindrical shape is ergonomic and makes the flashlight easy to use in the hand. Most of the time equipped with a button, it is an easy model to take with you.
Headlamps: if you need both hands for certain sports activities (cycling, caving, mountaineering, etc.) or for DIY (setting up your bivouac, repairing your bike, etc.), a headlamp can be an excellent solution. It is a lamp that is worn at the level of the forehead using an elastic band. The runtime and power of these lamps can sometimes be less but they make a good complement to a "classic" flashlight.
Waterproof flashlights: this is a flashlight model suitable for water activities such as diving. They are able to illuminate the seabed and resist water and pressure.
Tactical flashlights: formerly reserved for law enforcement and the army, this is a type of flashlight that has a high intensity of light and can broadcast light signals, sometimes even in broad daylight. They are quite uncommon in general commercial signs but can be useful in survival. They are sometimes found in versatile forms with conventional flashlights.
The power
Another obviously important criterion in choosing the brightest flashlight is power. It is important to distinguish between power and long-distance lighting.
Indeed, a very powerful lamp, if it is not designed to illuminate over a long distance (through suitable manufacturing with an angle of illumination of the luminous flux studied to maximize the distance of illumination), will shine no further than another flashlight.
The power (expressed in lumens) will on the other hand have an impact on the lighting capacity. For a flashlight intended for domestic use for small interior jobs, a flashlight with power between 400 and 1000 lumens is sufficient. If you want to take your flashlight on a hike, choose models with a power greater than 1000 lumens.
Battery life
The battery life of the flashlight is related to its power. Indeed, at maximum power, the battery life of the flashlight can be limited, especially if it is a very compact model and subject to heating.
Fortunately, flashlights suitable for hiking and the outdoors are generally designed to avoid this pitfall. There are now flashlights that operate using a battery (most of the time lithium) that will be possible to recharge and avoid having several packs of batteries with you.
Some models(equipped with batteries) are also able to be recharged via a USB port, practical if you have a power bank available. Other models, battery-powered this time, can run on rechargeable batteries that can be easily recharged with an included charger.
Finally, more accessible or older models most of the time have batteries, but nothing prevents you from replacing them with equivalent rechargeable models too!
Lighting range and diameter
Some manufacturers indicate on the datasheet of their flashlights the range of the light beam. This value is, most of the time, indicative and verifiable in real conditions provided that the materials and the general manufacture of the flashlight are adapted.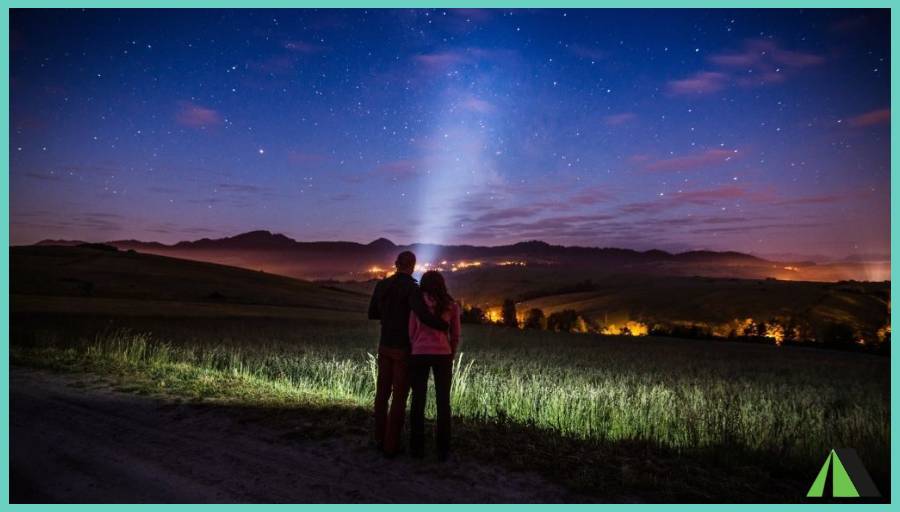 A good reflector will thus play an essential role in the distance over which the luminous flux can extend while the angle of illumination will directly impact the range. If this criterion is essential for you, then we advise you to favor models whose manufacture is of the first order by using quality materials.
Weight, dimensions and general ergonomics
Traditional flashlights are often designed as cylindrical shafts. This is very practical to hold in hand but can tend to roll once placed on a flat surface or on the ground. To overcome this drawback, some manufacturers offer anti-roll flashlights with a flat bezel surface, which is an asymmetrical design or even an anti-roll ring.
The materials used in the design of the body can also be varied: plastic, metal, etc. For more durability and a good grip, the anodized polymer is a preferred option (Type II on an aluminum body or Type III which is more durable and scratch resistant but more expensive).
Powerful models with large batteries or with more features may be larger and therefore heavier. This aspect is not necessarily a disadvantage (the grip is better) provided that the weight is well distributed over the entire surface of the lamp.
In terms of ergonomics, the vast majority of flashlights are based on a one-button system that allows you to vary the lighting mode (power, SOS, etc.). This is very practical to use and very easy to understand. Several models have a ring for a strap, sometimes a carrying case.
Features and accessories
In terms of features, there are flashlights equipped with alternative lighting functions such as a light intensity adjustment, an SOS mode or even a tactical mode depending on the model. As mentioned in the previous point, some models can be equipped with a small ring to attach a fastening system or even a protective case.
Several models highlight IP waterproofing standards allowing them to be used in a humid environment without risk, sometimes even being able to withstand immersion in water. Other models are designed to be impact-resistant with a solid body and a scratch-resistant lens (made from scratch-resistant coated polycarbonate or Borofloat glass).
The Prices
For a powerful entry-level flashlight, count at least $25, and for models highlighting advanced features, high-end and robust design, battery and power, the budget can exceed $200.
FAQs
What type of flashlight should be favored outdoors?
For outdoor use, such camp or hiking, bring a regular flashlight as well as a headlamp if you can. One will bring you the power you need to move around without fear of limiting your energy, while the other will allow you to have your hands free for certain activities (installation or repair of equipment, etc.)
How powerful for a flashlight?
To choose a powerful flashlight, check the lumens. For outdoor activities, choose flashlights that exceed 1000 lumens in order to have suitable equipment.
My outdoor flashlight does not work, what should I do?
To deal with cases of extreme urgency, you can possibly use the flash of your smartphone. Its power will not be incredible, but the flash can help you out in an emergency.
How to put the batteries in a flashlight?
First, remember to turn off your device before starting any operation. Then you will have to find where to insert the battery because it depends on the models. Batteries are generally placed at the back of the device. If this is the case, you will have to unscrew the rear switch, making circular movements.
Remove the ones inside and insert the new ones. However, be careful, because you will have to follow the indicated polarities, which can vary depending on the model. In most cases, you will be given marks with the (+) and (-) signs.