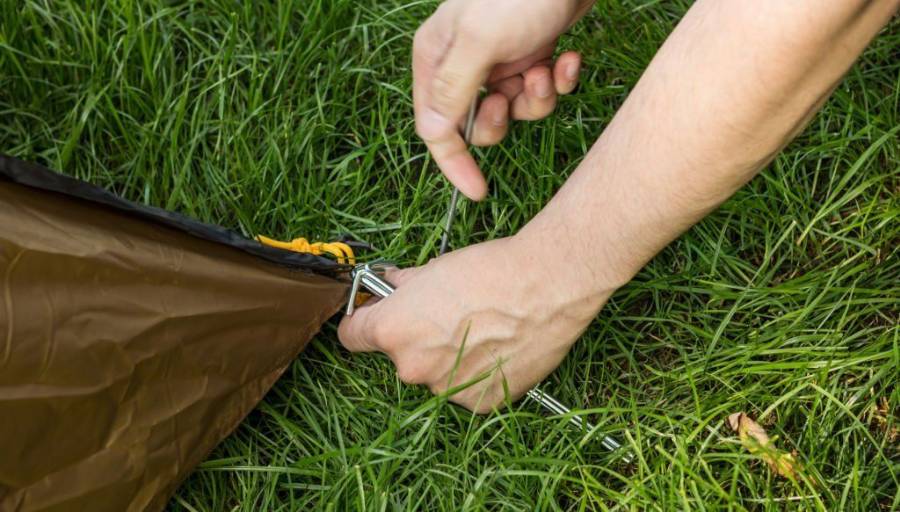 When choosing your tent, you have to buy all the necessary accessories including tent stakes. Indeed, the strength and stability of your tent will depend on the stakes that hold it to the ground.
This is the reason why you must imperatively choose tent stakes with a perfect hold according to the type of environment where you are camping.
There is a wide range of tent stakes designed to suit all needs and circumstances. The choice ranges from the lightest and strongest to special stakes for sand and snow.
In this guide, you will find the top 7 best tent stakes on the market.
Best Tent Stakes 2023 (At A Glance)
1. Eurmax USA Non-Rust Camping Tent Stakes
The Eurmax USA brand offers a set of 10 very practical and solid tent stakes. These are made of heavy-duty and rust-free steel. Each piece is 10 inches in length and will provide optimal support for your tent.
Eurmax tent stake is equipped with a T-shaped ABS plastic handle. This greatly simplifies anchoring. It is no longer necessary to have a mallet to plant on the ground. All you have to do is take the stake by the T-handle in your hand and press down firmly.
Plant the stem in the ground while making rotational movements. This is recommended especially for hard floors and clay courts.
Eurmax tent stakes have the advantage of being versatile and stable. They adapt to different types of soils whether stony soils, forests, meadows, campgrounds, and even woods. In addition, these tent stakes are robust and the screwing allows a good grip on the ground.
The only downside concerns its storage box which is too small for the number of stakes.
Pros
Heavy-duty set
Corrosion resistance
Suitable for multi-function tent
Large heads for mallet driving
Bonus tent ropes (4pcs 10ft)
---
2. Relaxdays Set of 20 Steel Camping Stakes
The Relaxdays brand offers a set of 20 tent stakes for your outdoor outings. They are very compact as they are made of steel. Each rod measures 22*2.5 cm and has a diameter of 3 mm.
Relaxdays tent stakes weigh in at around 18 grams per piece. You can sink them up to 20 cm into the ground to optimize the fixing of your tent. This also allows for a very stable hold. It is highly recommended to use a mallet with a rubber head to drive in the stakes.
These tent stakes are made with more or less hooked heads. This allows the pegs to slide in and out. These stakes are suitable for normal terrains such as campsites with grass or forests.
They have more stability than plastic or aluminum ones. Indeed, they offer a solid anchoring in the ground in order to enjoy your campsite with complete peace of mind. However, Relaxdays tent stakes are not strong enough to hold a tent in dirt or rocky ground.
Pros
Multifunctional
Suitable for dirt floors
Easy to use
Good hold grip
Quite long
Cons
They are not very thick
Bends easily
---
3. MSR Carbon Core 6-Inch 4-Pack Tent Stake
With the MSR carbon-core tent pole, resistance and robustness are at the rendezvous. Its long part is composed of a rigid and light carbon core, covered by an aluminum sleeve to ensure its durability.
It has a profiled polycarbonate head allowing easy anchoring in the ground manually. The sardines each weigh 6 grams. The MSR carbon-core post is suitable for outings where you have to travel light. It is more suitable for medium-compact soils and for a light tent for 1 or 2 people.
Each stake is ultralight allowing comfortable handling. It is quality equipment that has made many campers happy. It is stable and allows a firm hold of the tent whatever the position. It offers a long service life thanks to the aluminum profile.
However, the MSR carbon-core tent pole is a bit pricey. Also, keep in mind that the heads of the stakes could crack if you use a hard surface to strike them.
Pros
Easy to use
Solid design
Practical to store
Ultralight
Cons
Little bit pricey
Not enough grip for soft soil
---
4. MSR Toughstake Medium Tent Stake for Snow/Sand
Due to its exceptional shape and self-drilling appearance, MSR's Toughstake tent stakes offer 10 times the ground anchoring capacity of a conventional tent stake. These stakes come with the cable that goes in the stake. The medium cable is pretty tough too.
When its cable is tensioned, the stake sinks deeper into the ground. This type of stake is suitable for soft ground such as sandy ground or snow. However, we don't recommend using these on anything other than sand or snow.
Its enlarged head keeps them firmly in place. It is made of aircraft-grade aluminum, which makes it strong and lightweight, and at the same time resistant to any test in snow and sand.
It will provide very good stability and firmness even in strong winds. MSR Toughstake tent stakes are great and are intended for a specific use that fulfills their role well.
Pros
Strong and durable
Stackable design
Works well on sand
Good value
Cons
A bit larger than I expected
---
5. Ram-Pro Heavy Duty Galvanized Metal Tent Stakes
The set of 8 tent stakes of the Ram-Pro brand allows multiple uses. They can be used for various outdoor activities and are suitable for backpacking or camping tents. You can also use these for football nets, gazebos, trampolines, canopies, swings, and even for gardening.
Because these are made of galvanized steel, these anchor stakes are very robust and allow the rods to have high resistance and longevity. They are also rustproof. As a result, they can adapt to all varieties of outdoor situations.
Ram-Pro metal tent stakes can be used to fix a shelter in the ground or in the sand for years to come. As for the dimensions, it is 30 x 7.5 x 30 cm with a weight of 1.28 kg. Each stake weighs just 1 ounce but is guaranteed unbreakable. However, be careful to use hammers, they can bend very easily.
As for the anchors, it's simple and easy. Simply place the stake into position in the ground, and drive it down onto the anchor with a hammer until it is firm and secure.
Pros
Versatile Use
Heavy-duty and durable
Lightweight strength
Never Rust
Cons
Bend easily
Ground part only 5-6 inches
---
6. Holiday Joy All Purpose Commercial Tent Stakes
If you want to fix a tarp or a tent in the ground, this set of 12 stakes can be useful for you. The Holiday JOy tent stake is made of ABS plastic. The dimensions are 2 x 6 x 11 inches. They allow you to fix a beach shelter, tent or tarp. However, they are also useful for various uses in the garden.
They are super strong, good, and hard to tear off. And the icing on the cake, it's hard to lose them given their fluorescent red color. We highly recommend this tent peg set for frequent outdoor use.
The curving design makes it much easier to store and transport equipment. And for your convenience, all parts are delivered in a storage and transport bag.
Anchoring in the ground is very simple thanks to the V-shaped beveled end, which sinks easily. In addition, the long size and hook ensure optimal support and allows the tent to be more resistant to the wind.
Pros
Strong and rustproof
Lightweight plastic
Great in windy conditions
Can be used on all tent types as well
---
7. Tentock 6pcs Titanium Alloy Ultralight Tent Stakes
Tentock brand tent pegs are made of pure titanium. They are light but have a strong resistance (more than steel or aluminum). One of the great advantages of titanium material is it is healthy and respectful of the environment.
These stakes can be inserted into any type of soil. They can even pierce a rock. You can use them for all outdoor activities: camping, hiking, mountaineering, gardening, etc.
For size L, the dimension is Φ8 x 240mm with a weight of 56g per piece. As for size S, the dimension is Φ5 x 165mm, with a weight of 15g per piece. To penetrate and hold firmly in various kinds of different soil, these tent stakes have much higher tensile strength than aluminum stakes.
Tentock tent stakes are rust-free and anti-corrosive to alkali and acid. They are more resistant to wear and resistant to all temperatures whether extremely high or low. They have a bright orange reflective drawstring which is highly visible.
Pros
High quality material
Strong and sturdy
Long service life
Unique design
Never rust
Cons
A bit expensive compared to other models
---
How to Choose the Best Tent Stakes?
You must therefore choose your tent stakes carefully to ensure perfect sturdiness and stability for your tent. For this, you must take into account certain criteria.
The size
The size of the stakes plays a very important role in keeping the tent on the ground. Indeed, the larger the diameter, the higher the anchorage resistance it offers. We recommend choosing a tent stake with at least 17 cm in length and 2.5 mm in diameter on average.
The material
Tent stakes can be made from a variety of materials. These accessories must have incomparable robustness while being sufficiently light. For this, we find these steel and aluminum. Plastic is also an alternative. These are made in such a way as to optimize anchoring. This material differs from others by its great resistance to bad weather.
Anchorage system
You can find different models of tent stakes with a wide variety of anchoring systems. The basic versions come in the form of nails. These pieces of equipment must be driven in with a mallet. You must plan to equip yourself with a hammer to be able to use them.
I direct you to the models of tent stakes to screw (with thread) or to push in manually. These latter versions are generally fitted with a special handle and/or a very sharp point.
The weight
Weight is also important when it comes to tent stakes. Heavy equipment may slow you down during your escapades. We recommend you choose light but resistant posts.
Solidity
One of the criteria not to be left to chance for tent stakes is their solidity. In order to avoid possible disastrous situations, it is better to turn to reliable tent stakes. Those made of metal will thus be able to offer maximum security. They are very strong and can withstand strong elements. There is less chance that they can break.
The type of ground
Be aware that during your outings, you will be faced with different constraints. The ground can be an obstacle when it comes to fixing a tent. To avoid an anchoring problem, opt for stakes suitable for all types of ground. The steel and aluminum stakes adapt perfectly to hard ground and loose ground.
Conclusion
It's frustrating to want to put up a tent and you can't because the stake itself doesn't want to stick in the ground! It's not always easy to drive a stake into a difficult surface. This is why it is essential to choose the right tent stakes according to their piles. Those whose ends are sharp and well-pointed will then facilitate use.
Our product recommendations are based both on the results of independently conducted tests and on the systematic evaluation of testimonials from numerous customers.
Thanks for reading!
See as well:
FAQs
What are V stakes and what are their benefits?
V-stakes are elongated anchoring pins that taper to a point at the bottom. At the top, they are wider and kinked. Tent stakes with a V profile are significantly more stable than ordinary stakes. That is why they are used for fastening family tents, large tents and tarpaulins.
V-stakes are usually made of steel, iron or aluminum. In some cases, holes on the lower part provide additional support. On the other hand, a hole at the top of the stake serves to make it easier to pull the tent hook out of the ground. Because stakes with a V profile have a larger surface to hold well in loose ground.
What are T-stakes and when are they used?
T-shape stakes are significantly wider in shape than standard pegs. This makes them more stable so that they hold extremely well in loose soil. The T-stakes are usually made of iron or steel.
What are screw stakes and what are their advantages?
Screw stakes have a screw thread at their lower end, which ensures that these stakes sit very firmly in the ground. This means that a secure tent stand is possible even on very damp soil. The screw thread makes these types of stakes suitable for sandy and soft ground as well as for harder and stony ground.
Which materials have the best advantages in tent stakes?
The stakes made of iron or steel are considered to be very stable and robust. However, this material is much heavier than aluminum or plastic. For this reason, steel pegs are rather unsuitable for long hikes.
Aluminum is used frequently for the production of stakes. This material is very light, although slightly less strong than steel. So you have to be careful when driving an aluminum stake into hard ground.
Plastic tent stake has advantages because it is extremely light, but plastic pegs quickly fall through the cracks due to their lower stability. These models are only recommended for camping on very soft ground such as on the beach.
Can I use regular nails or pegs as tent stakes?
While regular nails or pegs might work in some cases, it's not good to use them as tent stakes. Tent stakes are specifically designed to provide optimal holding power and durability in various soil conditions. Regular nails or pegs haven't the necessary strength or shape to anchor your tent securely. Additionally, they can damage your tent's fabric or be difficult to remove from the ground.