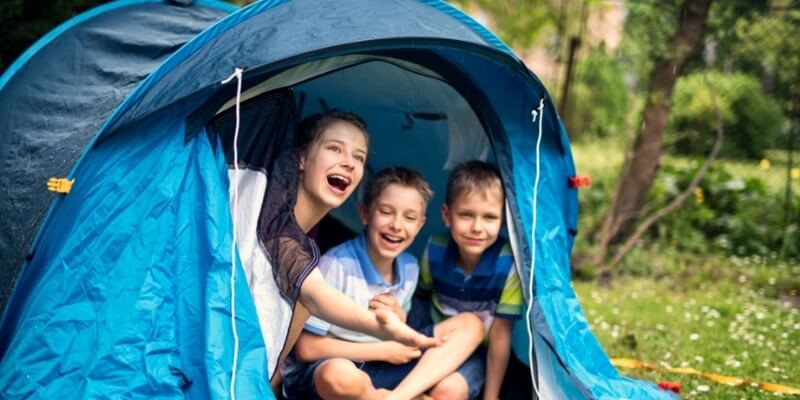 It's a wonderful, calming feeling to lie in a warm sleeping bag and listen to the sound of raindrops falling on your tent roof.
Camping in the rain can be really fun. A little knowledge of how to camp in the rain will turn that wet weekend into a surprisingly beautiful experience that you will fondly remember.
Would you like to know about fun camping activities for rainy days and how to turn your tent into an oasis when pouring outside? Read these essential tips and share them with your friends to make your camping trip in the rain a magical adventure!
Fun Camping Activities for Rainy Days – Step By Step
1. Illuminate the darkness
When it rains, it's dark and gray – but you can do something about it! Lights create a pleasant atmosphere and make the tent appear warmer.
Place LED fairy lights in your tent or on the roof of the pavilion. Light some candles that flicker coziness. And pack a good camping lantern so that you can see inside the tent on dark days.
Make sure you pack enough batteries.
Pro tip: Lithium batteries are most reliable in cold weather.
2. Create a cozy spot outside
Would you like to spend the gray, wet days in a cozy place and enjoy nature in good company? Then this tip is for you:
Create an outdoor living room!
Tarps, tarpaulins or the largest possible pavilions provide the necessary rain protection. Set up a camping table with a few chairs. Fairy lights and the warm light from candles create a homely atmosphere.
Now is the right time to unpack delicious drinks, snacks, music and exciting games.
3. A delicious meal caresses the soul
When it's damp and cold outside, we like to warm up from the inside out. A cup of hot cocoa smells wonderful because it is the ideal drink for rainy days. Drinking chocolate with chilli even more warmth to the body.
Do you like corn on the cob and stick bread from the campfire? Do you have a great mango crumble recipe for the Dutch oven? Now is the perfect time to conjure up a delicious meal!
By the way, sweet and hearty dishes are ideal for rainy days – when it is cold your body needs more calories to generate heat.
4. Preheat your clothes to 37 degrees
Clammy clothes in the morning, preheat your things to 37 degrees overnight so that you don't have to put on cold! Simply put your clothes in your sleeping bag in the evening. The next morning your body has brought your outfit to a very comfortable temperature.
5. Bring the right tent
What does it look like, the ideal tent for wet weather? It should be waterproof, of course, but that's not all:
Staying in a large tent is much more pleasant when it rains because you can sit comfortably at a camping table, play exciting board games and cook without having to go outside.
Windows make the tent nice and bright. Besides, there is always something interesting to see outside. And if it's only the neighbor running across the square with flip-flops and a newspaper on his head!
Double-walled tents protect you from the nasty condensation that forms on the inside of your tent tarpaulin in damp weather.
Sealed seams and a water column of at least 2,000 mm reliably keep the rain out. A completely closed floor is an insurmountable barrier to water from below.
We're really happy with my crap-weather tent, a Coleman Oak Canyon 4 when camping in the rain. It has all four properties.
waterproof: 4,500 mm water column & taped seams
6. Make a crackling campfire
Since ancient times, people have been gathering around the campfire to warm themselves and listen to exciting stories. Make a campfire when it rains. The crackling fire warms your body. Crispy stick bread, hot marshmallows and happy campfire songs warm your heart. Your fellow campers will love it!
At the 13 number point in this article, we explain how you can easily make a campfire when it rains.
7. A doormat at the tent entrance keeps the mud out
A doormat, a small rug or an old towel on the tent floor will soak up the water on your shoes and ensure that no mud gets into the tent. The best place for the doormat is directly behind the tent door. This practical little door guard will keep your tent much cleaner and drier in long rain.
8. Warm and dry your tent with a tent heater
Have you ever tried drying clothes in the garden on a cold, damp autumn day? It does not work. You need dry air and warmth. A tent heater provides both. The heating turns your tent into a cozy, warm, dry oasis.
The humidity in the tent drops. Damp clothes and shoes dry much faster. The condensation of water on the tent walls is reduced.
We don't want to miss our tent heating again in autumn. If you have electricity available, I recommend an electric tent heater like this one.
Electric heaters are comparatively small, light and easy to use.
9. Discover nature when it rains
There is no bad weather. Just bad clothes. Your campsite probably has beautiful surroundings and nature invites you to explore even when it rains! Put on your rain jacket and take a trip outside. The forest smells wonderful when it rains, and the clean & fresh air is good for your health.
You will be surprised how magical the nature around the campsite is when it rains and what there is to discover. Here are a few ideas for you:
Listen to the rain noises and compare the rain music that trees and plants produce.
Guess the calls of animals in the forest.
Swimming in the lake when it rains is a wonderful experience!
Explore the next town with its cinemas, restaurants, museums, indoor swimming pools and climbing gyms.
Inspire your children with puddle jumping, and self-made boats in rivulets and show them curling earthworms.
When you're out and about, you're sure to have even more great ideas on the fly!
10. Bring an extra pair of shoes & socks for the tent
When it rains, your feet get wet quickly. And if you've been walking around with wet shoes and damp socks all day, all you want is to get your feet dry. You can only warm up properly with dry feet. Cozy, dry socks and comfortable shoes waiting for you in the tent are a treat for your whole body.
Another advantage: You can take off your wet, muddy shoes right at the tent entrance – your tent stays dry and clean.
11. Banish boredom with exciting games and indoor activities
Rain on the campsite. You have to sit in the tent all day and stare at the wall. Of course not! There are so many interesting things to do in the tent with your friends and family. You just need the right ideas.
Bring card games to play on the tent floor. Classics like Uno don't take up any space in your luggage and are loved by both big and small.
We love to play the puzzle game Black Stories in the tent on long evenings.
Many board games fit even on the smallest camping table. Phase 10 Strategy is entertaining fun that does not require extensive preparation. We recommend Pandemic to everyone who likes communicative and cooperative games.
What games do you have in your closet?
Books are another great way to enjoy your time in the tent.
It is best to plan the activities in advance. Especially if you have young children with you when camping in the rain. As all parents know, children get bored easily. You always need something to do. Give them something they love to do. Then you too will have a good time.
12. Create a dry and warm tent floor with blankets and carpets
Have you ever walked barefoot across damp grass? This is pleasant on hot summer days. On all other days, it is just wet and cold.
If you had to pitch your tent on damp ground in the rain, put a tent carpet in your tent. The carpet protects you from water and mud. It feels warmer and drier than the ground below.
Your inner tent also benefits from an additional underlay: a picnic blanket is a big plus for the feel-good atmosphere in your sleeping cabin on cold, rainy days.
13. Make a campfire in the rain
The wetter and colder it is, the nicer the warmth of a crackling campfire. This is how the campfire works even in heavy rain:
You will need a waterproof and windproof tool to start the fire. Matches won't work when they're wet. A small gas burner like this one is ideal.
Next, you'll need dry tinder. You can collect dry pine needles under trees or dry wet needles on your tent heater. If you like it comfortably, just take some fireplace lighters with you. Fireplace lighters burn for up to 10 minutes in any weather and also cause damp kindling to burn.
With kindling, you start the fire. Small, dry branches and spruce twigs are well suited. It's best to collect your kindling before rains and store it in a plastic bag or in your awning.
As soon as a small fire is burning, you will need firewood. Thick branches and logs keep the fire alive. You can collect dead wood from the surrounding forests. It can be a little damp. The pieces of wood burn much more easily if you split them with your camping ax, exposing the dry interior of the pieces of wood.
14. Pass on your wisdom
Camping in the rain is a skill. Knowing how to have fun in nature despite the bad weather and stay dry makes inexperienced campers jealous. Remember the days when you sat in a cold, damp tent yourself and share your wisdom about camping on rainy days with other campers.
They will gratefully accept your help.
15. Move dark clouds aside with a positive attitude
The really most important tip we can give when camping in the rain is: Have a good attitude. Don't let your camping trip ruin. Camping in the rain can be really fun.
Enjoy the relaxing sound of raindrops on your tent roof. The air is wonderfully clear and fresh after a shower. Use the time at the campsite for things that you always wanted to do.
Finish the exciting book you started last year. Try the pulled pork recipe for the Dutch Oven and celebrate a culinary festival with your friends.
If you see the rain positively, you will feel a lot better.
What do you do while camping in the rain? Share your camping tips with us and write an email. We wish you nice camping in the rain!