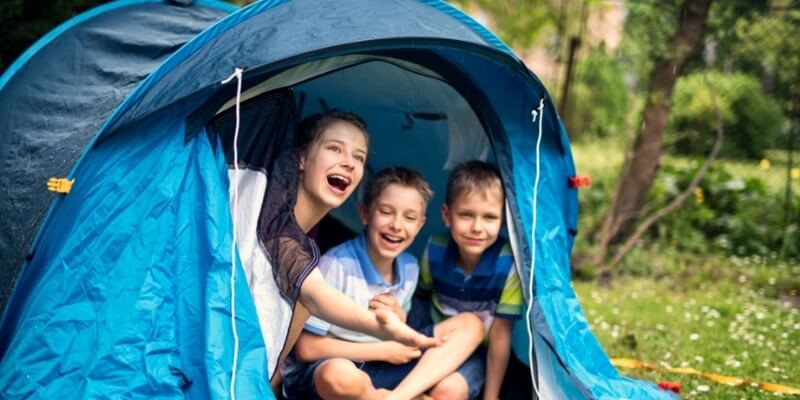 Nature's unpredictability is part of what makes camping an adventure. While we all hope for clear skies and gentle breezes, sometimes Mother Nature has other plans.
Rainy days, though they might seem like a camping enthusiast's worst enemy, can actually offer a unique opportunity for a different kind of outdoor experience. With a bit of creativity and preparation, you can turn a rainy day at the campsite into a memorable and enjoyable adventure.
Would you like to know about 16 fun and enjoyable camping activities for rainy days and how to turn your tent into an oasis when pouring outside? Read these tips and share them with your friends to make your camping trip in the rain a magical adventure!
Rainy Day Camping Activities
Let's see the 16 rainy day camping activities…
1. Rainy Nature Walk
A rainy nature walk can be a unique and refreshing experience. Put on your rain gear and take a leisurely walk in the rain. Listen to the soothing sounds of raindrops on leaves and enjoy the fresh scent of wet earth. Wear waterproof shoes and bring a camera to capture the unique beauty of the rain-soaked landscape. Consider bringing a compact, lightweight umbrella for added protection.
Be aware of any potential storms or flash flood warnings. If conditions become unsafe, turn back. Avoid straying off the designated path, especially in wet conditions.
2. Rainy-Day Scavenger Hunt
A rainy-day scavenger hunt can be a fun and engaging activity to do while camping. Create a list of items to find in the rain, such as different types of leaves, rocks, or animal tracks. Provide small prizes for participants or turn it into a friendly competition. Tailor the list to the age and abilities of the participants. For kids, you should include more easily recognizable items.
Items for the Scavenger Hunt:
Different types of leaves
Unique rocks or minerals
Pinecones or acorns
Animal tracks or signs
Interesting insects or spiders
Moss, lichen, or fungi
Tent peg or stake
Waterproof match or firestarter
Carabiner or rope
Compass (for older participants)
Specific tree or plant identification
3. Illuminate the Darkness
When it rains, it's dark and gray – but you can do something about it! Lights create a pleasant atmosphere and make the tent appear warmer. Place LED fairy lights in your tent or on the roof of the pavilion. Light some candles that flicker coziness. Pack a good camping lantern so that you can see inside the tent on dark days. However, make sure you pack enough batteries.
Pro tips: Lithium batteries are most reliable in cold weather.
4. Create a Cozy Spot Outside
Would you like to spend the gray, wet days in a cozy place and enjoy nature in good company? Then this tip is for you: Create an outdoor living room!
Tarps, tarpaulins, or the largest possible pavilions provide the necessary rain protection. Set up a camping table with a few chairs. Fairy lights and the warm light from candles create a homely atmosphere. Now is the right time to unpack delicious drinks, snacks, music and exciting games.
5. Storytelling Circle
A storytelling circle around a campfire in the rain can create a uniquely atmospheric and memorable experience. Gather around under the shelter and take turns telling stories. They can be spooky, funny, or personal anecdotes. Conclude the storytelling circle by thanking everyone for their contributions and expressing gratitude for the experience. However, make sure to use the rain as a backdrop to create a cozy, intimate atmosphere.
6. Make a Delicious Meal Caresses the Soul
When it's damp and cold outside, we like to warm up from the inside out. A cup of hot cocoa smells wonderful because it is the ideal drink for rainy days. Drinking chocolate with chilli even more warmth to the body.
Do you like corn on the cob and stick bread from the campfire? Do you have a great mango crumble recipe for the Dutch oven? Now is the perfect time to conjure up a delicious meal! By the way, sweet and hearty dishes are ideal for rainy days. Because when it is cold, your body needs more calories to generate heat.
7. Make a Crackling Campfire
Since ancient times, people have been gathering around the campfire to warm themselves and listen to exciting stories. Make a campfire when it rains. The crackling fire warms your body. Crispy stick bread, hot marshmallows, and happy campfire songs warm your heart. Your fellow campers will love it!
8. Discover Nature When It Rains
There is no bad weather. Just bad clothes. Your campsite probably has beautiful surroundings and nature invites you to explore even when it rains! Put on your rain jacket and take a trip outside. The forest smells wonderful when it rains, and the clean & fresh air is good for your health. You will be surprised how magical the nature around the campsite is when it rains and what there is to discover.
Here are a few ideas for you:
Listen to the rain noises and compare the rain music that trees and plants produce.
Guess the calls of animals in the forest.
Swimming in the lake when it rains is a wonderful experience!
Explore the next town with its cinemas, restaurants, museums, indoor swimming pools, and climbing gyms.
Inspire your children with puddle jumping, and self-made boats in rivulets and show them curling earthworms.
When you're out and about, you're sure to have even more great ideas on the fly!
9. Rainy-Day Photography Challenge
Camping in the rain can present a unique and beautiful opportunity for photography. The misty atmosphere, glistening foliage, and reflections in puddles can create a moody and atmospheric aesthetic. Give participants specific themes (e.g., reflections, raindrops, textures) to photograph in the rain. Discuss and share the photos later for a creative exchange.
10. Raindrop Music
Set out bowls of various sizes and let the rain create its own musical composition. Experiment with different containers and arrange them to produce different tones.
11. Banish Boredom with Exciting Games and Indoor Activities
Rain on the campsite. You have to sit in the tent all day and stare at the wall. Of course not! There are so many interesting things to do in the tent with your friends and family. You just need the right ideas. Bring card games to play on the tent floor. Classics like Uno don't take up any space in your luggage and are loved by both big and small.
We love to play the puzzle game Black Stories in the tent on long evenings. Many board games fit even on the smallest camping table. Phase 10 Strategy is entertaining and fun and does not require extensive preparation. We recommend Pandemic to everyone who likes communicative and cooperative games.
Books are another great way to enjoy your time in the tent.
However, it is best to plan the activities in advance. Especially if you have young children with you when camping in the rain. As all parents know, children get bored easily. You always need something to do. Give them something they love to do. Then you too will have a good time.
12. Rainy-Day Yoga or Meditation
Camping in the rain can be a unique and calming experience for yoga or meditation. Practice yoga or meditation under the shelter. Use the sound of rain to enhance the calming effects. Designate a dry area for mats and consider bringing waterproof mats or towels.
13. Create a Dry and Warm Tent Floor with Blankets and Carpets
Have you ever walked barefoot across damp grass? This is pleasant on hot summer days. On all other days, it is just wet and cold. If you had to pitch your tent on damp ground in the rain, put a tent carpet in your tent. The carpet protects you from water and mud. It feels warmer and drier than the ground below.
Your inner tent also benefits from an additional underlay: a picnic blanket is a big plus for the feel-good atmosphere in your sleeping cabin on cold, rainy days.
14. Weather Science Experiments
Conduct simple experiments related to rain and weather. For example, create a miniature water cycle or explore surface tension. Materials Needed: Clear containers, water, food coloring, and household items. Remember to document your experiments and observations. This hands-on approach to learning about weather can be both entertaining and educational.
15. Pass on Your Wisdom
Camping in the rain is a skill. Knowing how to have fun in nature despite the bad weather and stay dry makes inexperienced campers jealous. Remember the days when you sat in a cold, damp tent yourself and share your wisdom about camping on rainy days with other campers. They will gratefully accept your help.
16. Move Dark Clouds Aside with a Positive Attitude
The really most important tip we can give when camping in the rain is: Have a good attitude. Don't let your camping trip ruined. Camping in the rain can be really fun. Enjoy the relaxing sound of raindrops on your tent roof. The air is wonderfully clear and fresh after a shower. Use the time at the campsite for things that you always wanted to do.
Finish the exciting book you started last year. Try the pulled pork recipe for the Dutch Oven and celebrate a culinary festival with your friends. If you see the rain positively, you will feel a lot better.
Conclusion
Rainy days during camping can be a source of unexpected fun and learning. However, to enjoy camping activities on rainy days, it will be necessary to choose a suitable campsite. It will be better to avoid proximity to water points or land that is too wet. A little bit of equipment can be practical. You can take a tarp for the ground, and thus not let the tent flood.
Remember to carry some rainwear for the little ones: boots, raincoats, spares, etc. Finally, it is ideal to have a place of retreat for the kids in case the rain becomes too strong and dangerous.
What do you do while camping in the rain? Share your camping tips with us in the comment section or write an email.