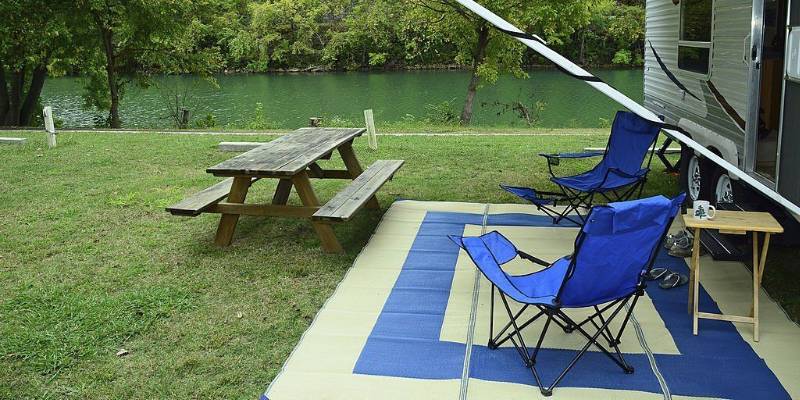 Anyone who likes to travel with a mobile home or RV often puts up an awning on the campsite. An awning carpet can be used to ensure more comfort and dry feet. These carpets not only enhance the aesthetics of your outdoor space but also provide a breathable, clean, and practical flooring solution for your caravan or camping awning.
Awning carpets allow grass to grow underneath and moisture to escape. They are also permeable to water so that no puddles can form in the awning.
To help you choose the best awning carpets for your needs, we've done the research and compiled a list of the best awning carpets on the market, taking into account various sizes, materials, and features to suit different preferences and needs. In addition, the buying guide contains all the information you need when making a purchase to ensure you find the right model!
Whether you're looking for a luxurious, plush carpet or a more rugged and durable option, we've covered everything. So let's get started and find the perfect awning carpet to transform your outdoor living space in 2023!
Best Awning Carpets of 2023
Take a look at our ranking of the best awning carpets in 2023
Key Specs:
Material: 280gsm HDPE
Weight: 8.38 pounds
Features: 14 grommets, 14 pegs, carry bag
The Onvaya awning carpet impresses us with its robustness and durability. It is made of reinforced 280 gsm HDPE (high-density polyethylene). It is water-permeable, breathable, and pleasantly soft. With 14 eyelets, the product has much more than its competition and can therefore be ideally anchored.
The package comes with 14 pegs for this model. The sufficient mounting holes and pegs ensure to lie securely and flat on the ground. It keeps dirt as far away as possible and is easy to sweep away.
This is a space-saving and versatile awning floor. It can be folded up to a small size for transport and can be stowed in the carrying bag provided. In addition to being used as an awning floor, Onvaya awning floor can also be used as a camping floor and tent pad.
Pros
Lots of eyelets
Includes carry bag
Robust design
Pleasant material
Easy to wash
---
Key Specs:
Material: 70% PVC, 30% Polyester
Weight: 9 pounds
Features: Can be cut to size, carry bag, 4 mounting clips, 4 pegs
If you need a particularly high level of comfort, this heavier and thicker material awning carpet is your choice. Camco 42821 awning carpet is equipped with extra-large holes to ensure as much air circulation as possible. This avoids unpleasant odors and does not damage the lawn underneath.
Nevertheless, it is insulating so that your feet not only stay dry but also warm. What is special about this model is the possibility of customizing it. The awning carpet does not fray. The tailored model is not attached with eyelets but with special clips and pegs.
Camco awning carpet is made of PVC and polyester and is not heat-resistant. It is washable and therefore only suitable for hand washing. overall, it is a custom awning carpet for camping that is breathable and insulating.
Pros
Mold and mildew resistant
Reversible design
Simple to fold
Durable edging
Heat insulating
Storage bag
---
Key Specs:
Material: Brass, Canvas
Weight: 15 pounds
Features: Heavy-duty, Cross-level, carry bag
This model from the manufacturer DRY TOP shines with robust materials and high-quality workmanship. The side edges are folded twice and are therefore stable. The eyelets are also made of Brass and look beautiful. Although the price is a little high, it is well made and works really well for different uses.
The awning carpet with the included T-pegs can be stored in a practical carrying bag. In addition, the hard-wearing carpet is very easy to clean. A cross-spirit level is also included in the scope of delivery, which helps when aligning the caravan or mobile home.
It is completely waterproof and promises a long service life. You can zip-tie it all the way around so the wind can't catch it. DRY TOP awning carpet can be washed off with hot water. However, it should not be cleaned in the washing machine or with boiling water.
Pros
Double-folded side edges
Heavy enough to stay put
Robust material
Versatile
---
Key Specs:
Material: HDPE material
Weight: 4.34 pounds
Features: 12 grommets, 4 T-pegs, 12 steel nails, carry bag
Mr. Nomad's awning carpet is made of robust and durable HDPE material and has many rustproof stainless steel eyelets. The package includes 4 T-pegs for attachment and another 12 steel nails to ensure perfect fit.
The material is waterproof, breathable, and easy to clean. Mr. Nomad's awning carpet is double-folded at the edges. It is also comfortable to step on compared to other competing models.
The installation process is quick and easy with no wrinkles. It also comes with a high-quality fabric durable carry bag, so you can store it safely over and over again.
Pros
Cloth tote bag
T-pegs and steel nails
Lots of stainless steel eyelets
Robust and durable
Easy care
---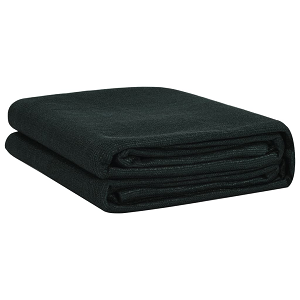 Key Specs:
Material: HDPE material
Weight: 6.06 pounds
Features: 4 grommets, can be trimmed
This awning carpet stands out slightly from gray or black alternatives with its green design. Even if the carpet can be purchased in the most common cuts, we ensure that the VidaXL awning carpet can be cut to size. In this way, it can be adapted to individual needs.
It is made of high-density polyethylene material. The material is breathable and weatherproof and the carpet can be optimally stretched using four eyelets on the corners. Unpleasant odors under the carpet are no longer an issue either.
You can place it in your tent, underneath the caravan awning, or on your patio. Overall, it is a reliable awning floor that makes your camping trip more comfortable.
Pros
Can be cut to size
Easy to clean
Beautiful color
Soft and comfortable
Very large
Cons
Few eyelets
Due to the large size, it's a bit difficult to clean
---
Key Specs:
Material: 100% polyethylene
Weight: 120 grams
Features: 4 eyelets
Decathlon also has a floor mat from the manufacturer Quechua in its range. It reliably protects against moisture, dust, and sand and ensures a clean and dry tent floor. As a rule, this floor mat is used in the awning. However, this model scores better on level, soft ground or lawns.
The material is made of polyethylene and the four eyelets in the corners of the rug are made of brass. After folding, the comfortable camping carpet disappears into the carrying bag without being squeezed or stuffed. It is also one of the lightest awning carpets on the market (120 grams).
One benefit of buying from Decathlon is th gm)at you will get a two-year warranty. So it could be a solid floor mat for your next camping trip.
Pros
Abrasion-resistant material
Comes with 2 years warranty
Waterproof
Lightweight
---
Key Specs:
Material: 210T polyester
Weight: 2.52 pounds
Features: 4 aluminum ground stakes
This awning carpet from PahaQue is ideal for the awning as well as for the terrace or balcony. The surface is soft, very comfortable, breathable & water permeable. It has a ground stake on each corner for attachment (total of 4 pieces).
The manufacturer advertises a particularly nature-friendly air permeability that protects the lawn under the carpet. In addition, this awning carpet is odorless due to its nature. It'll protect your awning from water and mud and maximize your tent or awning service life.
For cleaning, the model can simply be rinsed with warm water. Although this is particularly an airy awning carpet, it still provides a comfortable and warm floor.
Pros
Lightweight
Versatile to use
Brass grommets
Easy to clean
Cons
Doesn't look good
Polyester
---
Key Specs:
Material: Insulated foam
Weight: 3.81 pounds
Features: Carrying bag, zipper
Kampa awning fleece carpet is very robust and abrasion resistant. With durable fleece, it can be perfectly stretched in the awning. It can be used both outdoors and at home. A carrying case is included for traveling.
Besides this, the compact dimensions of the carrying bag and the overall tolerable weight are ideal for all those camping friends who want to use the awning carpet frequently.
The material is very breathable, which prevents mold and rot, and as a result unpleasant odor. Conveniently, Kampa fleece carpet can be used on both sides. Transport is also very easy. Thanks to the zipper system, it is easy to open and close. This is a reliable carpet at a reasonable cost.
Pros
Can be used on both sides
Reinforced corners
Attractive pattern
Breathable
---
What Do You Have to Consider When Buying an Awning Carpet?
To find the best awning carpet for your outdoor space, there are several factors to consider. Here's a comprehensive buying guide for the best awning carpets of 2023:
Material
The material of the awning carpet plays a significant role in its durability and performance. The most common materials for awning carpets include:
Breathable Fabric: Carpets made from breathable materials like polypropylene are excellent for preventing mold and mildew growth. They allow moisture to escape, keeping the area beneath your awning dry.
Polyester or PVC: These materials are known for their durability and resistance to wear and tear. They are also relatively easy to clean.
Foam-backed Carpets: Some awning carpets come with a foam backing for added comfort. While they provide a cushioned surface, they are less breathable and require more attention to prevent moisture buildup.
Deal with moisture
Awning carpets stand out from other options such as tarpaulins primarily because of their breathability. For example, a lawn area under the carpet can continue to grow and not break. In addition, moisture can escape so that there is no condensation in the tent.
How is the air circulation?
Good air circulation also prevents bad odors and the build-up of bacteria. Nevertheless, the carpet protects against moisture coming from the floor. Feet, camping furniture, and other equipment stay dry.
Weatherproof grommets?
When processing the eyelets, care should be taken so that they do not rust. Material such as stainless steel is ideal for this.
Inflatable Rims?
Special models have inflatable edges so that water cannot penetrate the sides. In rainy and windy weather, they ensure absolute dryness.
Important to know: Awning carpets are typically not waterproof but permeable to water. This prevents water from accumulating in the awning. Anyone looking for waterproof protection, for example as a base for tents, is better advised to use a tarpaulin.
Dimensions
The size of the awning carpet should of course match the dimensions of the awning. Ideally, the carpet is one to two centimeters larger so that there is some leeway on the one hand and the entire awning can be covered on the other.
Carpet must match the awning:
The awning floor must not protrude from the awning, otherwise, moisture can get into the tent. However, the carpet can be folded down at the ends to avoid this.
In the meantime, it is no longer necessary to buy yard goods, as there are many different cuts of tent carpets to buy. Most manufacturers offer a wide range of different dimensions.
Tips: If you want even more flexibility, you can buy a carpet that can be cut to size and adapted to the awning. Manufacturers promise a simple cut without fraying.
Pack size & weight
Even if the rug is transported by RV or car, it should have a good balance between size, robust material and pack size. When packing the vehicle, storage space is very valuable and should be used sensibly.
Keep your weight low:
You can benefit from a low weight when packing. A lighter awning carpet is much easier to handle when rolling it in and out. This means that only one person is needed to set it up.
Ease of maintenance
Look for awning carpets that are easy to clean. Stain-resistant and mold-resistant materials can save you time and effort when it comes to maintenance. Carpets with an easy-to-clean surface or a removable top layer can be particularly convenient.
Price
Set a budget and compare the features and quality of different awning carpets within that price range. While it's essential to stay within your budget, don't compromise too much on quality, as a durable and comfortable awning carpet is an investment in your outdoor comfort.
FAQs:
What are the advantages of an awning carpet?
An awning carpet has a number of advantages compared to standard tarpaulins. They are breathable and water-permeable so that no moisture can accumulate in the awning. They are also more comfortable and make outdoor fun a little more homely.
What to look for when buying an awning carpet?
In any case, the awning carpet should be breathable and water-permeable so that no moisture collects in the awning. Furthermore, attention should be paid to robust and rust-free eyelets and a suitable design.
How big should an awning carpet be at least?
The size of the awning carpet depends entirely on the awning. This should either be measured before purchase or compared with the manufacturer's specifications. The carpet should be one to two centimeters larger than the awning, but under no circumstances should it protrude from the tent.
What color are awning carpets?
Most awning carpets have muted colors and are not brightly colored. Blue, black, or gray is popular designs.
What is the best way to attach an awning carpet?
Awning carpets are typically attached to their grommets with pegs and/or nails. Some manufacturers use a combination of clips and pegs. Most of the time, this equipment is included with the purchase.
How expensive are good awning carpets?
The size of the awning carpet is decisive for its price. In general, the larger the size, the more expensive it is. However, a price between 30 and 80 dollars is to be expected in any case.
Conclusion
Awning carpets are a popular tent accessory for outings because they ensure dry and clean feet and equipment. You need an awning carpet especially when the ground is uncomfortably hard or sandy. But an awning carpet also has a right to exist on a lawn, especially when it comes to spreading as little mud and dirt as possible.
To make the decision a bit easier, we have researched the best and most popular 2023 models from different categories. So you are guaranteed to find the best awning carpets for your next camping!
See you soon!