After years of winter camping in the United States and in full preparation for the Canadian High Arctic, I offer some advice so that everyone can make a fabulous experience while camping in the winter.
Discover my 10 winter camping tips for a successful first time outdoor experience.
10 Winter Caping Tips – Step by Step
You can follow these 10 steps consequently or separately according to your camping destination:
1. Put safety first
The difference between winter camping from other seasons is the harsh weather and terrain conditions that can be encountered. Preparing for your exit is a non-negotiable imperative.
Check the weather forecast and take the equipment that is suitable for the expected temperatures and precipitation should be more than ever a reflex. And it's the same for taking the avalanche bulletin that we will complete with a glance at the map of the slopes to check that the planned campsite is not located in a risk zone.
On the campsite, the winter tent must be as visible as possible, especially from the sky. Most manufacturers produce their "four-season" tent models in colors visible from afar (red, orange). It's not to hide them. I don't forget the security equipment. The charged phone kept close to you at all times so that the battery does not "empty".
Let's be clear, there is no shame in giving up a bivouac that you don't "feel", quite the contrary.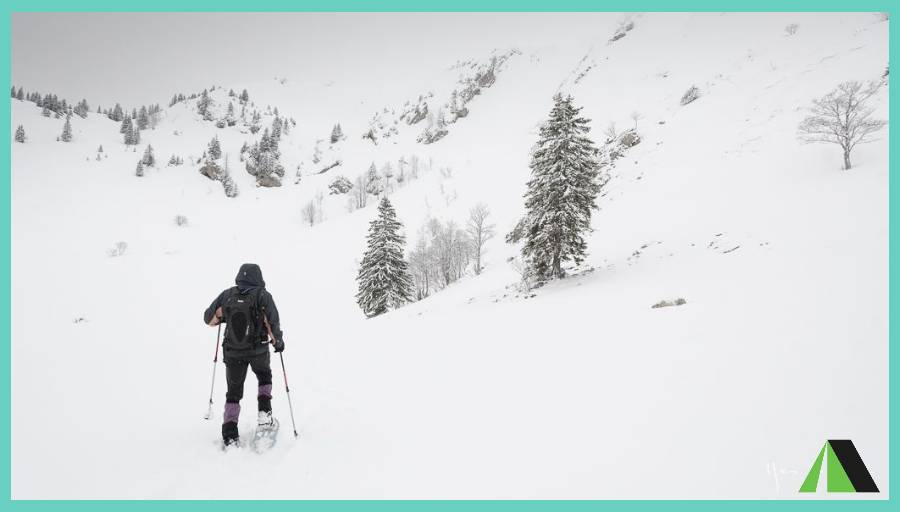 2. Choose the right equipment
Insulating is the key word for winter camping equipment because the only warmth you have at the campsite is that of your own body! With that in mind, you quickly understand that it's useless to have the best tent on the market if you don't take the trouble to block the cold air inlets at the bottom of the canvas with snow.
It is also useless to have a -45°C bag if you sleep on your summer mattress, a real energy sieve. The equipment must be insulating, coherent and versatile. Armed with a good mattress, you can use your -10°C sleeping bag, chosen not too tight, to sleep with your down jacket and stay comfortably installed down to -20°C.
3. Test your equipment and know-how
Before embarking on a great adventure far from everything, it is interesting to do the first test not far from a refuge, a village or your vehicle. This allows you to launch without pressure and break camp if the equipment proves to be less efficient than expected or the conditions more difficult; without endangering or disgusting themselves forever.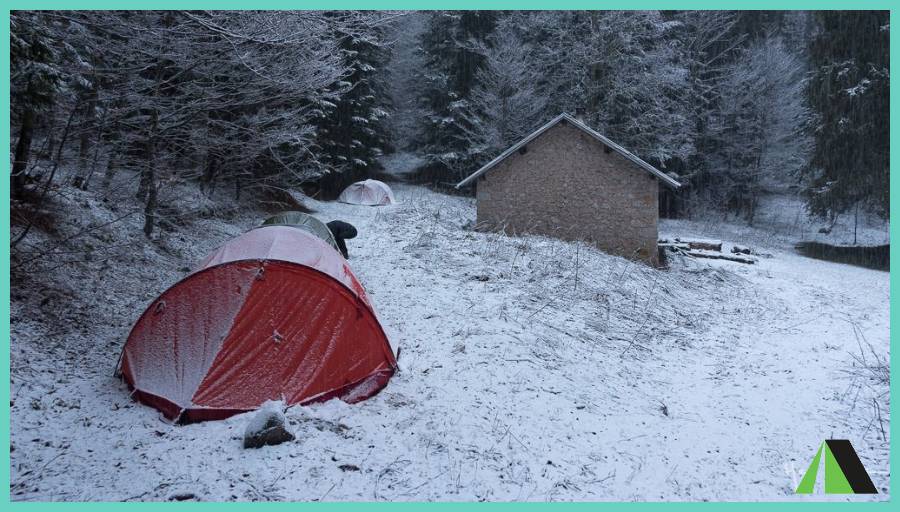 4. Choose your location well
Excluding avalanche areas, what is the ideal location for winter camping? Of course, a nice panorama does not spoil the pleasure but with very short days, it is not as important as in summer.
To tell the truth, the two elements that I take into account; the most are the shelter from the prevailing wind because it offers a more serene and less cold night and the morning sun.
It is not a decisive criterion, but warming up in the rays of the morning sun, and breaking camp in the golden light is part of the pleasures of winter camping and allow you to start the day under the best auspices.
5. Give yourself time
Numb fingers, strong wind which requires important precautions, excavation of the snow to obtain a flat surface… Setting up a tent in the snow takes time, a lot of time sometimes.
Depending on the conditions, I took up to 3 hours to complete all the operations. And as night falls early in winter, it is better to give yourself time to do things calmly and enjoy camping!
6. Prepare for the storm
I don't think there's anything worse than having to get up in the middle of the night to face a gale that the weather forecast hadn't predicted. Nothing is more stressful than having to cling to a tent battered by the storm and which threatens to tear.
The worst never disappoints and anything can happen in the middle of the night. A well-secured tent, with each anchor point carefully placed, each guy line taut with snow anchors, the bottom of the canvas carefully protected by a bead of snow and a low wall erected to slow down the wind … and the storm can blow!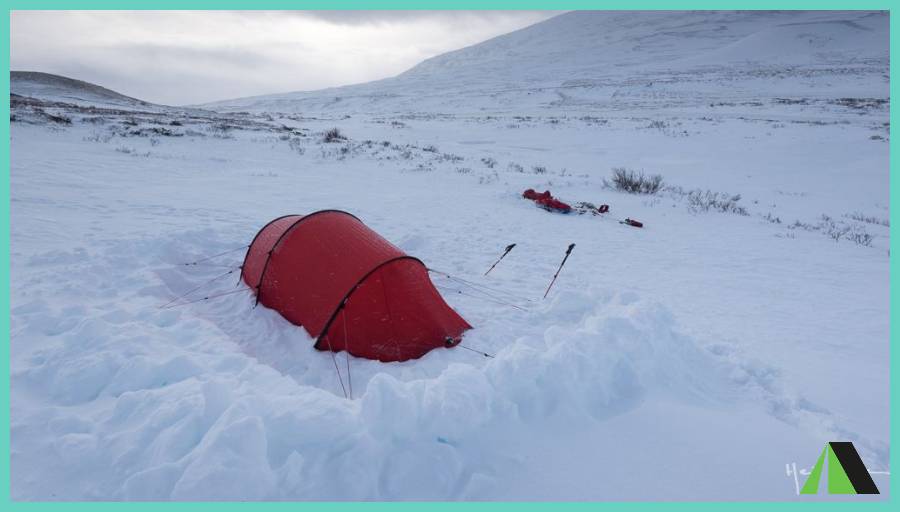 7. Be concerned about water
Water is a major issue at the campsite, I'm not telling you anything. And it is not because we are less thirsty in winter that we do not become dehydrated, quite the contrary.
Worse, dehydration would be a factor favoring frostbite. The ideal solution is to find an unfrozen water point. Torrents and springs provide abundant and quickly usable water. Of course, in the absence of a torrent, you can always melt snow. But this is a time-consuming and fuel-intensive operation!
8. Eat well
Eating hot is not only part of the pleasure of winter camping – a pleasure all the more important since the stove is efficient and the operation does not last for hours – but also constitutes a vital necessity; of providing sufficient calories to fight against the cold.
Being undernourished in cold weather does not have the same consequences as in summer. The food, the stove, and its fuel are therefore safety elements during winter camping.
Down to -5°C and even -10°C, it is still possible to use your gas stove, as long as it is a pressure-regulated model such as the MSR Windboiler or those that allow inversion of the gas cartridge. The cartridge must be made of a mixture of butane and propane (propane is less sensitive to cold). But below these temperatures, or for long periods, petrol stoves are essential because they are more fuel efficient and more efficient in extreme cold.
To fuel them, I prefer gasoline C (white gas) because it is the most refined fuel, the most insensitive to the cold, and requires less maintenance of the stove. On more committed projects, don't be afraid to provide spare parts and gas or gasoline more than necessary.
Providing more gas or gasoline than necessary is fine, but just how much? The ideal measure is to have some leeway when needed without unnecessarily overloading your backpack. So how much? There is no single answer. Of course, the priority on site will be to minimize consumption.
I systematically use the aluminum windshield delivered, I avoid boiling the water when it comes to making a tea that I will consume immediately and I systematically take a Stanley Thermos to prevent heated water does not cool. But depending on the temperature of the water to be heated, whether it is snow to melt, whether you are at altitude or insufficiently sheltered from the wind, consumption can increase sharply. In February,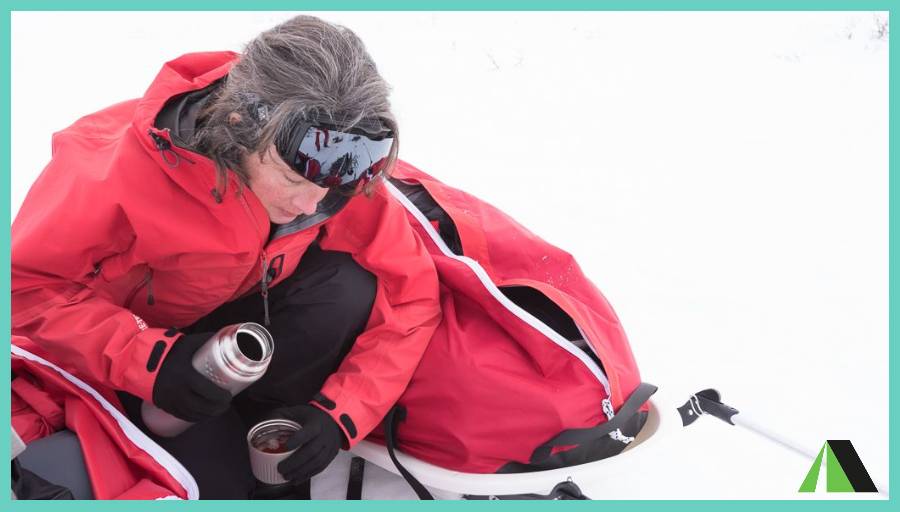 9. Be ordered and organized
In winter, there is no room for clutter. Anything lying around is in danger of being buried in snow or blown away. And what could be more infuriating than not being able to light your stove because the lighter is lying around who knows where?
Finally, being orderly means not risking leaving behind waste that will reappear when the snow melts.
10. Get warm before slipping into the sleeping bag
As I have already said, down is only an insulator. The thicker it is, the more it reduces your calorie loss. But there is no chance that it will warm you up!
To keep warm, here are my three solutions…
The first is the simplest, it is not to be cold! As soon as I arrive at the campsite, when I know that I will no longer be active, I put on the most thermal layers, protecting my head, neck and torso first and foremost with, for example, a hooded down jacket, a hat warmer than that used while traveling.
The second solution is to do some exercise before slipping into the sleeping bag. Jumping on the spot, running for the last pee, raising the body temperature – but above all not to the point of sweating!
Finally, for safety, I always have an aluminum bottle with a screw cap, SIGG type, which I can fill and use as a hot water bottle. For more comfort, there are even neoprene covers to reduce the risk of burning yourself and make contact more pleasant.
But be careful, as soon as its temperature drops, you have to take it out of the sleeping bag so that it doesn't consume your precious calories warming itself!!
Conclusion
When we think of a very cold camping trip, we generally think of specialized equipment: big down jacket, thick down, bulky and expensive equipment. It's true, camping at -30°C cannot be improvised with unsuitable equipment. But the control of its material, the constitution of a general-purpose unit, and the knowledge of good behaviors are largely as important.
This knowledge will gradually open the door to extraordinary camping under skies of unique clarity and in the cozy atmosphere of snowy landscapes.