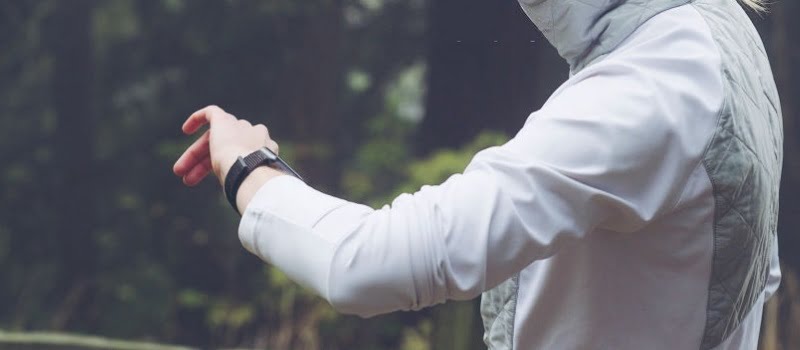 To accompany yourself while hiking, a GPS hiking watch is a great combination. It will provide you with all the information necessary for the success of your hiking. Hiking smartwatch is also able to progress the performance more significantly.
For this reason, most of the major smartphone manufacturers have at least one smartwatch series in their catalog. However, specialist manufacturers are also well established, including Fitbit, Garmin, Fossil and Withings. So choosing the right hiking watch is a little bit tricky for first-time buyers.
To help you find the most suitable model for your next hiking trip, we have selected the top 10 best smartwatches for hiking. we have considered the performance and features such as GPS, heart rate measurement, water resistance, battery endurance, and comfort level so that you will be satisfied for an extended period of time.
Best Smartwatches for Hiking for 2022
The best smartwatch for hiking currently on the market is Garmin Instinct Solar. It will give you a lot of features. This device is very practical and has a water resistance level of up to 330 feet. You can also connect this device to your Smartphone.
Compass: Yes | Connected-GPS: Yes | Mapping: No | Water Resistance: 330 feet | Heart rate: Yes | Battery Life: 24 days | Weight: 1.87 oz | Warranty: 1 year
Pros
Excellent battery life
Quick recharge
Good tracker system
Sleek and stylish look
Sleep tracking functionality
Cons
Customization options could be a bit more intuitive
Garmin is one of the best leading smartwatch manufacturers on the planet, and if you are looking for a macros tracker that has notification capability, this model is the best option for you.
This device is lightweight and discrete and offers exorbitant training features like adaptive programs, hydration reminders and food, etc. You can even track your heart rate to maximize or reduce your efforts while hiking.
Garmin Instinct Solar smartwatch helps you to keep track of your location to maintain a schedule and map while hiking or trekking. It also provides in-depth reporting plus daily and overnight HR. This unit is water-resistant up to 330 feet. For the battery life, it will provide 24 days of service on one charge.
It time syncs with your smartphone and automatically adjusts for time zones along with the smartphone. You can simply connect with GPS and maps your session with distance. The app is well thought out and easy to use.
This hiking watch is a pleasure to wear all time because the strap is very soft and easy to put on. You can see the time easily because of the white background.
This tactical hiking watch also comes with a durable stainless steel case, and the package includes a Dedicated Silicone Wristband, Magnetic Charging Cable, and Quick Start Guide in different languages.
This device captures the number of steps very accurately. You can keep Bluetooth turned off on the phone then it will automatically update when you turn Bluetooth back on. We also like the color of the device(pretty much as the picture looks).
---
Compass: Yes | Connected-GPS: Yes | Mapping: Yes | Water Resistance: 330 feet | Heart rate: Yes | Battery Life: 21 days | Weight: 3.28 oz | Warranty: 1 year
Pros
Comfortable
PacePro technology
Premium Materials
Advanced training features
Great for tracking workouts
Durable and convenient
Cons
Navigating between apps is clunky
The Garmin Fenix 6X Pro smartwatch has been professionally designed for multiple sports. If you are looking for a hiking watch at an affordable price first and foremost, check out the Garmin Fenix 6X Pro. It contains all the essential features as a smartwatch have.
It has a proprietary operating system and the other main functions are: starting and receiving calls, viewing notifications, reminders, remote camera control, pedometer, stopwatch and sleep monitoring. You can use this device to take calls and text while near your phone via Bluetooth/Wi-Fi.
There is a protective aluminum case on the watch. It is also compact, which makes it suitable for all people. The battery life is up to 21 days. This unit will have a battery that exceeds 80% capacity something like new. It comes with a durable charger.
It can also withstand water up to 330 feet deep and is able to count your steps throughout the hiking day. There is a do not disturb mode, a function to control the music directly on the wrist and the autonomy is usually very long.
---
Compass: Yes | Connected-GPS: Yes | Mapping: No | Water Resistance: 330 feet | Heart rate: Yes | Battery Life: 7 days | Weight: 2.19 oz | Warranty: 2 years
Pros
Flawless design
Comfortable to wear
Beautiful interface
Light, durable and thin
Designed for every arm
Cons
Battery life
Screen is not as bright as a non-touchscreen watch
Compared to the latest generation touchscreen watches that are rarely found in this price range; the SUUNTO 9 Peak wins the formula and survives the context. The result is a larger connected watch but also carrying an ECG. However, the most successful novelty is the impressive dial which offers haptic feedback.
It has a very attractive design and can really compete for thousand dollars sports watch. Compared to the previous two's, this one has less battery life. However, it manages a full 72 hours in GPS UltraTrac mode. Or you switch to expedition mode, where you don't have to charge the Fenix ​​6 for weeks.
It helps you to analyze your walking patterns and encourages you to keep always refreshed. This model is compatible with all smartphones whether hiking, trail running, skiing and much more. And all activities are displayed very precisely in the respective mode.
The band is durable and available in a variety of colors. SUUNTO 9 Peak & Baro smartwatch is made with a swim-ready design with military-grade protection system and has a protective Glass coating that prevents it from scratch.
It has 80 sports modes with music controls to adjust volume, pause and skip tracks. You can also measure your blood oxygen levels to check for acclimation at high altitudes.
---
Compass: Yes | Connected-GPS: Yes | Mapping: No | Water Resistance: 330 feet | Heart rate: Yes | Battery Life: 7 days | Weight: 1.52 oz | Warranty: 1 year
Pros
Lightweight
Very well built
Works well for snowboarding
Programmable and great as a watch
Good HR accuracy
Cons
Simple look
Hard to turn off
With the Garmin vívoactive 3, you can create your own custom running, hiking, cycling or strength workouts. You can also download them on your watch.
It has more than 15 pre-loaded GPS and indoor sports apps for hiking, yoga, running, swimming, and more. From hiking to swimming with at least a dozen other options, it could be a perfect choice. Based on your HR, this device has cool stress level monitoring.
If we talk about the construction quality...
The Lens is made of chemically strengthened glass and bezel stainless steel. And the case is built with fiber-reinforced polymer with stainless steel rear cover.
The display size is 1.2 inches and is compatible with iPhone and Android. It displays data during the run and you have some customization control over what and how it is displayed. You can personalize your watch with thousands of free watch faces with 14 days of activity tracking data. You can also set up alerts for some data points.
Garmin vívoactive 3 hiking smartwatch comes with its own USB power cord for charging and charges extremely fast. Its activity tracker likes a Fitbit. However, it has some extra features, such as golf courses and scorecards. You can also use this device for snowboarding.
The battery life is up to 7 days in smartwatch mode and 13 hours in GPS mode. The only thing we don't like, there are no audible alerts or alarms, use vibration only.
---
Compass: Yes | Connected-GPS: Yes | Mapping: No | Water Resistance: 300 feet | Heart rate: Yes | Battery Life: 14 days | Weight: 0.9 oz | Warranty: No
Pros
Bluetooth Music Control
Sharp & large AMOLED display
Satisfactory build quality
5 ATM Water Resistance
Slim design
Cheap price
Cons
Screen is dim and hard to see outdoors
Feel cheap
If you have a limited budget and need a good quality smartwatch for your next hiking, then the Amazfit W1914OV8N is the smartest option for you. It has a wide customizable 1.65-inch AMOLED display. The display area is larger than a round watch with the same width so that it carries more information.
Amazfit GTS smartwatch features a heart rate monitoring system that allows you to track accurately real-time steps, distance of travel, calories burned, quality of sleep your even sleeping patterns. It is light; you won't notice it while hiking. The band is also soft and more flexible than other big brands.
However, the most important and impressive feature to us is readability, especially in daylight. And we're sure you will be impressed. You can also read text messages.
This device optimizes the power consumption of the components to bring long-lasting endurance to enable you to avoid frequent changes. You can also control music via Bluetooth from your smartwatch while workout.
It has a lot of track activities like trekking, running, swimming, and more. Amazfit smartwatch is also water-resistant to a depth of 50 meters and able to support multiple swimming scenarios. It can automatically recognize the swimming position and record the data to keep the user active.
---
Compass: Yes | Connected-GPS: Yes | Mapping: No | Water Resistance: 164 feet | Heart rate: Yes | Battery Life: 7 days | Weight: 0.6 oz | Warranty: 1 year
Pros
Modern looks
Versatile design
Responsive touch screen
Fast processor and Apps load
Large display
Comfortable
Flexible
Cons
5+ days battery life in practical
Sleep tracking could be better
Fitbit Versa 2 smartwatch is beautifully designed for outdoor use and offers all the features you need while hiking. It will provide outstanding battery life for up to 7 days. With this model, you can use Amazon Alexa to get quick news and information and be able to check the weather condition. You can even set timers and alarms, and control your smart home devices through the sound of your voice.
You can count your heart rate and restlessness because this allows you to consult data easily and analyze your physical form. The score also helps you better understand your sleep quality.
You won't have to bring your smartphone whenever you need the geolocation function. Nevertheless, starting at less than 200 dollars, the Fitbit Versa 2 remains one of the best-connected watches on our list.
The glass cover no longer has a bezel, which gives it a smooth, low profile and premium look. The silicone band is much more comfortable and flexible and more comfortable to wear.
It has a large display and an always ON option, so your information's always a quick glance away. However, you can choose from a wide selection of dials. You can even play your favorite songs and playlists with Spotify app controls on your wrist. Also gets text and smartphone app notifications.
With this device, you can track real-time workouts with 20+ goal-based exercise modes. In addition, Fitbit Versa 2 smartwatch is much more efficient than its predecessor. It is compatible with iOS and Android. The package comes with a USB charger and is charged very quickly.
---
Compass: Yes | Connected-GPS: Yes | Mapping: No | Water Resistance: 330 feet | Heart rate: Yes | Battery Life: 7 days | Weight: 1.52 oz | Warranty: 1 year
Pros
Suitable for daily fitness and stress tracking
Up to 7 days battery life
Phone notification alerts
Small and lightweight
Cheap price
Cons
Does not scream sports watch
GPS accuracy not perfect
The Garmin 010-01769-01 Vivoactive 3 is the most complete sports and outdoor connected watch that you can buy at a very reasonable price. It is an excellent choice for hiking or running: brilliant and offers a beautiful resolution.
To complete it, the interface remains simple and gives priority to functionalities. You can personalize this unit with thousands of free watch faces, apps and widgets.
It is very comfortable to wear (definitely you can wear it 24/7) because it is not too big like some other GPS sports watches. You can wear it at sea or swim in even the sea. You can also reply to texts from the watch and add your own pre-programmed ones as well.
Garmin Vivoactive 3 smartwatch does not neglect appearances even if it is destined to rub shoulders with sweat. And the 7-day battery life is excellent (complete is the word to designate this model). It is able to charge from completely empty to full in about an hour from almost any USB power source. The package also includes a charging cable.
With Silver Hardware and a large 1.2-inch screen, it has an elegant design. The quality is impeccable. The dial is 20 mm wide with standard and quick-release bands.
In addition to a heart rate monitor, the device has a nice assortment of sensors. The Garmin Vivoactive 3 also has holes almost all the way to the watch, so it can tighten around any sized wrist, even a very small one.
---
Compass: Yes | Connected-GPS: Yes | Mapping: No | Water Resistance: IP68 + Pool Swimming Suitable | Heart rate: Yes | Battery Life: 5 days | Weight: 2.43 oz | Warranty: 1 year
Pros
Upgraded premium design
Dual-layered ALOMED/LCD screens
Swim-ready fitness companion
US military-grade durability
Lightweight silicone strap
Cons
Confusing to set up
Battery life could be improved
TicWatch Pro smartwatch is stylish and functional with knurled stainless-steel bezel. It comes with corning Gorilla 3 anti-fingerprint cover glass and water resistant speaker. It is also robust with a pleasant design. And with 6 smart sports modes including hiking, this device is IP68 waterproof and suitable for pool swimming.
The TicWatch Pro has dual-layered ALOMED/LCD screens and two display mode options, smart Mode and Essential Mode. The smart mode will get you 2 days of battery life, and up to 5 days if Auto Switch to Essential Mode. It will provide up to 18 hours of battery life on cellular usage.
This device has so many features like Instant calls and texts, cloud sync notifications, music streaming, emergency SOS auto-dial and more. You can activate the 4G/LTE feature via the My Verizon app.
TicWatch Pro multi-function smartwatch also monitors 24hr heart rate with abnormal heart rate warnings. The TicMotion technology is able to detect your motion and track your activities.
It looks great with a great price range. And to ensure quality, TicWatch also offers 30-day money-back guarantee with 1-year warranty for quality-related issues.
---
Compass: Yes | Connected-GPS: Yes | Mapping: No | Water Resistance: 164 feet | Heart rate: Yes | Battery Life: 4 days | Weight: 0.6 oz | Warranty: 1 year
Pros
Quality proof water resistance
Syncs to the phone app effortlessly
Very precise device
Decent looks
Compact and light
Durable frame
Perfect size
Cons
You can't listen music on it
Doesn't have blood pressure measuring feature
With the Fitbit Versa Lite One-Size, you can track all-day activity, 24 hours heart rate with a 5-plus day battery life. It will encourage you to play sports and go for outdoor activities like hiking, biking, and more.
The Fitbit Versa Lite comes with 15 plus exercise modes like running, swimming or recording workouts. You can connect to smartphone GPS for more precise real-time pace & distance. It is a little more appreciable, just like the presence of a new dial and new materials for the case.
This device is also very easy to sync up to any smartphone. You are able to access your favorite apps to get sports, weather and more information. The display also has a calendar option. You can receive call, text, and even Via apps. It is the most versatile hiking watch on the market while maintaining a certain elegance and is a good option if you have a little less budget.
It is slim and comfortable to wear. The anodized aluminum body makes it lightweight. The syncing range is up to 6.1 meters and amplified brightness is up to 1000 units. The watch face is about 3/8 " thick and you can put any watch face you'd like on it.
However, the package includes two bands; small and large. The large band will fit perfectly up to a nine-inch wrist. Overall, the Fitbit FB415SRGY could be a great watch for hiking that enables you to monitor your covering distance precisely.
---
Compass: Yes | Connected-GPS: Yes | Mapping: No | Water Resistance: 164 feet | Heart rate: Yes | Battery Life: 4 days | Weight: 2.4 oz | Warranty: 1 year
Pros
Waterproof
Hand free track
Very accurate
Well designed
Easy to change the band
Simple to connect with app
Large and clear display
Cons
Battery life could be better
Display material is warm
If you love traveling and hiking and are looking for a smartwatch under $200, there is no need to procrastinate: choose the Samsung Galaxy SM-R830NZKAXAR. This fully intelligent GPS hiking watch will be your ideal companion for complete activity tracking.
It is slim, lightweight and comfortable to wear. It is perfectly integrated into the ecosystem that making it a little bit of your smartphone. You can access your favorite apps for hiking, weather and more and get called.
The app is compatible with both apple and android and works just the same way. This device also has calendar, text, and app alerts so that you can send quick replies to messages.
You can track all-day activity, all-time heart rate, and sleep stages all with a long-lasting day battery life. The screen is pretty bright both inside and out, and the vibration will help you wake up from a dead sleep. The package also comes with a universal USB charger.
The Samsung Galaxy SM-R830NZKAXAR has 15 plus exercise modes and is water resistant up to 50 meters. You can even connect to your smartphone GPS for more precise real-time pace and distance. The syncing range is up to 6.1 meters and amplified brightness is up to 1000 units.
This device charges pretty fast. However, make sure the dots are on the bottom with the ones on the charger. However, battery life sometimes depends on what you use the tracker for. The more stuff you want it to do, the shorter the battery life.
---
Buyer's Guide: Smartwatch for Hikers
For hiking, you don't need all the latest algorithms and physiological metrics to buy a smartwatch (if you don't know what we're talking about, that's okay). Also, you do not need to calculate a recovery time before setting out again on a hike. However, you have to make sure that the device well stays on a reasonable budget rather than buying a lot of unnecessary stuff.
On the other hand, there are certain features that should not be missed. For this reason, we're going to say something that will make some jump. However, some GPS watches are able to replace the map and the compass (but not yet the Opinel). Well yes, some have cartography! But, not all hikers need wrist mapping, because they will always leave with a paper map or because they can rely on their smartphone when needed.
So, what do we need for a hike? Let's see...
Operating system
The first thing to consider when purchasing a smartwatch for hiking is the operating system. It divides the quality into more or less. However, each model has its own distinctive characteristics.
The functions
The best hiking watches are ABC watches, with Altimeter, Barometer and Compass (compass) and possibly a thermometer. These instruments allow you to find your way around and help you to orient yourself from a map, to predict changes in the weather.
Most modern hiking watches offer GPS, an essential function for long hiking. GPS indicates the position, altitude, speed, distance traveled and other data that it can record for display on a PC or Smartphone (route completed, graphs, statistics, etc.). The ideal hiking watch makes it possible to program and follow a route, to record points of interest along the route. And if possible, it shows how to return to its starting point.
Some smartwatches can even display topographic maps (GPS watches with cartography). Besides these functionalities, a hiking watch can inform you about the sunrise and sunset times, and weather trends and it will alert you when there is a risk of a thunderstorm.
Finally, the Pulse oximeter or saturometer is an interesting instrument for high-altitude hiking. It is used to assess acclimatization to altitude and to show whether the ascent can be continued without risk.
The design
On the market, there are different designs of smartwatches available, they are able to satisfy the most varied palates. In fact, you can find more classic models, completely comparable to a normal clock with hands, but also watches with more sporty designs, suitable for carrying out outdoor activities (hiking camping, fishing, etc.).
However, make sure that the screen is customizable thanks to smart features, allowing you to change the look of the watch while hiking.
Buying a smartwatch from a brand that offers a wide choice of complementary accessories can be a good idea, especially if you get tired of wearing the same styles and colors easily.
The display
The display is a fundamental part of the smartwatch. On the market, you can find different styles, shapes and technologies, each of which with its own peculiarities. The choice of the shape of the display is often a question linked to one's very personal tastes.
However, the most common shapes on the market are circular and square/rectangular. Of course, you can prefer one over the other, but the functionality of the device will be the same. Hikers should also focus more on robustness and resistance even underwater by adopting control via buttons.
A circular screen smartwatch may cause some difficulties for those who are used to a more square shape and may prefer a rectangular display. On the contrary, a rounded shape is on the whole more elegant and can satisfy those people who love "classic" watches.
Processor, RAM and internal memory
Furthermore, it is also necessary to evaluate the hardware compartment. In this case, we're talking about Processor (CPU), RAM and internal memory (ROM). These elements affect the operation and general usability of the device.
The processor shows the ability and speed of the smartwatch to process and process data, while RAM is volatile memory which denotes the watch's ability to work with multiple open applications.
These factors, combined with the internal storage memory, are particularly important, especially when you have installed different content and apps in the smartwatch. If not sufficient, the performance of the watch could decrease. Also, it brings cumbersome results and is not very fluid for a good user experience.
Robustness
You should also prefer a sturdy watch (polymer or metal case, scratch-resistant sapphire crystal bezel) and water-resistant (at least 3 ATM). Some brands offer interchangeable straps in various materials such as leather, metal or silicone, to best adapt their watch to their environment.
Reliability
A smartwatch for hiking must be reliable. The best GPS hiking watches offer compatibility with major satellite systems (GPS, GLONASS, QZSS, Galileo) and have a barometric altimeter (more accurate than GPS) with manual calibration and well-designed software (prefer a known brand).
Power
GPS watches are energy-intensive, especially with the use of GPS. Be sure to choose a sufficiently large power watch, especially if you are planning a hike over several days (trek, trekking, bivouac).
Some watches offer a power-saving mode (more spaced GPS recordings), which can easily double or even triple the battery life without too much altering the quality of the data, thanks to an intelligent algorithm that extrapolates the missing data as well as possible.
Comfort of use
Smartwatches for hiking can be more or less thick and heavy. For comfortable uses, always prefer soft and light models. Also, check the screen and its ease of use. For example, you should consider the size, definition, with or without color, anti-glare, sunlight-readable, tactile or not.
The price
The price and quality of the different models vary a lot, and the choice is sometimes difficult according to the price range. However, it is important that the watch does not cost more than a smartphone. Also make sure that the price is as low as possible and the quality at the top.
You can buy a sophisticated smartwatch for hiking for less than $200 on our list.
FAQs
Which smartwatch is compatible with Android or iOS?
Most smartwatches that come from popular brands are compatible with both systems. However, not all functionality is guaranteed to support properly. An iPhone user will be better served by an Apple Watch than an Android mobile owner. However, it is better to ensure the compatibility of the model you have chosen with your smartphone.
Should you choose a hiking smartwatch with touch screen?
There are 2 types of screens available on hiking watches, with LCD or AMOLED screen, touch or not, and with a classic dial with hands containing some connected uses. Without touch screen, smartwatches don't offer as many functions but have greater autonomy. However, if you want a greater number of functions, always prefer touch screens.
Are all smartwatches reliable for hiking?
Some models specialize in sports analysis with more or less expertise. Built-in GPS, heart rate tracking, dedicated apps, and built into the system, there's plenty to do. The functions sometimes even recognize the activity practiced: running, walking, cardio, swimming, cycling and hiking mode.
Do I need cellular notifications?
Some hiking GPS watches can send texts, emails, and other phone notifications directly to your device. However, it depends on you whether or not it is useful for you.
What are the most trusted smartwatch brands on the market?
The simple answer is Apple with the Apple Watch, Samsung with the Galaxy Watch and Huawei with the Huawei Watch. However, we can also cite Withings and Garmin, which have the merit of offering watches with a design closer to mechanical watches. These five brands are trustworthy and reliable among thousands of companies.
However, it does not mean that all the other players are to be put aside.
Conclusion: Go hiking with a GPS watch
Technology is making it possible for us to plan ahead and track activities better and better. Especially when you are hiking in the mountains with a GPS watch or entering unknown terrain.
You should always remember that your battery can run out at any time, that's why we use solar-powered GPS watches. We have had some experiences recharging the battery with the power bank. But we don't want to rely on a power bank.
For this reason, we always recommend solar GPS watches. Since leaving nothing to chance, we always have a hiking map with us in case of need.
If you only plan a short hiking holiday 1-2 times a year, you don't need a high-end GPS watch with map display like the Garmin Fenix ​​6x Pro. But if you are also a runner, swimmer or triathlete, for example, and have the necessary change ready, the purchase is worthwhile. And if you want to save something, you will also be happy with our other recommendations.
---
You might also be interested in: