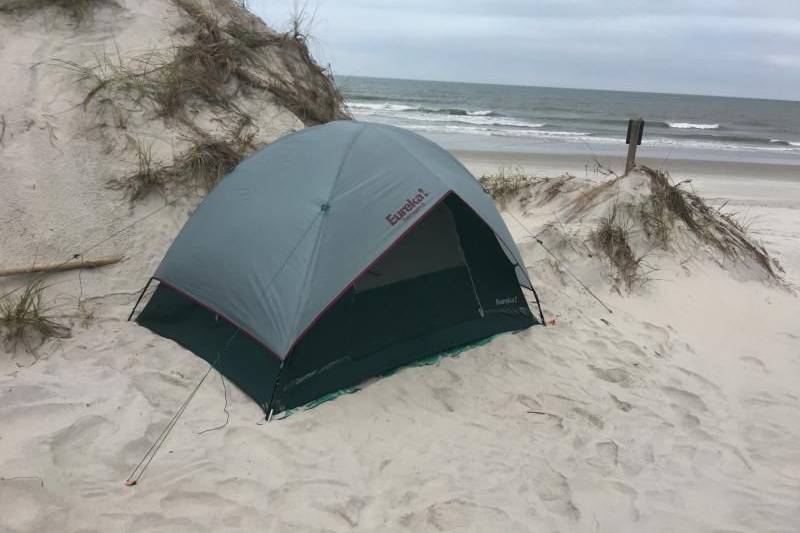 As the sun dips below the horizon, painting the sky with hues of gold and crimson, you find yourself on the shores of an untamed beach and excited to set up camp in the midst of the soothing rhythm of the waves. The sand, however, presents a unique challenge; it resists the conventional, demanding a specialized solution.
We've moved past the days of dealing with flimsy stakes that succumb to the coastal breeze's every whim. In our pursuit of discovering the most dependable tent stakes for sand for 2024, we ventured through dunes and shorelines, going beyond the ordinary.
This guide isn't just a compilation of products; it's a testament to the passion and precision required to conquer sandy terrains. Each stake on this list has earned its place through a rigorous process that values performance, durability, and adaptability above all else.
Best Tent Stakes for Sand 2023
Let's start your journey with our comparison table…
| | | | | |
| --- | --- | --- | --- | --- |
| Image | Name | Explanation | Length | Price |
| | Hikemax MW-OPS Spiral | Best Overall | 10-Inch | Check |
| | Neso Screw Stakes | Editor's Choice | 9.5-Inch | Check |
| | MSR Cyclone 10″ Tent Stake | Best Value for the Money | 10-Inch | Check |
| | REI Co-op Snow Stake | Work Well Both Snow Sand | 9.6-Inch | Check |
| | TZT Canopy Anchors | Most Heavy Duty Stakes | 10-Inch | Check |
| | GROUNDGRABBA Lite | Versatile Design | 15.75-Inch | Check |
| | Brunner Peggy Peg Screw | Designed for Long-term Use | 12.2-Inch | Check |
Specs:
Weight: 1.3 ounces (piece)
Length: 10 inches
Pack Size: 15 stakes
Material: Plastic, Metal, Acrylonitrile Butadiene Styrene (ABS)
Hikemax, a renowned professional outdoor equipment brand, represents the essence of "Enjoy the Nature" in its product line. Among their offerings, the tent stakes stand out for their exceptional quality and design.
The MW-OPS Spiral stakes are made from premium ABS plastic. Unlike their metal counterparts, they won't succumb to rust or degradation over time. Each stake weighs around 1.3 ounces to belie their featherlight construction with their excellent resilience.
The spiral design of these stakes is a game-changer when it comes to securing them in soft or sandy terrain. At a generous 10 inches (250mm) in length, they provide adequate anchoring power. With an easy twist, they anchor themselves firmly into the ground and fortify your setup against even the most persistent wind and rain. This feature adds an extra layer of confidence to your beach camping experience by ensuring your tent stays securely in place.
These stakes are not limited to tents alone; they find their utility in a range of outdoor setups, from beach canopies to gazebos, tarps, groundsheets, and even gardening projects. And due to its vibrant Bright Orange hue design, these stakes are impossible to misplace, even under the tallest grasses. The large no-slip hook ensures effortless removal, sparing you the frustration of struggling with entrenched stakes.
Pros
Great holding power
Quick and easy to install
Good length and pretty sturdy
Perfect for sand and soft
Cons
Package includes 15pcs stakes
---
Specs:
Weight: 2.2 ounces (piece)
Length: 9.5 inches
Pack Size: 4 stakes
Material: Recycled polycarbonate
We recently purchased the Neso Ground Screw Stakes package of 4 from REI and they have completely revolutionized our outdoor experiences. The stakes come neatly packed and the lightweight design makes them an essential addition to our outdoor gear.
I was initially skeptical about their ability to hold up against strong winds, but I was pleasantly surprised. Once securely anchored, they provided an incredibly stable foundation for our beach tent. We've used these stakes not only at the beach but also on grassy fields during our weekend picnics. They adapt well to different types of terrain and provide the same level of security.
These are robust and well-made to keep the tent firmly in place. We've used them multiple times, and they show no signs of wear or rusting. The ground stakes simplify setup – just screw them in and attach your tent. The whole process shouldn't take more than 5 minutes.
The spiral design also allows them to screw effortlessly into the soft ground or snow. Even in slightly compacted sand, they performed exceptionally well. However, it's the struggle in dry, loose sand.
Pros
Easy to use
Versatility beyond the beach
Stability and durability
Made with recycled polycarbonate
---
The MSR Cyclone Stake is a specialized piece of gear designed for high-wind conditions at the beach. True to its name, the Cyclone Stake shines in high wind and offers reliable anchoring. With its unique design and high-quality materials, it stands out in the world of top-grade tent stakes.
These stakes are constructed from 7075 aluminum alloy, known for its high strength-to-weight ratio, and built to withstand rugged use. The red color, a trademark of MSR stakes, ensures in prevention of loss in the wild. Additionally, the reflective pull cord minimizes the risk of nighttime accidents.
The 'Y' shape, a hallmark of MSR stakes, provides enhanced stability and prevents twisting and slippage in the ground. The Cyclone's twisted vanes resemble a stick of red licorice, further ensuring a secure grip even in extreme conditions. Also, affordability replicas do not rival their level of durability.
These stakes are optimized for use in sandy or snowy soils. The notch near the top of the stake securely holds tent guy lines in place and prevents them from slipping off. However, setting the Cyclone Stake into dry or firm soil can be more challenging due to its length. Carrying a small hammer or locating a nearby rock should be necessary.
Pros
Visibility and safety
Unique 'Y' design
Specialized for high winds
Twisted vanes to stop the peg from twisting or pulling out under pressure
---
This tent stake is designed for multiple purposes to support both snow and sand environments. We have had success in using these stakes in various terrains, from alpine snowfields to loose beach sands. We used them for guylines while the regular stakes struggled on sand.
REI Co-op snow stake is made from high-quality aluminum to strike a balance between durability and weight, making it a practical addition to your camping gear. Fully staking down the tent, including the two guyout points at the bottom of the front and back walls, will significantly enhance its stability and ensure it stands up to the elements. This additional security will provide peace of mind during your outdoor adventures.
It features a clever design that allows for easy attachment of guylines, which ensures a secure setup even in windy conditions. However, the results can vary based on individual preferences and techniques. Personally, I found these stakes to be radical in high alpine camps with strong winds. However, in extreme conditions like a fierce Atlantic squall, they showed some limitations.
It is surprisingly effective as a lightweight trowel for digging cat holes and offers a convenient alternative to more specialized tools. Overall, the REI Co-op tent stake provides a budget-friendly option for beach or winter campers looking for reliability without breaking the bank.
Pros
Versatile design
Durable and lightweight
Secure Guyline attachment
Cost-effective solution
Efficient Cathole digger
Cons
Limited Length
Only designed for sand and snow
---
Specs:
Weight: 1.3 ounces (piece)
Length: 10 inches
Pack Size: 8 stakes
Material: Acrylonitrile Butadiene Styrene (ABS)
TZT stakes are specially built for sandy terrains, but they're equally proficient in regular ground conditions. We appreciate their ingenious spiral design, adapted to fit in loose sand and soil. This design grants them exceptional grip and resistance against formidable winds. Even faced with strong crosswinds, they proved their mettle and held steadfast with minimal sway.
TZT Canopy Anchors are from robust ABS plastic to exhibit impressive durability. The hooks are made of rigid plastic and are long enough to hold well even on windy days. Thanks to the gripped tops of each stake, they can be effortlessly twisted into the sand, streamlining the assembly process.
We tested them by bending them under pressure, and they showed both strength and flexibility and proved how durable they are. They work fine on regular ground, but they really stand well in sandy or snowy areas.
Although they aren't the absolute most long-lasting stakes on the market, their budget-friendly price more than makes up for this small compromise. They exceeded our expectations and emerged as a fantastic option for people planning occasional use, firmly establishing themselves as one of the top choices for beach camping experiences.
Pros
Affordable option
Bright orange color
Easy to put in and easy to take out
Cons
Not the most durable option
---
Specs:
Weight: 6.4 ounces (piece)
Length: 15.75 inches
Pack Size: 2 stakes
Material: Glass Reinforced Nylon
GroundGrabba screw-in tent stakes offer a hassle-free solution for securing your tent without a power tool. These stakes are designed to penetrate soft surfaces with impressive force and provide a grip that endures until you're ready to pack up and leave. The only decision you'll need to make is which color suits your preference.
The glass-reinforced nylon boasts a winning combination of durability and robust construction to ensure maximum support. The built-in hook adds an extra layer of convenience, making them a versatile choice for various applications. At a length of 15.75 inches, these stakes are suitable for grounding a wide range of items, whether it's on soft, loose, or sandy ground.
We were satisfied with their exceptional performance at the beach, where we were used to securing a canopy. The stakes were driven in until the drill reached its limit, showing their impressive anchoring capabilities. We even contemplated applying additional force but wisely refrained, attesting to their robust build.
GroundGrabba stakes are not limited to tenting; they exhibit remarkable strength and versatility, making them suitable for a multitude of purposes. Whether you're anchoring fishing gear, securing a kayak, or keeping a pet's leash taut, these stakes prove their worth.
Pros
Versatile usage
Huge length
Durable material for longevity
Built-in hook for easy use
Cons
Pretty much heavy compared to other options
---
Specs:
Weight: 5.29 ounces (piece)
Length: 12.2 inches
Pack Size: 2 stakes
Material: 100% recycled polycarbonate
The Brunner Peggy Ground Anchor is a good choice for anchoring tents in sandy and loose soil. These 12 1/5-inch screws provide exceptional staying power in a variety of ground types. Their extra length ensures stability, especially in sand and snow. And with its impressive holding power and durable construction, it has earned its spot on numerous "best tent stakes for snow" lists.
Brunner Screw is made from 100% recycled polycarbonate to signify a commitment to sustainability without compromising on durability. We use it to secure our awning when camping. We now only use screw pegs at sea and they can withstand any storm.
The included T-Grip tool simplifies the process of screwing the anchors into the ground. This thoughtful addition makes setup an easy task. Beyond camping, these screws find utility in a range of settings, from the backyard to the garden. Their adaptability adds to their overall value.
In case of wind, it is already appropriate to fix the rug slightly. However, the initial investment might be relatively higher, especially if you need a larger quantity.
Pros
Versatile Use
Lifetime warranty
Easy to use
High-Quality Construction
Unmatched Holding Power
---
Discovering the Optimal Tent Stakes for Sandy Environments
Selecting the right tent stakes for sandy terrain involves considering several crucial factors. Here is an in-depth analysis to guide your decision-making process:
Material
Sand is loose and lacks the firmness of soil or rocky terrain. For this reason, stakes must be constructed from durable and lightweight materials to withstand the abrasive nature of sand while remaining portable for easy transport.
Aluminum: Tent stakes made from 7000-series aluminum are popular due to their lightweight nature and excellent durability. They resist corrosion and are less likely to bend or break under stress.
Titanium: Titanium stakes are incredibly lightweight and durable. They're ideal for ultralight backpackers seeking to minimize their gear weight. However, they're more expensive.
Furthermore, stakes with specialized coatings, like anodized finishes, provide an extra layer of protection against corrosion.
Length
For sandy environments, stakes ranging from 6 to 9 inches are recommended. Longer stakes offer better anchoring in loose sand, while shorter ones are lighter and more portable.
Design
Y-Beam: This design, popular in stakes like the MSR Cyclone, provides excellent holding power and stability. The arms of the Y-beam prevent twisting and ensure a secure grip in sand.
Tapered: Stakes with a tapered profile, like the REI Co-op, are designed for easy penetration into sandy ground. They are particularly effective in fine-grain sand.
Weight
In sandy environments, lightweight stakes are essential for ease of transportation and to reduce the overall weight of your camping gear. Look for stakes weighing under 1 ounce each.
Special Features
Reflective Pull Cord: A reflective pull cord makes the stakes easier to spot in low light conditions, reducing the risk of tripping over them.
Corrosion Resistance: Coatings or materials like anodized aluminum or titanium help prevent rust and extend the lifespan of the stakes.
Number of Stakes
Consider the number of stakes you'll need based on the size of your tent and the expected conditions. For sandy terrain, it's wise to have extra stakes for added stability.
Budget
Set a budget based on your camping frequency and preferences. Although premium stakes offer superior performance, there are also affordable options that provide reliable anchoring in sand. However, you don't want to overspend on high-end stakes if more affordable options meet your needs.
Frequently Asked Questions
Why do I need specific tent stakes for sandy terrain?
Sandy environments present a unique challenge as traditional stakes may struggle to anchor securely. Specialized sand stakes are designed with features like Y-beam designs or tapered profiles to provide better grip and stability in loose sand.
What is the ideal length for tent stakes in sandy areas?
Tent stakes ranging from 6 to 9 inches are recommended for sandy terrain. Longer stakes offer better anchoring in loose sand, while shorter ones are lighter and more portable.
Remember, the goal is to have stakes that can effectively resist the shifting and settling of sand and ensure your tent remains securely in place throughout your camping experience.
Are titanium tent stakes worth the investment?
Titanium stakes are pricier but offer exceptional durability and are significantly lighter than aluminum stakes. They're an excellent choice for ultralight backpackers seeking to minimize gear weight.
Can I use these stakes for other terrains as well?
Yes, tent stakes designed for sand can generally be used in other terrains as well. The longer length and durable materials make them suitable for sandy environments and can also provide stability in softer or looser soil types. Many tent stakes in this guide are versatile and can be used in a variety of terrains, including rocky or compacted soil.
How many tent stakes should I carry for sandy terrain?
We recommend you carry at least 8 to 10 stakes for a standard-sized tent in sandy environments. This quantity provides a good balance between securing your tent adequately and keeping your camping gear relatively lightweight. However, having extras provides added stability and ensures you have enough in case of loss or breakage.
Can I use a mallet to drive these stakes into the sand?
Yes, a lightweight mallet or a stake hammer can be used to drive these stakes into the sand. However, be careful not to use excessive force, as it may damage the stakes.
The Verdict!
The sandy ground poses specific challenges that require specialized equipment. For this reason, selecting the right tent stakes for sand is fundamental for a successful and enjoyable camping experience. Investing in high-quality tent stakes ensures your shelter remains secure, even in the loosest sandy environments. These stakes are recommended based on their performance, materials, and long-lasting durability.
It's important to carefully consider your individual needs, including the type of terrain you'll encounter, the size of your tent, and of course your budget.
Happy beach camping!
---
Read Also…