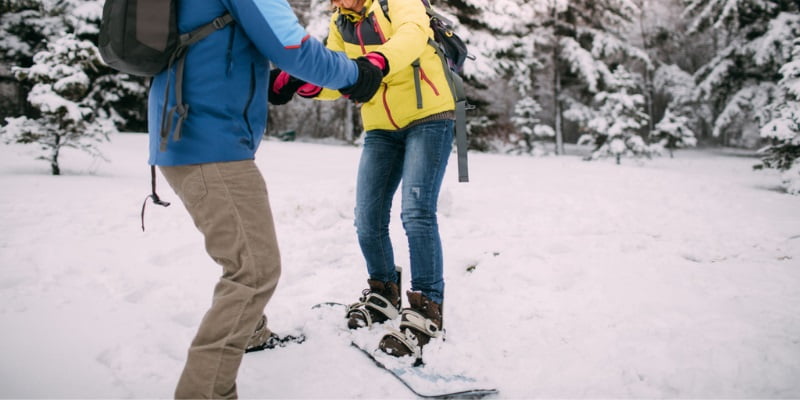 Buying a snowboard can be more difficult for the first time and sometimes choosing the best snowboard can be a big problem for beginners. The market is really full of different brands and they offer dozens of snowboard models every year. Recognizing them wisely with classifications is not always easy for a newcomer or a holiday skier. That's why we are here.
If you are a beginner and decide to buy your first snowboard or to change your antique piece for something more modern to have fun with, here is a practical and very concise guide on the best beginner snowboards.
You can find everything you need to know when buying the right snowboard for you.
Best Beginner Snowboards in 2022
We have selected the top 10 models with the best value for money and the best features for beginner snowboarders looking for an all-mountain board. They are capable of making them have a little fun in all situations. However, we haven't listed any super performing or top-of-the-range snowboards but the quality is unbeatable. We also consider additional accessories such as boots, bindings, and more so that beginners can save some extras.
System Timeless snowboard is built around the strongest core System. With 3D Core and Edge lock construction, the high-density stringers run outside the center of the board as well as down each rail. You can easily drive and hold your edge in any snow conditions.
The center of the snowboard has an artisan-grade heartwood stringer to create explosive power and response from park to big mountain carves. The top of the board has a larger mountain graphic that looks great. It is super easy to turn, and carving is excellent on groomed surfaces.
This System Timeless snowboard is 159 cm in length, and could be an excellent choice for both beginner and intermediate riders. It has an ideal flex, width, length, sidecut radius, and effective edge for your specs. This package comes with an amazing factory wax and is tuned and ready to ride.
This beginner snowboard package also includes APX Snowboard Boots that are ultra-durable and combine superior comfort with peak performance. It is built with simple and classic style which allows for optimizing the features like metal hooks for superior lace hold. They are super soft and ready to wear.
System Timeless beginner snowboard comes with bindings with EVA base pad that creates a plush cloud like comfort when you ride in even the choppiest terrain. With either-Or toe strap, you can ride toe cap style or over the forefoot. The gel inserts contoured straps also maximize the controlling system and stability.
The bindings are classic and standard mid-level, not cheap. The Timeless System also offers 3 years warranty. Overall, the board is fantastic for beginners and could be a solid purchase for the money.
Good for the beginner and looks great.
Pros
Easy to install and binding
Looks great and super-fast
Comes with a complete package
Nice board for the money
Handles are great
Cons
Does not come with stomp pad
No instructions included
---
STAUBER is a well-known outdoor sports manufacturing brand that is always ready to provide their customers with embodies, adventure, and meaningful life experiences. This is a user-friendly snowboarding package, which is designed to tackle all terrains and is able to satisfy beginners to a range of skill levels.
STAUBER snowboard and bindings are made of the highest quality materials and components, to ensure a perfect balance of performance and handling when navigating the different powder conditions on the mountain. It is built with durable Gloss Finished Top-Sheet Paired. The rigid snowboard bindings are made of Injection Molded Polyethylene.
It is also super smooth and buttery. Compare to the System Timeless snowboard, the thickness of this model is pretty standard. The Hybrid rocker profile is great for carving with confidence and makes effortless hitting in small jumps. The profile of the board and the structure of the bindings gives a super comfortable ride.
However, this is an all-mountain style snowboard set that is lightweight with a Medium Flex. In addition, the All-Terrain snowboard shape is designed specifically to avoid catching any edges as well as the weight. And the flex is perfect for learning how to ride properly.
The bottom is completely black on this board which looks great. However, the board is not too stiff and not too soft. This model is also available in seven varieties of sizes. If you are looking for a beginner snowboard without brake the bank, we recommend buying this board.
STAUBER snowboard has an extruded base, so it does not need wax as much as a sintered base. However, for enhanced overall performance, we recommend the wax.
Pros
Incredible snowboard for the price
Available in different sizes
Lightweight construction
Extremely smooth to ride
Stable and good quality
Cons
Very slick with no traction
For the smallest boot size, the bindings were at the limit
---
Burton is responsible to protect the users and playgrounds that sustain snowboarding and the mountain lifestyle. The Burton Ripcord Board is an excellent choice, especially for those with very large feet. If this is often a problem for you, with the Ripcord model, you will no longer have it thanks to the optimal width of the board that goes against any eventuality.
It is not only able to deliver excellent, tight and fast riding experiences but also performs even well on fresh snow. Burton Ripcord classic shape snowboard design to ride with a slightly longer nose to give you plenty of floats, flow, and control to rip any terrain or condition.
The maximum stability and optimized performance allow anyone to extend their all-mountain skills. The pleasant feel of the flat top offers a free-bending curve and the rail mounting system for the bindings is outstanding.
A true symmetrical design lets you stay in control no matter which direction you point it. And Frostbite Edges improve grip and handling in any terrain or snow condition. It has a flat profile between the feet which ensures high stability, better balance, and continuous edge control.
In our honest opinion, it is a good snowboard for beginner to intermediate level snowboarders. The materials are also appreciable as well as the price: we believe you can have a lot of fun on the slopes.
Pros
Compatible with all bindings
Great quality for the price
Durable and built with well balanced
Flat top with easy bevel
Strong and fast
Cons
Matte black finish not adhered well
---
Camp Seven ultimate all-mountain snowboard package features the best modern system. The package comes with a pair of APX boots and binding, which like the setup was made specifically for each other. This is a great package for both beginners and intermediate snowboarders.
The Drifter has been upgraded in design and features a new camber profile. To ensure you never to catch an edge, the dominant CRCX profile greatly increases the float in powder and elevates your contact points. It's good on powder and its stability is excellent. You can choose this model if you are not sure which size is best for you.
The included System APX Bindings are also light, stylish and durable to offer unparalleled performance on the snow. The simple and classic style allows these boots to optimize features like metal hooks.
Camp Seven snowboard combined with the newest technology like Thermofit heat moldable liners and articulate cuff for smooth flex. To ensure quality, this set comes with 3-year warranty. It has good bend and flexibility for carving and we are sure that you can't find better quality at the same price.
Overall, if you're looking for a complete package that will have you riding better than ever, Mountain Camp Seven New is the best option for you. This is an excellent choice for a beginner and will last till the time arises that a person wishes to advance in the wonderful world of snowboarding.
Pros
Great package for the price
Lightweight and stylish bindings
Simple and classic style
Very easy to ride and switch
Perfect beginning snowboard
Cons
Available in whole sizes only
There is no stomp pad
---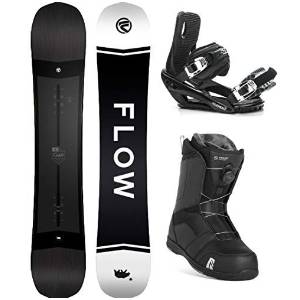 If you are looking for a complete snowboard package rather than just the board, take a closer look at the Flow 2021. But let's see immediately what this set includes for beginner snowboard lovers. Besides the snowboard, there are the bindings for the boots but that's not all because, besides the bindings, the package also the high-quality boots.
The boots fit perfectly and therefore we recommend opting for one size larger than the shoes you usually wear. This model is not effective for the pros but good for beginners. However, it is suitable for intermediate-level snowboarders, therefore for those who have a certain amount of experience on the back.
It is a hybrid rocker, so the front and back are the same sizes. Different colors are also available. So when buying, don't forget to select the correct color choice. Although it is an entry-level board, it's built with good materials. The board also comes with matte finish with 3-year warranty.
The equipped bindings are particularly suitable for freestyle and free rides. The set is not cheap but if you consider everything that composes it, you can realize that the offer is quite advantageous. By spending an affordable amount, you will have a board ready to use.
Flow 2021 Gap snowboard also proved to be easy to control even on its most challenging courses. This is not just about the board but also the bindings which, are totally reliable. However, this model's quite sober when compared to other boards which are often very flashy.
Pros
Very responsive and durable
Classic Sandwich construction
Good quality and performance
Provides super smooth ride
Built with a universal base
Cons
Doesn't available in different sizes
---
System MTN Snowboard Package is one of the best all mountain setups that you can buy at a reasonable cost. This package will take you everywhere and even don't need to buy additional bindings. This low-cost beginner snowboard is designed to float in powder and still handle park laps for the day.
The package comes with APX bindings that are lightweight and will excel in your riding. The binding is designed to fit sizes 8-14 and comes ready to ride on the mountain. It is also one of the lightest, most stylish and most durable bindings on the market which provides excellent performance.
The average flexibility of the board is not great for speed but it is a type of board with which you can perform great slides with excellent control and grip. It is also a perfect choice for occasional or beginner boards.
It is designed for someone who wants to live new experiences. Because it is designed to provide a comfortable fit and is able to finish every trick easily with style and technique. The board is also supple and flexible compared to others. However, it is a product intended for adult men.
System MTN snowboard comes in perfect condition. It is wide, therefore with a greater central width to be compatible with all boots. If you're worried about this beginner snowboard, don't be, you will not be steered wrong. However, all the System snowboards come waxed and factory tuned.
Pros
Provides great riding experience
Comes with 3-year warranty
Best all mountain setups
Bindings are quality
Durable and stylish
Cons
Require specific snowboard boots
---
7. Burton Process – Best Lightweight True Twin Snowboard
The latest model among the Best Snowboards for beginners is the Burton Process version, it is a brand new All-Mountain style snowboard from Burton that is suitable for any terrain and any riding style. It is also the stiffest board in the Burton line, a feature that will please sprinters.
The flat profile between the feet offers great stability, balance, and continuous edge control. Burton snowboard is perfectly symmetrical for balanced riding because it uses Super Fly II 700G Core that is strong but light, and provides pop and strength while reducing overall weight.
It is very flexible; suitable for beginners, intermediate and expert users. And if you love fast mountain descents, few models can give you better performance. As for the dimensions, it starts from the length of 152 cm with 24.9 cm and ends at 162 cm in length and 26.2 cm in width.
It responds more gently to solicitations and therefore is less problematic to manage. However, this model is recommended for Free Ride and All Mountain and is ideal for new adventures and descents. Burton snowboard is designed for riders with a good level of experience who wish to vary.
This model is also soft, ultra-stable flexibility for young rippers looking to take the next step in freestyle progression. The Channel mounting system offers the simplest and most adjustable configuration with attachments from all major brands.
Pros
Design with twin shape and flex
Strong but lightweight design
Made of high quality materials
Provides outstanding stability
Reasonable price
Cons
Doesn't come with binging or boots
---
This is another great All-Mountain Style complete snowboard set for beginners from STAUBER. If you are just learning or a seasoned rider, this package will enhance your experience because this board is shaped and designed to make snowboarding more effective and smooth.
It comes with durable Gloss Finished Top-Sheet Paired with Rigid Snowboard Bindings which are made of Injection Molded Polyethylene. It is the simplest model in this line and is ideal for beginners. The construction is high, but the price is reliable and accessible for everyone.
It is built with Twin Directional Tip and Tail and uses the standard 2 x 4 mounting system which is made with stainless steel inserts. This unit is also ideal for those who already have a medium level of technique and want to live new experiences in the park or in powder.
STAUBER snowboard has been specially designed to minimize the possibility of edge sticking on the snow and therefore the risk of falls. The set consists of a board, bindings, boots and a practical carrying bag. The beautiful boots are also available in different sizes that guarantee a comfortable fit.
The STAUBER Summit package is light and soft, making it ideal for improving carving-style steering descents and techniques. It comes with a lot of accessories even including 8 – 14mm Screws and 8 Countersunk Locking Washers, 2 Mounting Discs, and more.
Pros
Completely scratch resistant
Comes with everything you need
Ideal for beginners and intermediate
Built with White ABS side wall
Adjustable High back
Cons
Included carrying bag not high end but ok
---
Another snowboard dedicated to men is the Camp Seven New Roots, it is a classic model that is upgraded from year to year. The CRC snowboard is the newest member of the Camp Seven Roots line and is built with the highest quality materials and technology.
With this package, you will prepare for the ultimate riding experience. With rocker performance, camber loaded pop and dual-density wood core, the Camp Seven is the best all-mountain setup that you can buy at a reasonable price. The style is All Mountain with Medium stiffness.
It comes with tons of upgrades and a revamped core. The bindings come with 360-degree rotational mounting discs which allows you to adjust easily. Its configuration facilitates learning and helps develop balance. They come pre-assembled in a position suitable for beginners. Just put them on and go!
The System APX binding is one of the highest quality and durable as well. The durability and adjustability of the bindings are great. The binding fits sizes are 8-14, and the board is available in multiple sizes. It has pre-threaded stainless steel inserts and the wood side is the deck.
The DD2 Core is made up of tip-to-tail Poplar with high-density stringers through the center of the board, which create explosive pop and response. Overall, if you are a beginner and want to get closer to this world, check out the Camp Seven New Roots men's snowboard.
Pros
Optimal choice for beginners
Comfy adjustable toe ramps
Comes with high-quality binding
Features with high safety design
Comes with 3-year warranty
Cons
Different size is not available
---
'Ride Warpig snowboard stands out as one of the most striking products on the market. And if you are looking for a durable board that is above average in every feature, the Ride Warpig is the best option for you. It is the ideal partner to take with you to the mountains whatever your ideal style. No matter if you are obsessed with jumps, it adapts very well to any situation.
The style is All Mountain, which is very versatile and comfortable, so you can perform any trick you want. It is designed to push beginners and intermediates to more advanced riding conditions.
The snowboard has a medium hull stiffness index, so you will have optimal board control. It is also very responsive to quick turns and has the proper flex. Its directional shape makes it easy to work in any terrain or snow condition, and the additional stability and grip-free feel of Flat Top make it easy to control.
Ride Warpig Directional snowboard is ideal for the learning curve with the simplest and most progression-friendly design. This model is also suitable for progression Pushes towards more advanced driving conditions and can be used in any snow conditions. With good engagement, it is short enough to turn tight and wide enough to keep you on top of deep powder.
Pros
Perfect balance for learning
Very strong and durable
Lightweight construction
Great choice for the price
Rigid enough for speed
Double Impact Plates
---
Buyer's Guide
In this buyer's guide section, we reveal the most useful tips so that you can know everything that is effective for making a thoughtful and informed choice.
Types of snowboard
The best-known styles of snowboards are five types. For this reason, the board must perfectly respond to their peculiarities.
Free ride style snowboard: this style consists in making off-piste descents, subsequently making use of the ski lifts or other means. It is a way of snowboarding experience in total freedom, gliding on fresh snow and uneven terrain.
All Mountain style snowboard: it is the most versatile and requires a type of board suitable for every terrain and for every type of use on the snow.
Freestyle snowboard: as the word itself says is the most extreme and free practice of snowboarding, suitable for already experienced riders who want to try their hand at amazing acrobatics.
Powder snowboard: it is a versatile solution for all snowboarders, from beginners to experts. Powder snowboards differ in many ways from a traditional All-Mountain boards. From bindings to flex, everything is specifically designed to help you float above the snow.
Park snowboard: this is the most "particular" snowboard style, in which snowboarders perform their evolutions not necessarily on the snow but also on obstacles such as trees, grass, asphalt and so on.
Shape of snowboard
Branded snowboards can be shaped in 3 ways to deliver specific performance results.
Directional: they are boards that have more or less clear differences between the tail and the tip. It is a one-way type of shape and can be guided in a specific direction. This shape is typically found on free ride boards and occasionally All-Mountain boards. The bindings are mounted off-center, towards the rear, to provide relief from potential fatigue when hitting super steep slopes.
True Twin: made symmetrically from front to back. True Twin snowboards are designed to be ridden in multiple directions. These are the most popular types of boards as many riders end up surfing in both directions for a variety of reasons, whether conditions call for it or a stunt.
Directional Twin: combining both aspects of the two previous forms and can vary greatly depending on the particular features that the manufacturer chooses to implement. No two-directional twin boards are alike.
Experience level
Choosing an over-performing snowboard is a very common mistake. Many beginner snowboard riders were taken by the enthusiasm of having reached the first milestones. When they decide to give themselves a new snowboard, they overestimate their skills and their needs. And finally, choose over-performing models that end up hindering them in their progression. So choose a board suitable for your level.
The majority of riders, even if experienced, could benefit more from intermediate-level snowboards, not excessively rigid and performing, but more versatile and permissive.
The flex
Flex is the degree of flexibility of the board and is generally expressed as a number from 1 to 10. All Mountain boards have a medium to slightly stiff flex and stiff, free ride boards. If you are a beginner, make sure to choose a model with soft or intermediate flex. And avoid boards that are too stiff.
Carving and edge
Carving is a driving style characterized by alternating back and forth between the heel edge and the toe edge to drive downhill in an "S" shape. This style is suitable for beginners because it creates confidence and skill and allows you to feel the "flow" of the snowboard.
The side of the board that the toe points to is called the "toe edge" and the side of the board that the heels face is called the "heel edge". These are useful terms to know when riding snowboard because they help you orient the board.
The length
Snowboards are made in various sizes, to adapt as much as possible to the physical conditions of each individual rider. Once you have identified the right model for you, you can find the right size for you based on your weight, use and level.
In principle, a shorter snowboard is more manageable, while a longer board offers a better grip on the track and at high speeds. That's why freestyle snowboards are shorter than free ride boards.
Furthermore, to start snowboarding, you should choose a model with the shortest size because it is more manageable. A freestyle snowboard should be between 20 and 25cm shorter than your height. An All Mountain snowboard should be 10 to 20cm shorter than your height. A lighter rider should choose a shorter size than a heavier rider.
The width
Width is also an important factor you have to consider. Each snowboard must be wide enough to accommodate boot bindings comfortably and proportionately. This will determine the good level of control of the board and reduce the risk of falling. It is especially important that your boots do not protrude from the board.
If you have quite large feet, you should go for the WIDE models. Mid-wide models are generally recommended for those wearing boots 43 and up, while WIDE snowboard models are required for those wearing boots 45 and up.
The color
The eye wants its part and you could opt for more or less aggressive graphics, capable of reflecting your character on the track. So choose a model with designs and colors that represent your "rider soul", so as not to go unnoticed while you perform on the snow.
Your sex
If you believe that the difference between a men's snowboard and a women's is just the design, then you are wrong. Women's snowboards are optimized for a lighter rider. They are not only smaller in size but also the flex is different. For this reason, if you are a girl, especially if small, choose a specific model that will be less tiring and more manageable.
Other accessories
Often beginners focus on buying their new board first, leaving bindings and boots in the background. This is a serious mistake because boots are essential. They need to be comfortable, keep you dry and keep your feet and ankles firm.
The bindings are not far behind and in addition; they have the advantage of generally lasting beyond the first board you buy if they are good.
FAQs
Why flexural strength is important?
The flexibility of a snowboard is important because it gives the reactivity necessary to achieve certain goals while riding.
Soft flex snowboards are easy to turn and find ideal conditions in fresh snow.
Medium flex boards offer more stability than soft flex boards but also more flexibility than rigid snowboards. They are a widely used hybrid that performs well on all types of terrain, without excelling in any type of trail.
Stiff flex snowboards are extremely stable, especially at higher speeds. They are more suitable for groomed and off-piste slopes.
How can I choose the right surface length?
The length of the snowboard that suits you can be determined by considering your weight and height. This gives you a rough sign, as some snowboarders prefer shorter boards depending on what they are trying to achieve. The board of adequate length is the one that comes between the nose and the chin. In online sales, you will often find tables with table measurements corresponding to the product description.
What does mean by effective foil?
It is the length of the part of the snowboard that is in contact with the snow during a descent. There are several profiles that can influence this factor. It is measured in centimeters and is always shorter than the overall length.
Short effective edges are easier to turn because they make less contact with the ground. However, the widespread opinion is that they are less stable than other tables.
On the other hand, long effective edges offer better stability, especially when reaching higher speeds. However, turning can be more difficult or require more skill and effort.
What is the side cut radius?
All snowboards are narrower in the center of the board than at their ends, which creates an arc known as the side cut range. If you ideally draw the arc with a pen and complete it by drawing a whole circle, you can measure the radius of that circle to determine the lateral radius of the snowboard. This is an important measure as it lets you know what kind of turns a snowboard is capable of.
The larger the radius, the greater the table's rotation capacity. Smaller radius snowboards are able to tackle tighter turns and quick turns; those with a larger radius have a large turning capacity.
Are Snowboards for women different from men?
Yes, men and women have different physiques. For this reason, even snowboards have different characteristics. In general, women's snowboards are lighter and more flexible. Even at the same height, women tend to have smaller feet, and the dimensions of the boards are slightly different.
What does all-mountain snowboard mean?
All Mountain snowboards are suitable for any type of use on the snow. They are a cross between free ride and freestyle boards. You can do a bit of everything and are balanced. So we can say, they do not prefer a discipline rather than another one.
What are the best snowboard brands on the market?
If you are looking for a high-quality snowboard and want to avoid the many clones of unknown origin, it is good to know some leading brands in this sector thanks to the quality of their products. The most famous brands of snowboard manufacturers are System, STAUBER, BURTON, and Camp Seven.
Conclusion
The choice of the best snowboard for beginners is closely linked to the rider's skill level and style. As you can see on the market, there is a wide range of models available at different price ranges. In this guide, we have shown you what are the best models for beginners. We have tried to make this article complete and comprehensive and easy to read.
Hope you will be benefited if you pick your suitable one from our top 10 recommendations. If have any questions or confusion, don't hesitate to ask a question in the comment section below.