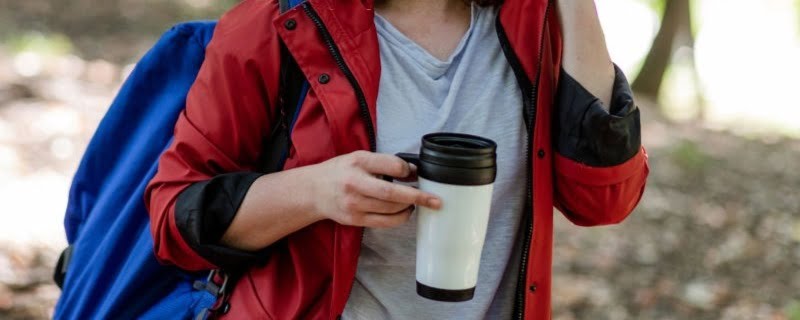 If you like to sip a healthy cup of coffee during hiking or camping, a camping coffee mug could be an excellent investment for you. With these coffee mugs, you can prepare hot or cold beverages the way you like.
However, all coffee mugs available on the market aren't convenient for camping or other outdoor activities. Therefore, consider some factors such as capacity, weight, leak-proof, and more.
If you are looking for the best coffee mugs for your next camping or hiking trip, you are in the right place. Here you find the top 10 best coffee mugs for camping. We also added a complete buyer's guide section so that you can pick the best camping coffee mugs without breaking the bank.
Best Coffee Mugs for Camping in 2023
The most popular coffee mug for camping is undoubtedly the Keurig Faceted. It is sustainable for outdoor use because it is made of high-quality stainless steel.
The following section shows you the best coffee mugs for camping in 2023…
1. Keurig Faceted Stainless Steel Camp Coffee Mug
Keurig ultimate coffee mug is convenient to use and looks very stylish. It is built with high durability to handle your everyday drinks while camping. The unique design also makes a statement with every sip.
It is 7.2″ tall when the drip tray is removed. It has tough plastic on the inside and stainless on the outside with a rubber grip around the middle, which makes it easy to clean.
Keurig camping coffee mug also fits under the K-Classic coffee maker. It was designed for hot beverages. You can use it for cold drinks as well. However, all drinks won't work in the same way. So you have to figure out which brewing level will work best for you.
It has 14oz capacity. The lid is sturdy and quite secure in the backpack. The lid can even go in the dishwasher. It is spill-proof, lightweight, and easy to carry while camping or hiking. And with the new lower price range, you can't go wrong with this coffee mug.
Pros
Leak-proof flip-top lid
Nice study cup at a good price
Unique design
Geometric shape
Airtight and flip-top lid
Designed hot or cold drinks
Cons
Lid is dishwasher safe but the cup portion is hand washed only
---
2. YETI Rambler Vacuum Insulated Coffee Mug

Whenever you're spending time in the wild, having the right hydration on hand will help keep you at your best. And the YETI Rambler is a fantastic, durable coffee mug for any outdoor use. Because it will keep your drinks warm for a moderate amount of time.
This 12 oz. powerhouse inherited double-wall vacuum insulation from its Rambler predecessors. The handle is stainless steel, and it is part of the capacity of the mug. However, the handle outside of the mug does not get hot. You can put in it ice-cold water through backyard camp-outs and breaks between tags.
The cup without the lid weighs just over 13oz. Compared to a standard ceramic coffee mug of about the same size and shape is about 16.2oz. It also appears to be lighter than the equal-capacity drinking mug.
The lid is made of thicker plastic that has a single hole for sipping. There is a silicone ring around the removable lid. It keeps the lid airtight so it won't accidentally come off.
Pros
Construction parts are pretty high
Handle is big enough for larger lady hands
Gorgeous and flawless visual design
Dishwasher safe
Secure lid
---
The Aurora S'well is the ultimate coffee mug to go camping anywhere. The triple-walled insulation keeps beverages cold for up to 24 hours and hot for up to 12. You can count on the traveler as your trusty commute companion, or take it on your next trek into the woods.
Aurora S'well coffee mug is well made. It has a wider mouth and a thicker stainless opening. The stainless steel, leak-free lid features a convenient pop top for splash-free sipping. Insulated stainless steel screw-on lid prevents leaks & damage and helps maintain temperatures.
This camping coffee mug is ergonomically designed to fit snuggly in your hand, and the new wide-mouth shape is optimal for stirring up and carrying a cup of coffee or adding ice cubes to your favorite beverage. It is perfect for someone wanting to drink their hot coffee on the way to camp!
Aurora S'well coffee mug is also completely sealed. However, if you don't remove the rubber gasket every time and clean it, of course, it's going to start to smell. Also, if you don't put the gasket back on correctly, it won't seal.
Pros
BPA free and reusable
Accessories sold separately
Beautiful colors and design
Three sizes available
Designed all outdoor activities
Cons
Hand-wash only recommend
Only fits on S'well Travelers
---
ONEB vacuum travel coffee mug is great for outdoor adventure, road trips, and sports events. It is the perfect travel cup to bring tea from home to work or fill a tumbler of drink before you go to bed to drink through the night. It will keep cold for about 24 hours until the ice totally melts, or hot coffee or tea warm for 6h.
The interior is made out of stainless steel, pretty much clean and hygienic. It is BPA-free and healthier than a plastic cup. ONEB insulated travel mug also never sweats because of the vacuum-insulated design. The powder coating on the outside fits more comfortably in your hand.
The shape of it overall is pretty smooth and fluid. The color is outstanding and could be a stylish accessory for camping. It also looks good, is anti-slip, and is easy to clean.
Another pleasant feature of the ONEB camping mug is that it has both small and big mouth openings, which just feel like a regular water bottle. You can easily pour hot coffee because of its bigger mouth.
Buying tips: If you buy this 8-pack travel tumbler, you can save more than 30 percent.
Pros
Keeps temps for a very long time
Solid construction
Best cup for the price
Leak-proof and safe to use
Looks great
Cons
No option to have a closed lid
---
Corkcicle coffee mug is made from 18/8 stainless steel and holds 16 or 24 ounces of your favorite tea or coffee. It won't impart flavors or leach chemicals.
This outdoor mug comes with a BPA-free and clear plastic lid with a silicone gasket to help prevent spills. The detachable silicone gasket is leak-resistance and easy to clean.
The sip-through lid has a built-in slider to ensure your drink stays inside between sips. The lid allows for a smoothie-size straw if you like and can be a tad tricky. It has a rubber seal around the top to keep it in place very well.
The Corkcicle camping coffee mug is designed to come apart for easy cleaning. The lid is machine washable while the cup is hand washed only recommended. However, the copper color isn't nearly as prominent as in the photo, it almost looks like stainless steel with a slight rose color when you tilt it in the light. All that said, it's a good drinking cup for camping.
Pros
Straight sides make it easy to grip
Simple but classy
Finishing is very nice
Easy to clean
Cheap price
Cons
Not dishwasher safe; only the lid
---
6. JURO Outdoor Stainless Steel Insulated Mug
JURO vacuum insulated coffee mug offers two unique lids so that you can choose a suitable one when enjoying your beverage. It comes with a new Slider Lid that is fast and simple to use. This coffee mug was inspired by the millions of hikers that enjoy sipping on their drinks quickly.
It comes with a steel straw which is provided to sip on your beverages casually and a Straw Cleaner will keep your straw fresh and pristine. JURO Vacuum Insulated Mug is well constructed to keep drinks at the right temperature. The tight clip seal on the Flip Lid helps prevent splashing and spilling.
No condensation on the outside. You can keep your hands from being wet. When you take the top off, you'll want to open it with a twisting and pulling motion rather than just yanking directly up. It cost less than half the cost of certain competitors.
It is also easy to clean. Plus, you will get two lids, straws, and cleaning tools for straw. However, the lid design requires you to tilt your head back slightly, or else your nose hit the closure. That's not a big deal just need to adjust your drinking style. If that bothers you, you could always use the sliding lid.
Pros
Dishwasher safe
Reasonable price
Leakproof
Dry outside
Fascinating color
Cons
It's kind of hard to grip
---
With the Umite Chef camping coffee mug, you can enjoy your beverage cold or hot for a long time. And under the normal temperature, it will keep the temperature warm or cold for several hours. Each tumbler with splash-proof lid has double-wall vacuum insulation for excellent temperature protection. The slide lock comes off pretty easily.
The long-lasting Powder coating keeps its stay colorful finish and looks more elegant and noble. The colors are even more beautiful than the pictures. It is built in modern design and suitable size for easy griping and car cup holders.
The lid fits tight and has a good seal where you drink! Another good thing is, whether you have hot or cold contents inside, your cup does not change the temperature on the outside.
Umite Chef coffee mug comes with a bent steel straw and a straight steel straw and a little brush to clean the straws. Although the cup itself is not dishwasher safe, it is simple to clean because the opening is big and holds enough.
Pros
Closing the flip lid with a straw hole
Wide mouth opening makes it easy to clean
Dry touch and sweatproof
Multi-color Selection
Leakproof
Cons
You can't really close the mouthpiece all the way
---

Contigo's Autoseal coffee mug is designed to stop spills. You just need to press, sip and seal. The vacuum insulation function keeps temperatures hot for up to 5 hours or cold for up to 12 hours. Additionally, the lid is one connected piece, so there are no parts to misplace when you toss it on the top shelf of your dishwasher.
It has an ergonomic design, suitable for both people with big and little hands, which makes it very easy to hold without having a death grip in fear of letting it drop.
Contigo's coffee mug is also very durable and flexible, you can put anything from coffee to wine. You will love the design of these cups and can take them everywhere you go. It also looks very attractive.
Pros
Leak- and spill-proof lid
Push a button for one-handed drinking
Lid lock for added peace of mind
Fits most car cup holders
Top-rack dishwasher-safe lid
Cons
The body isn't dishwasher safe
Color on the mug does eventually chip off in the dishwasher even if on the top rack
---
If you want to get yourself fresh while camping or hiking, you can pick the DYNAMIC SE Double Wall Mug. It is suitable for all drinking beverages; hot to cold.
The size is essentially the same as a large drinking bottle. It will keep your drinks cold for up to 12 hours. And ice stays in the container for hours not melting.
DYNAMIC SE coffee cup is every bit as good as the really expensive brands and the price is much better! It doesn't leak and sweat. You can set off on refreshing picnic, hiking, or camping adventures with your water, coffee, tea, wine or cocktail. You can use it both at home and outdoors.
However, the straw of this model is smaller than a normal-sized coffee mug's straw and sits loosely in the lid. But is not problematic unless you're drinking a smoothie or shake. Also, the tumbler's size and shape are a little awkward to hold because it doesn't fit a vehicle cup holder very well.
Pros
Easy to clean
Splash proof lid
No Seat design
Large capacity
Comes with extra straws and a cleaning brush
Cons
Silicone covers over the straw and mouth holes are flimsy
---
Simple Modern Voyager coffee mug is very sleek and stylish. The lid secures it very well. You will love the locking lid, especially with 2 toddlers around. It is much safer than a regular insulated coffee cup, especially with hot beverages. You can literally hold it upside down and not a drop will escape.
Simple Modern coffee mug comes with a clear plastic flip lid and two straws. The durable stainless steel Voyager tumbler keeps your favorite beverages hot or cold for hours and won't sweat, thanks to the double-walled design with vacuum insulated, vacuum-sealed insulation and copper-coated interior wall.
The Voyager's unique shape also ensures that it fits in most car cup holders. Plus, it's comfortable to carry from one place to another in your hand. Simple Modern Voyager coffee mug is available in 12oz, 16oz, 20oz, and 24oz options and in a variety of colors.
Pros
Perfect size
Nice looking lid
Leak-proof screw top
Well designed
Cons
Made of hard plastic
Lid is extremely hard to open and close
---
How to Choose the Best Coffee Mugs for Camping
Let's see the most important factor that should be considered before buying the best coffee mug for your camping vacation.
Materials
The most used materials for outdoor's coffee or tea mugs are stainless steel and plastic. However, they both have different advantages and disadvantages…
Stainless steel: it is a material that allows you to preserve beverages such as coffee or tea with the best possible flavor. Because of the plastic cup, drinks are not "contaminated" with unpleasant flavors generated by plastic. Stainless steel camp mug is the best but they are more expensive than plastic ones.
Plastic: compared to stainless steel, plastic mugs are cheaper to buy and most of these can be placed inside a microwave oven. However, heated plastic could compromise the taste of the drink.
Glass and ceramics: it is not difficult to find camping coffee cups entirely made of glass or ceramic. However, with these materials, you must consider that glass and ceramic cups are not generally insulated.
Insulation
Make sure the coffee mug you have chosen is insulated, and able to keep hot spilled drinks warm and cold poured drinks exactly as it works with a thermos. Because some cheap travel mugs have no insulation. So if you want to enjoy a hot tea like when you put it in the cup as soon as you are ready, go to the coffee mug with insulation.
Same thing for cold drinks if you want to drink a cool drink like an orange drink. However, most of the coffee mugs on our list can keep the drinks warm for about 12 hours, and cold 24 hours.
Watertight lid
Once the camping coffee mug has been filled, make sure that it prevents the drink from dripping everywhere. So it is necessary that the mug has a good watertight seal. In this way, it will be possible to transport the mug without fear that the contents can be poured into a bag, a backpack, or over the seats of a car.
Size and capacity
You can choose camping mugs of different sizes; from the smallest to the largest ones. However, to find the right size, you need to take into account the amount of drink you usually take and the comfort you can hold in your hand during the journey.
Although you can carry a coffee mug in a backpack or a camping bag, you have to choose a travel mug that fits inside and won't leak anymore.
Handle
All travel coffee mugs are not designed with a handle. Indeed, many models are designed without their own handles. However, the presence of a handle in a travel mug is only a personal choice.
Ease of use
It is also very important that the mug is easy to use and clean when needed. Some mugs need to be able to be used to unscrew a cap every time you need to drink, while other models have a button that allows you to access the drink. Other coffee mugs remain open at the top to access content in an easier and faster way.
Color
In order to choose the best coffee mugs for camping, color can also be an important factor for some people. We can find travel cups of every color: black, red, yellow, pink, you choose the color you prefer. However, for wild camping, we recommend you choose a black or green color.
Advantage of using a drinking mug while camping
You can save money: instead of going to the coffee shop to make you make tea or coffee while traveling or camping, you can do it directly in your tent by using a coffee mug.
Environmentally friendly: choosing the best camping mugs will give you a way to have a reusable cup, you won't have to use disposable plastic or paper cups.
Keeps the drink at a constant temperature: choosing the best travel mugs will also give you the opportunity to have a drink inside the mug to keep your coffee or tea always at the ideal temperature; not cool down as soon as it is poured inside. A coffee mug is useful for both hot drinks and cold.
Camp coffee mugs are a great convenience: you can enjoy your hot tea or coffee during the journey if you don't have the opportunity to drink it at home because of the limited time available to consume it. A coffee mug therefore offers great comfort in this case.
FAQs
How and when to clean the outdoor coffee mug?
If the coffee mug is left overnight, the remaining contents will stick to the cup material. To avoid this, the cup should be rinsed out briefly immediately after use. So you don't have to clean the cup after getting up in the morning while camping and can focus on more important matters than cleaning the coffee mug.
Where to buy a cheap coffee mug for camping?
You can find cheap camping coffee mugs by comparing different offers in online shops. If you don't want to order your mug online, you can of course also find it at the outdoor retailer of your choice in your area.
What is the best way to store camping coffee mugs?
What distinguishes outdoor coffee mugs from ordinary household mugs is the fact that outdoor mugs are much more robust and can withstand a lot more than ordinary kitchen mugs. Outdoor coffee mugs are made of robust materials and can therefore be taken with you on the go without any problems.
If the coffee mug is not needed for a while after a tour or camping, quick cleaning is enough. Then it goes into the closet with the other outdoor equipment, where it then waits for the next use.
Can I use a regular ceramic coffee mug for camping?
While regular ceramic coffee mugs are not specifically designed for camping, they can still be used. However, keep in mind that ceramic is more fragile compared to other camping mug materials. It may not withstand accidental drops or rough handling as well. Additionally, ceramic mugs generally don't offer insulation properties, so your drink may not stay hot for long. If you decide to use a ceramic mug, consider using a protective sleeve or wrap, and handle it with extra care.
How much capacity should a camping coffee mug have?
The capacity of a camping coffee mug depends on your personal preference and the amount of coffee you typically consume. Most camping mugs range from 8 to 16 ounces (237 to 473 milliliters) in capacity. Smaller mugs are lightweight and convenient for backpacking, while larger mugs are suitable if you prefer larger servings or want to use the mug for other beverages as well.
Can camping coffee mugs be used for cold beverages too?
Yes, camping coffee mugs can be used for both hot and cold beverages. Many camping mugs have insulation properties that can keep cold drinks chilled as well. Look for double-walled or vacuum-insulated mugs if you plan to use them for cold beverages during your camping trips.
Conclusion
Now you have all the information on how to choose the best coffee mug for camping, backpacking or trekking. If you are still confused about which one to pick, we recommend taking a look at our top-ranking Keurig Travel Coffee Mug. This mug we have been using and we are fully convinced because of its excellent insulation and capacity.
The ranking is always up to date, if you need further information you can save this page for further use. We hope you found this guide helpful. If you have any questions, drop a comment in the section below and we will read and answer them as soon as possible.
---
You might also be interested in: