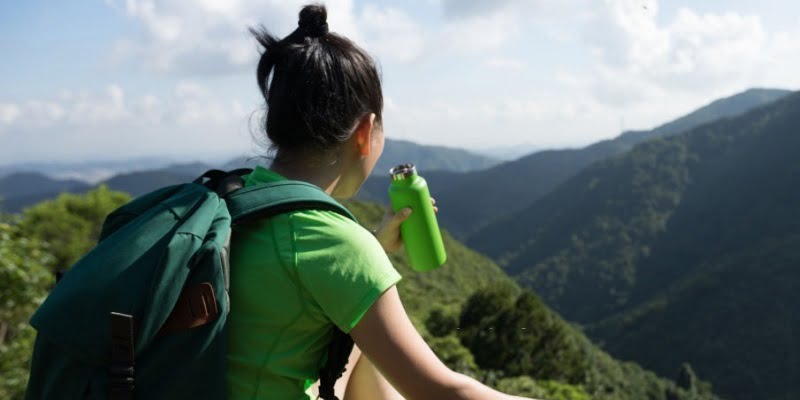 Do you like to keep your drinks hot, cool or lukewarm while hiking? Then the use of the best insulated water bottle is essential. Especially when you set off on a mountain hike or other outdoor activity, it is necessary that you have enough fluid with you in your backpack.
However, choosing the best insulated water bottle is not always easy. If you neglect even one element, you can be sure to find yourself in a pattern that will not satisfy you. For example, Lack of tightness, the problem of practicality, bad ergonomics, no heat preservation, oxidation… you expose yourself to these different risks.
We have created a compiled list of the 10 best water bottles for hiking. We considered several factors in our compilation, including size, weight, spout, options for different lids, durability, and aesthetics.
Best Insulated Water Bottles for Hiking of 2022
The Takeya Actives is the best model we tested in this review, primarily because it comes in a slightly larger size at 24 ounces. There's also an 18oz size for those looking to save space in their pack, or a whopping 32oz size for those really looking for hydration systems.
Sweat Proof: Yes | Leak-proof: Yes | Capacity: 24 oz. | Weight: 11.2oz.
Pros
Premium grade
Convenient to use
Strong and smooth
Different size available
Lifetime warranty
Beautiful design
Takeya Actives Insulated water bottle made in China – take the rubber bottom out and check the bottom of the bottle. It will keep liquids cold for up to 24 hours or hot for up to 12 hours no matter the outside temperature. The outside texture of this stainless steel water bottle is smooth enough to allow stickers to stick.
You can drink from the small spout without getting your mouth on the exposed area of the lid. You can also take the top off and drink with a wide mouth. We have a total of five now and our family fell in love with them too. Also, there are 11 colors and 8 sizes available. We hope, you'll have no regrets.
Takeya Actives water bottle is a twist top and a twist spout to drink out of. Both are pretty secure when tightened. However, our favorite thing about this model is that the opening is large enough to put ice cubes in. It is a sleek and rugged hiking water bottle with a powder-coated finish.
---
2. Thermoflask 50052 – Double Insulated Water Bottle for Hiking
Sweat Proof: Yes | Leak-proof: Yes | Capacity: 24 oz. | Weight: 1.3 lbs.
Pros
Solid build
Premium hydration
It has two lids
Reasonable price
Cons
Straw lets a bit of air through it
Made of plastic
Thermoflask water bottle is 10 inches from the bottom to the threads for the cap. This stainless steel hiking water bottle comes with two high-quality lids, an innovative leakproof chug lid for when you're feeling the burn and a straw lid for sipping.
The total capacity is 24oz and perfectly fits in most car cup holders. It is a convenient size insulated water bottle that fits in most hiking backpack pockets. You can keep it in your hand when adventure calls because it allows easy one-handed or hands-free sipping even when you're busy or doing something.
This line of insulated hydration solutions comes in 24oz & 40oz sizes with a variety of colors. Also, the Thermoflask hiking water bottle comes with two lids for your preferred drinking style. The lids are top-rack dishwasher safe.
This water bottle is specially designed for walkers and hikers. With a very lightweight of 1.3 pounds. However, the bottle is not dishwasher safe. Make sure to wash with warm soapy water for long time use.
---
Sweat Proof: Yes | Leak-proof: Yes | Capacity: 32 oz. | Weight: 13 oz.
Pros
Durable
Stylish looks
Dishwasher safe
Large capacity
Cons
Opening the lids makes a bit of noise
The best water bottle from hiking from Sip here. It is made from FDA food-grade 18/8 stainless steel and does not contain BPA, so you can be sure that you're going to drink the purest water possible. This insulated water bottle is 100% safe in the dishwasher but we recommend washing lids by hand, and straw as well.
The double-wall construction keeps hot and cold beverage temperatures maintained. Its high quality and functional performance are equivalent to many other brands.
There are different colors and sizes available. However, this model is perfect to carry in the backpack side pocket. it will accompany you on all your hikes and trekking outings, but also when traveling.
The straw is attached inside the bottle to the mouthpiece which folds up and down to either open the ability to use the straw or close the mouthpiece which seals off the water. It has 32oz capacity, suitable for camping or day trips in the woods.
---
Sweat Proof: Yes | Leak-proof: Yes | Capacity: 32 oz. | Weight: 11.4 oz.
Pros
Solid quality bottle
No strange smell
Looks decent
Lightweight
Affordable
Cons
The mouth of the bottle is wide
This is a great 32oz water bottle for hiking from the famous brand qottle. The straw lid is designed for 32oz bottle which is perfectly suitable for this model. However, you don't need to trim the straw by yourself in order to get it to fit with the bottle. The straw is edible and safe. It is the perfect companion for longer hiking trips.
However, the lid isn't metal; made of more strong material and Break-resistant PP Plastic. It has a wide mouth for ice. The qottle insulated water bottle will keep your drink ice cold, even when left in the car for many hours.
This is a straw-based cup, so it works more on suction than gravity. The straw is made of food-grade silicone. And the bottle does not sweat, as it is double-wall insulated. The silicone boot is also applied so that it won't slip on smooth surfaces or scratch any surface.
Don't worry about quality because the qottle hiking bottle comes with a lifetime warranty.
---
5. S'ip by S'well Stainless Steel Water Bottle for Hiking
Sweat Proof: No | Leak-proof: Yes | Capacity: 15 oz. | Weight: 12.3 oz.
Pros
Cheap price
Water stays cold for hours
Great for short hiking trips
Superior construction
Color options
Cons
The opening is too narrow
Not dishwasher safe
Swell water bottles are Designed in the USA and made in China. This is an original Swell bottle from Sip. This 15oz vacuum insulated bottle will fit in most cup holders! And we can confirm that you can put any type of juice into the bottle. This model is designed to keep hot drinks hot and cold drinks cold for more than 24 hours.
However, you have to remove the cap to drink easily and conveniently. The cap screws on and off and is not fastened to the bottle. You can put any kind of hot or cold drink in it. The problem is cleaning. You can't put anything inside the bottle except water because of its shape.
The patterns and colors of these bottles are designed to keep you sipping in style. S'ip hiking water bottle will be matched to different moods, outfits or activities. It is completely BPA-free and reusable. But not dishwasher safe.
---
Sweat Proof: Yes | Leak-proof: Yes | Capacity: 14 oz. | Weight: 10.4 oz.
Pros
Premium grade construction
No complicated drinking spout
Innovative design
Easy to clean
Cheap price
This is a small insulated water bottle for hiking, which means it can keep your water cold or hot for a long period of time. You can add some ice into it either, but it won't make any difference to put it in the freezer. Takeya Original water bottle will keep your favorite drink cold for up to 24 hours or hot for up to 12.
Another nice thing is the cap; the drinking spout is smooth. The top flips over the spout, the threads are entirely hidden and essentially compress the lid onto the spout. The result is a smooth drinking surface with no drips from the threads after the bottle is turned upside down.
It is easy to twist the cap where you drink from and it is easy to twist the top off to fill the bottle. However, this model is a little bit heavy when filled with water though.
---
Pros
Form study functionality
Slim and lightweight
Environment friendly
Convenient
Cheap
Cons
Spout lid is a bit hard to open
Difficult to put ice in
Sweat Proof: Yes | Leak-proof: Yes | Capacity: 17 oz. | Weight: 12 oz.
It is a compact size double Wall Insulated water bottle from Drinco, made of premium Grade Stainless Steel. Drinco water bottle is perfect for outdoor activities (such as hiking, trekking, camping) and working out in the gym.
It is dry touch and sweat-free, which keeps the drink fresh at any temperature. Drinco Vacuum Insulated water bottle is also BPA free and complies with FDA standards. It is pretty much compact but any liquid can be placed into it. For example, you can put orange juice in this bottle.
It is copper coated inner liner to achieve the best thermal heat retention. The inside steel construction ensures that you can even put in coffee and cocktails. This model comes with a sports cap lid and textured grip that keeps it sweat-free from the outside, no matter what you drink. It fits small to medium size ice cubes perfectly.
Although the Drinco hiking water bottle is made in China, the manufactory complies with all the major US retailer's compliance. They use superior material that has outstanding quality performance.
---
Sweat Proof: Yes | Leak-proof: Yes | Capacity: 20 oz. | Weight: 1.3 lbs.
Pros
Superior insulation
Dishwasher safe
Looks very good
Does not leak
Easy to carry
Cons
A little fat for women's hand
This is another Double Wall insulated outdoor water bottle from Drinco. This unit is made of 18/8 grade stainless steel. It is a portable size water bottle for hiking. It is dry touch and sweat-free, which keeps your drinks fresh at any temperature. Its rust-resistant and BPA-free design ensures high durability.
Like the previous model, its structure is made from copper coating to help the bottle keep the heat. Effective insulation with a sports lid also helps to maintain the temperature for up to 24 hours for cold and 12 hours for hot beverages.
These Drinco high-quality water bottles are dishwasher safe and easy to clean. These can be carried by hand or attached to a backpack with a strap or carabiner.
You can take these bottles along with your hiking or camping trip to keep yourself hydrated and enjoy every sip of your beverage. The lid is also super easy to open and completely sealed.
---
Sweat Proof: Yes | Leak-proof: Yes | Capacity: 22 oz. | Weight: 1.15 lbs.
Pros
Perfect size
Lightweight
Small carrying handle
Creative lids
Modern design
Cons
Not designed for all cup holder
Secura drinking bottle is leakproof because it comes with a locking flip-top to prevent drinks to leak out. The waist trimmer tears easily so that you can't pull it too tight. It also has 3 color options and sizes available. They are so cheap but provide a long time of service if you take care of them.
With Secura water bottle, you will forget about mildew in the mouthpiece, bottle sweating on the outside, room temperature water instead of ice-cold water, leaking or spilling while using or just transporting; simply. It will become your all-time favorite drinking bottle.
This water bottle is made of food-grade 304 stainless steel and BPA-free plastic. You can enjoy fresh cold water without worrying about chemicals or rust with this model.
However, it is not completely dishwasher safe. We recommend you hand wash it.
---
Sweat Proof: Yes | Leak-proof: Yes | Capacity: 20 oz. | Weight: 1.3 lbs.
Pros
Premium quality
Compatible
User-friendly
Fits hiking backpack side pocket
Comes with multiple lids
Cons
Lid is not tight, you need twice
Heavy
Drinco thermos water bottle is constructed with rust-resistant and food-grade materials. The powder coating paint treatment makes this model virtually indestructible, scratch-resistant and restricts temperature transfer. This insulated hiking water bottle will keep your drink fresh at any temperature.
Drinco water bottle is 100% leak-proof. It has a carrying strap and comes with a sports top to keep your beverage always safe. The compact shape perfectly fits into your hand. It is also easy to clean and dishwasher safe. No difficult crevices to worry about mold.
This unit comes with 2 lid options which are great in terms of quality. There are also many colors option to choose from. Overall, Drinco insulated hiking water bottle makes you feel energetic during a long hiking trip.
---
How to Choose an Insulated Hiking Water Bottle
Body structure
The body of the insulated water bottle is an important factor you must think about. The sealing and the insulation blow will not be ensured if the cap is not effective. On the market, you can find simplistic caps that simply screw on the top of the bottle. But that is not always enough under certain constraints.
For hiking practice, some water bottles are equipped with sports plugs favoring practicality. There are also models supplied with waterproof seals that are not attached to the main body.
Material
You should consider which material of the insulated hiking water bottle you can best get along with yourself. Of course, the weight of the water bottle plays a role in a hike because you actually want to wear as little as possible. Therefore, plastic drinking bottles are best.
However, stainless steel hiking water bottles are very popular and cannot be surpassed in terms of robustness and longevity.
Type of valve
There are two types of valves basically found in the insulated water bottle. We have reviewed the classic valve that is found on the market today.
On the other hand, you have the sports valve. It can be pulled or pushed to promote the action of drinking. Also known as "bite valves", it is not necessary to manipulate them for drinking, simply use the mouth to drink or to close the cap.
The lid
The size of the opening mouth of the hiking water bottle determines its effectiveness thereof. The larger it is, the easier it is to pour the liquid inside. And conversely, it simplifies the filling. Regarding the lid, if your hands are often busy, choose a quick opening system.
However, small openings can be very practical for hiking and safer in this situation. They avoid, for example, the spilling of all the contents in case of the accidental inclination of the container.
Temperature holding ability
The good quality of your gourd is attested by its ability to maintain temperature. If you plan to enjoy your drink throughout the day, then 24-hour hold is recommended for you. However, if the drink is finished in the hours following bottling, 12 hours of maintenance are sufficient.
The capacity
Large volume insulated water bottles (more than 1 liter) are recommended for long hiking trips. But be sure to have adequate storage space.
Conversely, low-capacity bottles are designed for low-volume water needs. They are most often used for short hiking destinations. Their compactness makes it possible to take them with one hand without much more difficulty.
Better durability
Constantly buying a plastic insulated water bottle for hiking is less convenient. Not only it will cost you money, but it is also an element of pollution. However, thermal bottles can be used and reused at will. In addition, it is designed in highly resistant materials.
The price
You can already conclude that the design of an insulated water bottle is very diverse. It goes without saying that this is a criterion in its own right on which the price will depend. However, if we have to give a price range, we would say between 10 and 40 dollars.
Keep in mind, for the same model which comes in different sizes, you have different prices.
FAQs
What is the insulated water bottle?
Insulated water bottle is basically used to keep the water temperature. If you pour a hot drink, it will keep the same temperature for a long time. And conversely, if you pour ice water, it will keep at the same temperature as you took it out of the fridge.
What are the best materials for insulated water bottles?
The best material for the insulated water bottle is stainless steel because of its thermal performance and high resistance. However, some plastic water bottles have a high level of quality. Because you know that the plastic is resistant, BPA free, and has a good thermal conservator.
In terms of capacity, you are free to choose according to your convenience.
What is the best size of insulated water bottle for hiking?
The size changes depending on its volume. It usually measures between 20 and 35 centimeters. But there are much larger water bottles. For capacity, if you drink a lot while hiking 20-32 oz bottle would be fine. On the other hand, for small hiking, 12-24 oz will be fine.
Wide or narrow opening: which one to choose?
If you plan to drink directly from the gourd, we recommend you a narrow opening water bottle. Otherwise, a wider opening with an anti-drip system is more practical.
How long does the temperature hold for an insulated bottle?
Insulated water bottles maintain freshness over 24 to 48 hours. The models for coffee, tea, herbal tea, hot water and cold drinks show a higher cold temperature holding capacity to keep warm for up to 12 hours. However, flagship brands like Thermos PRO promise 24-hour warming.
Which hiking water bottles do not leak?
None of the hiking water bottles we tested leaked. However, it gets exciting when it's sparkling. If you fill the vessels with carbonated drinks, then some of them are leaking. Bottles with a screw-on cap are always tighter than flip-top caps, the aluminum bottle is particularly tight and therefore recommended for use with sparkling water.
Final Thoughts
To choose your insulated hiking water bottle, you must first take into account the capacity that will meet your expectations. You must make your choice according to the hike you practice (some requiring more intense hydration than others) or the use you intend to make of your bottle once purchased. If you prefer hot drinks, prioritize large insulated bottles that retain heat better.
However, a bottle that is too heavy is not ideal for going on a hike. We advise you to opt for two bottles, one for the house and the other for your activities outside.
Did you like the article? Share your opinion.
---
You Might Be Interested: