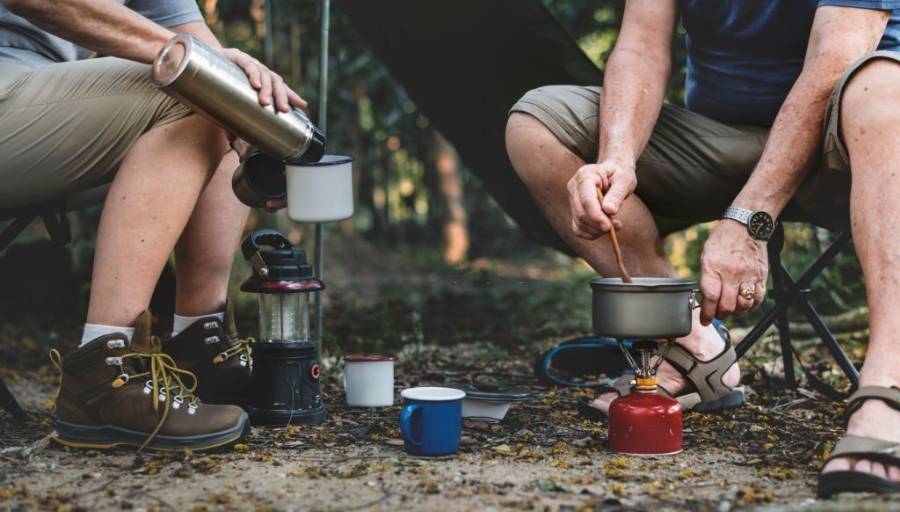 Are you planning a camp in the forest? In the wild? Whether it is for several days or several weeks, it is essential to be well-equipped and to think of the smallest detail.
As you can imagine, your salvation depends on your equipment. So as not to forget anything at the time of departure, a camping checklist is essential! Therefore, it is necessary to identify the essential, practical gear and gadgets that can bring you more comfort to shelter, sleep, eat, drink, or even make a fire.
Here are our top 22 best camping gear that will make your camping a special moment! We hope you are ready, the list is going to be long, but at least you'll be equipped for the amazing adventure!
Essentials for Camping
Here are 12  camping essentials that you must consider…
Coleman is a well-known and reputable brand in the camping industry. They have a long history of producing high-quality outdoor gear. Coleman Instant Camping Tent is considered one of the best camping gear options for several reasons. For example, it can be set up in just 60 seconds. This is a huge advantage, especially when you arrive at your campsite late or in adverse weather conditions.
The tent is equipped with WeatherTec technology, which is designed to keep you dry and comfortable even in adverse weather conditions. This includes patented welded floors and inverted seams to help keep water out. It features double-thick fabric, which adds an extra layer of durability and protection.
It comes in various sizes, accommodating 4, 6, 8, or 10 people. This flexibility makes it suitable for a range of camping groups, from small families to larger gatherings. This camping tent comes with a convenient carry bag, making it easy to transport and store when not in use.
Undeniably, a good backpack is essential for camping! It will allow you to shelter and transport from one point to another. It is a good part of carrying your camping equipment. However, choosing the right bag is no small feat! Do not choose the first bag or the most aesthetic. Make sure it is robust, durable, waterproof, and does not weigh too much!
We picked the TETON Sports Grand 5500 as the best camping backpack for 2023. Because it is a reliable and well-regarded choice for camping. It offers a generous capacity of 5500 cubic inches (90 liters), making it suitable for extended trips where you need to carry a lot of gear and supplies.
Despite its large capacity, it's designed with lightweight materials and features to help reduce overall pack weight. The Ultralight Plus Backpack is designed with an adjustable torso length and padded straps, which allow you to customize the fit for maximum comfort during carrying.
However, Osprey and NEEKFOX also offer quality camping backpacks. These brands' backpacks are equipped with materials (recycled polyester and organic cotton) resistant to humidity and wear. You wouldn't want your bag to break halfway through a trip, would you?
---
No tool in your backpack will be more important than a good bushcraft or survival knife. It is a powerful tool whose use is multiple: cutting, skinning, building a shelter, opening certain packages, sawing, cutting bandages, cooking, or even getting rid of it. It also serves as a weapon. It will allow you to create for example a walking stick, spears, hooks, or even traps.
Benchmade Griptilian 551 outdoor knife built with CPM-S30V stainless steel blade, which is extremely well-balanced and offers superb edge qualities and rust resistance. The handle, crafted from robust glass-filled nylon, strikes a balance between durability and aesthetic appeal, suitable for both demanding tasks and everyday carry.
The AXIS lock system, known for its exceptional strength, is fully ambidextrous, allowing for effortless single-handed operation. And with its lightweight construction and ergonomic handle grips, this knife ensures a comfortable and secure hold during use.
Additionally, the reversible pocket clip provides optimal accessibility, enhancing its practicality for various situations. So if you want an ultra-lightweight, reliable folding pocket knife, you can't go wrong with a Benchmade Griptilian 551 outdoor knife.
For fixed-blade knives, you can rely on the ESEE Model-6 knife. The bushcraft reference! The Gerber Prodigy used by the American armed forces and the Victorinox Swiss army knife, which offer good value for money, have nothing to be ashamed of.
---
Sometimes neglected during outings, shoes will have a big impact on your comfort. The terrain in camping areas can be rough, with rocks, thorns, sticks, and uneven surfaces. Proper shoes provide protection for your feet against these potential hazards.
To resist the cold, the Merrel Moab 2 survival shoe is perfect. It is known for its comfort and versatility right out of the box. It often requires minimal break-in time, allowing you to hit the trails without worrying about discomfort or blisters. This shoe is designed for good airflow. This feature is particularly beneficial in warmer climates or during strenuous activities when your feet may sweat.
We consider Merrel Moab 2 shoe best for camping because it's very good quality for the price. It is also durable and fits well for a wide range of feet. You can use this shoe for a range of outdoor activities, including hiking, backpacking, and light trail running.
Of course, gloves are not exhaustive! But having these basics on you or in your bag will meet most of your daily needs during camp time. It would be a shame to be uncomfortable in winter!
Carhartt is known for producing rugged and durable workwear, and their gloves are no exception. The Carhartt Men's gloves are designed to be waterproof, which is crucial for camping for several days. They help keep your hands dry and warm in wet and cold conditions. If you're too hot, take off! If you're too cold, add one!
The materials used in these gloves are designed to withstand heavy use and exposure to the elements. These gloves are insulated, providing additional warmth for your hands. This is valuable especially during the evening or early morning when the temperature drops.
Compared to some other high-end outdoor gloves, the Carhartt W.P. offers a good balance between quality and affordability. A wide range of sizes is also available so that you can find a pair of gloves that fits your hand very well.
---
Choosing your sleeping bag is never trivial! After reaching the campsite, your recovery largely depends on a good night's sleep and therefore on comfortable bedding. A sleeping bag should be chosen based on the climate. In this case, the Northface Blue Kazo sleeping bag is one of the best camping gear that you can take into consideration. It has a mummy shape, making it very comfortable.
Although it is heavier than a rectangular sleeping bag, it'll keep warm and cozy. It has a tightening hood so that your head is protected from the cold. It's also very comfortable in snow conditions and wind, and has good quality for camping on the mountain or at the beach!
While we found it has the best characteristics, the Marmot Ironwood 30-degree Sleeping Bag also offers a better fit for a good night's sleep. Coleman markets a Cold-Weather bag that probably gets the best warmth-to-weight ratio.
As for those who tend to fidget at night, the Eco trail sleeping bag from North Face will be your best ally, thanks to its width at the knees. In addition, its 100% recycled synthetic insulation will provide you with constant warmth even in the event of humidity. Nice, right?
---
The survival blanket is a vital accessory for camping. Depending on your needs, you can take with you the Arcturus survival blanket for your next camp. It is lightweight and can be folded and stored easily. It is a reusable survival blanket to optimize heat retention. It will allow you to keep your body heat (around 37°C) in order to protect you from hypothermia or the wind.
Each metallic side of the cover has a function:
The silver side reflects up to 90% of infrared rays.
The golden side absorbs 50% of the heat.
In short, when the silver side is facing inward you are protecting yourself from hypothermia. Conversely, when it is the golden side that is turned inwards, you protect yourself from sunstroke or hyperthermia.
---
In nature, the water you find is often not clean. It is often full of bacteria, chemicals and viruses. Surely you don't want to have an upset stomach or worse… Thus, it is necessary to eliminate harmful contaminants to make water drinkable. Without water, the chances of survival are limited.
So, how to proceed? It is essential to have a filter gourd in your survival bag.
The Katadyn BeFree 3.0L filtering flexible water bottle is one of our favorites. Especially if you're running out of space! It has the capacity to purify up to 1,000 liters of contaminated water without the need for chemicals or additional devices. Thanks to its lightness, its ease of use, and above all its ability to fold up.
However, the LifeStraw Go is also one of the best filter water bottles in terms of value for money and filtration. It removes 99.9% of bacteria and other parasites. Not bad!
If in doubt, always remember to have Micropur water purifying tablets with you. It's fast and efficient! One tablet per liter of water, you wait 30 minutes and you're done! You can quench your thirst! It's light, doesn't take up space, and can always be used! Keep in mind, your water will have a chlorine aftertaste.
---
Shelter is one of the basic needs for camping! Some people don't want to sleep without a tarp under the tent, others want to create their own shelter very comfy. In this case, carrying a tarp with your tent remains the most practical. It would be a shame to do without! This will give you quick cover and a dry place to start a fire.
How to choose?
Well, your choice will necessarily depend on your needs! It should be light. It must also be waterproof, robust, durable, and easy to install and uninstall. There's no time to lose!
Whether you're establishing a base at camp, an RV park, or embarking on a river adventure, the Kelty Noah's Tarp is a crucial and versatile addition to your gear. This uncomplicated shelter is available in three sizes, providing huge shade for groups ranging from one to sixteen people.
It has strong seams, good-quality straps, and multiple attachment points. It is more versatile, light, and compact than the tent. It is suitable for three-season use. However, you can choose a thicker and more robust material, but be careful it will be heavier. The Kelty Noah's Tarp is completely waterproof and will keep you dry despite extreme weather conditions. You need to know how to use it for it to be useful to you.
However, if you want to camp in winter, the ideal option is to bring a 4-season tent such as the Mil-Tec Recom. It will be more resistant to extreme conditions: snow, wind, rain, and storms.
---
As you can imagine, fire is one of the most essential elements for survival. Without fire, you can't boil water, cook food, stay warm at night, sterilize tools, cauterize wounds (you never know), or ward off predators who might approach your camp a bit too close. Besides practicality, fire brings warmth, light, and a little comfort.
Unless you know how to start a fire from natural materials found in the woods, you will need materials. You have to find flammable fuels: dry leaves, handkerchiefs, tinder or even dry grass. But, what is the easiest way to make a fire in any weather? Quite simply, lighters, boxes of waterproof matches or fire steel.
The Swiss Safe fire starter is designed to produce 16,000 showers of sparks. It is simple, efficient and inexpensive. With this, you can start fires in any weather conditions. In each box, you'll get 2 Fire Starters with a Built-in compass, 150dB whistle, steel scraper, 450LB 8core paracord and rod.
Nevertheless, if you are not comfortable with this system, there are alternatives like the electric arc lighter, and ideal for rainy and windy weather.
---
Good lighting is essential when you go on an adventure, even more so when the sun goes down. This makes it possible to illuminate, and find one's bearings but also to send SOS if the need arises.
OLIGHT S2R II flashlight has several modes to choose from including three standard modes, turbo, moonlight, and strobe. It features a battery indicator located on the side switch, which allows you to know when to charge. It can produce a maximum output of 1,150 lumens.
It comes with a rechargeable battery which you can charge magnetically through the tailcap charging cable. It is compact, light and powerful. Surely you don't want to bother! OLIGHT S2R II flashlight is also waterproof and can be used on rainy days.
However, if you bring an external solar battery, the best is to take a battery flashlight because they are the most powerful. Otherwise, don't forget to bring a set of spare batteries.
Keep in mind that it is best to bring a flashlight and a headlamp. The headlamp is nevertheless the most practical because it allows you greater autonomy and to have your hands free. Several criteria must be taken into account when choosing your headlamp:
A field of illumination ranging from 40 to 100 lumens. Opt for 100 lumens!
Lighting modes. Take a lamp that has at least an "economy" mode and an "intense" mode. Thus, the economy mode can be useful for you, not to be spotted from afar. And the intense mode if you hear noise in the middle of the night and want to see what is happening.
Battery life. It can vary from 2 hours to over 30 hours depending on power and quality. Choose the maximum autonomy!

---
It's obvious, you have to have it! You hope never to need it, but as the saying goes, it's better to have it and not need it than to need it and not have it. In the forest or in the mountains, you must have the necessary to treat yourself in case of injury. It would be a shame to stop your adventure for a cut that becomes infected.
Surviveware Premium First Aid Kit includes 100 high-quality emergency essentials and first aid supplies to help care for minor wounds, cuts, scrapes and burns. The inner compartments are well organized, so you can easily find what you need in the case of an emergency.
The bag is made from high-quality rip-resistant 600D Polyester, making it water resistant and rip resistant. It also features D-rings so you can attach it to almost any surface. You can customize it according to your medical needs.
Surviveware Comprehensive Premium First Aid Kit contains:
6-inch Shears
Emergency Blanket
Eye Pads
Hypoallergenic tape
Hydrocortisone cream
Nitrile gloves
Safety pins
Tweezer
Whistle
Antiseptic wipes
Waterproof bandages
Disinfectant
Antiseptic cream for bites, cuts or burns
Medicines: aspirin, painkillers, anti-diarrheal, anti-allergic
First Aid Guide and more
---
Practical Tools for Camping
Besides the equipment we have just seen, an outing lasting several days requires other accessories and tools that could prove practical. They are not essential but why do without them?
The use of the Paracord bracelet is virtually endless. You can build shelters, repair equipment, and clothes, put on tarpaulins, make a trap, a raft, a fishing line, or even make a tourniquet.
There is something for all needs and desires. If you want a survival bracelet with a shackle, comfort and robustness, the SDS Survival should be suitable. It features a survival compass, emergency fire starter magnesium flint, and mini scraper. It also has a small survival whistle just like the Gerber Bear Grylls.
Indeed, the bracelet is made of paracord with plastic and metal parts. It allows you to always have 3 to 4 meters of rope on hand. Say goodbye to knots and hello to ingenuity!
---
Granted, the stove falls into the not quite necessary category, but it's still handy. The kampMATE WoodFlame cooking assistant is small, light and perfect for heating up your meals, preparing food, or simply settling down before lighting a fire or breaking camp.
It is made of pure 304 stainless steel. The wide-open mouth ensures that you can easily add more wood to keep the fire going. It weighs only 1.1 lbs, making it suitable for carrying with you.
KampMATE WoodFlame ultraportable stove allows you to have an unlimited fuel source. It is extremely easy to set up. Unlike other stoves, you can feed it with twigs, wood, leaves, or branches picked up along the way. The same principle for the HTTMT- ET-Cook002-L, it is light, efficient, and strong enough to support your pan.
---
If you have a stove, then the cooking pot is the next accessory. It will allow you to prepare your meals with minimum effort. In a limited space like your backpack, it is better to favor lightness and compactness. This allows you to transport the cooking pot and its utensils in a single element with a folding or removable handle so as not to interfere with the rest of your equipment.
The Stanley Adventure French Press is designed to function as both a water boiler and a French press, eliminating the need to carry separate pieces of equipment. This device allows you to boil water and brew coffee in the same container. This is very useful for campers who want a simple and efficient way to make coffee in the outdoors.
It is resistant to rust and can withstand rough handling. Another advantage of this cooking pot is, you can hang it with a carabiner outside your luggage to free up space. In addition to the meals, you can take a simple stainless steel cup. Choose one without paint or coating to use for heating the water. An oversized cup that will act as a bowl is more practical!
---
In nature, you will have to feed yourself! In a survival situation, your body needs 1200 to 1500 kcal per day. You can eat directly from the resources provided by nature or cook food by yourself. But if in doubt, it is best to bring food to last a few days.
For outings, you can eat granola bars, cans, or freeze-dried food. As for camping or survival foods, there is something for all tastes and needs. NRG-5 rations from Katadyn require no preparation and can be eaten directly from the box, They offer a healthy and balanced diet.
The 500g pack comprises nine individual bars, each providing an energy value of 260 kcal. These bars are securely packaged together through vacuum welding within an aluminum composite foil.
---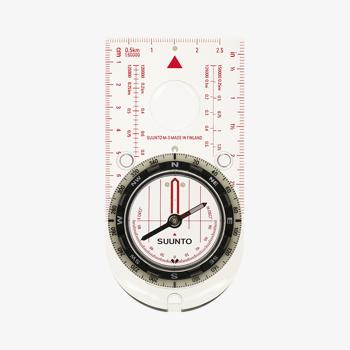 Hopefully, you'll never get lost in the woods without a compass! But should that be the case, you'll be relieved to have one handy. To help you move forward, it helps you identify directions.
But which one is best? The Suunto M-3 NH compass is for adventurers. This is a high-grade precision compass crafted for accurate direction-finding, even in challenging environments. It is a little heavier but solid and precise.
However, the Gwhole is suitable for experienced survivalists. Feel free to purchase a map of your location that shows roads, railroads, bodies of water, towns, or forests.
---
Versatility is one of the hallmarks of the Survival Hatchet. You can do many of the heaviest tasks that a survival knife can't handle. This includes: chopping wood, shaping logs for building a shelter, digging and even, why not, making a large wooden spoon. Everything is allowed!
Gerber offers a camping hatchet that is lightweight and rock-solid. We favor Gerber Gear Camping Hatchet as the best camping gear because it reduces the weight of our backpack. A tall blade grind maintains peak sharpness to tackle whatever challenges come its way throughout the day. The handle is wrapped with a rubber over mold, which adds grip and comfort.
---
In the same vein as the survival knife, the folding saw can be an ally. For example, if you chop down a tree some distance from your camp with your hatchet, carrying it around will be taxing. This is where the folding saw comes in! So you can see the wood and transport it in small pieces. It's much more efficient!
EverSaw folding hand saw is light, compact and efficient. It is perfect for both camping and bushcraft! All of the teeth are safely covered when closed, making storing this folding saw both safe and convenient. The ribbed rubber handle ensures a secure and comfortable grip, thanks to its ergonomic, non-slip design.
This durable pull-cut hand saw is designed for longevity, featuring an adjustable 8-inch SK5 carbon steel blade with a medium-tooth profile. This is the best size/use compromise.
---
Life-Changing Gadgets on a Long Camp
Let's be clear, the objects we are going to talk about now can be put aside to go camping. However, they can make your vacation easier or improve your security. So here are some gadgets not to be overlooked:
Communication is one of the points not to be neglected in camping or survival situations. Imagine that you are injured, unable to move (under a tree, in an abyss,) or exhausted for lack of water, food or energy.
UST JetScream Floating Whistle survival whistle helps attract attention if you ever get lost. It could get you out of dangerous situations and save your life by signaling your presence! No need for movement or energy to emit noise.
UST JetScream Floating Whistle is multifunctional with 4 tools in one: compass, thermometer, magnifying glass, and of course whistle for only $8. However, if you want a whistle capable of producing an extremely loud sound, the Holdall Emergency Whistle is ideal thanks to its 120 decibels of maximum power.
On the other side, if you plan to venture into a dangerous environment, choose the stainless steel Binboll whistle which offers a maximum power of 150 decibels.
---
Outside your home, access to electricity is a rare commodity. Therefore, it is not essential but let it be said, even in primitive conditions, you surely want to recharge your phone, GPS, lamp, or even take photos.
With the X-DRAGON solar nomadic charger, it's possible! It is economical and ecological! You can take it anywhere without breaking the bank. Its characteristics are simple but effective with its ergonomics, lightness and 25,000mAh battery. For use in all weather, the X-DRAGON solar battery will do more. Indeed, it is waterproof, robust, and allows you to charge several devices simultaneously.
---
Installing your camp in the middle of the forest forces you to be in contact with a set of insects, which can sometimes carry diseases. As a reminder, mosquitoes kill more than sharks and bears combined. It makes you think, doesn't it?  But who has never been harassed by a mosquito eager to bite you and feed on your blood?
In addition to mosquitoes, the tick and its bite remain the second of our enemies. Not only can it become infected, but it can also carry Lyme disease.
Therefore, a mosquito and tick repellent spray will always be welcome.  We can only advise you to take a Care Plus tick tweezer and an anti-mosquito and tick repellent spray with you. Here, you are ready to embark on the adventure of camping in complete safety! It'll give you effective protection for up to eight hours.
---
Final Thoughts
We've been camping overnight in tents for almost 10 years. We have seen camping equipment evolve a lot and they becoming much lighter, more compact and more efficient in recent years and the process is continuing. We have also been hiking for almost 10 years, so the lightness of the gear has become crucial. And the most important thing is to make sure that your camping equipment adapts to your needs and desires.
You can share this article to help others benefit from what you have learned!