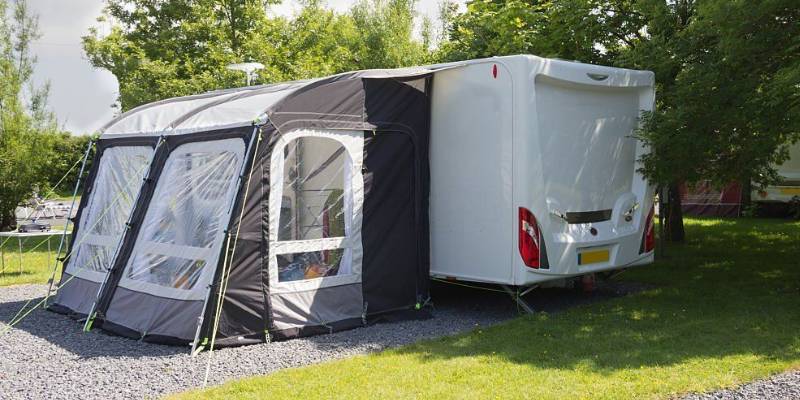 An RV or a smaller motorhome offers a relatively large amount of space. However, it can happen that this space is not enough or the bedroom needs to be separated from the living room. In this case, campervan awnings are the best choice for every outdoor fan.
What are the benefits of a camper van awning?
Every van awning can do one thing: create additional space. Either the campervan tent is used as a lounge or a separate or additional sleeping area is created. If you want, you can also use the tent just as a storage space for bicycles and other sports equipment.
So that everyone can find the right tent, our purchase advice explains the most important criteria. We also present the most popular products of the year (2022).
Best Campervan Awnings (Top 5 Picks)
Our selection is based on customer experience, customer ratings, quality standards met, certification marks, seals of approval, and the number of purchases. Other factors such as size and handling lead to your own test winner.
Dimensions: 126 x 126 x 73 inches | Material: 150D Polyester | Water column: 4,000 mm | Weight: 30.86 pounds
Pros
Detached
Mean water column
Fast setup
Several construction variants
Headroom
Small pack size
Cons
A bit difficult to set up
This model is a van tent that is mounted directly on the vehicle. It can be entered via a large door. On the other side, there is also a spacious entrance area with a small canopy. The locked door is 69 inches high.
Although it is a tent with poles, it only takes two minutes to set up. A spacious tent is already available for overnight stays or as a lounge.
The water column of 4,000 mm prevents stored items from getting wet. It is also positive that the Qeedo van awning also stands for itself if none of the six assembly options is an option. With the special coating, the Qeedo van awning has above-average UV protection.
The pack size is 44.1 x 12 x 12 in. It can be conveniently stowed away in the transport bag provided and is also easy to transport thanks to its low weight of 30.86 pounds. After the camping holiday, the tent can be folded up to small dimensions and therefore hardly takes up any storage space.
Point of View: A quick-to-erect campervan awning that also stands independently and offers a lot of space.
---
Dimensions: 120 x 120 x 84 inches | Material: Polyester | Water column: 3,000 mm | Weight: 28 pounds
Pros
One large door
Three mesh windows
Entrance can be used as a sunroof
Mean water column
Lightweight
Thanks to the locked door, the Napier Backroadz van tent can be mounted directly on the vehicle. It was produced in the form of a dome tent and has two entrances. Thus, there is the possibility that several people sleep in it. The opaque windows prove to be useful for this.
On sunny days, the entrance can be converted into a sunroof. It has a full floor that keeps you clean from your truck and dry from the elements. To prevent mosquitoes from entering, the manufacturer equipped the entrances with mosquito nets.
It has a water column of 3,000 mm so that the generously designed camper van tent can also be used in the rain. As an alternative to using a vehicle, the tent can be used as a free-standing camping tent.
With two helping hands, assembly is made much easier. With a little practice, however, you can set it up yourself with little effort.
Point of View: An SUV tent is suitable for vehicle mounting and as a freestanding tent. It has been equipped with mosquito nets.
---
Dimensions: 96 x 96 x 86 inches | Material: Tape sealed seams | Water column: Water-resistant | Weight: 20.15 pounds
Pros
Also designed for cars
Detached
Mosquito nets
High headroom
Mean water column
Including tent floor
With sleeping cabin
Not only owners of travel and mobile homes are happy about this van awning, but it can also be used on passenger cars. Nevertheless, the tent inspires with a headroom of over 2 meters. So the tent can not only be used for sleeping, but also as a lounge.
For flexible use, the Rightline Gear SUV tent was given three entrances, all of which were secured with a mosquito net. Of course, the van awning is also available in bad weather, as it is made of Water-resistant fabric with tape-sealed seams.
It has a sewn-on floor, so the camping friend is also secured from the ground. Due to the free-standing property and the very small pack size, the Rightline Gear campervan tent is also suitable for a trekking trip or a bike tour.
This awning tent will convince you above all with quick assembly. Thanks to the quick-up function, it can also be set up by one person within two to three minutes. However, the tent can only be mounted at the rear.
Point of View: A smaller van awning that has good standing height and can also be attached to a car.
---
Dimensions: 180 x 182 x 96 inches | Material: Vinyl | Water Column: Waterproof | Weight: 13.07 pounds
Pros
Medium weight
Residence tent
Wide application
Sunshine & waterproof
Easy to install
Awning pull strap
This van awning was designed to serve as a stay tent. It can be mounted either on a squad rail or with suction cups. Once the tent is erected, it serves as a stay tent or storage tent. VEVOR RV awning is made of durable 15oz vinyl with a 16oz vinyl weather shield.
However, the sun sail is required for this, as it is an expansion set. Thanks to its large size; easily covers the area shielding it from sun, rain, and wind. It can also be used as a kitchen tent. In order to prevent a wet subsoil, the manufacturer opted for long walls that rest on the ground.
Optionally available suction cups are another option for attachment. The fabric is measured to be 15′. The pack size is 32.7 x 10.2 x 4.3 inches. The wide range of attachment options is very convenient because flexible use with numerous vehicle models is possible.
Point of View: If you are looking for an RV tent in the form of a pavilion, this is the model.
---
Dimensions: Not specified | Material: Polyester Taffeta | Water column: Waterproof | Weight: 7 pounds
Pros
Fast setup
For many vehicle types
Convenient storage bag
High-quality polyester
Cons
Takes time to setup
Clear sidewalls
Napier Sportz awning tent does not have to be set up with poles. Rather, it is inflated quickly and easily. So that it stands securely in the wind, it should still be secured with pegs and guy ropes. Even in heavy rain or thunderstorms, the model does not lose its stability.
Between the vehicle and the tent, there is an anteroom that can be used as a storage area. Also positive is the large entrance area and the small canopy that protects against rain. The mesh screen door allows for bug-free views.
It is also available on rainy days. The connection height is enough to be used in many vehicles. This is a very generically fitted product. You could close the hatch if you leave the vehicle. The pack size is 25 x 6.5 x 6.5 inches.
Point of View: If you are looking for a high model as a stay tent, choose this awning, which fits many vehicles for different activities.
---
What to consider when buying a campervan awning?
The following purchase criteria will help you to find your own test winner:
Mounting type
Construction
Size
Shape
Weather resistance
Type of assembly: How is the tent set up?
A van awning can be set up in the following way:
Side mounting: Most awnings mount to the sliding door on the side. It is either installed using a squad rail or suction cups are used.
Stern mount: As an alternative to side mounting, there are models for rear mounting. These are also suitable for cars but have the disadvantage that the connection is very low and the tent is not entered in an upright position.
Combination roof tent/awning: This variant is mounted on the roof of the motorhome and at the same time offers an awning in front of the vehicle. The sleeping quarters are on the roof.
Setup: How is the tent set up?
There are two types of construction:
Classic tent variant with poles
Inflatable tent
In addition, the awnings are divided into two further categories: free-standing van tents and tents that always have to be attached to the vehicle.
Tips: Apart from these variants, there are tents that can be set up in two minutes.
Size: What sizes are there?
Of course, there are different sizes of campervan awnings available today. The tent is suitable for either two or up to four people. Apart from that, there are campervan tents with headrooms of over two meters and smaller variants.
The size must be matched to your own vehicle. For a touring model, it can be a smaller tent, while a motorhome needs a larger tent.
Form: Are there different forms?
A campervan awning is produced in different forms:
Tunnel tent
Dome tent
Pavilion
Combination of roof tent and awning
Good to know: Not every van awning has a floor, some are delivered without a floor. The situation is similar to an inner tent, which is not available in every model.
Weather resistance: How waterproof is a van awning?
A van awning needs to be waterproof like a regular tent. Most tents have a hydrostatic head of 3,000mm, while quality tents have a hydrostatic head of 5,000mm.
FAQs:
Which campervan awning is best?
Due to the extensive selection of camper van awnings, there is no definitive test winner that is suitable for every camping enthusiast. While most van awnings attach to the side of the vehicle, there are some models that attach to the rear of the vehicle.
In addition, the campervan awnings vary in size and possible uses.
Why freestanding campervan awnings are so popular?
Freestanding awnings without airlocks offer the most flexibility. Without the connection to the campervan, you can simply move your vehicle if necessary and do not have to worry about the awning. However, free-standing awnings have to be anchored and secured much better as there is no connection to the RV. Free-standing awnings are particularly suitable if you want to make regular trips from the campsite to the near and far with your RV.
How much does a good van awning cost?
The price of a good campervan tent depends largely on its size. Good and small variants cost between 200 and 500 dollars. Large awnings can also cost 800 dollars.
For whom is a campervan awning suitable?
There are many reasons to buy a campervan awning: A van awning with a sleeping cabin offers an additional sleeping option, while a free-standing van awning can also be used as a single tent.
Where can I buy a campervan awning?
Online shops such as Amazon or Decathlon offer the largest selection of van awnings. These offer the most popular models from well-known manufacturers.
The ratings, which always contain a recommendation, are also useful in the online shop. The experience of other buyers also helps so that everyone can quickly find their personal favorite.
What alternatives to van awnings are there?
If you don't mind that the tent is not directly next to the RV or motorhome, you can also opt for another tent with large doors. Alternatively, a pavilion can be placed in front of the car, which also serves as a lounge area.
How to set up a campervan awning?
A campervan awning is mounted directly on the vehicle. The existing squad rail or suction cups can be used for this. Alternatively, there is often the option of setting up the tent as a stand-alone tent. Apart from this, there are tents with standard poles or an inflatable variant.
Are campervan awnings waterproof?
Camper van awnings are always waterproof. The water column varies between 3,000 and 5,000 mm.