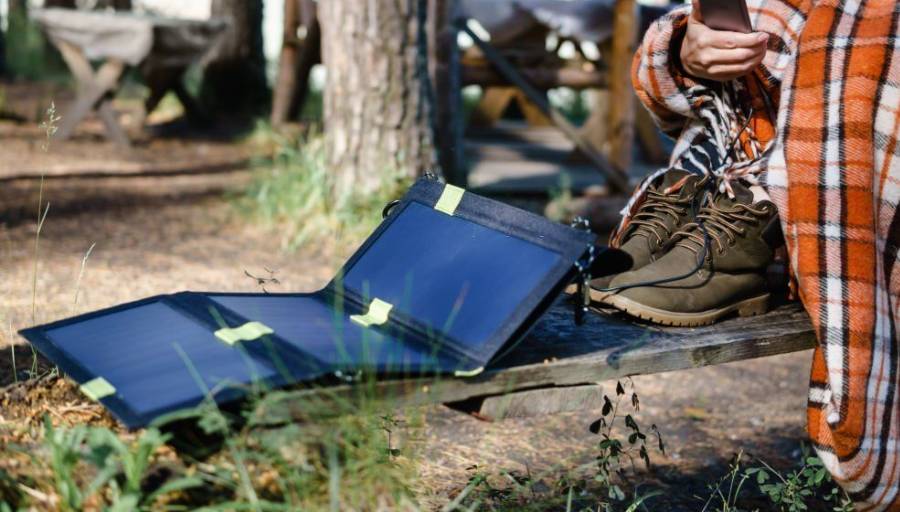 In a world increasingly conscious of sustainable energy solutions, portable solar panels have emerged as a beacon of hope for eco-conscious adventurers and everyday consumers alike. Thanks to the technology, today most of them use rechargeable lithium-ion batteries and can be powered by portable hiking solar panels.
However, the market for portable solar panels has grown exponentially, offering a diverse range of options to suit various needs and preferences, which makes the process difficult to find the best one. To save you a headache, we've picked out the eight most reliable, practical, and best portable solar panels for 2023.
We also offer you a complete buying guide, which follows our recommendations, so that you can understand everything about this technology and your needs! The motive of this guide is to provide you with the knowledge and insights you need to make an informed decision for your specific energy needs.
Best Portable Solar Panels – At a Glance
Specs:
Power: 21 Watts (28 and 80 Watt versions also available)
Number and type of port(s): 2 USB ports (5V/2.4A max each and 5V/3.8A max overall)
Level waterproof: IPX4
Dimensions: NC
Weight: about 600 g
Pros
Works well even if the sunshine is not optimal
Efficient and safe charging
Can handle an occasional downpour
Small pocket with Velcro attachment
Affordable price
Cons
Somewhat heavy and bulky, even folded
Not enough Velcro to keep it closed
In terms of overall performance, very few panels can stand up to this model signed BigBlue which comes in several versions (21 – 28 and 80 Watts). It is therefore quite natural that it ranks as the first step of our selection.
BigBlue 21W Portable Solar Panel features an optimized foldable design to lend itself to use on the go, camping, or during outdoor activities (hiking, climbing….). It includes four sturdy eyelets, four carabiners, and a zipped pocket where you can put your phone. A hook is also provided for attaching to a backpack.
When folded, this portable solar panel reveals its sleek and practical design. However, many will find it bulky and heavy at a weight of around 600 g. It has an IPX4 level of waterproofing, which means that you can use it without a problem in the rain or in a humid fog. However, USB ports must remain out of the reach of water.
BigBlue 21W Portable Solar Panel is our special recommendation for outings because it offers the most consistent and efficient portable power source we've reviewed. Composed of panels made from monocrystalline, the BigBlue 21W provides a constant charge for most small gadgets, and in many situations.
Whether the weather is partly cloudy or the scattering of sunlight, you can choose this device to keep your electronic devices powered. This compact solar panel is also CE, FCC and RoHS certified, and includes overheating, overloading, and short circuit protection.
It is compatible with almost any 5V Android or IOS gadget. This device is equipped with two USB ports (5V/2.4A max each and 5V/3.8A max overall), which allow two devices to be charged simultaneously. However, you cannot charge a laptop or an iPad Pro tablet. Also, it doesn't have a built-in battery, so you can only charge your equipment when the sun is available.
Although there are other options that charge faster or are more durable, the BigBlue 21W is appreciated not only for its reasonable price but also for its ease of use and reliability.
---
Specs:
Power: 21 watts
Number and type of port(s): 2
Waterproof level: NC
Dimensions: 16 x 28.2 cm (folded) and 67 x 28.2 cm (open)
Weight: 400 g
Pros
Fast and smart charging
Built with PowerIQ Technology
Easy to use and transport
Durable and compact design
Very good value for the money
Cons
Not waterproof: you have to be careful in case of rain
Difficult to get it pointing directly at the sun
The Anker PowerPort Solar is another very popular model for backpacking. It's not hard to see why it's considered one of the best options in the mid-range. This portable solar panel offers faster charging not only because each of the three photovoltaic modules, that make it up is made of several layers to help increase charging speed, but also because it uses advanced fast charging technology via PowerIQ.
This smart feature communicates with your device to determine its most efficient charging speed, ensuring it's powered by the Anker PowerPort Solar as quickly as possible. Another valuable time-saving feature is that this device includes two ports for charging more than one device at a time. And you can rely on its energy efficiency (21.5-23.5%) to power your devices with sufficient current.
This model is completely safe: protection against short circuits and overvoltages is provided for this purpose. Note that the amperage per port can go up to 2.4 A and 3 A total under direct sunlight.
Although the Anker PowerPort solar device is designed primarily for smartphones and tablets, it can work with anything that uses a USB charger. Since it does not incorporate a battery, you will therefore have to leave your gadget connected to the charger outside in the sun while taking care to find the best direction.
Unfortunately, there is no indicator of load force for easy pointing. Although the modules are sewn in a robust polyester fabric, that is weather resistant and suitable for outdoor use, this panel is not waterproof. You will therefore have to be careful in the event of a shower.
It is easy to fold and has good portability. It is not only lightweight but also fits in a compact size of 2.8cm thick when folded. Stainless steel notches are provided at each corner so you can attach this device very easily to a backpack, tree or tent. These features make it an excellent choice for long-distance hiking.
---
Specs:
Power: 4 x 1.5 W – 26,800 mAh capacity built-in battery
Number and type of port(s): 2 x USB ports (5 V/ 2.1 A and 5 V/ 1 A) and 1 x micro-USB port
Waterproof level: NC
Dimensions: 2.2 x 7.9 x 15.5 cm
Weight: approximately 560 g
Pros
Charge directly in the sun or via the built-in large-capacity battery
Safety and universal compatibility
Compact and easy to transport
2 output and 3 input
High capacity
Cons
A little bit heavy
Lack of durability
Unlike our previous top pick and runner-up models that don't store solar power, the iPosible 26800mAh Solar Charger includes a lithium polymer battery. This means that when you will not be exposed to the sun, it is able to charge your devices with the energy stored by the battery. You therefore have a backup system to be sure not to end up with completely discharged devices.
The 26,800 mAh capacity of the built-in battery is sufficient to charge most phones 8 to 10 times or tablets 3 to 4 times. These figures are obviously estimates depending on your gadgets and their characteristics (voltage/intensity).
Either way, iPosible Solar Charger 26,800mAh has two USB ports (5V/2.1A and 5V/1A) and a micro-USB port, which allows multiple devices to be charged at the same time. These connectors are compatible with almost all smartphones, tablets, and other iOS and Android devices.
This model consists of four foldable solar panels. It will fit in a compact size pack, making it easy to transport. Its dustproof, shockproof, and waterproof design makes it perfectly suitable for outdoor use. However, we don't recommend using this device in heavy rain.
This solar charger is appreciated for its ease of use: it is notably equipped with four LEDs to allow you to follow the level of energy in the incorporated battery.
---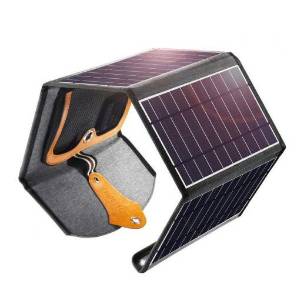 Specs:
Power: 22 Watts
Number and type of port(s): 2 — one 2.4A and the other 2.1A
Waterproof level: NC
Dimensions: 82 x 24.5 x 3 cm (open) and 24.5 x 16 x30 cm (closed)
Weight: 590 g
Pros
Intelligent charging technology for maximum efficiency and safety
Wide compatibility with almost all USB-powered devices
Highly efficient energy conversion
East to carry
Cons
Hard to charge when the sunshine is not optimal
Not waterproof
A little bit pricey
A good hiking solar panel always comes at a high cost and models like the CHOETECH 22W illustrate this well. With premium construction, this solar charger provides valuable services. Thanks to its very efficient energy conversion system which allows it to convert up to 25% of the energy captured by its ultra-light SUN solar modules. Thus, this panel provides enough power to charge your USB devices.
To deliver the right amount of current for efficient and safe charging, it further incorporates smart charging technology that automatically detects the electronic gadget you are charging. It has two USB ports, one of 2.4 A and the other of 2.1 A. This allows it to intelligently power up to two peripherals at the same time.
Speaking of peripherals, this hiking solar panel is compatible with all brands of tablets and mobile phones as well as with almost all devices that can be powered by a USB socket such as headlamp, external battery, camera, headphones, etc.
The absence of a built-in battery makes exposure to sunlight essential for charging. This solar panel adopts a design designed to withstand bad weather: it is notably anti-drip and fog-proof. However, it is not suitable for use in heavy rain although the company says it has an IPX4 waterproof rating.
CHOETECH 22W solar panel fits in a lightweight and ultra-thin package that reasonably saves space when you fold it up. Also, it is very easy to transport. Not only because it folds up but also because it has stainless steel holes and hooks, so you can easily attach it to a backpack or even a tent.
---
Specs:
Power: 20 Watts (14 – 40 and 70 Watt versions are also available)
Number and type of port(s): 2 (5V/2.4 A and 5V/2.4 A)
Waterproof level: NC
Dimensions: 30.6 x 18.2 x 1.3 cm (folded) and 59.2 x 30.6 x 0.3 cm (open)
Weight: approx. 610 g
Pros
High energy conversion rate (up to 25%)
Intelligent, fast, and secure charging system
Strong guarantees of durability
Versatile design
Cons
Relatively heavy
Quality of the fabric isn't the greatest but for the price it is forgivable
X-Dragon is a relatively little-known brand on the solar energy market but its foray into the portable solar panel market has not gone unnoticed. Thanks to this model which has almost nothing to envy the competition.
We can always criticize its heaviness and its limits when it comes to charging several devices at the same time, but the device has solid arguments to make. Indeed, it charges devices quickly and efficiently and can deliver more than decent performance even when sunlight conditions aren't optimal.
Whether for long hikes, camping or group travel, the X-Dragon portable solar charger will be of great use to you for charging or powering your various electronic devices. To ensure fast and efficient charging, it relies on SunPower solar cells. It is made in the USA and offers an energy conversion rate of up to 25% while most panels on the market have an efficiency of 15%.
This panel is able to charge quickly devices due to the on-board SolarIQ technology. This feature allows it to automatically adjust the current (up to 1.8 amps per port or 3 amps typically) and voltage to optimize charging speed and prevent damage to your devices.
Moreover, the X-DRAGON 20W Solar Panel Charger has a portable design that has been studied to lend itself to both outdoor and indoor use. The strong and waterproof canvas covering shows great resistance to wear even in the event of intensive exposure to the sun's rays.
As mentioned above, this charger is heavy (about 610 g). Although this is a drawback for adventurers who wish to travel light, this relatively heavy design proves to be a guarantee of durability.
---
Specs:
Power: 28 Watts (16 – 24 and 42 Watt versions also available)
Number and type of port(s): 2 (5V/2.4A each)
Waterproof level: IPX4
Dimensions: 11.1 × 6 .3 × 1.3 inches (folded) and 33.1 × 11.1 × 0.2 inches (open)
Weight: 595g
Pros
Built-in digital ammeter
Exclusive Smart IC Technology
Good weather and water resistance
Guarantees of quality and durability
Easy to use
Cons
Pretty much heavy
Comes with a very short cable
BigBlue has some of the best portable solar panels on the market today. Our favorite gave us the opportunity to discover the know-how of the brand. And this BigBlue 28W also confirms all the good that is said about its products.
Here we're dealing with a solar charger that offers plenty of power (28 Watts versus 21 Watts for our number 1 pick), excellent amperage, and a digital display to see exactly how many amps are going through your device. This feature is one of the main differences with our editor's top pick, the BigBlue 21W.
Besides this digital ammeter, it has a voltage controller to transfer a constant flow of energy to your device. It also features a SmartIC intelligent charging technology, which automatically recognizes your device and offers the optimal speed to charge your device faster without the risk of damaging your phone. All this is supported by the high efficiency (up to 23.5%) of its SunPower photovoltaic cells.
BigBlue 28W hiking solar panel has two charging ports that can supply full current at 5V/4A and work with almost all Android and Apple devices as well as some DSLR cameras. On the other hand, you will not be able to use the BigBlue 28W with laptops or iPad Pro.
This device is mounted in a collapsible pouch, which makes it portable and easy to carry. A slot is provided for storing your phone while it is charging. The zippered pocket includes metal hooks so you can easily attach the panel to your bag or to a tree.
On the other hand, the IPX4 rating means that the solar modules are well enough protected against the weather but not necessarily your phone itself during a heavy rainstorm.
---
Specs:
Power: 16 Watts
Number and type of port(s): 2
Waterproof level: IPX4
Dimensions: approximately 18 x 16 x 4.6 cm
Weight: 466 g
Pros
Unique display design to view output voltage and amperage
Good portability (lightweight and compact dimensions)
Use in multiple occasions
Effective elastic straps
Cons
Average efficiency on a weakly sunny day
If you are looking for an affordable price and/or an option that is both light and compact, you will not make a bad choice by choosing the VITCOCO Folding Solar Charger. Two USB outputs can be used to charge almost any USB device: smartphone, tablet, cigarette lighter, power bank, speaker, etc.
Although it is less powerful than our other favorites, it can count on the high conversion efficiency (up to 22%) of its solar modules to deliver decent performance even in an outdoor environment with low sunlight.
This model also uses smart charging technology to provide the optimal charging current to ensure fast charging and protect your devices. You will be able to view the output voltage and amperage, thanks to a unique display design.
One of the main appeals of the VITCOCO Hiking Solar Panel is its portability. Not only is it lightweight (466g) but its dimensions (approximately 18 x 16 x 4.6cm) are also compact once you fold it up. It also features nifty elastic bands on the rear for tidying up cables, fastening to a carabiner, or any other handy use.
The waterproof and very resistant materials allow it to withstand bad weather and last over time. This solar panel is also equipped with stainless steel hooks to hang on your bag, branches, etc. It has two snap buttons, like the ones on jeans, to keep it closed and secure during transport.
---
Alternative – Solar Panel Backpack
Specs:
Power: 6.5W
Number and type of port(s): 1
Waterproof level: NC
Dimensions: 31.8 x 17.5 cm (solar panel) and 52 x 35 x 22 cm (backpack)
Weight: 1.8 pounds
Pros
Large volume (46 liters) and divided into several compartments
Removable and easily detachable solar panel
Water and tear-resistant bag
Comfortable wearing
Easy-access storage
Cons
No separate padded pocket to store a laptop
Modest power
To prepare you for any kind of adventure, the XTPower SP607BL is one of the best purchases you can make. This solar backpack is a convenient solution not only for storing different things but also for having the peace of mind of using your electronic devices, without worrying about your battery level or where the next power outlet is.
The characteristics of both the backpack and the solar panel have been studied to lend themselves to continuous use during travel or outdoor activities. It is designed with a nylon quality that resists tearing. The bag offers a good compromise between strength and lightness, which is interesting if you envisage a daily user or within the framework of occasional trips and outdoor activities.
The breathability of the manufacturing materials, the presence of adjustable straps as well as the flexibility of the support points make it comfortable to wear. For the optimal organization of your belongings, the XTPower SP607BL backpack includes several pockets and a main compartment that can hold a laptop.
As for the solar panel, it is a removable 6.5 Watts device that creates enough power output to charge a wide variety of devices and external batteries. This model is also sewn into a PVC cover for extra durability.
The charger uses solar cells which have a 22% efficiency rating and are protected by a scratch-resistant surface. Since this solar panel has clips for attachment to the backpack, it will not weigh you down. Finally, a USB to micro-USB charging cable comes with the purchase, which is ideal if you have electronic devices that use both types of ports.
---
Learn More About Portable Solar Panels…
Today, there are small solar panels on the market that can be taken with you wherever you go. To learn more about these nifty devices, follow this section…
What Are the Benefits of Portable Solar Panels?
The advantages of a solar charger are numerous:
Portable: designed to be easily transportable, they will be light and compact, guaranteeing effortless use in all circumstances.
Practical: thanks to them, you will no longer have to worry about the state of charge of the battery of your electronic devices or having to find an accessible electrical outlet nearby. Portable solar panels will allow you to recharge your devices quickly and easily.
Versatile: there are several types of solar panels on the market such as hybrid solar chargers equipped with a battery that will charge your devices at nightfall after capturing the sun's rays all day.
Deliver clean energy that respects the environment: portable solar panels are ecological. They use a clean source of energy (the sun) without having to pollute the environment and do not reject toxic waste.
Provide free energy: apart from the cost of purchasing solar panels, you will not have to spend anything more to capture the energy from the sun, which is free.
What Are the Disadvantages of a Solar Panel?
The disadvantages of solar panels are few. We can cite the fact that to store enough energy quickly, they must be used in situations of optimal sunshine. To overcome this problem, a solar charger with a battery accumulator will be recommended (although they will require a longer charging time than conventional solar panels which do not).
Finally, some models may be subject to overheating or reliability problems for very first-price models. Heavy cloud cover or low sunlight will limit the performance of a hiking solar panel.
Where Can I Use a Portable Solar Panel?
As we have seen previously, portable solar panels are extremely practical and compact. You can use them in many situations and activities:
On a hike or trek: attached directly to your backpack, the solar panel will store energy without you having to do anything. Because of their lightweight design (between 250 and 450g), they will not be felt on your shoulders.
When camping: positioned in your tent, they will allow you to capture the sun's energy when you are not in it to ensure you have a source of energy in the evening.
At the beach: have you decided to tan at the beach? Take the opportunity to take your solar panel and recharge the battery of your smartphone or an external battery.
On a picnic: placed next to your tablecloth, the solar panel will ensure that you immortalize all your memories without fear of draining the battery of your digital camera or your smartphone.
Traveling: you need to call a taxi or go to a meeting point but you have run out of battery? The portable solar panel will get you out of delicate situations for which your smartphone will be essential.
On horseback or mountain bike: just like hiking, you can position the solar panel behind your saddle when you go horseback riding or cycling.
Every day: slipped into your bag, you can recharge your smartphone at any time if you have a light source.
How Quickly Can I Charge My Smartphone with a Portable Solar Panel?
The charging time of a battery will depend on several factors: the power of the solar charger (expressed in Watt), the voltage of the electric current (expressed in Volt), and the capacity of the battery of the device to be charged (expressed in Milli Ampere per hour = mAh).
To determine the charging time, it will therefore be necessary to calculate: the battery capacity/current voltage/battery power. Of course, the level of sunshine will also be a parameter that will vary the result obtained. The level of sunshine will depend on:
The latitude at which you are located.
The season you will be using your solar panel.
The time of day you will be using your solar panel.
Weather conditions and cloud cover intensity.
Air pollution and the cleanliness of the surface of your solar panels.
For example, if you want to determine the charging speed of a smartphone with a 15W solar panel, you will need on average between 1h30 and 2h on a clear day and between 3h and 5h on an overcast day. To know more precisely the charging speed of a phone connected to a solar panel, there are applications for smartphones capable of providing you with this information (we recommend the "Charger Tester" application, available on Android).
Which Orientation Should I Choose for My Solar Panel to Optimize Its Use?
To maximize the amount of solar radiation captured by your solar panel, you will need to adopt the best orientation possible. You know solar radiation and the level of sunshine depend on several factors. Thus, to maximize the use of your solar panel, you can position it differently depending on the season for use (these values ​​will obviously vary according to the latitudes where you will be moving):
In spring: the ideal inclination of the solar panel will be 45°.
In summer: the optimal inclination of the solar panel will be 20°.
In autumn/winter: it will be advisable to orient your solar panel at an angle of 60° because the sun will be lower in relation to the horizon.
Best Portable Solar Panels: Selection Criteria
To find the right portable solar panel for your needs, follow our buying guide.
Type of Solar Panel
As we saw in the introduction to this guide, there are several types of solar panels on the market:
Classic solar panel: A classic solar panel isn't equipped with an integrated battery. This type of solar panel is made up of several sections (most of the time), which allows the module to fold back on itself for easy storage. Its operation is very simple: when exposed to the sun, it will supply electricity to the device connected to it (smartphone, camera, computer, etc.) and will no longer supply it when the sky is overcast.
Solar panel with battery/solar charger: this module consists of very compact solar panels connected to a power bank-type battery which will be responsible for storing the energy captured by the photovoltaic cells. Often it is equipped with a USB socket, so it will be possible to recharge the power bank without having to expose it to the rays of the sun, on a power outlet. The accumulation of energy on these devices is longer than on conventional solar panels.
Flexible solar panels: Flexible solar panel is made up of monocrystalline cells (like their "classic" rigid counterparts). These solar panels adapt more easily to uneven surfaces and will operate in the same way as a conventional rigid solar panel. The only difference is that their efficiency will generally be lower depending on the technology used (CIGS or amorphous silicon).
Rated Power
To benefit from a fast charging speed for your electronic devices using a portable solar panel, the power of the device will be an essential point. The power is expressed in Watt (W). The higher it is, the faster the devices will recharge.
However, this aspect obviously remains a theoretical value to be qualified with the sunshine conditions when you use it. To compensate for any eventuality and weather hazards, there are also hybrid solar panels (benefit from batteries), which allow the devices to be recharged with the solar panels or directly from an electrical outlet.
The Solar Yield
The solar yield is expressed as a percentage and corresponds to the number of photons captured by the panels which will be transformed into electricity. The average solar yield of a solar panel is around 18% (which therefore means that 18% of the particles present in the sun's rays will be captured by the panels).
We therefore advise you to choose a panel whose solar efficiency is equivalent to or greater than 18%. Other solar charging devices, such as USB solar chargers, may have higher efficiency, around 22-23%.
Integrated Battery for Hybrid Models
The models of hybrid solar panels, equipped with an integrated battery, will allow you to store energy to deal with weather conditions that are not conducive to sunshine (showers, clouds, etc.). Thanks to the battery, you can recharge an electrical device such as a power bank, several times.
These models of solar panels will also make it possible to regulate the flow of electricity under load to avoid any damage to the battery of the latter by guaranteeing a stable and constant flow. You can find models equipped with an integrated battery or a separate battery, usable without the solar panel as a power bank.
Finally, there are several types of batteries for hybrid solar panels:
NiMH (Nickel Metal Hybrid) batteries: these correspond to AA or AAA-type rechargeable batteries and will be practical options for charging the batteries of a headlamp or a small device equipped with batteries.
Lithium-ion and lithium-polymer (Li-Ion) batteries: These are the most common type of batteries for portable batteries that are also found in electronic devices equipped with batteries (smartphones, cameras, etc.).
Lead-acid batteries: rarer, they are heavier and more imposing than lithium-ion batteries but have better performance and increased power capacity.
Portable solar panels can also be equipped with external batteries
Storage Capacity for Battery Models
It corresponds to the number of charges that the battery will be able to store for later recharging use before being, in turn, recharged. This data is often indicated on the device (expressed in milliampere-hours = mAh or ampere-hours = Ah). You can find another value, the Watt-hours (Wh), which can easily be converted into mAh: (Wh/Volts) x 1000 = mAh.
Be aware that a transfer of energy from one (charging) battery to another (that of the device to be recharged) is never 100% electrically efficient. Therefore, to charge your device, you will need to choose a battery with sufficient storage capacity and a sufficient output voltage. It all depends on the type of device you want to charge.
Output Power for Battery Models
The output power of the charger, expressed in volts (V), must be equal to the input voltage of the battery of your electronic device. If it is lower, you risk draining the battery of the device instead of charging it.
The vast majority of solar chargers are capable of charging small electronic devices (using a USB cable) with an output power of 5V. On the other hand, solar chargers capable of charging more greedy devices requiring a DC power input (like laptops) will need a much larger output capacity, between 12 and 24V.
Connectors
The connectors will depend on the type of solar panel chosen and the use you are going to make of it:
In the case of a solar panel with battery (integrated or separate): all the connectors necessary for charging between the solar panel and the battery will be included with the latter.
In the case of a single solar panel: it will be necessary to check which output connector the solar panel has and also its ability to charge a device directly or not (which the manufacturer recommends). In this case, you will find several types of connectors, which may be useful depending on your use and the devices you want to connect again: USB port, connector, DC output, etc.
Finally, be sure to choose a solar panel with Intelligent Charging, which prevents any risk of overvoltage during use.
Surface and Dimensions (Height and Weight)
There are many portable solar panels in different formats: from the large solar panel to be placed on the ground, to the small folding solar panel which will not be larger than a wallet. The larger a solar panel, the more it will be able to capture the sun's rays and therefore produce electricity. A small panel will be easier to transport and store but will take longer to charge a battery.
Thus, the ideal surface of a solar panel will depend on your uses and your expectations. If you want to hike in the mountains in winter or in difficult sunlight conditions, choose a solar panel with a large area. On the contrary, if you want to go hiking with a minimum of equipment in the summer, choose a solar panel of small dimensions and as light as possible.
Brands to Consider
There are many manufacturers who offer portable solar panels suitable for all situations. However, not all of them are specialized in niche practices. The brands recommended by satisfied users are Powertec, SunSlice, Anker, RavPower, ECO-WORTHY, Goal Zero, Westinghouse and PowerTraveler.
The Prices
Depending on the type of portable solar panel, its manufacturer, power and its functionalities, you can find entry-level models for around $20 while most high-end models will exceed $100.
Frequently Asked Questions
Q1. How long will it take to charge a smartphone?
The speed of recharging a smartphone via a solar panel will depend on the power of the solar panel, sunshine and your smartphone. For example, it is considered that a 15W solar panel will take between 1h30 and 2h to charge a smartphone in direct sunlight, compared to 3 to 5h in overcast weather.
Q2. How much power can I expect from a portable solar panel?
The power output of a portable solar panel is measured in watts. Outputs can range from around 5W for small, ultra-portable panels to over 100W for larger, more powerful models. Your choice should depend on the devices you plan to charge and how much energy they require.
Q3. What type of device can I charge with a portable solar panel?
Depending on the type of solar panel, you can recharge both small electronic devices (such as headlamps for example) and slightly larger devices such as walkie-talkies, GPS, smartphones or devices. More powerful solar panels will allow you to charge computers (provided they have a DC outlet) or more power-hungry devices. All this information will be placed in the context of your use.
Q4. I hesitate between a solar panel and a hybrid solar panel with battery, which is the best choice?
Everything will depend on your needs and your uses. A conventional solar panel will charge your devices faster. But the charge will not be constant. On the other hand, a solar panel with battery will be able to keep the charge accumulated during the exposure phases even in cloudy weather or after dark.
Some models will even be charged via a conventional electrical outlet. On the other hand, the batteries will see their charge capacity decrease (like any device equipped with a battery).
Q5. Are there essential or practical accessories to facilitate the use of a solar panel?
Depending on your use, you can find a multitude of accessories that can facilitate your use of a solar panel. We note among others: the presence of eyelets to hang the solar panel on a backpack or a tree, a pocket for folding models that will allow you to shelter your smartphone while it is charging by using the solar panel, and the presence of a detachable battery for hybrid models or even different types of interchangeable connectors.
Q6. I would like to bring a portable solar panel for outdoor water activities, is this possible?
Absolutely! Portable solar panels are a fantastic choice for outdoor water activities. They provide a convenient and eco-friendly way to power various devices and equipment you might use during these activities. Just make sure to choose a waterproof model!
Final Thoughts
In this dynamic landscape, several standout models have proven themselves as pioneers in efficiency, durability, and user-friendliness. Each entry on our list has been carefully selected to provide a diverse range of needs whether you're a dedicated camper, a dedicated explorer, or simply an individual looking to reduce your environmental footprint.
Keep in mind the key factors we've outlined: efficiency, portability, durability, power output, compatibility, and affordability. With these considerations in mind, you'll be equipped to select the perfect portable solar panel to accompany you on your adventures, no matter where they may lead.
---
ARTICLES THAT MAY INTEREST YOU: