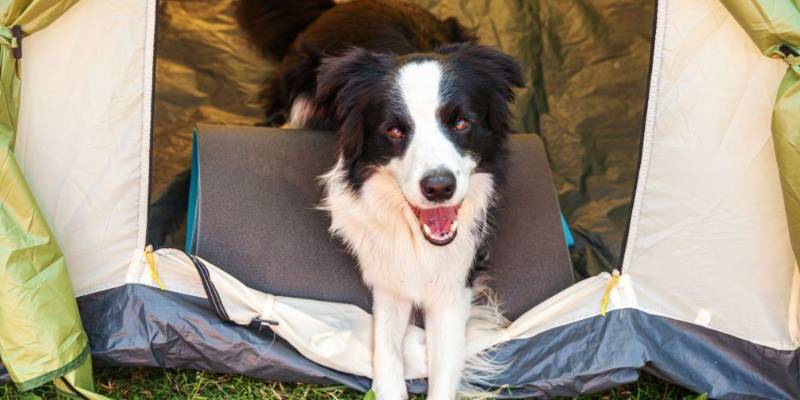 Today we have created a list of the best camping gear for dogs for you. So much can already be revealed: A few unusual recommendations are also included.
Emotions always play a major role on vacation. A camping holiday with your dog brings a lot of it: Be it watching him frolic and feel joy or having him with you on exciting excursions.
Laughing together, getting angry – everything is part of it. In any case, your best four-leg friend should not be missing during the holiday season. There are also camping accessories for dogs so that joy and light prevail.
The best camping equipment for dogs must therefore fulfill the following: It must make camping with dogs easier, safer, and more comfortable.
If it doesn't, it can stay at home or on the manufacturer's shelf, right?
Best Camping Gear for Dogs
Without further delay let's see the 17 best gear for camping with dogs…
1.
Dog Shower
If your four-legged friend is with you on your next camping holiday, we recommend that you pack a dog shower. In this way, you prevent your dog from bringing dirt from outside into the interior of the mobile home.
The Kurgo Go Shower can help you with this problem. With this, your favorite four-legged friend will quickly be clean again without much effort. The submersible pump can be operated without a power connection because it has a rechargeable battery.
All you need is a bucket of water. The battery lasts for about an hour and can be charged via USB. The hose is two meters long, which is long enough.
If you press the ON button, it starts, and the pump starts immediately. When showering, it is best to use a good pH-neutral dog shampoo without dyes like this one. It's easy on the dog's sensitive nose!
In any case, you should make sure that the dog shower is only filled with water and that it is protected from frost. You can also use the mobile shower to wash quickly off boots, mud, and other dirt. Dog will certainly understand if you misuse his dog shower.
---
2.
Dog Ground Stake / DogSitter
If you want to leash your dog in the RV, we have found a very practical solution for you during our research. The Linnepe "DogSitter" ramp is available from various online retailers for camping accessories.
The solid aluminum plate is blocked with your tow vehicle or camper by laying it on the ground and driving the tire on it. You can then tie your four-legged friend to the stable eyelet with a dog leash. You can also use the eyelet to secure a bicycle.
The DogSitter with dog hook may sound a bit funny at first, but it is a very practical and simple solution if you want to attach your dog to the motorhome.
Why is this convenient and simple?
Maybe you know the eyelets that have to be screwed to the chassis at the height of the entrance door of the RV, for example. For us, solutions that are both safe and quick to implement are ingeniously simple – just like the DogSitter.
---
3.
Special Leash
The interior of your RV also needs to be protected. Depending on the habits of your dogs, nature and the material of your campers, you should look for softer, extendable leashes for the interior. Leashboss Large Dog Leash is a soft special leash that can prevent scratches and marks on your mobile home furniture.
The particularly soft PVC dog leash normally measures 10-foot. You can also choose it at 15 feet. This gives your dog more freedom of movement. It's very flexible, so you can gather it up in one hand.
You simply wrap the leash around a table base, and with the fastener at the other end, you can attach it to the dog harness.
---
4.
Camping Mooring Post for Dog
Speaking of dog leashes for camping: what if the RV is not nearby, you are going on a trip, or planning a camping holiday? Then you need a comfortable way so that your furry friends don't visit the tent neighbors unintentionally, for example. Even if they are certainly nice people, you might prefer to get to know them by inviting them to a barbecue.
The camping mooring post is intended for both a release line and chains. Simply press it deep into the ground with one foot – according to the manufacturer, this even works with stony loam and clay. If that doesn't work, the hammer can help if necessary.
The stake is solid and can also be used for heavy dogs up to 60 kg. The curved cap and 360° buckle prevent the leash from getting tangled.
Little extra tip: The stake is ideal for all camping friends who often camp in storms. Who wants to be constantly on the lookout for pulled-out pegs in the grass?
---
5. 
Trixie Transport Box
It is particularly important to secure your dogs while driving.
So that nothing happens to your four-legged friend and you, a dog transport box must always be stowed away in such a way that it can no longer move in any direction – for example in the event of an emergency stop.
Here you can find out everything about transporting and securing four-legged friends during the journey:
We recommend the Trixie dog transport box. The main reason for this: it was built to be extra stable. The frame is so massive that will give you peace of mind to put your favorite four-legged friend there.
The other features are a nice bonus. For example, the dog box fits perfectly into the trunk of your towing vehicle thanks to its slanted sides.
But let's be honest – the most important thing is that the dog is housed properly. The Trixie Box does this excellently!
---
6.
Dog fence for Camping
Dog fences are also an ingeniously simple solution for marking out dog areas. Depending on the camping holiday, there are situations in which the dog can romp around freely, but should not leave a certain area. This can be when camping at a campsite or festival or on a motorhome trip.
The dog fence from Zippity Outdoor is 92 inches long and 42 inches high. The six posts are erected together with the net and fastened with raised floor nails. This means that mistress or master can lean back and relax and leave the four-legged friend unattended for a short time.
Even after a camping holiday with the dog, there is a use for clever fencing: maybe in the home garden? Or for the rabbit?
---
7.
Dog Bed for Camping
Once you have arrived at the campsite of your choice, the dog looks forward to his favorite place in the motorhome. But where is it exactly?
Most dogs love their cuddly blanket, which they already know from home. It would be best to put your favorite blanket in a comfortable sofa bed or dog bed. This will quickly get your four-legged friend used to his favorite place in the camper.
Furhaven has a polyester dog bed in its range that, in size ML (dimensions Small: 32″ x 26″ x 2″ / Large: 39″ x 30″ x 2″), even fits comfortably under the table in most mobile homes. The dog bed is available in wine red or cognac brown.
Why is the dog bed particularly recommended?
It's made of faux leather! You can easily wash out dirt and the like. Luckily, the covers are removable thanks to the sewn-in zipper. Because it is made of faux leather, it dries quickly after cleaning. At the same time, you have the certainty that nothing gets into the upholstery and those bad odors in the mobile home are reduced.
Without a blanket, you can easily let your dog sit on it without having to shower first. Afterward, simply clean it with the dog shower and let it dry.
In winter, imitation leather is too cold, so your favorite blanket should serve as a warming pad.
---
8.
Convenient Hygiene Set for Dog
With a hygiene set for dogs, the legacies of your furry friends can be easily collected. The droppings collector grabs the legacies and the bag can then be stored in the collector. The carabiner can be used to transport it to the next rubbish bin very easily.
Nutri-Vet Dental Hygiene Kit has amazing flavor, making it a breeze to brush your dog's teeth. It contains glucosamine, which is a key building block for making cartilage. If you use it regularly, it can help prevent the buildup of tartar.
We think: it's a clever idea for your next camping holiday with your dog!
---
9.
Dog Odor Eliminator for Camping
Even if you have a dog with little of its own odor, there can still be minor and major accidents. The SprayShield Pet Animal Spray is a practical travel companion.
This type of spray is particularly worthwhile for stubborn odors such as urine or vomit. It is said to even help with urine odors from cats and ferrets.
The manufacturer SprayShield states that it is naturally compatible and therefore not a chemical cleaner. It also removes breeding grounds for various germs at the same time. According to SprayShield, it is compatible with the environment, humans and animals.
The cleaner penetrates into all joints and cracks and works on a microbiological basis, even on upholstery and textiles, deep into the fibers.
---
10.
Handheld Pet Vacuum Cleaner for Camping
If something goes wrong or animal hair piles up in the mobile home, a good cordless handheld vacuum cleaner will help. BLACK+DECKER cyclone handheld vacuum cleaner can vacuum dry and wet, which is a real plus for sensitive upholstery and other camper parts.
In addition, you can reach every corner with this small and handy helper. It also saves space: you can store it vertically in the charging station.
Depending on the camping holiday, one charge is enough. It lasts about 20 minutes of continuous operation before it has to be connected to the mains. Then simply charge for 3-5 hours. It has a charging indicator light, which notifies you when the device is charging and/or fully charged.
---
11.
Smart App for Dog Owners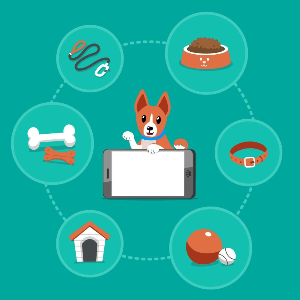 What does a free heat alarm sound like when it gets too hot for the dog in the motorhome?
The Best Dog Goes Apps have built-in heat alarms, especially for dog owners. You will receive an SMS on your cell phone if a certain temperature specification is exceeded in the mobile home.
You can even use it to switch on your air conditioner from a great distance, provided you have a remote-controlled system. By the way, the alarm itself is free of charge.
---
12.
Camping Sleeping Bag for Dogs
Depending on where and when you are traveling with four-legged friends, you need warming dog accessories.
When winter camping with a dog, it must not get too cold. We have therefore put together a few tricks for you on how to prevent hypothermia in your furry friends.
The same applies if you are planning a camping holiday with your dog and it can get really cold at night. Depending on the region (Norway or other northern countries), even some summer nights are freezing cold.
You should take reliable, protective camping equipment with you, especially in the tent. This is exactly what the Outrav sleeping bag for dogs does (current price at Amazon). If you've ever frozen in a tent at night, you obviously don't want to put your four-legged friend through it.
By the way, Outrav promises that all products go through practical tests. The dogs are allowed to test extensively. Sounds like a sensible thing to us. Who wants camping equipment that their beloved four-legged friend doesn't like?
Outrav sleeping bag is large enough for most breeds at 36 x 26 x 5 in. The polyester is water-repellent, yet dries quickly and stores the body heat of your favorite after slipping on. Thanks to the light synthetic insulation, even cold floors are no problem.
Aside, polyester is easy to clean if a mishap should happen. Simply put it in the machine and wash it with mild detergent on a gentle cycle.
---
13.
LED Safety Light for Four-Legged Friends
The perfect summer evening is here, it's slowly but surely getting pitch black at your campsite. Maybe you are sitting a few meters away from your RV.
When you get up, you suddenly almost trip over your dog because of the darkness. Maybe that wouldn't have happened so quickly with an LED light.
Even if you go on an excursion in the evening, the safety light helps you to always keep an eye on the dog. The practical helper can save lives when you are traveling somewhere where cars are driving!
If you have several dogs with you on the camping trip, you can assign them different colors. There are three colors to assign: Dog is red, Hektor may be green and Fido blue.
You can recharge the battery, it lasts about 20 hours. It is portable, durable and waterproof, making it great for outdoors.
---
14.
The Smart Hydration Pack
The extremely practical drinking backpack for various excursions is available in different sizes (the one linked here is size "S", for a chest circumference of 56-69 cm).
A drinking bottle should always be in your luggage, especially on summer excursions. Four-legged friends have a hard time in the summer heat. Even if you go on day trips or hikes, a special dog backpack is ideal for camping.
After putting it on, your dog will carry a foldable drinking bottle on the left and right, which will find a secure hold in the backpack. You can also store various small items and treats in the outer pockets.
The hydration pack has two points where you can attach a leash.
What we also like: The reflective strips, which offer additional safety in poor light. Okay, so they're not as convincing as the LED safety light mentioned above, but they're definitely a worthwhile addition.
---
15.
Life Jacket for Dogs
We are still at dog accessories for camping. But now it's going from land to water. Depending on the pitch of the camper, a lake or even the sea is often within reach and invites people and dogs to swim.
As always in life, when camping with a dog, safety comes first. After all, nobody needs a holiday where your four-legged friend gets into trouble at the lake! The Ruffwear life jacket is available in six sizes, from XXS to XL, and in three colors (current price at Amazon).
The first positive point that immediately struck me about this dog accessory: you can attach the mentioned safety light to the vest! So you can monitor your furry friends in the water when it gets dark.
The vest can be put on or taken off with two clips in the stomach area. It can be adjusted in the neck area. With the carrying handle on the back, you can hold the animal or lift it up.
If you want to give your dog the best life jacket on the market, you can go for Ruffwear.
---
16.
First Aid Bag
An important issue when camping with dogs is also the quick treatment of injuries. For this, it is essential that you have a first aid kit at hand so that you do not have to search for long. It is best to think about where you want to store it in advance.
In an RV, this can be a cupboard near the front door. When camping, it is best to have a smaller bag at the entrance to the tent.
Above all, you should make sure that tick tweezers are included in addition to the usual things such as plasters, rescue blankets, or pairs of gloves.
Alternatively, you can use a set for humans and add things specially designed for dogs. It is best to ask the veterinarian or someone who has done this before if you are unsure.
We recommend taking a look at the dog's emergency book before you travel and internalizing things by the time you go on vacation so that you don't make any mistakes in such a stressful situation. For us, the book also belongs in the camper closet next to the first-aid kit.
---
17.
Dog Collar with Address and Phone Number
Important safety equipment for dogs is a collar with the holiday address, home address, and telephone number (preferably a mobile phone) in case the dog is found.
The simplest and cheapest solution is pet tags (dog tags), which are available from Amazon, for example. There are three sizes and 10 colors available. It is a unique personalized custom metal dog tag. There you will also find stainless steel brands that you can engrave as you wish when ordering.
The tags are simply attached to the collar. If the dog gets lost, the campsite address should also be clearly legible for the finder. Definitely remember your cell phone number, it's extremely important.
---
Useful Safety Accessories for Camping with Dogs
From the list, we would like to particularly recommend the dog accessories that serve the safety of your four-legged friend.
Useful safety accessories for dogs:
LED safety light
Life jacket for dogs
Trixie transport box
Dog fence
Camping sleeping bags for dogs
Dog collar with addresses and cell phone number
First aid bag with tick tweezers
Dog emergency book
Conclusion
The list of dog equipment for camping is long if you take a look at the various shops and catalogs. This does not automatically mean that the dog equipment is really suitable for camping.
Have you read through all 17 items for camping with a dog? Perfect – then you are now ready for the big adventure. Only dog ​​equipment that is comfortable for the owner, increases safety, or makes camping easier appears in this list.
Something missing? Don't hesitate and write to us!
Hope our list of the best camping gear for dogs was helpful to you! We wish you a nice camping holiday with your dogs!
---
See Also…