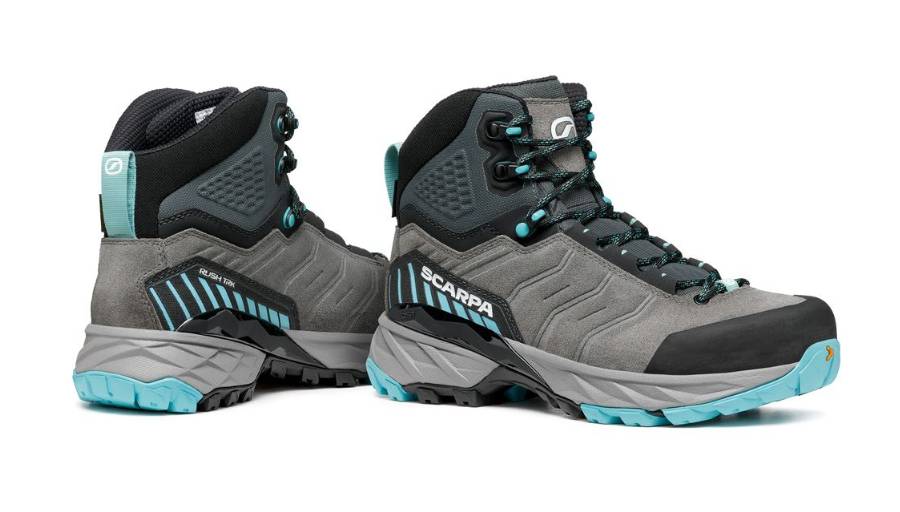 The Rush Trk GTX is perhaps the most anticipated men's hiking boot from Scarpa this year. Scarpa Rush Trk GTX hiking boots are equipped with an IKS (Interactive Kinetic System) Technology sole (a sole that reinvents comfort) which guarantees comfort and stability.
There are seven shock absorption zones that will allow a good distribution of the weight of your body on your supports to ensure more comfortable mountain adventures.
To make your daily mountain hikes even more exceptional, read our test and analysis of the Scarpa Rush TRK GTX hiking boots…
Scarpa Rush TRK GTX Hiking Boots Review
Main Features of the Scarpa Rush TRK GTX:
Upper: 1.7-1.9mm thick hydrophobic suede leather, breathable and durable leather. Thanks to its padded Autofit 30 collar, the ankle area is well protected while the foot is stabilized without pressure points.
Lining: GORE-TEX Extended Comfort membrane, abrasion resistant and quick drying.
Sole: The new Presa® sole is made from a SuperGum compound that provides high grip and durability. The IKS technology, characterized by 7 shock absorption zones, gradually and specifically supports the weight of the body during mountain activity. The DST chassis in the heel provides stability and provides anti-torsion characteristics.
Membrane: Gore-Tex
Weight: 555g per boot for a 42 and 465g per boot for a 38
Best Price:

Check On Amazon
The Field Test
Test carried out in the Alps on a day and two-day hikes (night in a refuge) during the autumn period.
Altitude: between 1500 and 2700 meters.
Temperature: between 0 and 18 degrees.
Scarpa Rush TRK GTX hiking boots are comfortable. You immediately feel good there. The fit is perfect and the shoe wraps well. We have the feeling of good protection. A feeling that is confirmed on the pitch.
The stone guard plays its protective role well for the toes, especially on the stony paths. After several hours of hiking, we do not see any friction points. It has good heel stability thanks to the protective frame.
Scarpa Men's Hiking Boots Detail
Excellent Fit – Effective Lacing!
On the lacing side, classic but effective. The self-locking hook plays its role well and allows you to maintain optimal lacing during walking.
Side Grip
It's all good too. SCARPA uses a Presa® sole, made from a SuperGum compound. The grip is optimal and progress on slippery/rocky ground is not a problem (yet we encountered a lot of wet/slippery passages this fall). We feel confident.
Waterproofing
In terms of waterproofing, the Scarpa Rush TRK GTX also really does the job. Crossing fords and rivers won't be a problem. Feet stay dry. The GORE-TEX membrane plays its role really well. No infiltration via the tongue because it is attached to the shoe up to the second hook of the laces (therefore over a good part of the height of the shoe).
Note that the Scarpa Rush TRK GTX is manufactured in Europe. This a good point for the Italian brand which lowers the carbon footprint of its products as part of the implementation of its " Green Manifesto ".
The Verdict
SCARPA with its RUSH TRK GTX completes its offer in the range of day hiking boots for small treks. We even believe that it can go further and accompany you on longer and more challenging treks. A great versatility.
The positives of the product:
Comfort
Impermeability
Good grip on slippery ground
Versatility
Interesting weight in this range
Scarpa wide plan hiking boots
Overall the Scarpa Rush TRK GTX is a good pair of hiking boots for this year with an effective and truly versatile design.
---
See Also…