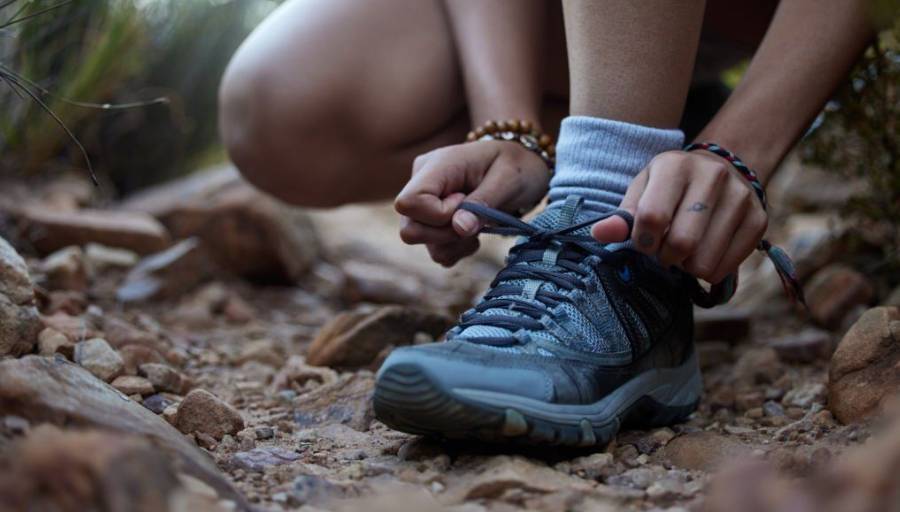 If you are looking for a good pair of boots for your next hike, you come to the right place.
As we look forward to 2023, manufacturers continue to innovate and refine their hiking boot designs, incorporating the latest technologies and materials to enhance durability, support, and traction.
The most important factors to look for in women's hiking boots are comfort and support. So before making the decision make sure the boot supports your weight and the additional weight of the backpack without twisting and protecting your ankle.
In this guide, we will explore some of the top contenders for the best women's hiking boots in 2023. You will also see the different selection criteria for buying a good pair of shoes.
Best Women's Hiking Boots 2023 – At a Glance
1. Columbia Women's Newton Ridge Plus
Specs:
Materials: 100% Leather_Synthetic
Waterproof: Yes
Breathability: Good
Average weight: 13 Ounces
Pros
Comfortable
Waterproof and durable
Built with advanced technology
Good Value
Buying Columbia Newton Ridge Plus Women's hiking boots means winning all the way. This is a pair of boots that contains everything you need for hiking borders on excellence. Without a doubt, no one can regret having them at home, because it is ready to help in any situation.
With its Leather_Synthetic that adapts to our foot, comfort is guaranteed. Their grilles provide us with ventilation in summer, but in winter they do not leave your feet cold. Their rubber sole absorbs impacts well. As they are higher than the average women's hiking boots, they protect the ankle well but the friction does not bother or irritate.
Their midsole offers excellent traction, even on wet stones. And the shape of the sole makes them excellent on looser terrain or snow as well. You will have no problem if raining or if you walk in puddles because the water resistance is excellent thanks to the gore-tex coating.
Overall, Columbia Newton Ridge Plus hiking boots are the best for their excellent traction, comfort, water resistance, and foot and ankle support. On the other hand, their resistance will always be lower than that of other more rigid materials.
---
2. Salomon L41168400 Women's X-Ultra
Specs:
Materials: 100% Synthetic
Waterproof: Yes
Breathability: Excellent
Average weight: 12 Ounces
Pros
Good sustainability
Versatile
Descent control technology
GORE-TEX Waterproof
Cons
When carrying a large weight, another option is preferable
Wide heel
The Salomon X Ultra is a flagship model of the famous Salomon brand because of so many reasons. They are very resistant and reliable in every way, and at a very good price for their performance. Whether you love a local day hike or hitting the trails for a multi-day adventure, Salomon hiking boots help you go the distance.
Their comfort is good. They are built with fairly rigid materials so that the boots last. And after a while, they adapt to our feet and become more comfortable than at the beginning. They offer good support unless we carry a large backpack with a lot of weight.
Thanks to Salomon's patented ContraGrip sole, which allows us to face almost any terrain. However, it's a bit weaker on rock, due to its stiffness. With gore-tex, waterproofing is out of the question.
Salomon X Ultra women's hiking boots deservedly earn their place among the best. For a price less than many other pairs, they offer durability and a balance of traction, and stability that few boots can match.
---
3. Oboz Sawtooth II Women's Low B-Dry
Specs:
Materials: Leather/Synthetic
Waterproof: Yes
Breathability: Good
Average weight: 1 Pound
Pros
Sustainable to the trail
Comfortable to wear
Good arch support
Long-lasting
The Sawtooth II Low B-Dry hiking boots are a great choice for long hikes or if you want a pair of boots that will last a long time. After many excursions, you will feel the boot intact, both in the seams and in the sole. This is something that very few articles can boast of.
Let's start with comfort. The boots are very well cushioned, both in the toe area and the ankle, so they will respond very well both on flat trails and on slopes. In addition, the excellent sole allows us to support our feet very well.
Traction is also remarkable without being one of the best. They will take us through any terrain reliably. These are made of leather and are triple stitched to the mesh and its excellent sole. However, the leather absorbs water in the rain or if we move through puddles.
Sawtooth II Low B-Dry women's hiking boots are among the best because they excel in many features. Resistance, comfort, foot support, and remarkable traction are their best assets. They give a good feeling of stability but they run small.
---
4. SALOMON Speedcross 4 Women's Hiking Boots
Specs:
Materials: 100% Rubber
Waterproof: Gore-Tex
Breathability: Average
Average weight: 10.56 Ounces
Pros
Slim and very light
Breathable and roomy
Suitable for multi-day adventure
Good price
Cons
Ankle stability could be better
If you are looking for a good pair of ultralight hiking boots, the SALOMON Speedcross 4 is your best option. It is made with the lightest materials and is one of the best hiking boots for short hikes that don't have too many technical sections or for carrying a spare pair of boots in your backpack.
If they are so light, it is because they sacrifice other aspects, although comfort is one of their best virtues. However, if you have a wide foot or a lot of volume, perhaps other options will suit you better.
As for traction and stability, SALOMON Speedcross 4 isn't the best option. Although for stretches without too many slopes or asphalt, they are quite suitable. Thanks to its design with few seams, materials and thin sole, it is the lightest women's hiking boot of our selection.
We conclude that this model is the best in terms of lightness. In return, you have to sacrifice traction and support due to the thinness of its sole. But for some excursions, they are sure to serve us.
---
5. Adidas Terrex Swift R2 Women's Hiking Boot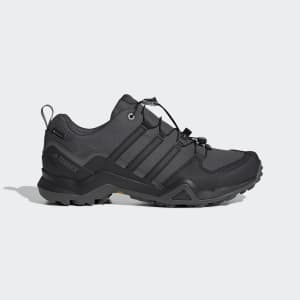 Specs:
Materials: 100% Synthetic
Waterproof: GORE-TEX
Breathability: Optimized
Average weight: 11 Ounces
Pros
Durable and stable
Excellent design
Premium construction
Cons
Not suitable for narrow feet
The Adidas Outdoor Terrex Swift R2 women's hiking boots are one of the most balanced in every way. It does not reach an exceptional level in any of its aspects, although it is distinguished in several. But what does not stand out gives a good level.
First of all, they are quite comfortable, especially if we have wide feet. Their sole is quite rigid and has a good balance between cushioning and support. The support is one of the indicators for which these boots stand out the most.
The traction is remarkable. You can move on safely almost any terrain. As for waterproofing, gore-tex guarantees it. The boot is made with good materials that will last a long time.
With this pair, we will be able to go on any mountain. However, the laces are too thin. Therefore, the Adidas Outdoor Terrex Swift R2 GTX hiking boots are a good choice. If you have narrow feet, another option will be more comfortable.
---
6. Merrell Women's Moab 2 Hiking Boots
Specs:
Materials: 100% Leather
Waterproof: Yes
Breathability: Good
Average weight: 1.1 Pounds
Pros
Good traction
Vibram sole
Air cushion
Good fit
The Merrel Moab 2 WP hiking boots for women are very cheap at this moment. They are waterproof and give us a very good performance for their price. This model is quite comfortable and with good traction. So they're not a bad option if you're on a budget.
When we first try them on our feet feel a little tight, but after a while, they relax and become more comfortable. It is therefore best to go for short hikes the first few times you wear these hiking boots.
Thanks to its Vibram sole, which is quite flexible, standing out on the rock. But it is a little loose on loose stones or sand because its studs have little separation between them.
As for durability, they offer remarkable stability. Finally, the points on which it stands out the least are its durability and weight. The Merrel Moab 2 is an excellent option if you don't want to spend more than 100 dollars on a pair of boots for your excursions.
---
7. Oboz Arete Low B-Dry Women's Hiking Shoe
Specs:
Materials: Rubber
Waterproof: Yes
Breathability: Excellent
Average weight: 8 Ounces
Pros
Good support for long hike
Tough design
Reasonable price
Ultralight
The Oboz Arete Low B-Dry women's hiking boots surprise us with their design, which looks more like a sneaker. Also, it is very well balanced in all aspects that we look for in a hiking boot.
These boots are comfortable for people with narrow feet because their materials are quite stiff and don't give much of themselves. Thanks to the sole, which is quite bulky and combines layers well. There is good support for long walks with a lot of weight.
In terms of grip, the rubber sole has a soft enough stiffness to walk well on rock. And the lugs are also good for walking on looser terrain. All of this with good water resistance and less weight than most of the hiking boots reviewed here. The shoes are comfortable enough even in wet weather.
Overall, the Oboz Arete Low BDry is a great option for balance in every way, and of course hiking. Despite its sneaker-like appearance, this model is highly waterproof, along with good traction and support.
---
How to Choose Your Women's Hiking Boots?
To be able to hike safely and with maximum comfort, here are the points not to be overlooked when choosing the best women's hiking boots.
The distance to be covered and the type of terrain
The distance you will cover during your hike is an important criterion for choosing your boots. The same is true for the type of terrain to be borrowed. A multi-day hiking trip will require sturdy, high-cut boots that provide better tread and ankle support.
For short hikes, opt for low or lightweight hiking boots.
Climatic conditions
The weather conditions and climate of the region will play an important role in choosing your hiking boots. If it's cold, if it's raining, or if you plan to hike wet or snowy trails, waterproof boots will be essential to keep your feet dry and warm.
Gortex-type boots are recommended for most mountain hikes. On the other hand, mesh panels with air vents are the right boots to wear when hiking in the hottest and most humid areas of the globe like Hawaii or Central America.
Adhesion
A good grip is essential to progress on technical and varied trails where you may encounter mud, wet rocks, smooth roots, or even snow. Any good self-respecting hiking boot must minimize the risk of slipping which could endanger the hiker.
Of course, no boot is perfect and often you have to work on your technique and be careful. For example, the use of poles can greatly help prevent falls.
The good news is that even an entry-level hiking shoe will provide good grips. It is rare to come across a slippery hiking boot. This is all the more the case since most brands have adopted Vibram technology, a rubber that is both resistant and naturally grippy (with the exception of Salomon who manufacture their own rubber, Contagrip).
In addition to the rubber, the design of the studs plays an important role in maximizing traction. The deeper and sharper they are, the better the grip will be.
Support and Stability
High-top hiking boots will have high ankle support and stiffer soles that don't allow as much flexibility to help keep you stable when carrying a heavy pack. Others, like low-top hiking boots, lightweight hiking boots, and trail running shoes, will provide less ankle stability on rocky terrain but allow more freedom of movement.
The size of the boots
Your foot should be snug enough when you walk, but still, be able to wiggle your toes without them touching the front of your boot.
Remember that your feet swell under the effect of heat and with the efforts you are going to make, you risk having blisters and bruises under the nails if you do not choose the right size. Then, when you push your toes forward in the boot, you should be able to slide two fingers on either side of the Achilles tendon. Then as you walk, your heel should not lift.
Cushioning
This is one of the areas where hiking boots have borrowed the most from running and trail shoes. The improvement in padding technologies has made it possible to obtain foams (in EVA or TPU) that absorb shocks better and better and energize walking, all without weighing down the shoe too much.
For example, Salomon's EnergyCell technology is found on almost all of its boots, whether for hiking, running or trail running.
The weight
Heavy boots are perfect for you if you value durability and support a lot. However, this type of boots can tire you out more quickly. Lightweight boots and shoes on the other hand won't weigh you down but will provide you with much less support. So it's up to you to decide what's most important to you based on your hiking goals.
Verdict
To be able to hike in total comfort, it is better to choose the best pair of hiking boots. On the other hand, beginner hikers opt for affordable hiking boots. We hope that our selection and buying guide will help you make the right choice. Note that this ranking updating regularly so you can bookmark this for future reference.
FAQs
Do I need ankle support for hiking?
If you are an active, healthy person with no ankle issues, you don't really need extra ankle support while hiking. Besides, boots tire your legs faster and make your footwork clumsier.
Why do my hiking shoes hurt my ankles?
They are probably still stiff and the laces are too tight. When washing them, tie the laces just past the last D-ring or eyelet, just where the top of your foot meets your ankle. Also take regular walks in your boots to break them in properly.
Should I wear two pairs of socks while hiking?
Wearing two pairs of socks is a good solution to avoid wet feet. This will help keep your feet dry throughout your hike. Many people choose this option to avoid getting blisters by simply reducing the humidity and having an extra layer of protection.
Do you need special insoles?
This is not essential, but the insoles (also called sock liners) can allow you to customize the comfort inside the boot. So you can choose ones that better fit the shape of your foot. They allow you to adjust the volume of space in the shoe: you can choose a thinner one to have more space or a thicker one for more strict foot support.
How can I ensure the right fit when buying women's hiking boots?
Achieving the right fit is crucial for hiking boots, as an improper fit can cause discomfort and foot-related issues during your hikes. Here are some tips to ensure the right fit:
Measure Your Feet
Try Boots in the Afternoon
Wear Proper Socks
Wiggle Room
Heel and Ankle Support
Walk and Test
Consult the Retailer