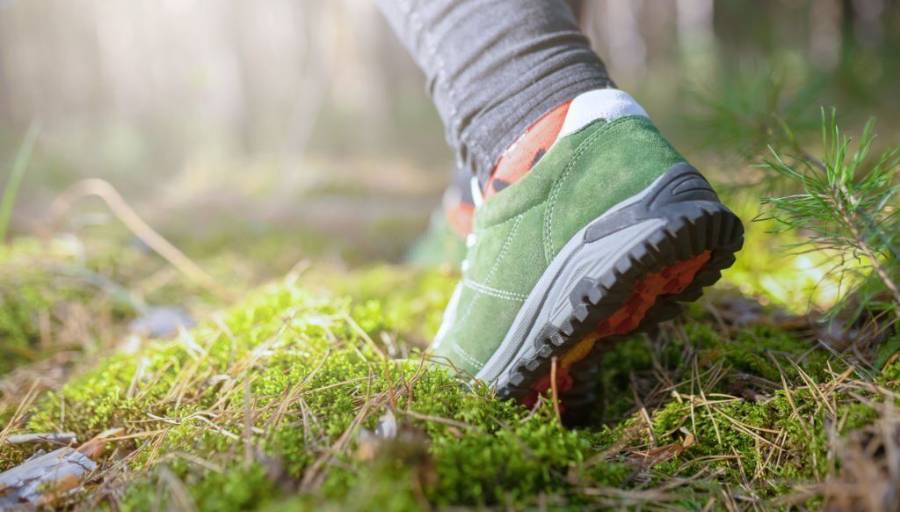 In the heart of nature, every step becomes a dance between you and the terrain beneath your feet. Anyone who has ever enjoyed barefoot shoes will no longer want to be without them, not even when hiking. They offer a smooth feeling of walking and the toe gains freedom, not like readily traded bulky or stiff boots.
This year's selection of the best barefoot hiking shoes embodies the perfect fusion of comfort, durability, and sensory connection. From the rugged slopes of the Rocky Mountains to the lush trails of the Pacific Northwest, we have carefully organized a list of the finest barefoot hiking shoes to accompany you on your outdoor journeys.
So, lace up, and let's set out on a barefoot adventure like never before.
Best barefoot hiking shoes of 2023
Take a look at our comparison table of the 5 best barefoot hiking shoes of 2023.
| | | | | |
| --- | --- | --- | --- | --- |
| Image | Name | Sole | Weight | Price |
| | VIVOBAREFOOT Tracker II | Firm Ground | 11.6 oz. | Check |
| | Skinner's 2.0 Hybrid Sock | Rubber | 5.64 oz. | Check |
| | Vibram Five Fingers V-Trail | Rubber | 6.4 oz. | Check |
| | Merrell Vapor Glove 4 | Vibram | 1 lb | Check |
| | Vivobarefoot Tracker Forest Esc | Firm Ground | 1.2 lbs | Check |
1. VIVOBAREFOOT Tracker II – Best barefoot shoes for hiking with a high shaft
2. Skinner's 2.0 Hybrid Sock – Best barefoot shoes for short hikes
3. Vibram Five Fingers V-Trail Running Shoes – Best toe shoes for hiking
4. Merrell Vapor Glove 4 Trekking Shoes – Best low-cut barefoot hiking shoe
5. Vivobarefoot Esc Tracker Forest – Best sturdy barefoot shoes for hiking
If you need more information, follow these depth reviews…
Specs:
Material: Leather, Textile
Sole: Firm Ground Sole
Closure: Lacing
Shoe Width: Wide
Size: Available
Pros
Waterproof and designed for all weather
Suitable for narrow feet
Removable thermal sole
Stable eyelets and laces
Very easy to wear
Cons
Turns out small
Sole is glued
Stiff sole
The VIVOBAREFOOT Tracker II barefoot shoes are designed with a focus on providing a natural and minimalist footwear experience. It keeps your feet dry with a waterproof and breathable membrane. Thanks to a removable thermal sole, it is also suitable for the cold season and ensures warm feet.
It features a firm ground (FG) outsole, which is designed for use on a variety of natural terrains like trails, grass, and rocky surfaces. This type of outsole is optimized for grip and durability.
It is very light and offers good support in the heel area and space for the toes in the front area. Although it is robust due to its stiffer sole, it does not offer the classic barefoot shoe experience. This model is suitable for beginner hikers because the shoe is stiffer and has a high shaft.
Overall, the Tracker II is a high-quality barefoot shoe with a high shaft that provides sufficient freedom of movement. It offers great protection against environmental influences and is a good companion in rough terrain.
---
Pros
Structured like a sock
Ultralight and portable
Good value for the money
Rubber sole for perfect grip
Machine washable
Cons
Not suitable for beginner hikers
Order one size larger
Rapid odor development
Skinners 2.0 is the successor to the popular Skinners shoe socks. These barefoot socks are non-slip due to the coating on the sole. It goes beyond the sole of the foot and therefore also protects the toes and sides on rocky terrain, and provides good abrasion protection and long durability.
The outsole, crafted from top-tier Swedish polymers, ensures a crumble-free grip and provides your feet with exceptional traction.
Due to the low weight, changing shoes can be packed in the backpack without extreme additional load. It could be a very light alternative to classic trekking shoes with a non-slip coating. And with a little practice, Skinners 2.0 barefoot shoe can also be used for longer hikes.
When you need to clean them, just throw them in the washing machine! We recommend Skinners Hyprit Sock for everyone who has a little experience in hiking. However, it is not suitable for long hikes as it offers full foot freedom and everything has to be balanced with your own muscles.
---
Pros
Simple to wear
The separation between the toes gives plenty of freedom of movement
Good fit with quick release
Vibram sole provides good grips
Cons
The separation between toes can chafe
Needs practice getting dressed
The V-Trail 2 is equipped with cutting-edge features for effortless trail conquests. It incorporates advanced lamination around the toes to thwart seam splitting. It also features 3D Cocoon mesh seamlessly into the outsole, ensuring defense against rugged elements such as rocks, roots, and acorns during outdoor training.
The V-Trail barefoot hiking shoes are suitable for trail running and convincing with their good fit. The Vibram sole ensures a firm grip on any surface and the quick-release fastener ensures that the shoe fits snugly on the foot.
The design is impressive and extremely robust. There are women's and men's models available. These differ mainly in the shoe width. You can order in your own size.
This model also works well with casual cycling. Insoles can be worn in the Five Fingers, but then the meaning of the barefoot shoes is partly lost because the ground is no longer so noticeable.
---
Pros
Rubber toe cap
Breathable and slim
No animal ingredients
Very stable sole
Versatile
Cons
Not waterproof
Slight heel of 1 cm
From day trips to long hiking, the Merrell Vapor Glove 4 is the best barefoot shoe to support your next outdoor excursion. It impresses with its lightweight design and additional toe protection that protects against bumps and debris. It has a structured Vibram sole that ensures a good grip on straight to rough terrain.
The mesh fabric is breathable and quick-drying. With this equipment, the Merrell Vapor Glove 4 shoe is very well-suited for short and intensive hikes. Since it is not waterproof, it can be used primarily in good weather.
The half-cut trekking shoe is also well suited for tours in summer due to its low weight and breathable material. The sole, which goes beyond the toes, protects them well. The thin sole gives you a good feel of the ground when you run.
It is also breathable thanks to the mesh fabric and dries quickly. However, to ensure a good fit, make sure to choose one size larger.
---
Specs:
Material: Leather, Textile
Sole: Firm Ground Sole
Closure: Lacing
Shoe Width: Wide
Size: Available
Pros
Stitched sole
Water repellent
Stable and non-slip
Flexible and foldable
Extra insole for cold days
Cons
Difficult to wear
Not for narrow feet
Stiff
Vivobarefoot Tracker Forest Esc barefoot hiking shoes with a sewn sole and riveted lace eyelets are very durable and robust even on long tours. It is designed to provide optimal grip and traction on uneven, natural surfaces. This helps enhance stability and confidence during outdoor activities.
These trekking shoes are breathable thanks to a special mesh lining and thus ensure a dry feeling in the shoes. The outside is water-repellent due to the processed leather. This will keep your feet dry if you take good care of them. The 3 mm thick sole is puncture-resistant and offers good grips on any surface.
It comes with a removable ortholite insole, which provides extra insulation in colder weather. It can be removed for breathability in warmer conditions.
Overall, the Tracker Forest Esc is a high-quality and well-made shoe with a sewn sole, which makes it very durable in addition to the leather.
---
What to Consider When Buying Barefoot Shoes for Hiking?
Before buying the best barefoot hiking shoes, the following characteristics should be considered:
Type of barefoot shoes
There are barefoot shoes with individually sewn toes and classically shaped shoes. Many swear by the better grip and greater mobility of the individually wrapped toes. Others are uncomfortable with this and resort to hiking boots with a toe box. The decision depends on the preferences of the users.
Flexibility comes with practice. Even if your feet don't use the toe freedom you've gained at first, it makes sense to give them some time to get used to the new conditions. Foot training also helps here.
Shaft height
Low or high cut is the question here. Models with a high shaft support the ankle on longer trekking tours and hikes with heavy luggage, and barefoot shoe beginners in particular benefit from this.
Material
Leather is the classic material for hiking shoes. It is good for the foot climate and if it is well cared for, it is water-repellent, resistant and durable. Lined with a membrane, leather shoes are also waterproof. For short and easy hikes, the water resistance can be neglected. This is primarily important for long hikes where changing shoes is not so easy.
Sole
The sole determines the friction of the barefoot shoe. The profile and the material influence the longevity, the grip and how robust it is. Many shoes suitable for hiking and trekking have toe protection to absorb shock and prevent abrasion from the ground.
It is also important whether the sole is sewn or glued to the shoe. The sewn version is more robust and is an advantage, especially on long tours or multi-day tours.
Hiking season
Wet feet are no fun when hiking. Protection from rain, snow, and other environmental influences is therefore particularly important on trekking tours or hikes. The season plays an important role here.
➤Winter?
If the shoes are intended for winter, then a warm layer on the sides and a thermal sole in the shoe is a good advantage. Water-repellent material is highly recommended for the cold season. This keeps your feet warm and dry even on longer tours.
➤Summer?
In summer it is important that your feet do not sweat too much and that excess moisture does not remain on the skin to prevent blisters. Breathable models are therefore a good choice.
To ensure that your feet stay dry even on long hikes and multi-day tours, you can pack another pair in your backpack. Because they are lightweight and flexible, they don't take up much space.
Find the right size
Plenty of room for your toes is an important criterion when buying barefoot hiking shoes. As with classic shoes, buying shoes that are too small is the most common mistake when buying shoes.
➤shoe length
The rule here is that the shoe must offer at least 1 to 2 thumb widths more space than your own foot length. This extra length is needed for rolling because the bent foot is longer than when standing normally on the ground. Also, the extra length compensates for the fact that the foot becomes wider and longer when running due to blood circulation.
➤shoe width
The width of the shoe is also important. The foot does not lie on the seams of the sole but is framed by it. The width can be easily checked on the insole of a shoe. If the foot completely covers the sole, the shoe is too narrow.
What You Should Consider When Switching From Classic Hiking Shoes to Barefoot Shoes?
Is it commonplace to walk barefoot, or are your feet always wrapped in classic shoes? If you have not had much experience with barefoot shoes or walking barefoot in everyday life, it is not recommended to take part in a long hike in the mountains. It doesn't matter whether you're a hiking pro or a beginner: Anyone who has rarely or never walked barefoot before, even in barefoot shoes, will overwhelm their own feet.
Make fun on your first hike with barefoot shoes, good preparation is important. Anyone who observes these five points will make it easier to start running with barefoot shoes:
Start slow: Walking barefoot a lot, or walking in barefoot shoes, is the best preparation for a barefoot hike. Here the credo applies slowly and continuously. Like training in the gym or jogging. The training intensity gradually increases.
Exercising feet: In addition to regular barefoot walking, foot exercises can support the development of muscles and train the mobility of the feet.
Take breaks: Rest breaks are important for regeneration. In the resting phases, the body builds muscles and the like in order to be prepared for the next load. It is important to listen to your own body. When your feet hurt, you need a break.
Note fit: In order to make the rolling movement, the foot needs space. Pay attention to freedom of toes and sufficiently wide shoes. The shoe should be 1 to 2 thumb widths longer than the foot.
Enough prep time: A little more stress every day, every week. First short distances, then longer. In the beginning, easy straight paths, then gradually into the terrain. Depending on the level of training, the preparation time should last 1 to 3 months.
Tip: As soon as your muscles are no longer sore on the easy paths, you can start with the uneven paths in the terrain.
FAQs
Which barefoot shoes are suitable for hiking?
The main factor is your own training level. If you regularly walk barefoot and are looking for hiking shoes, you can also fall back on minimalist models. These protect against injuries caused by sharp edges and others but offer a full barefoot feeling.
Are barefoot hiking shoes waterproof?
Models that are waterproof have a membrane built into the shoe. This protects the foot from water from rain and mud and allows vaporous moisture, such as sweat, to escape. However, pure leather shoes can also be kept dry on the inside with a wax treatment and additional impregnation spray.
How much do good barefoot shoes cost?
There are now models for less than 20 dollars, but the workmanship is rarely good and durable. High-quality products cost between 100 and 250 dollars. Seasonal offers from manufacturers also make high-quality products available at lower costs.
Are barefoot hiking shoes suitable for all types of terrain?
While barefoot hiking shoes excel on natural terrains like trails, forests, and rocky surfaces, they are not ideal for extremely rugged or technical terrain. It's important to choose a shoe with an appropriate outsole for the specific type of hiking you plan to do.
Do barefoot hiking shoes provide enough protection for rough terrain?
While barefoot shoes offer a more minimalist experience, many models are designed with features like durable outsoles and toe protection to safeguard against rough terrain. However, make sure the shoe matches the intensity of your planned hikes.
Are barefoot hiking shoes suitable for people with foot conditions or injuries?
People with foot conditions or injuries should consult with a healthcare professional before transitioning to barefoot shoes. However, some people find benefits from the natural movement.
Which barefoot hiking shoes are the best?
The best barefoot hiking shoe depends on the level of training and the shape of the foot. There are sock-like barefoot shoes and those with a noticeable sole that still gives a good feeling on the ground. It is important for all barefoot hiking shoes to have enough room for the toes and a flexible sole so that your feet are not passive but actively involved in fast walking or running.
Final Thoughts
The market offers a diverse range of barefoot hiking shoes adapted to meet the needs of outdoor enthusiasts seeking a more natural and connected experience on the trails. By choosing your barefoot hiking shoes from our guide, you're not only embracing a more natural way of moving but also potentially reaping the benefits of improved foot strength and posture.
Keep in mind that the right size is important because only the right shoe size brings the advantages of barefoot shoes. If the shoe is too narrow or too small, these will be lost.