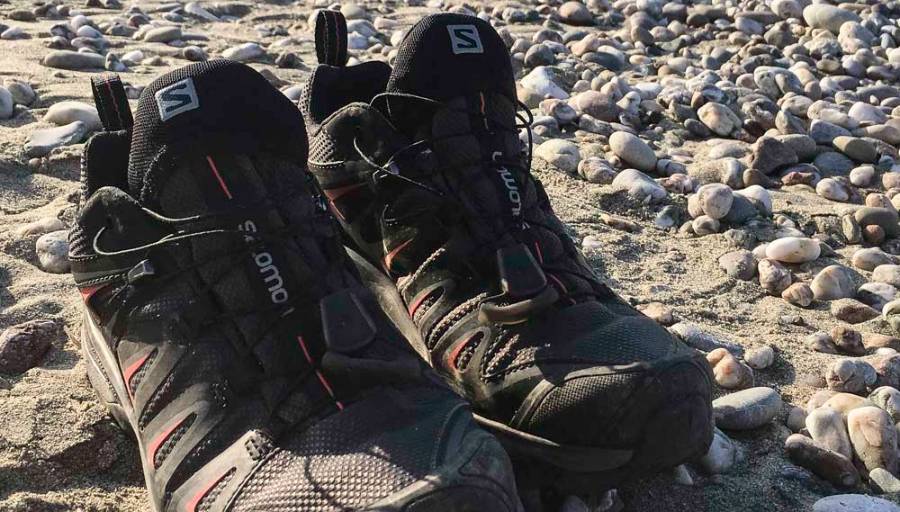 For a long time, I hiked with high hiking boots. Having worn out my previous pairs of boots to the bone, it was time to change. With a badly damaged sole, the shoes caused me pain, especially in my knees and Achilles tendons.
After spending some time comparing the different models of hiking boots, I set my sights on the Salomon X Ultra 3 GTX Women model. Thanks to the size guide available, I was able to order the right size pair right away.
In this guide, I will try to figure out whether the Salomon X Ultra 3 GTX is suitable or not.
Salomon X Ultra 3 GTX Women's Shoe Review
Salomon X Ultra 3 GTX Women's Shoe
Specifications:
Inlay sole: Textile
Lining: Textile
Outsole: Rubber
Upper: Synthetic / Textile
Drop: 11 in mm
Heel stack height: 19 mm
Forefoot stack height: 8 mm
Weight: 330 g
Lacing system: Quicklace®
Waterproofness: GORE-TEX
I took this pair of shoes with me for my hiking holidays without having had time to test them before (I took it a bit at the last moment for the order).
However, this is not something I recommend! It is better to buy your shoes in advance and have the time to test them on short walks to see if everything goes well with them. Even if you feel good in a pair of boots, there is no guarantee that this will always be the case after several kilometers of walking.
It is also one of the best solutions for having blisters… Especially since when I received these shoes, my first impression was not very good: I found the liner very rigid and the upper a little high: I feared chafing at the ankle level in the long run… to be sure not to have any problem, I took my trail shoes back-up.
In the end, more fear than harm, since I quickly adapted to my Salomon X Ultra 3 GTX which softened very quickly and proved to be very comfortable. Real slippers!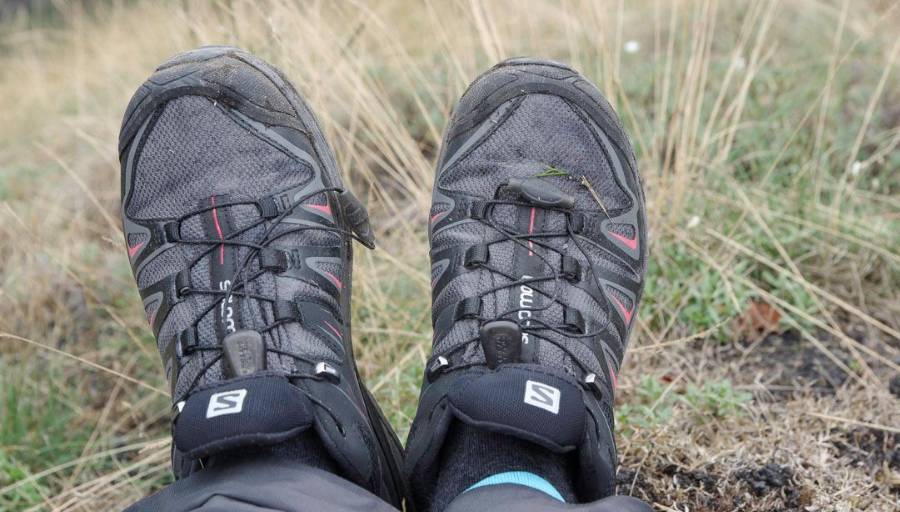 Design and construction
The Salomon X Ultra 3 GTX Women's is a pair of low-cut shoes designed for hiking. The outsole is rubber "Contact grip" and its texture allows you to grip the ground well uphill and downhill, which prevents slipping.
It is available in several colors. For my part, I chose an anthracite gray color simply because it was the model available in my size.
The insole uses Ortholite technology which allows shock absorption and provides good cushioning to the shoe. It's really very comfortable. I find that the cushioning of the sole is much more successful than my previous hiking pairs.
The impermeability of the shoe is achieved thanks to a Gore-Tex membrane. I have not yet been able to test the effectiveness of the waterproofing since I had a dream time at my hiking destination. But I will update this paragraph when I have tested the shoes in the rain.
What scares me more about a shoe with a low upper is the infiltration of rainwater from above into the shoe. I tell myself that this is less the case with a shoe with a higher upper since the pants protect better. To do with experience.
Lacing system
The shoes are equipped with the Quicklace lacing system developed by Salomon. This is the first time I've tested a pair of shoes with such a system. No need to tie a knot just tighten and loosen it with a small plastic device. It is very fast and effective. This also allows you to never have the lace come undone. I find it very practical and allows you to quickly put on and take off your shoes.
Comfort and breathability
I took these shoes with me to Yosemite Valley. Again, I could not test their waterproofness. On the other hand, I found them very breathable and very comfortable to walk. I didn't do any hiking per se on this trip, but I find these shoes are ideal for general travel as they are very comfortable for touring and walking and quite light for a pair of hiking boots.
Personally, I don't like walking in sneakers intended for running, even over short distances, because I find the sole too soft and it quickly becomes uncomfortable. I prefer to take a pair of hiking shoes with me and I am satisfied with this model which is quite discreet for a sports shoe.
In short, these shoes have successfully passed the test! I recommend them 100% for the practice of day hiking and they will accompany me for a long time on my next hikes!
2022 Update
I've been using the Salomon X Ultra 3 GTX Women hiking boots for a year now and I'm still satisfied with them! They have always been ultra comfortable for me and have accompanied me on all my getaways in 2022, including my 3-day hike in the Tuolumne Meadows to Yosemite Valley.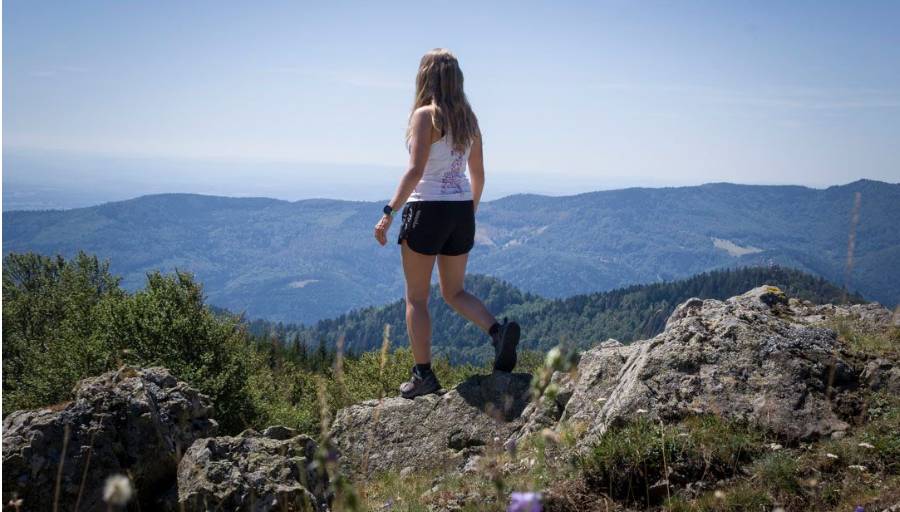 I was able to test their waterproofness and I validate it. On the other hand, as the shoes have a low upper, be careful if you walk in puddles that are not very deep because the skin water enters from above.
On the other hand, I may have found them a little light for my itinerant hike in Yosemite Valley. I think that on multi-day hikes with a backpack I prefer to have a high upper, but that's just a personal feeling.
2 years later, I can tell you about the lifespan of the product. It seems very satisfactory to me since the shoes are still in very good condition and I think they will be able to accompany me for several more years.
Conclusion
I would like to thank Salomon who offered me the pair of Salomon X Ultra 3 GTX Women hiking boots for reviewing, but I remain free of the editorial line.
What do you think about the Salomon X Ultra 3 GTX? Leave a comment below!
Also Read: