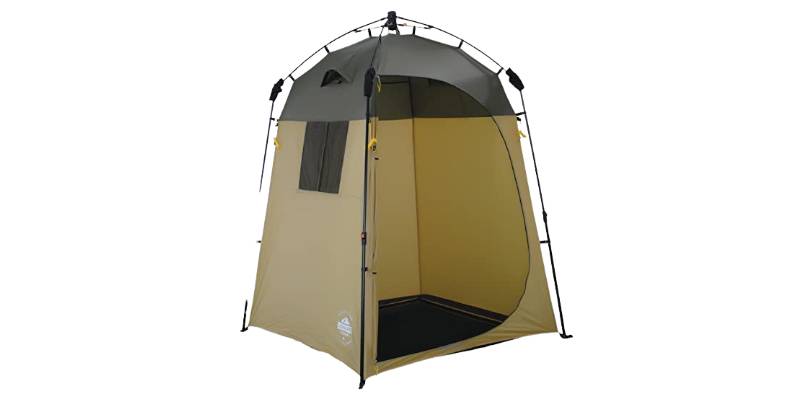 Anyone who goes on holiday abroad with their camper does not always know whether the showers and toilets are clean.
Shower tents, which can also be used as a changing room or toilet tent, are ideal for such circumstances. They are quick to set up. After all, you are in control of the cleanliness of the Porta Potti you have brought with you.
Today we show how well the Lumaland Outdoor Pop Up Shower Tent performs in our review and what strengths and weaknesses it has.
Lumaland Outdoor Pop Up Shower Tent Review
Lumaland Outdoor Pop Up Shower Tent: Who Is It for?
Lumaland Outdoor Pop Up Shower Tent can be used as a changing room, toilet tent, or shower tent. Various purposes are conceivable for the camping area.
In the caravanning sector, the Lumaland is interesting as a shower tent and toilet tent when we arrive with a smaller RV without a toilet and shower and are more often free.
If you want to use it as a shower and toilet tent, the most important property is opacity. Due to the relatively dark brown or optionally green and thick 190T polyester tent fabric, privacy is maintained. The D door is also opaque. If you want to be on the safe side here, you can use the Qeedo shower tent that we tested, which is equipped with black tent fabric.
Lumaland is therefore well suited as a toilet tent. When time is of the essence, the universal tent can be set up quickly and protects you from prying eyes. With 150 x 150 cm, we get enough space to set up a portable toilet.
If we are traveling with a larger family tent, the Lumaland can be an excellent addition to the equipment. First of all, depending on the type of tent, you don't always have the right standing height to change comfortably while standing.
Secondly, depending on the tent or festival site, it may be necessary to accept a certain waiting time in front of the sanitary facilities. Showers are often full, especially in the morning. If we have Lumaland outdoor pop up shower tent in our luggage, we can save a lot of time with a separate camping shower – there is no need to queue.
Lumaland Outdoor Pop Up Shower Tent: Different Usage
Shower tent: Lumaland has a hook for attaching a camping shower. There's also a mesh window that can be darkened, through which we have access to the shower rod on the outside with a flick of the wrist – so the towel doesn't get wet because it has to be hanging in the cabin. Two pockets for shower gear are attached. The Mesh bottom allows water to drain easily.
Changing tent: The ridge height of the Lumaland is 205 cm – that is more than most competing tents. So if you are a big camper, you can use the Lumaland as a changing tent with a clear conscience. The crossbar on the outside serves as a towel holder or can be used to dry the bikini. We don't get wet in the cabin either – the Lumaland has a water column of 1,500 mm thanks to the PU-coated 190T fabric and is therefore waterproof.
Storage tent: There is often not enough storage space in the group tent to stow away all supplies well enough or to have them quickly to hand. One solution to this is a storage-only tent. The Lumaland is suitable for this thanks to its generous footprint of 150 x 150 cm. The mesh floor is good, but an (additional) sewn-in groundsheet would have been better for storing open supplies.
Toilet tent: If you have a mobile toilet in your luggage, you can use this model to set up a toilet cabin that is protected from view in just a few minutes. Unfortunately, we miss a toilet roll holder, which we would have liked to see on one side. If you don't want to do without it, you can use the Green Elephant toilet tent.
Pros and Cons Lumaland Outdoor Po Up Shower Tent
Pros:
Good standing height: 205 cm
Also usable for two
Setup in less than 2 minutes
Mesh net on the ceiling for ventilation
Removable mesh floor
Mesh window and blackout curtain
Crossbar can be used as a towel holder
Two mesh storage pockets
Cons:
Additional, dense groundsheet desirable
Assembly and Disassembly
Lumaland Outdoor Pop Up Shower Tent can be set up in less than two minutes. Incidentally, with a little practice, the standing tent can also be dismantled in around two minutes.
After loosening the safety strap, we can simply pull the pop-up tent up using the telescopic rods. It basically sets itself up when we pull on the roof ridge. Then all we have to do is extend the telescopic poles and untie the tent.
For sandy soil, we recommend checking out our guide to tent pegs for each soil type. After all, you can also use the Lumaland on the beach provided you have the right sand pegs with you!
If you want to camp in places that are particularly prone to storms, you should take ground-adapted, particularly stable pegs with you for this model. It is also worth taking a look at our guide to tent pegs mentioned above.
Unlike the Green Elephant Pop Up Utilitent, we don't get sandbags included for extra stability. However, the stability is still good because of the telescopic rod. If you still want to make improvements here, you can take the appropriate sacks with you, which will be filled with sand on site and provide additional support.
Weight and Mobility
Lumaland shower tent measures 100 x 15 x 15 cm in the pannier. This corresponds to a total volume of 22.5 liters. Therefore, it is a bit bulkier than the competition from Green Elephant and WolfWise. If you want to take your shower tent with you on a day trip or only plan to pack very lightly, you should grab one of these models.
With a total weight of 5.3 kg, it also weighs slightly more than the two competing tents. But it still fits into smaller trunks without any problems. After a little practice, the shower tent will find enough space in the polyester bag with zip. This is not the case with every tent.
This type of tent is rightly becoming more and more popular with many campers. Due to the flexibility, but above all quick use, Lumaland pop up shower tent is interesting for both campers and tent vacationers.
Conclusion
If you want to remain flexible and often go on camping holidays away from the well-known campsites, you can use Lumaland outdoor tent for all sorts of things. With this shower tent, we can avoid long queues in front of crowded public showers and save a lot of valuable vacation time.
However, the standing tent could have used an additional fixed floor mat. If you don't want to do without it, you are better off going to the competition from Qeedo. For example, the Lumaland is also intended to be used as a storage tent for food supplies.
We particularly like the standing height of 205 cm in the Lumaland. A stooped posture is no longer necessary, even for taller fellow campers. The floor space is also a bit more generous than that of the competition even showering for two is possible.
We can also recommend the Lumaland Outdoor as a toilet tent – ​​for example with a Portable Toilet in your luggage. In any case, the missing toilet roll holder is bearable.
Overall, the Lumaland is a good all-around tent that is a useful addition to many camping trips.