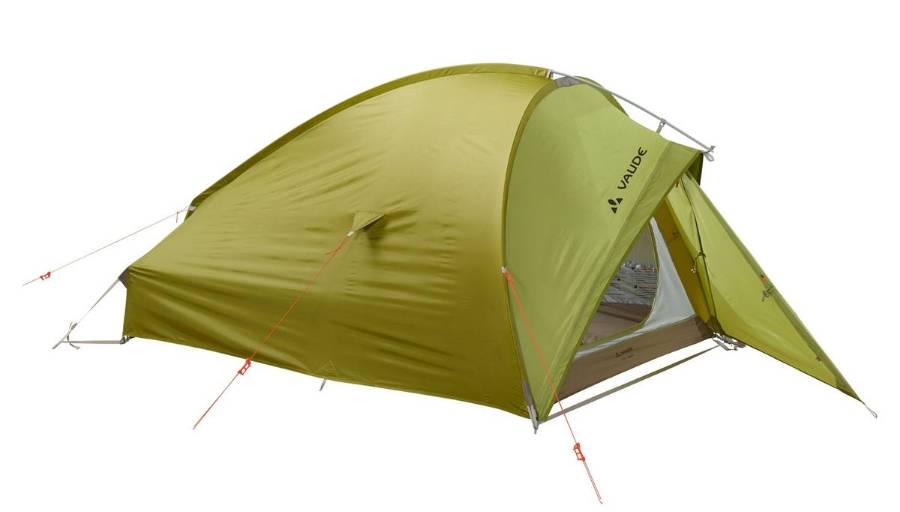 The Vaude Taurus 2P is made with typical German quality. It is combined with robust construction and a clever ventilation system with openings in the roof, making it perfect for both camping and hiking. Thus, this 3-season tent offers a pleasant indoor climate and a large capacity where two people can live comfortably.
You will have understood: the Taurus 2P has serious arguments to make. To see this a little more clearly, I gave this tent a thorough review. Continue reading this test/review of the Taurus 2P to find out what it is really worth.
Main Characteristics of the Vaude Taurus 2P
Seasonality / Number of people: 3-season tent for two people
Materials and coverings: flysheet 100% polyester 75 denier polyurethane; floor 100% 70 denier polyamide, polyurethane coated
Chamber dimensions: 230 x 130 x 95 cm and floor area of ​​4.0 m²
Inner tent footprint: 3,0 m²
Storage dimensions: 50 x 17 cm
Design: canopy dome structure with entrance and apse and a ventilation system with openings in the roof
Best Price:

Check On Amazon
Pros
Good ventilation
Very good weather protection
Choice of sustainable materials
Many pockets and storage
Cons
Not the lightest tent
Low and sloping walls which affect general comfort
Construction (Weight, Materials…) and Durability
Thanks to sealed seams and a 100% 70 denier polyamide floor coated with polyurethane, the Vaude Taurus 2P holds up well, even when camping on small rocks and twigs. Its ties on the side and the corners at the foot are reinforced for increased durability.
Overall, this 3-season tent inspires confidence with its construction. It adopts a canopy dome structure and is made from materials offering a good compromise between lightness and resistance.
While the flysheet is made of 75 denier polyurethane polyester, the floor is entirely made of 70 denier polyurethane coated polyamide. Besides great material choices, another thing we like about the Taurus 2 P is that it has a small footprint, which is great for camping in small places.
To optimize space, Vaude angled the frame in the foot section and added additional pines to the flysheet. Apart from saving space, the solution with pins increases the stability of the tent in the wind.
At the entrance to the Vaude Taurus 2P, the rainfly makes a vestibule large enough for a medium-sized backpack and a few pairs of boots. Four zippers are on top and allow you to open the vestibule from either side or from the top to both corners.
Likewise, this tent includes a pocket for each person and a separate pocket to store the inner door.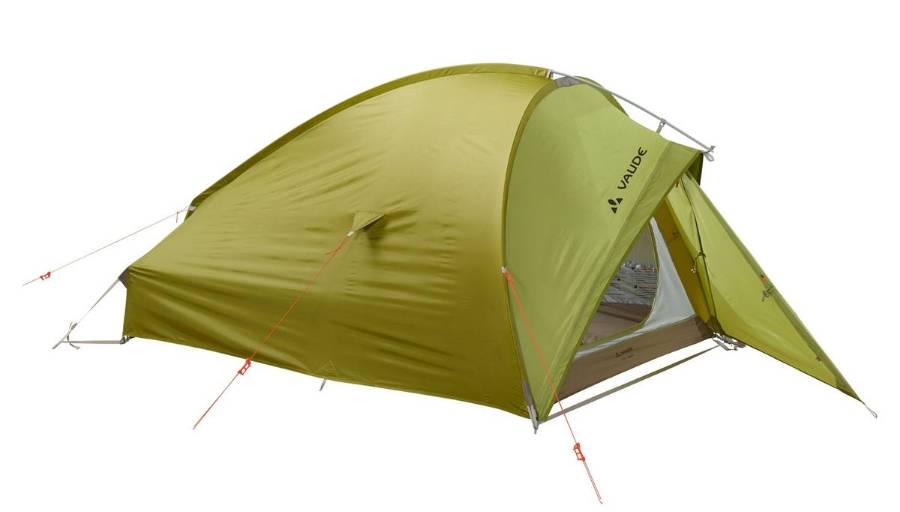 Habitability and Ease of Installation
Although the Vaude Taurus 2P tent is very waterproof, staying indoors waiting for a storm to die down isn't particularly pleasant. The walls of this tent are indeed low and inclined so much so that the space is narrow for two people to sit at a time.
On the other hand, the interior (230 x 130 x 95 cm) gives enough space for two people to sleep. However, note that the low ceiling and sloping walls make it impossible to sleep without having your feet against the side of the tent.
Otherwise, the setup usually takes about five minutes and is done without much difficulty (because of its self-supporting structure). Similarly, it is easy to stretch the hoops by holding only one end: they are in fact introduced into sleeves closed at the bottom.
Downside: the poles being of similar length, a color code would have facilitated their identification, and avoided stressful moments when setting up the tent in the rain for example.
Weather Protection and Ventilation
Ventilation within the Vaude Taurus 2P is very good, and while sleeping you can improve it even further by opening the top a few inches and/or opening the vestibule on either side or from the top via the zippers provided for this purpose. That being said, if this 3-season tent allows air to pass well, it is also thanks to the design of its interior walls in polyester as well as that of the mesh window.
These features also promote efficient moisture wicking. Even in subzero temperatures, there is little or no condensation on the walls, and when it does occur, it is only in small amounts.
Again, the Vaude Taurus 2P stands out positively because of its good protection against bad weather. It counts for this purpose on its double-walled design, as well as on its rain fly, which is particularly useful in the event of storms. Besides this rain hood, the Taurus 2P has a polyurethane-coated floor with taped seams: you are therefore assured of very good protection against rain or storms.
Also, in winter, snowfall on the tent causes the sides to sag, but fortunately, you can correct this by kicking the wall from time to time to knock the snow off.
Keep in mind that this is a 3-season tent, so it's not designed for heavy winter use.
The Verdict
Our overall rating is 4.1 out of 5.0
Based on….
Ease of installation
Weather protection
Price quality
Design
Durable and reliable
All in all, if you're looking for a tent that will serve you well for years to come, choosing the Vaude Taurus 2P is a decision you won't regret. Its fabrics and poles inspire confidence in their durability, and the overall design of this tent allows you to have a comfortable and reliable sanctuary even in inclement weather conditions.
The Vaude Taurus 2P is admittedly a bit heavy, but considering the quality of the materials and the overall performance of the tent, the space-to-weight ratio is reasonable. Among other things, we appreciate its ideal porch for cooking and internal pockets for storing equipment.