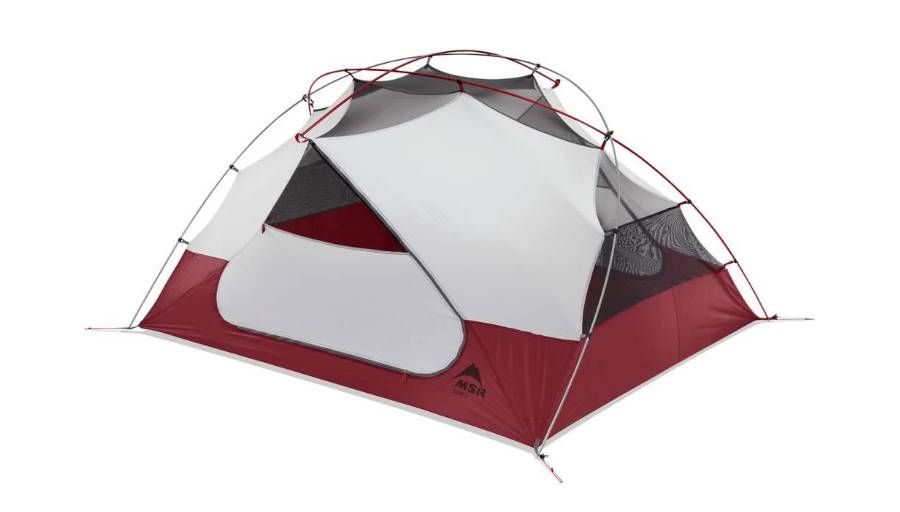 MSR has long been a trusted name in both outdoor clothing and tents. Regarding the tent, the famous manufacturer has developed different ranges to ensure that it meets the needs of all adventurers. In this selection, the MSR Elixir 3 remains a popular choice for those who need a spacious 3-person tent.
This incredibly strong tent ticks many boxes: great headroom, good ventilation, easy setup, effective protection against wind, rain, and more generally against the most adverse weather conditions. All of this is combined with a very reasonable price that makes it an affordable option for many outdoor enthusiasts.
In view of such solid arguments on paper, it is not difficult to understand the popularity of the MSR Elixir 3. I subjected this tent to a thorough examination to check whether it confirms the promises of its solid technical sheet.
Main Features of the MSR Elixir 3
Seasonality / Number of people: 3-person freestanding 3-season backpacking tent
Materials: flysheet in 68 denier polyester Ripstop with polyurethane coating and DWR coating; floor in 70 denier nylon taffeta, polyurethane coating and DWR coating
Dimensions folded: 51 x 20 cm in its own transport bag provided
Chamber dimensions: 213 x 172 x 104 cm
Maximum ceiling height: 104 cm
Layout: two doors and matching vestibules
Weight: 3190g
Comes complete with: tent body, aluminum poles, rain fly, footprint, pegs, guy lines, stuff sack, and set up instructions
Best price:

Check On Amazon
Pros
Robust and affordable
Large interior volumes thanks to its single post design
Good build quality
Easy installation
Cons
A bit heavy
More comfortable for 2 people than for 3
The white color can be messier
Construction and Durability
The MSR Elixir 3 uses a unique pole design that provides more volume inside the tent and high headroom, but a smaller footprint compared to most three-person tents.
All things considered, from the first contact with this tent, we find the paw of MSR in terms of manufacturing quality. The Elixir 3 multiplies the guarantees of durability, thanks to a neat construction reminiscent of those of expensive alpine tents, but also to very good choices of materials.
MSR Elixir 3 tent is made up of aluminum poles, a 1500mm 68D polyester ripstop rain fly, 40D canopy, and 3000mm waterproof 70D nylon taffeta floor.
This 3-season tent doesn't skimp on tightness and might even handle the fourth season. The MSR Elixir 3 has what it takes to serve you well for many years to come, but ultimately its durability will depend entirely on how you treat it.
On the other hand, if you plan to go on long hikes or if space is an important consideration for you, keep in mind that the MSR Elixir 3 is not the lightest and most compact option. Its folded dimensions are 51 x 20 cm while the weight is 3,190 g. That being said, you'll probably barely notice how heavy this tent is if you're walking a short distance.
Moreover, if the manufacturing materials of the Elixir 3 are resistant and high quality, the white fabrics are subject to stains, and can therefore be difficult to clean.
Habitability and Ease of Installation
Although the floor space may be too small for three tall people to comfortably sleep inside, the MSR Elixir 3 is a very spacious (especially for two people with their gear) and comfortable tent.
This is largely due to the fact that it adopts a dome-shaped design which gives it a large headroom (104 cm). So most adults can sit and move around comfortably in this tent. The MSR Elixir 3 also has the advantage of having fairly large doors, so getting in or out is not a problem.
When it comes to installation, you'll be reassured to know that the Elixir 3 is easy to assemble. Whether it's windy or rainy, you won't encounter any particular difficulties in deploying this tent yourself, without assistance (except perhaps in very windy weather).
MSR has done everything to make your job as easy as possible. The aluminum poles are notably color-coded, so you know exactly where they go.
Weather Protection and Ventilation
Another highlight of the MSR Elixir 3 is that it manages to offer incredible ventilation without compromising privacy or warmth. So hot and humid days shouldn't be a problem. In case of high heat, you will be able to easily remove or reassemble the sides of the rain fly while being protected against insects and debris.
The Elixir 3 is equipped with a huge mesh fabric on both walls for this purpose. Also, despite being a 3 season tent, it holds up surprisingly well to rain, wind and chilly nights. Of course, don't expect the MSR Elixir 3 to withstand very cold weather or snow.
MSR made smart material choices to allow this tent to handle various adverse weather conditions without failure. For example, the 68D polyester ripstop rain fly with DWR coating is strong enough that winds won't blow into the sides of the tent or blow through the fabric. In terms of waterproofing, the fabrics used to make the Elixir 3 are superior to most other 3-season tents, but not the best.
Verdict
For all it offers, the MSR Elixir 3 is incredibly affordable. We recommend it not only for its excellent build quality but also for its spacious chamber with ample headroom. Although three people can't sleep inside very comfortably due to the not-so-generous floor space, they can sit perfectly and move around in it.
The MSR Elixir 3 is also easy to pitch and incredibly well-ventilated. This three-person tent also offers good roominess, effective weather protection, and a neat design reminiscent of expensive alpine tents.
If you're on a tight budget and really want your money's worth, the MSR Elixir 3's excellent value for money and overall great performance won't disappoint.