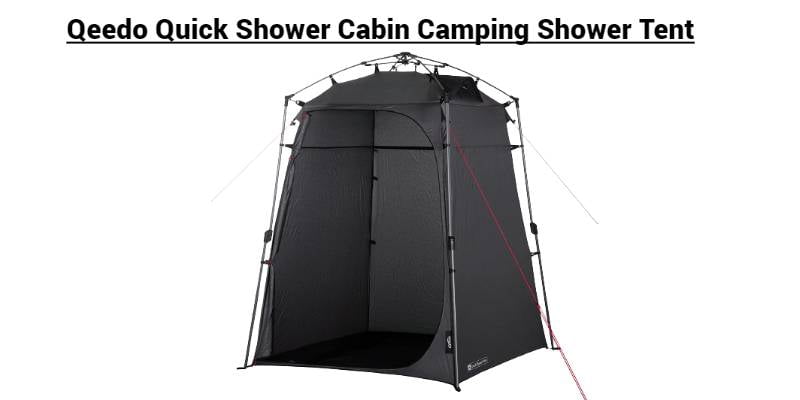 Due to the increasing popularity of the so-called universal tents, we are now taking a closer look at the Qeedo shower tent, which is quick to pitch. In today's review, we will explain what the shower and changing tent with telescopic poles offers and for whom such a changing tent is actually suitable.
Of course, as always, we will show you strengths and weaknesses – also in comparison to other models on the market.
Qeedo Quick Shower Cabin shower tent is also available from Amazon, among others.
Qeedo Quick Shower Tent Review
Qeedo Quick Shower Cabin: Who Is It Suitable for?
Qeedo Quick Shower Cabin universal tent can be used both as a changing room and as a toilet or shower tent. It is particularly ideal for campers who don't have an on-board toilet in their RV or motorhome and would therefore be dependent on public facilities.
If you own one of these, usually smaller motorhomes, you might belong to the group of younger campers who are mostly free-standing and often don't go to pitches or campsites for days.
For this group of campers, Qeedo toilet tent with its assembly time of around 30 seconds is ideal for quickly setting up a portable toilet on the campsite and using it out of sight.
Ultimately, the most important function is privacy when using a toilet tent, shower tent or changing room.
Just like the WolfWise shower tent we tested, Qeedo shower tent scores with a thick, dark tent fabric. We therefore do not recognize any contours or shadows from the outside and do not have to have a bad feeling that we might be observed when using it.
The zippers also seal well. The closed D-door is protected from view. So whether we use it as a shower tent, changing room tent or toilet tent, it does a good job of maintaining privacy.
If you count yourself among the festival campers, you might want to have your own shower with you – Qeedo Quick Shower Cabin is the right choice for this.
Queues often form in front of the sanitary facilities at major events with tent meadows, which can result in a considerable waiting time.
Especially at peak times in the morning, when many tent holidaymakers go to the public shower, we have often complained about the considerable loss of time because of the shower queues. In addition, we sometimes have to put up with a longer hike to the showers at particularly large festivals if the tent area is particularly large.
We also save a lot of time with the pop-up function: With some cheap products, assembly takes considerably longer – the Qeedo stands in less than a minute and saves a lot of valuable holiday time.
Qeedo Quick Shower Cabin Tent: Different Usage
Shower tent: It can be used as a shower. It offers a removable tarpaulin and a ground net for variable use, depending on the ground on site. The floor can be unfolded and also attached to the tent wall. In addition, two shower compartments are sewn into the sides for storing shampoo and care utensils.
Changing tent: The Qeedo can serve particularly well as a changing tent, as we get a comfortable standing height of 2 meters. This makes it easy to change while standing. Because of the size of the side pockets, we also have an additional storage option when changing clothes. The clothing stays dry thanks to the 4,000 mm water column – the Qeedo is absolutely waterproof.
Storage tent: If you use a smaller tent or a compact camper, you can also use this model as a storage tent. The variable floor allows us to prevent insects from getting into the tent and tampering with the supplies.
Toilet tent: If you take a mobile camping toilet with you, you can use it particularly quickly in the Qeedo universal tent. Thanks to the telescopic rod, which snaps in easily, we have a toilet cubicle that is protected from view in no time at all. Unfortunately, we miss a toilet roll holder, which we would have liked to see on one side. If you don't want to do without it, you can use the Green Elephant toilet tent.
Pros and Cons of the Qeedo Quick Shower Cabin Tent
Pros:
Good standing height: 200 cm
Also usable for two
Set up in under a minute
Easy to open like an umbrella with the telescopic poles
Two storage pockets inside
Mesh net on the ceiling for ventilation
Variably usable, foldable floor, mesh & tarpaulin
Cons:
Assembly and Disassembly
Qeedo Quick Shower Cabin shower tent can be set up in less than a minute. It takes more than five minutes to set up the first tent. But experience has shown that you become more and more experienced the longer a tent is in use.
First, we loosen the safety strap after we have freed the universal tent from its packaging.
Thanks to the so-called Quick Up System, the tent can be simply pressed together from bottom to top and then opened like an umbrella. We pull the fiber gas/steel rods apart using the telescopic function until it audibly snaps into place.
Then we can simply secure it with guy ropes using the enclosed pegs. If necessary, fix the groundsheet using the corner loops.
Unlike the Green Elephant Pop-Up Utilitent, we don't get sandbags for additional stability with this model. On the other hand, the guying and securing with the stable telescopic rods are well done, and the included ground pegs are significantly more stable than with the Green Elephant.
For sandy soil, we still recommend checking out our guide to tent pegs for each soil type. In it, we explain what you have to consider depending on the soil conditions and situation regarding the pegs and introduce you to our favorites.
Weight and Mobility
This shower cabin tent measures 105 x 19 x 19 cm in the pannier. This corresponds to a total volume of 37.9 liters. Therefore, This model is a bit bulkier and heavier than the competition from Green Elephant and WolfWise. It is more suitable for car camping, but for a trekking tour, we recommend the much lighter Utilitent from Green Elephant at only 2.5 kg.
Universal tents of this type have become more and more popular over the last few years – rightly so, we think! The multifunctional design and the flexible use for various camping purposes make it equally interesting for mobile homeowners as well as for tent vacationers.

Conclusion
Qeedo shower tent is suitable for those who want to use a camping shower or a portable toilet and also have a strong interest in maintaining their privacy. Qeedo is well suited as a shower tent. We get a stable cabin, which is also absolutely opaque due to the dark material.
Hooks, sewn-in pockets, and a holder for the shower hose are also available. The floor is also interesting because we get a tarpaulin and a mesh net here. This keeps us flexible.
The only downside: the tent has no side windows. However, if you value it, you can use the WolfWise shower tent without hesitation. There you will find three side windows.
But the standing height is great even tall people can change their clothes standing up in this without any problems.