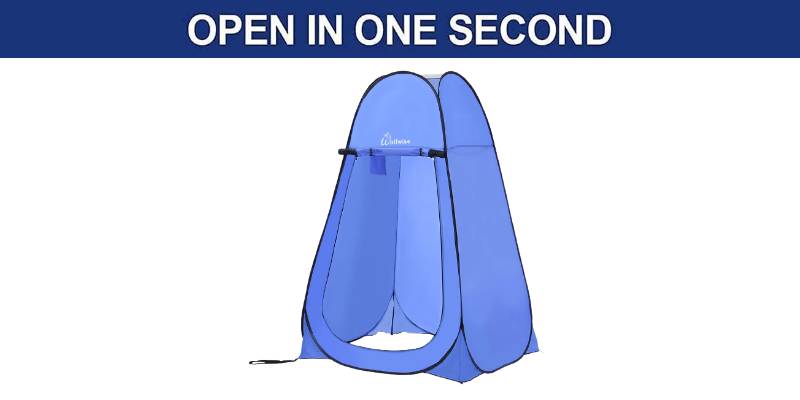 As an experienced camper, you have certainly found sanitary facilities on one or the other campsite that leave a lot to be desired. It's good if you have a shower tent in the vehicle that can be set up quickly.
Today we take a close look at the WolfWise Pop Up Shower Tent, which can also be used as a storage, changing room or toilet tent.
We will show you the strengths and weaknesses that you can expect from the Wolfwise pop up shower tent. And above all, for whom such a shower tent can be worthwhile.
WolfWise Pop Up Shower Tent Review
Who is the WolfWise Pop Up Shower Tent Suitable for?
Wolf Wise pop-up shower tent is worthwhile for campers who cannot assess the situation of the sanitary facilities on the pitches and campsites during their trip.
So if you actually want to use it as a shower tent, you are at a previously unknown festival, for example. When we spent one or the other part of the summer on festival meadows before Corona Virus, we encountered this situation again and again.
Friends who had no previous experience with such major events either didn't want to use the festival showers or found the "hikes" to the sanitary facilities to be time-consuming – including queuing in front of the showers.
So if you arrive with your RV or motorhome and want to use a camping shower anyway, you are well prepared with this shower tent. It saves time that can be spent elsewhere than queuing and walking halfway across the square. In addition, you don't have to share the shower with strangers and you have more privacy.
WolfWise shower tent is also worthwhile for campers without an onboard toilet, who are often free with their mobile home and therefore have no access to campsites.
Functions of the WolfWise Shower Tent
Shower tent: quick to use, opaque, and easy to clean. WolfWise shower tent has a clothesline and a removable floor mat.
Changing tent: If you use a small one-person tent, there is no headroom inside the tent for comfortable changing while standing. WolfWise changing tent on the other hand is 190 cm high and ideal for changing quickly.
As sun protection: If you fish or don't have a pavilion on the campsite with you, you can simply leave the cabin of the WolfWise shower tent open and use it as a portable shade provider. You can also save on sunscreen except for your legs. The outer skin of the shower tent has good UV protection.
Storage tent: Those who go on holiday with a one- or two-person tent are quickly ready to go. However, such mini tents lack storage space for luggage or camping equipment. If the car is parked further away, WolfWise Pop-Up Storage Tent is a good choice. A storage tent is also appropriate for larger camping groups to store shared gear.
Toilet tent: If you want to use a mobile camping toilet, you should create a little privacy. The fully closable all-purpose tent from WolfWise is an excellent choice for exactly that. Above all, the WolfWise toilet tent can be set up as a pop-up tent in just a few seconds. It can be just right for urgent situations or campers with bladder weakness.
Thetford Porta Potti 365
Pros and Cons of the WolfWise Shower Tent
Pros:
Lightweight: 2.1kg
Slim pack size: 61 x 61 x 4 cm
Good standing height: 190 cm
UV protection 50+
Pop-up tent: Easy, quick to set up
Sturdy Design: Steel frame and guy lines
Clothesline included
Storage bag included
Removable floor mat
Mesh cover on the ceiling
Three windows with zips for good ventilation
Cons:
Shower compartment/organizer compartment for shampoo is missing
Assembly and Disassembly
The construction is done very quickly, analogous to the pop-up tents of conventional design. You simply look for a place that offers enough space for the shower tent and remove it from the transport bag.
After that, it builds itself up by literally throwing it in the air. After inserting the groundsheet and tensioning the lines with four pegs, the assembly is complete. If you leave out the tester's explanations at the beginning, it takes about 2 minutes to dismantle completely the changing tent.
So you see how fast it can go. This also invalidates the argument that assembly and disassembly would be too time-consuming in the long run. Instead, we are convinced that such a universal pop-up tent can save a lot of time on vacation – especially with regard to possible queues in the sanitary area.
Weight and Mobility
The pack size is 61 x 61 x 4 cm, so the volume is only 14.8 liters. This means that the universal tent from WolfWise fits in every vehicle and in every trunk, no matter how small.
Apart from the slim pack size, WolfWise shower tent only weighs 2.1 kg. It is therefore ideal for taking with you on your next trekking excursion. It easily fits into larger trekking backpacks.
If you have to walk halfway across the pitch because only the very last plot was available at the edge, you will at least have pleasant sun protection within seconds and you don't feel like you have to carry two boxes of water as you do with so many family tents.
Conclusion
Anyone who uses a camping shower on vacation needs privacy, depending on the situation.
WolfWise shower tent is a good choice for showering – for example, because of the good headroom or the integrated clothesline, which we miss in other models.
The comfortable standing height is particularly exciting for campers who have a small tent with them without standing height and prefer to change their clothes or do their make-up while standing and for whom a large family tent is out of the question.
For those looking for a stable storage tent that will also be rewarded in terms of this feature, the WolfWise is definitely suitable for this, thanks to steel rods, various guy ropes, and robust pegs.
When a storm comes up, it can be stowed in the vehicle in no time at all thanks to its quick assembly and disassembly. This feature makes the WolfWise a suitable, undisturbed retreat when the portable toilet needs to be used quickly.