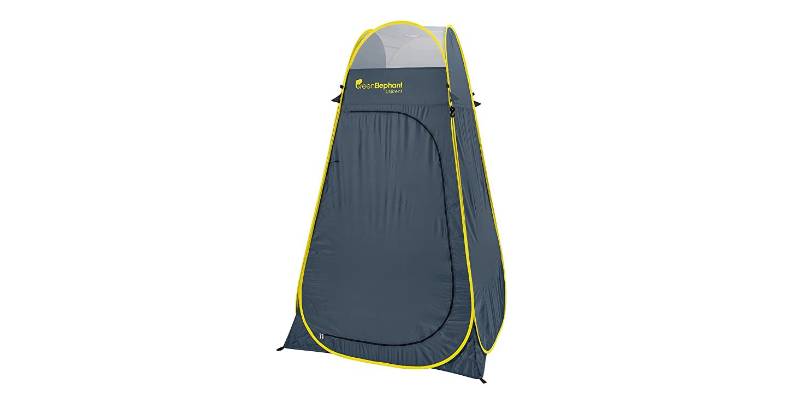 Anyone who owns a mobile home or RV without an on-board toilet or is reluctant to stand in line in front of the public sanitary area at festivals may have thought about a toilet tent or shower tent.
These multifunctional tents are becoming more and more fashionable – not least because free-standing away from camping sites and parking spaces are also increasing.
Today we're taking a scrutinizing look at the Green Elephant Pop Up shower tent, toilet and changing tent. We will show you what advantages and disadvantages are to be expected and for whom such a purchase can be worthwhile.
Green Elephant Pop Up Shower Tent Review
Green Elephant Utilitent: Suitable for Many Campers and Vacationers
The most important function of the Green Elephant Pop Up Shower Tent is to maintain privacy when it is to be used as a toilet tent, shower tent, or changing room.
This model achieves privacy by doing two things. On the one hand, the tent material is dark, opaque, and of sufficient strength (polyester T210). This means that prying eyes from the outside don't stand a chance.
In some models, the tent material is thinner or the fabric is too light. As a result, these shower tents are no longer considered opaque. On the other hand, the door on the Green Elephant Utilitent seamlessly closes completely, analogous to the WolfWise shower tent we reviewed.
As with the WolfWise, we can always use the Green Elephant as a pop-up tent when it has to be particularly fast. Campers with bladder weakness can set up the Utilitent in minutes without having to go to the nearest public toilet, for example. This makes this pop up tent ideal for festival campers and mobile homeowners who are often free.
Sanitary facilities at festivals are not always so clean that you want to use them unconditionally. On the other hand, queuing in front of toilets and showers is a common phenomenon.
Thirdly – especially at major events – the way to the sanitary facilities is associated with a significant loss of time. So we already had hikes of 10 to 15 minutes before we got to the showers. Then there is the way back.
Especially on vacation, you want to use the time in the best possible way – the Green Elephant as a shower tent saves a lot of time at festivals by avoiding waiting in line and unnecessary walks to the showers.
Green Elephant Utilitent: Different Usage
Shower tent: Green Elephant pop up shower tent is quick to set up. Above all, completely opaque thanks to the thick, dark material. The shower cubicle has a towel rail, a storage compartment for toiletries, and an opening for camping showers in the ceiling.
Changing tent: Green Elephant changing tent has a comfortable standing height (210 cm) and a floor area of ​​120 x 120 cm. This eliminates the hassle of changing clothes while sitting – good news for owners of small tents. It has a lantern holder so that you can change your clothes at night without tripping over them.
As sun protection and shelter: Anyone who takes a trip to the beach or needs a shady spot when fishing is well prepared with the Utilitent from Green Elephant. With the door open, which we can completely roll up to the side and secure, we have a suitable shelter in which to place a camp chair. The portable sun protection is also ideal for hunters or bird watchers.
Storage tent: Those who use a smaller tent or a compact camper often have little storage space for luggage and equipment. Even if the vehicle is parked further away, the Green Elephant Utilitent is ideal.
Toilet tent: If you take a mobile camping toilet with you, you want to use it undisturbed. This is exactly what the Utilitent is excellent for. It is quick to set up and can be just right for campers with bladder weakness. It also has a toilet roll holder already installed on the right side.
Thetford Porta Potti 365
Pros and cons of the Green Elephant Utilitent
Pros:
Lightweight: 2.5kg
Pack size carrying bag: 60 x 60 x 5 cm
Good standing height: 210 cm
Easy, quick assembly
Stable: steel frame, guy ropes, 4 sandbags
Storage pocket inside
Mesh cover on the ceiling
Zippered window
Towel rack outside
Toilet roll holder mounted inside
Cons:
No groundsheet
Not strong enough in windy situations
Assembly and Disassembly
The structure of the Green Elephant Utilitent works quickly and easily with the following steps:
First, we get the foldable universal tent out of its carrying bag. Then we simply look for a vacancy with enough space. The tent unfolds by itself. We set it up vertically and tie it down securely using the lines and a total of eight pegs.
If you camp on terrain with sandy ground, you should fill the sandbags and use them for security and additional stability.
Incidentally, the attached pegs are less good for sandy soil. If you want to know more about which pegs to use where and in which situations, check out our guide to tent pegs for every ground.
Overall, this model only takes a few minutes to set up. If you also use the included sandbags and properly brace the Utilitent, you will need a little more time than with the WolfWise shower tent. It usually takes no more than five minutes to set up the Utilitent. Dismantling is also quick.
Anyone who has done the assembly and disassembly a few times also becomes more and more confident. This means that the universal tent is also worthwhile for the situations mentioned in which you want to save time.
Weight and Mobility
The pack size is 60 x 60 x 5 cm and has a volume of 18 liters. This means that the Utilitent fits in any trunk and even in most trekking backpacks.
As mentioned, the slim pack size can motivate you to take simply the universal tent with you for the next fishing trip or hike. A look at the weight also reveals that the Utilitent weighs just 2.5 kg, making it the ideal travel companion, even on trekking tours.
We can see why this type of tent is becoming increasingly popular. The multifunctional design combined with excellent portability makes it an interesting addition to traditional equipment for just about any camping purpose.
Conclusion
If you use a camping shower on holiday, you need a reliable shower tent that protects you from prying eyes. Not least because of this, the protection of privacy is the most important criterion. As mentioned above, the Utilitent achieves this better than most shower tents on the market.
The Green Elephant Pop Up Utilitent is a good choice for undisturbed showering – also because the standing height of 210 cm is significantly more comfortable than with smaller models.
However, we would have wished for an insertable groundsheet for this function, which we could use optionally – for example on sandy ground. A tarpaulin is included with the competitor WolfWise, for example – so if you don't want to do without it, you should take a look at our review of the WolfWise shower tent.