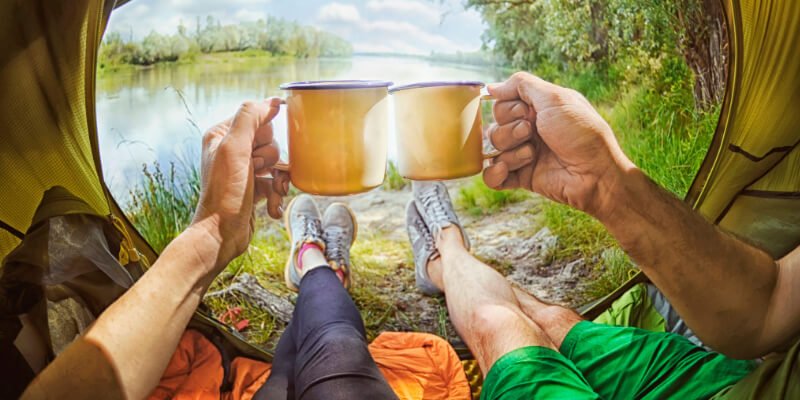 Whether with family, friends or colleagues, a camping trip can be more enjoyable with the right equipment. When you're going outdoors away from home for multi-day hikes or camps with your best friend or partner, a good quality 2-person tent is the right size.
If you are planning to go on such an excursion with someone else, possibly a romantic time with your partner, then you have come to the right place. In the following guide, we would like to introduce the top 10 best camping & hiking tents for 2 people. We will consider factors such as durability, weight, ease of setup, weather resistance, and overall comfort.
We also give treasure tips so that you can make the right purchase decision. At the end of the article, you can find answers to frequently asked questions with useful information.
Best 2-Person Tents for 2023 – At a Glance
For all information such as their materials, functions, season, weight, price, and more, we courage you to read each review individually.
Specs:
Material: Polyester
Dimensions: 82 x 102 x 45 in.
Weight: 6.4 pounds
Geertop ultra-light 2-person camping tent is ideal for both camping and hiking. It is an outstanding quality backpacking tent under 100 dollars, suitable for two people and pets. It is not too heavy to take multi-day trekking.
It has an outer and an inner tent. The outer tent is made of 20D 360T PU8000mm nylon and the seams are additionally compressed. For the inner tent, 20D 360T nylon and a B3 breathable nylon mesh were used. 20D 360T PU8000mm nylon can also be used as the floor material.
Geertop tent is windproof and offers above-average rain-repellent properties. It is compact and lightweight enough to be carried in your backpack. It weighs less than 7 pounds.
With two side doors and a deep-bottomed floor, the inside of the tent is very comfortable. In addition, a double zipper is used here so that it can be opened and closed from the inside and outside. Inside the tent, the hooks and pockets provide enough storage space, which is very practical for storage accessories.
Setting up this tent is also not difficult here either. It can be set up and taken down in just a few steps. The package comes with a lightweight storage duffle bag for ease of storage.
Pros
Robust and solid construction
Double layer and lightweight
Convenient and breathable
Easy to use and carry
Water column rating is 8000 mm
Cons
Only two color variations are available
---
Specs:
Material: Polyester
Dimensions: 52.8 x 88 x 45 in.
Weight: 5.6 pounds
The first thing that catches our eyes with the Bessport is the strong color, which makes this two-person tent, paired with the appealing and practical shape, a piece of pleasant equipment. It is lightweight; only 5.6 pounds. You can take it with you on your trips and tours. The pack size is only 42 x 15 cm.
The stable frame is made of aluminum alloy and the fabric is 68D polyester which is very cozy. The welded floor prevents water from penetrating from below. It is also quick and easy to set up. In less than 2 minutes, you can do it together. However, the dismantling takes 5 minutes for the first-time user.
Bessport is a comfortable tent for two people. If necessary, you can use the additional storage space in the practical awning and find shelter under the waterproof tent when it rains.
It guarantees PU1000mm water-resistant. It will stay completely dry under the light to medium rain. The package includes pegs and tension lines. Bessport two-person tent also has a reflective property, which gives excellent views, even in poor or dark light conditions. Its mesh window design is breathable when you are inside the tent.
Pros
Lightweight and breathable
Easy to set up and freestanding
Solid and sturdy construction
Dual doors and Open-Air design
Cheap price
Cons
A bit large for medium size people
---
Specs:
Material: Polyester
Dimensions: 86 x 50 x 43 in.
Weight: 5 pounds
With the dimensions of 86 x 50 x 43 inches, the MARMOT Crane Creek two-man tent offers a lot of space so that you can make yourself comfortable in the interior together with another person.
The combination of 70D polyester fiber and 210T waterproof coating offers you extremely reliable and high-quality protection against wind and weather. Not only against strong sun rays in summer but also in foul weather.
The integrated 3000 mm water column effectively and reliably keeps water away from the spacious interior. After you connect the rain fly, it will cover the top completely. However, this is a three-season tent, you can't use it in the winter.
There are two D-shaped open doors in the tent and the outer account has two vestibules. The upper part has a large mesh window and two ceiling vents to keep the air always flowing. You can open the doors on both sides for easy access to the tent and for the best panoramic view.
You can also set up this tent quickly and easily and you will be benefitted from the robust and stable aluminum pole when setting up it. That ensures a firm hold and a long service life.
Pros
Robust aluminum rod
Waterproof and windproof
Convenient design
Dual overhead vestibules
Quick to set up and take down
Cons
Small for two tall adults
Colors are a little bright
---
4. Coleman Darwin 2-Person Compact Dome Tent
Specs:
Material: Fire retardant
Dimensions: 126 x 63 x 47.2 in.
Weight: 4.2 kilograms
Coleman Darwin is a spacious two-person tent for both camping and hiking, weighing just around 9 pounds. The shape of the dome tent is in combination with the appeal. The strong colors look good. And it impresses with its high quality and easy handling.
The small vestibule is large enough to store luggage, equipment and shoes. The small pack size and low weight also make this tent ideal for trekking and day outdoor trips. After you have set up the tent, you can find enough space with another person in the cozy and spacious interior on a total area of ​​3.8 m2.
The sturdy fiberglass poles that belong together offer a firm and secure stand for the tent (withstand even strong winds), while the integrated UV protection of 50+ gives you a pleasant and safe retreat in the tent, even in strong sunlight.
This is a 4 season tent, which means you can use it in winter. When the model is set up, you can look forward to the welded and waterproof groundsheet, which reliably keeps moisture away from the interior.
Pros
Easy to pitch
Strong fiberglass poles
Easy to assemble and disassemble
Solid construction
Waterproof
Practical storage space
Cons
Ventilation could be better
A little bit heavy
---
Specs:
Material: Polyester
Dimensions: 78 x 55 x 43 in.
Weight: 5.29 pounds
Are you looking for a fair-weather two-person tent with a high-quality, loyal, and visually appealing companion by your side? Then you can choose the Hewolf Double Layer backpacking tent. It has strong colors and a successful shape. The 210D hard-wearing Oxford fabric is a successful combination with the waterproof PU 5000 coating.
It has 5000 mm water column rating which offers you a thoroughly waterproof interior even in heavy rain. Also, there is a thick coating on each of the four corners of the floor to keep the tent dry at all times.
Carrying this ultra-light tent is relatively easy with a weight of only 2.4 kilograms. The pack size is also compact; only 36 x 18 cm. However, the total dimensions of the tent are 200 x 140 x 110 cm when set up. You can assemble it within a short time.
Hewolf Double Layer tent uses double zipper on the two doors to gain access to the tent and enjoy the great breathability. The vents on the fly are great and the body of the tent is full mesh. The two-layer design ensures that the water inside prevents condensation.
Pros
Double Zipper with net pocket
Spacious inner spaces
Easy set up and take down
Breathable
Quick-dry design
Sturdy and waterproof
Cons
In the event of a strong thunderstorm, some water can get into the interior
---
Specs:
Material: Flysheet – 40D 240T Ripstop
Dimensions: 50 x 16 x 10 inches
Weight: 3.9 pounds
The Vaude Taurus UL is an excellent and high-quality camping tent for 2 people. This model is currently available only in green color and is well suited for the wilderness and also the mountains. It has internal pole ducts and is a wind-stable tent. The floor is laminated that is resistant to formic acid.
Vaude Taurus UL's two-man tent can be set up relatively quickly and easily. And transport is quite easy with a suitable pack. The total weight of around 4 pounds including everything.
It offers enough space and there are two pins in the foot area that provide additional comfort. An apse is also available and offers some space in which one or the other can be stowed. The air circulation inside the tent can be regulated with the help of an adjustable ventilation opening.
In this camping tent, a focus was placed on UV reflection. The material is triple coated on both sides and is particularly tear resistant.
As part of the Fair Wear Foundation, good working conditions and fair wages have been ensured in the manufacture of this tent (Manufacturing by Vaude). Vaude also has the highest status of FWF (Fair Wear Foundation) members.
Pros
Compact
Durable construction
Made of high quality materials
Two extra pins integrated into the foot area
Definitely big enough for two
Reflective elements
Cons
Quite difficult to assemble especially in bad weather
---
7. Terra Hiker 4-Season Tent – Easy to Setup
Specs:
Material: Flysheet – Polyester
Dimensions: 80.73 x 51.87 x 42.9 inches
Weight: 5.51 pounds
Terra Hiker is a two-man dome tent that is convincing thoroughly. This is a 4-season tent, suitable for 2 people and pets. It consists of an inner and outer tent. A nylon net was used for the inner tent, which allows air to circulate and protects against flies and mosquitoes.
You can simply use the inner tent without the outer tent and sleep in the open air. The rain cover and the floor material are made of 20D nylon fabric. This material is coated on one side with silicone oil (PU4000). In this way, Terra Hiker tent is even more waterproof with a water column of 4000 mm.
Another practical feature is that it has two entrances and a mesh window which provides excellent ventilation. The seams were taped so that the moisture does not get into the tent. We also like the equipment in the inner tent. Hooks and pockets allow items to be stowed away.
Terra Hiker's 2-person tent is very easy to set up. It only takes a few minutes. Overall, it is very spacious and comfortable for the price. And if you're a newbie to camping, you will be very pleased with its performance.
Pros
Water column 4000 mm
Compact
Easy to set up
Large space
Excellent craftsmanship
Versatile use
Cons
Rain cover isn't breathable enough in hot weather
---
Specs:
Material: Polyester
Dimensions: 88.6 x 53.1 x 43.3 inches
Weight: 5.5 pounds
Here is another 2-person tent for camping from Forceatt. The tent material used consists of high-quality 68D polyester fiber with a 190T coating so the tent is absolutely waterproof on rainy days. This unit is available in gray-orange, gray-wine-red and orange-gray.
Forceatt 2-person camping tent has two D-shaped entrances. There is also a large mesh window and two ceiling openings. Air circulation is always given and the micro-mesh material prevents mosquitoes or flies from entering.
The floor is welded and lifts the floor a little, therefore protecting against wet floors. If you want to use this tent in very strong winds, you can secure it with four wind ropes.
Forceatt 2-person tent also offers enough space so that two adults can have their sleeping place here. You can place two universal sleeping mats here and sleep on them. The weight is just over 5 pounds. Like most of the tent in our list, the assembly and disassembly process is also very easy.
Pros
Easy to set up
Waterproof rainfly
Smooth and sturdy
Ventilation and lightweight
Unique design
Cons
Floor isn't much thicker than the rainfly
---

Specs:
Material: 201T Polyester
Dimensions: 86.6 x 48.4 x 43.5 inches
Weight: 5.15 pounds
The V Vontox is the next-generation camping tent for couples that we would like to introduce to you. It can even accommodate up to three slim adults. It can be well ventilated or closed down for cold nights and keep you dry even in the downpour.
The top of the tent is made of a micro-grid design. This means that fresh air can get into the tent, but no insects. The fully seam-taped construction and rainfly protect the tent to keep the weather outside. When it rains, you should of course pull the rain cover over it. The overall alignment of the tent is very meticulous.
The floor is made of 150D Oxford fabric to protect this tent against soil moisture. 210T polyester with a polyurethane hydrostatic coating was processed here. A water column of 3000 mm ensures that this tent is completely waterproof.
Putting up the tent can be done in a few minutes and is relatively simple. The V VONTOX is a 3-season tent, but it can also be used as a winter camping tent by using sleeping bags.
Pros
Durable construction
Extra large space
Weather resistance
Great ventilation
Easy to set up and close
Cons
Doesn't come with a tent footprint
---
10. Zenph Automatic Pop-Up Tent – Editor's Choice
Specs:
Material: 185T Polyester
Dimensions: 102 x 62 x 43 inches
Weight: 6.44 pounds
Finally, you reach our last pick of the best 2-person tents in 2023. With the Zenph Pop-Up tent, we would like to introduce you to a throw tent. If setting up a tent is difficult for you, you can choose this model without any questions. As usual for throw tents, pitching is very easy. You can set up this tent in less than a minute. To do this, simply take it out of the packaging and throw it on the floor, where it unfolds itself.
The outer material is made of 68D 185T polyester. The floor material comprises 150D Oxford material. Ventilation is provided here by a three-dimensional ventilation structure. Zenph Automatic tent can also prevent mosquitoes with two-way lock.
There are two pockets integrated with the inner tent for storing valuables such as cell phones or keys. The high-quality construction ensures better wind stability. However, it is relatively large and flat when folded.
Zenph Pop Up tent is 100% waterproof with a water column of 2000 mm, so no water can penetrate. It is also one of the best ultra-light 4-season tents for 2 people. However, this model is not as good as the other tents presented here in terms of available space for other camping gear.
Pros
3 seconds auto-opening
High-quality fabric and zippers
Waterproof and Moisture-proof
Super tent space
Cheap price
Cons
Dismantling is a bit of a hassle
Not warm enough at night
---
Best Two-Person Tent Buyer's Guide
Here are the most important variable features to consider when buying the best 2-person tents for camping or backpacker tent.
Purpose of use
Before buying a 2-person tent, make sure to think about the requirements you have for your tent. These obviously result from the planned area of ​​application. For example, if you want to transport your tent over long distances from time to time, you should look for a light tent that also has a suitable pack size. A throw tent is rather impractical because of its large pack size and its construction.
A lightweight tent for 2 people is suitable for light luggage. But if you need a two-man tent that is to be used in particularly windy areas, you need one that is above all stable. A geodesic tent that can withstand very strong winds when set up correctly, a storm-proof tent will be the best option here.
So it is really important to think in advance about which requirements your tent for 2 people must meet. Think about it and then look for a suitable model.
Pack size
Anyone who wants to buy a 2-person tent will certainly pay attention to the space that the interior of the two-man tent offers. But you should also pay attention to the pack size. Especially on camping trips and hikes, where space is limited. So it is advisable to pay attention to the pack size.
If the pack size is important to you, keep your hands off a throw tent, for example.
Material
Among other things, the decisive properties of a two-person tent are attributed to the materials used. The material of the inner and outer tent usually differs. The floor material is also usually different from the outer tent. The outer tent is usually made of nylon or polyester.
We need to mention here that a two-man tent made of nylon is lighter than one made of polyester. However, polyester stands for better resistance to UV radiation and moisture.
In order for the outer tent to have important properties such as waterproofness and tear resistance, the material is usually coated here.
Note: Water resistance is indicated by millimeters of the water column. A tent is considered waterproof from a water column of 1500 millimeters.
A silicone coating for example makes the outer tent more tear-proof and more resistant to UV radiation. The material used for the inner tents is usually not coated. Here, breathable materials are usually used so that the moisture can escape to the outside.
Materials like nylon or polyester are often used for inner tents. The fabric used for the floor is usually coated, as it should be waterproof, tear-resistant, and more durable.
You should also pay attention to the material of the bars. These often make up the majority of the total weight. They should be sturdy, but shouldn't make transport too difficult. This is why robust materials that are relatively light, such as rods made of carbon, aluminum, or fiberglass are used here.
If you are looking for a really light tent, then an ultralight 2-person tent is right for you. But here, it is important to think about the plan of use and then recognize the right requirements for your tent.
The price
As with most purchases, price is an important factor to choose the best two-man tent for camping. Whether you want to buy a cheap or a high-quality two-person tent, you should depend primarily on where and how often you want to use your tent.
On the other hand, if you are just looking for a tent for two people that you only want to use at a festival or a one-off excursion, then you can rest assured that you can choose a cheap model. If the former is the occasion, a festival tent for 2 people might be something interesting for you.
However, when using very cheap camping tents, the weather conditions should not be too demanding. But if you plan to camp more often, buy a rather high-quality model. Higher-priced tents are usually well made with top-grade materials so that users can have lasting fun with their tent.
On average, we recommend you consider between 100 and 400 dollars for a 2-person tent.
Interior
Another relevant dimension is the interior space offered by the tent. If you are more practical and do not attach great importance to space and comfort, you can use a backpacking tent.
However, for some campers, a lot of space, comfort, and freedom are important. If that's the case with you, don't get a simple backpacking or dome tent. With a tunnel or geodesic tent, you are better advised here. These types of tents make better use of the interior space.
Weight
When looking for the best two-person tent for your needs, you should pay attention to the weight of the tent, especially if you want to or have to wear it over long distances.
Basically, most tent manufacturers keep the tents as light as possible. However, the targeted search for a suitable lightweight two-man tent can be an advantage.
Freestanding – yes or no
You should also consider whether the two-person tent is free-standing or not. If there is the option of setting up the tent free-standing, you are not dependent on the surrounding soil.
Dome tents for example usually don't need pegs and can stand freely. Only the weight inside keeps the tent where it should be. But if you are planning an adventure in more extreme environments with very strong winds, then you shouldn't use a free-standing tent. In such a case, you can use a secure geodesic tent or look for a stormproof tent.
Season evaluation
Along with the weather protection, you need to evaluate the time of use according to the season. Most backpackers, hikers or campers choose tents that are suitable for 3 seasons, which means these tents are meant to be used during spring, summer and fall.
The other option you can choose is a 4-season tent, which means it is also made for winter use. All-season tents are built for lower temperatures and colder climates, which makes them heavier and more resistant.
Although 4-season tents can be used all year round, it is best to use them, especially in winter. You can rely on a 3 season tent for the rest of the year.
Seams – a potential weak point
What something easily overlooked is the seams. However, since they represent a potential weak point in a two-man tent, we recommend you take a look at them here as well.
A fast or a slow sewing speed can be selected during manufacture. The purpose of fast sewing speed tent design is to increase production speed and therefore expand productivity. However, this creates higher temperatures that can damage the material. Slower sewing speeds are more likely to be used for higher-quality two-man tents.
Seams are usually additionally compressed. A seam tape is often used here. However, seam tape can become loose over time.
Tips: Get a seam sealer. This is a liquid that you can use to protect the seam. Note that different materials require different seam densities.
FAQs
What does a tent for 2 people cost?
Choosing the best 2-person tent obviously depends on the budget you want to allocate for this purchase. As we mentioned earlier, there are two-person tents in a wide variety of designs. So it is not surprising that the price range is therefore quite large.
A rough price range, similar to one-man tents, is around 60 – 500 dollars, although there may be cheaper and more expensive models. Note that the price can give an indication of the quality offered by the two-man tent.
Can a 2-person tent accommodate two people and their gear?
While most 2-person tents are designed to accommodate two people, they often have limited space for additional gear. If you have bulky gear or require extra storage space, consider choosing a tent with a vestibule or gear loft to keep your belongings protected.
Are 2-person tents suitable for tall people?
It depends on the tent's dimensions and the height of the people. Some 2-person tents offer sufficient headroom for taller people, but it's always a good idea to check the tent's peak height and dimensions before making a purchase. If you or your camping partner are particularly tall, consider looking for tents with extended length options or models specifically designed for taller people.
Single wall or double wall tents: which one is best?
Camping tents can be divided into single-walled and double-walled tents. Single wall tents only use the skin to protect against the surrounding influences such as wind, snow and moisture. And double-wall tents use two skins for this and are therefore a little heavier.
Here, we have an outer and an inner wall that is separated by a few centimeters. This enables the air to circulate between the outer and inner tent and reduces the formation of condensation in the inner tent.
What is a tent pad?
Tents usually have specially selected flooring material. Nevertheless, it can be an advantage to purchase a tent pad on which to set up the tent.
A good tent pad reduces condensation on the tent and is therefore well suited for particularly humid areas. It can also reduce the emission of heat through the ground by using a suitable tent mat. A tent pad can also come in handy on hot days.
Water column – what does it mean?
An essential property of tents is that they are waterproof. After all, a tent should offer a good place to sleep that can also protect against rain. The water column is used to display the water density. As previously mentioned, it is given in millimeters and from a value of 1500 millimeters, a tent is considered waterproof. In order to well prepare for camping or hiking, you should rely on a waterproof tent.
Which manufacturers are good?
This question isn't that easy to answer, as there are some manufacturers whose tents are good and convincing. However, we do not want this question to be left unanswered and we would like to mention a few good manufacturers, with the idea in mind that other manufacturers also offer quite good tents.
The famous tent manufacturers are:
Coleman
GEERTOP
Hewolf
Vango
V VONTOX
Conclusion
A good two-person tent can be a fantastic addition to your next hiking or camping trip. Tents really have something great about themselves and especially tents in nature.
Our last tip: before buying a two-man tent, think carefully about the requirements you have for the tent. These obviously result from the planned area of ​​application.
Wish you a nice weekend. If you've any questions, leave a comment below and we will answer them.
Perhaps you are also interested in the best family camping tents. You can find out more about this.