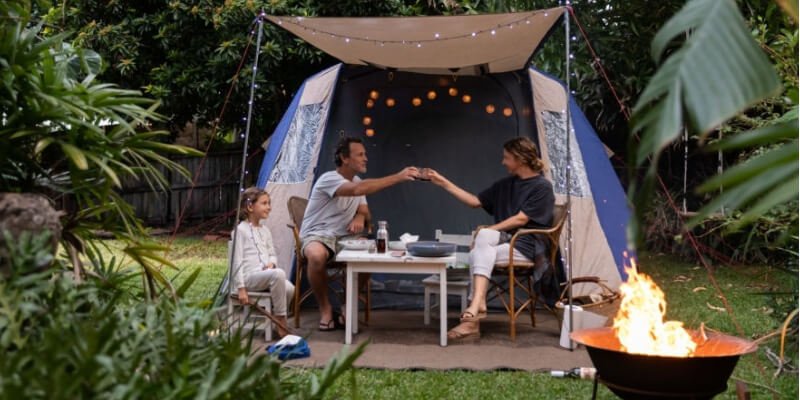 In our hectic times, independence and spontaneity are becoming more and more important. And camping is the perfect opportunity to leave all the stress behind you.
There are different designs of large camping tents available on the market. For example, you can use 2-person family camping tents to large tents for more than 15 people. Now, of course, a tent of this size should have the right criteria before you buy it. Before buying a large tent for camping, consider how many family members you have.
In order to make the whole thing even easier for you, we have tested the best large camping tents from different brands so that you can choose the best model according to your needs. We focus on leading brands, various subtypes, unique features, and areas of application.
Best Large Camping Tents – At a Glance
Let's see our ranking of the best large camping tents in 2023.
Specs:
Fabric: Polyester
Occupancy: 9 Person
Waterproof: Yes
Seasons: 4 Season
Item Weight: 9.71 kg
Pros
Nice tent for the money
Very spacious with rainfly
Flexible conversion options
Excellent water resistance
Built-in electrical port
Easy to assemble
Cons
Front door zipper is awful
You cannot stand in this tent
The Core Extended is a comfortable dome family tent for up to 9 people. With a beautiful shape and design, it offers a comfortable sleeping space. The flexible interior design with different colorways and low weight for the size of the tent makes this model a real jack-of-all-trades for your next trip.
Its weight of 9.71 kg and compactness when folded is a plus for easy transport. The biggest advantage of this model is its large living room, which allows you to put a table and chairs without any problem. The fabric is decent and waterproof. However, the poles are pretty flimsy and won't withstand heavy wind.
This large camping tent is built with an electrical port that keeps cords going into the tent protecting it from water. No matter where is your camping destination, you are guaranteed to cut a good figure.
In addition, there are side openings in order to circulate air while being sheltered from the sun or the rain. The quality of this brand is no longer to be proven. Core Extended large tent is widely used in the United States. You can go there with your eyes closed regarding its lifespan.
---
2. UNP Double Layer Camping Tent – Editor's Choice
Specs:
Fabric: Polyester
Occupancy: 10 Person
Waterproof: Yes
Seasons: 3 Season
Item Weight: 23.1 pounds
Pros
High weather resistance
Double layer camping tent
Many inside pockets for organization
Good ventilation and large view
Divisible inside cabin
Cons
No instruction
Only one zipper
UNP camping tent stands for outdoor equipment at the highest level. Thanks to the intelligent conception of various vestibule mechanisms and the high-quality polyurethane coating, up to 10 people can comfortably defy the elements. With divisible two rooms, it can be optimally adapted to your needs at any time.
Needless to say, it is one of the best-selling family camping tents from the UNP. It is easy to install and the freestanding design allows you to move around without any problem. This large tent is easy to fold up because it is designed with a guide system. A storage bag also makes it easy to transport.
This model can withstand wind speeds of 50 km / h. It is also effective in heavy rains, thanks to its breathable polyester chamber, waterproof seams, and waterproof flysheet.
UNP large family camping tent has three small windows and two large doors which ensure good ventilation. This is really not negligible during high temperatures in the middle of summer. It is also one of the best affordable family camping tents available on the market.
---
3. KTT Extra Large Camping Cabin Tent for Family
Specs:
Fabric: Oxford Polyester
Occupancy: 12 Person
Waterproof: Yes
Seasons: 3 Season
Item Weight: 34 pounds
Pros
Innovative ventilation system
Good space for 12 people
Quick assembly
Good exposure
Unique design
Cons
Unclear directions
No side windows in one section of the tent
If you are looking for a cheap, space-saving, light and easy-to-pitch large camping tent, we really recommend this model. With the KTT Extra Large Cabin tent into the race, you will be impressed with excellent ventilation and extremely low weight. Despite the great maneuverability of the tent, you don't have to compromise on comfort.
This product is quick and easy to install with 2 iron awning poles and 8 ropes. It has two large bedrooms. The flysheet is pre-assembled. It is an ideal freestanding camping tent for 12 people wishing to share space.
Thanks to the coated fabric, it provides UPF 50+ sun protection, ideal for children. KTT extra-large tent is waterproof since its polyester flysheet is 2000 mm PU coated. This model also owes its waterproofing to quality stitching, and a polyethylene mat on the floor.
We like its original design which changes a bit from the classic models. A big advantage is also having a straight wall design. The interior space is larger and more comfortable. This 3-season tent is high-density mesh and breathable. You can enjoy the beautiful scenery of the sky when lying inside.
However, it should not be placed on the ground with sharp objects. We recommend laying a mat first and then placing the tent on it, which can protect the bottom of the tent.
---
Specs:
Fabric: 185T Polyester
Occupancy: 10 Person
Waterproof: Yes
Seasons: 4 Season
Item Weight: 20.5 pounds
Pros
Pop up design and easy setup
High variability in ventilation
Color variation available
Darkened inner tent
Separated room
Portable
Cons
Zipper is a bit hard to unzip
If you are one of those people who would find camping around more pleasant, then the HIKERGARDEN Upgraded model might be just right for you. Comfortable standing height and numerous ventilation and blackout options offer you all the pleasure of conventional tent constructions.
It is made of 185T Polyester to achieve PU1000mm water-resistant. The fabric is thick and sturdy enough with long nails at the corners. The high quality of the fiberglass poles ensures strong standing position to make your camping trip more delightful and comfortable. The poles are also color-coded to make the setup foolproof.
The "blackout bedroom" technology eliminates 99% of the daylight in the bedrooms, enough to sleep late without being disturbed by the sun at dawn. Thanks to its height of 74 inches, which allows it to stand upright. Its living room will also allow you to install a table and chairs.
For the hot summer months, HIKERGARDEN camping tent has good UV protection. Its adjustable ventilation panels provide good indoor air circulation and reduce the risk of condensation. Currently, you can pick this model for less than 150 dollars. So if you're looking for something cheap, this model is for you.
---
Specs:
Fabric: Polyester
Occupancy: 8 Person
Waterproof: Yes
Seasons: 3 Season
Item Weight: 26.68 pounds
Pros
Large and spacious
Large windows for good ventilation
Comfortable to carry
Stable frame
1-year limited warranty
Cheap price
Cons
Rainfly could be more reliable
Cleaning is a bit tricky
Coleman continues to impress me with their affordable camping tents and other outdoor gear. There's always a fine line between cost/reliability with products. At around 27 pounds, the Coleman Evanston is something like the medium weight of our comparison, but there is a good reason for that.
The tent for 8 people is based on extremely stable steel rods that withstand extreme weather conditions with flying colors. In dome shape with a completely sewn-in floor pan, glued seams and waterproof, this robust family tent remains a rock in wind and weather.
This model is also one of the best-selling products of the Coleman brand. It consists screen room. As a family, it is important to have a large living room so that everyone can move around easily. This is why the overall dimensions are 15 x 12 feet with 6 feet in height.
Coleman Evanston camping tent also has a fly-screen window. It provides protection against heat and light. You don't have to worry about mosquitoes, you can enjoy a serene sunset in the great outdoors without the mosquitoes. It can be set up in 5-10 minutes by experienced campers.
---
Specs:
Fabric: Polyester
Occupancy: 8 Person
Waterproof: Yes
Seasons: 3 Season
Item Weight: 17 pounds
Pros
Durable construction
Easy to assemble and take down
Lots of inside pockets
Good self-supporting
Weather-resistant
Lightweight
Cons
Walls are pretty much thin
Directions aren't very clear
Outbound offers a light and handy camping tent for 8 people. This dome tent is designed as a four-season tent with high UV resistance. The inner pockets ensure tidy comfort, which will allow more places for business. It is offered at an attractive price.
It is easy to set up. Includes attached rainfly, tent stakes, guy lines, and all assembly instructions will facilitate its assembly. Rest assured, this tent is easy to take down. It is not afraid of heavy rains because its good waterproofness comes from its taped seams and its polyethylene groundsheet.
This tent consists of a spacious living room with overall dimensions of 14 feet x 8 feet x 5'10". In terms of ventilation, it has a ventilated roof to limit condensation and ventilate its interior. High and low ventilation hatches are also located inside and outside each chamber.
The total weighed only 17 pounds. The package also comes with a zippered duffle bag for extremely easy carrying and storing. Thanks to Poly Taffeta 185T 68D 600mm Water-Resistant Coating, this model is very popular with families. The tent poles are made of durable ultra-light fiberglass.
---
Specs:
Fabric: Polyester
Occupancy: 8 Person
Waterproof: Yes
Seasons: 3 Season
Item Weight: 22 lbs. 11oz.
Pros
Roomy and details design
Relatively easy to assemble
4500mm weatherproof
Good climate concept
1-year quality assurance
Cons
Hard to get it back inside the carrying bag
Stakes will not hold if the ground is a little bit sandy
The enormously high water column promises an all-around dry interior of the tent when it rains from spray showers to spring tides. Nevertheless, the sophisticated climate concept of this tent ensures that the air inside does not stand still and promises a consistently pleasant camping experience.
UNP two-room camping tent is ideal for a family. If you want to sleep all together in the same room, you just remove the curtain dividers. It will be suitable for most families with its 14′ x 14′ area and 78 inches center height. The practical pockets allow you to store your small gear and clothes.
It has 5 mesh windows and a large door. Moreover, the large door and windows ensure good ventilation in summer. In addition to being easy to assemble and disassemble, UNP 8-man tent is easy to store and transport, thanks to its carrying bag cover.
The screens are smooth and the seams are very well stitched and taped. In case of strong wind, this large tent can withstand a wind of 60 km / h. For this surface and beautiful finish, you will not find better value for money.
---
Specs:
Fabric: 68D Polyester
Occupancy: 12 Person
Waterproof: Yes
Seasons: 3 Season
Item Weight: 36 lbs. 13oz.
Pros
360-degree view
Blackout technology
Flexible interior layout
Large mesh windows
Extra wet weather protection
Convenient overhead storage
Cons
Quite heavy
A bit hard to assemble for beginners
If you have a large family, the Eureka camping tent will be the perfect option for you. This product provides 2 separate bedrooms. Through windows on each side, you can enjoy a 360-degree panoramic view from your tent in good weather. It ensures darkness in the rooms and a reduction in internal heating.
Eureka Copper Canyon LX camping tent is also waterproof even in tropical rain. In terms of strength, it can withstand winds of around 50 km / h. It also has fly coverage over the door which provides extra weather protection and keeps the dry entryway.
Storage pockets are installed in all the rooms inside the tent. You will also be added to a transparent window and a mosquito net window. The steep walls create lots of standing room and are ideal when camping with air mattresses and cots.
Eureka camping tent has a pre-assembled flysheet, living room and bedrooms. The durable, steel and fiberglass frame features pole sleeves corner hubs, and quick clips so that you can easily assemble this tent. The disassembly process is also very easy. However, the floor is very thin. And if it rains, the floor can get wet.
---
Specs:
Fabric: Canvas
Occupancy: 16 Person
Waterproof: Yes
Seasons: All Season
Item Weight: 55 pounds
Pros
UV resistance
Lots of space in the interior
Firmly sewn-in floor pan
Stay dry
Comfortable design
Extra wide door
All weather canvas
Cons
Pretty much heavy
Expensive
This large round Bell tent from TETON Sports offers space for up to 16 people and comes with a practical canopy, under which you and your companions can relax and make yourself comfortable.
The strategic design, large ventilation caps, and darkened incidence of light ensure that the interior is not only spacious but also extremely pleasant in every respect. The total weight is 55 lbs which is pretty much heavy.
The waterproof canvas is remarkably breathable for the best all-season protection and airflow. It has a removable floor so you can enjoy either a full tent or a stylish canopy. You just have to stake out your tent and put the center pole and door assembly up.
TETON Sports' large tent features a large door, allowing you to move your camping gear in and out easily. The reliable zippers with extra-large pull also make opening your tent easy.
However, this model doesn't come with the rainfly (shown in the images). Although TETON Sports Sierra is the most expensive model on this list, you'll love everything the tent offers.
---
Specs:
Fabric: Polyester
Occupancy: 12 Person
Waterproof: Yes
Seasons: 3 Season
Item Weight: 48 pounds
Pros
Made of high quality material
Free standing with a compact design
Lots of storage space
Comes with an expandable carry bag
Affordable
Cons
Pretty high profile so make sure you anchor it well
Heavy
Bushnell Sports Series large tent offers a lot of storage space with a spacious lying area at a very good price. This tent is practical and comfortable and has storage pockets for your clothes. Thanks to the room dividers, you are guaranteed not to get in each other's way when going in and out. It is a fantastic choice for those looking for a spacious and reliable shelter for their outdoor adventures.
This free-standing large camping tent will suit large families of up to 12 people. There are also 8 and 4 person models available now. The practical details such as the utility port, internal storage pockets, and hanging wall organizer are convincing across the board.
This product is waterproof, thanks to its polyethylene groundsheet and waterproof seams. In the event of rain, the hinged floor mat at the door will prevent the floor of your inflatable tent from getting wet.
If you want to extend the living room, the rooms on the right are easily removable. The included installation tools will make your assembly more simple. Besides this, it is well-ventilated; you will be entitled to many ventilation systems in all rooms (inside and outside the tent).
---
How to Choose the Right Large Camping Tent
Now you know the best large camping tents currently available on the market. We still have a few tips for you on how to find the perfect model for your next camping plan.
Large camping tent test: the types of tents
In your search for the best large camping tents on the Internet, you will of course have noticed that not all tents are the same. Countless different manufacturers, shapes, and designs can seem confusing at first glance. But if you pay attention to a few factors, you will quickly find the type of tent that suits you.
The first question is how many people you are traveling with. Are you looking for a 4 person tent or 8 person tent or should it be even bigger? Are you more of the type who is on the go all day? Then a smaller, light dome tent might be enough for you.
Or do you enjoy relaxing in the tent with your travel companions? Then you should definitely make sure that your tent has enough space for it. Teepee tents and octagonal tents are particularly suitable for this. Family tents with high headroom can also be a good choice.
Now let's see common large camping tent types…
Tunnel tent: The shape of the tunnel tent has already been mentioned a little further above and has the characteristic that it is constructed like a tunnel. Due to the tunnel-like design, campers have the option of accommodating more than 10 people in the tent.
Teepee tent: The round teepee tent can also be suitable for several people with a corresponding size. According to recommendations, up to 10 people can be accommodated in a correspondingly large round tent. The round tent got its name from its shape.
Family tent: The family tent, which is recommended by various manufacturers, has a rectangular basic shape and two large expansive exits. This gives families the opportunity to spend their holidays in an XXL tent. A large family tent can have different areas of application.
Large camping tent test: the purpose of use
Mountain hike, coastal trip or festival, the possibilities to enjoy a tent are only limited by your own imagination. Nevertheless, before buying a large camping tent, you should think about what exactly you are planning to do.
For example, if you want to explore rough coastal areas in autumn or winter, we recommend you pay attention to a high water column and strong resistance. Best camping tents for midsummer in the foothills of the Alps may then be completely different.
Before you choose a large tent, think carefully about whether you want an all-rounder with which you can be on the road all year round, or whether you know exactly what you are planning and are looking for the perfect specialist.
Our overview and detailed review will help you to assess the advantages and disadvantages of the individual models.
Large camping tent test: the interior
So to speak, the interior is the heart of your tent. Best camping tents are also your home when you are out and about. It is therefore clear that special attention must be paid to the inside of the tent. Here, it is advisable to sit down before buying and think carefully about what is important to you. In our overview, you will find an initial orientation of the various options that are available to you.
If you only use your tent for sleeping, a living area may not be necessary at all. If you often travel with different groups, a flexible cabin system can be the right answer for you.
Various ventilation and darkening systems from different manufacturers offer the greatest possible adaptation for your optimal camping experience.
If you are often out and about in the forest but are more at war with crawling animals, you should definitely look at the built-in floor trays and mosquito nets.
Large camping tent – various features
You should know the correct features in advance. The most important features of the large tents are the cross braces and hooks for fastening to the ground. Otherwise, the tent cannot be set up optimally.
In addition, most large tents have windows that are covered with film. This means that more light is transported to the inside of the tent. Some other features in this area can include doors in the tent, as well as…
Mosquito nets
Storage compartments
Be lamps.
Tips: Depending on the accessories, make sure that all parts are included in the package.
Large camping tent: the price
The price is always an important purchase criterion, but beware of the very attractive prices, it would be a shame to miss your holidays because of a defective tent. Each criterion we have mentioned greatly impacts price and varies the cost considerably.
Some models can quickly reach a thousand dollars. The best deals we have found on the Internet where there are more choices than in stores, but above all Internet exclusives with great promotions.
Frequently asked questions:
Where is the best place to set up my large camping tent?
Basically, you should look for a sufficiently large and flat surface. The bottom shouldn't be too soft or sandy so that the pegs can grip well. You should choose a location for your tent so that there is no risk of falling branches, stones, or other objects.
You can also consider the wind direction when setting up. Here the wind blows mostly from the northwest. Therefore, it is best to turn the entrance of the tent to the southeast and secure the weather side particularly well.
How do I waterproof my large camping tent?
Once you have made your choice of the best large camping tents, you naturally ask yourself the question of the right care. Impregnating is of course an important part of handling your tent correctly and will ensure that you enjoy it for a long time.
In fact, after you've bought your tent, you don't even have to get down to work. Although tents are impregnated in the factory, after 2 or 3 years of use you can (and should) help again. Use a waterproofing spray for tents and spread it generously on the surface.
The rule of thumb here is: 1 liter of spray covers approx. 15m² of tarpaulin. Also make sure that the manufacturer provided you with specific information about the material of your tent.
How do I clean my large camping tent?
Thoroughly cleaning your tent is actually not that complicated. In specialist shops, you can get special cleaners that you can use to tackle your large camping tent.
Use lukewarm water and soft clothes to clean the tent's surface. When set up, you can vacuum the interior without any problems.
In any case, you should avoid harsh cleaners or hard brushes. Using them can cause your tent to leak.
It is best to take another look at the care instructions from your manufacturer.
Which large camping tent brand is the best?
To answer this cardinal question, we would like to confront you again with a sentence that the best large camping tents are those that have been carefully selected. There is no general answer to the question of the best brand.
As you have noticed, there is a huge selection of manufacturers and models that have a wide variety of solutions ready for different types of camping. However, our ranking offers you a selection of consistently sensible and high-quality tents.
How much do the recommended models cost?
On average, the prices for large camping tents we have reviewed are around 300 dollars. The range for the products ranges from 200 to 600 dollars. However, for a quality model, capable of accommodating a minimum of 4 people, it is necessary to count at least 300 to 400 dollars.
Which family tent to choose for a mountain hike?
It is important in this case to bet on ultra-light family tents equipped with a sufficiently rigid canvas.
How to take care of the family tent to keep it durable?
In order to keep the family tent as long as possible, we recommend storing it away from all humidity. Also, be sure to dry the tent well after each use. Then store it in its packaging case.
Can I set up my family tent anywhere?
You should know that the law strictly prohibits the practice of wild camping. This is why it is imperative to pitch your tent in a place where camping is authorized. A fine is reserved for people who break this rule.
How to prevent the invasion by ants?
To avoid the intrusion of ants inside the family tent, we recommend you sprinkle talcum powder all around the tent.
Conclusion
The advantages of large tents are obvious for camping with families or groups. Because large tents are suitable for tall people as well as for large groups. Furthermore, large tents can be used for different areas of use.
So you are now equipped with all the knowledge you need to give in to your wanderlust again. Because with our best large camping tent reviews, the distance is sometimes just around the corner. And in our curated overview, you are guaranteed to find the model for your next adventure.
Because "travel is life" and life is freedom.