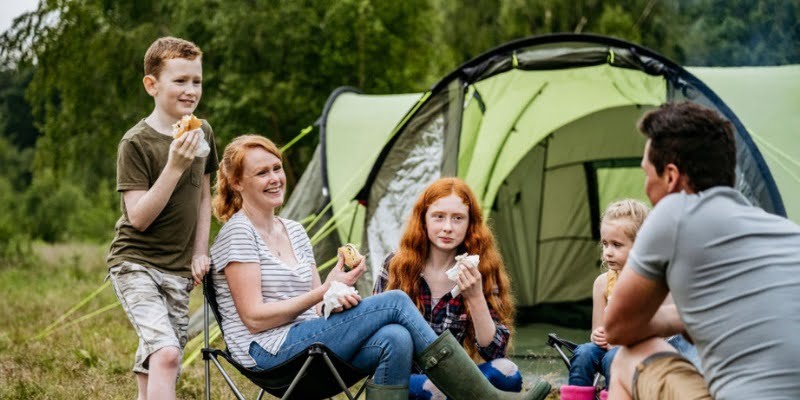 At the reserved campsite, you can't wait to go on vacation with your whole family. But, the joy felt comes with practical questions. The most important surely concerns your place of life: the tent.
But how to choose the right family tent? In this blog, I tell you what you need to look out for in order to make the right decision!
Follow our seven-step plan!
How to Choose the Right Family Tent?
Let's see how to choose the right family tent step by step…
The season
Tents are classified according to their seasonality and therefore offer several levels of protection. To learn how to choose the right family tent, you must therefore define the period during which you will be planning to camp.
2-season tent: The so-called 2-season tent will accompany you for mild conditions, in spring and summer.
3-season tent: The 3-season tent will focus on spring, summer and fall. It is able to face difficult conditions such as heavy rain, thunderstorms and wind, but is not able to protect you in winter conditions.
4-season tent: Finally, the 4-season tent allows it to be used all year round. It withstands intensive use, strong winds and snowstorms. It is also called year-around tent.
On the family tent models, you will mainly find 2 and 3-season tents. If you plan to use it only for the summer, then choose a model with good ventilation that will reduce condensation.
How many people are in your family?
This is the key question: you will not have the same problem if you are a couple with two children, as if you go to the campsite with four children of different ages.
However, there are a wide variety of sizes in the family tents. The smallest is individual, while a very large model can accommodate up to ten people within it.
With my family, I always take a 6 person, even if there are four of us. The extra space is never too much to occupy when it rains or to store belongings during the holidays. Also, since we usually stay three to four weeks, too much promiscuity could lead to frustration among family members.
The layout of the tent
Not all family tents have the same layout. For example, some offer two large venues with a large area, which is ideal for a couple of parents with children. Indeed, it is always reassuring, even if everyone sleeps in the same tent, to have children who are not alone.
On the other hand, if you are looking for a family tent with teenagers, it is better to have partitions to create more intimate beds. In this case, try to find a tent with two rooms on one side; a space reserved for the tent's living space, and two other "rooms" on the other side.
Activities in the tent
For some families, tent is only used for sleeping when camping. The rest of the day, they spend time in other camping activities such as on a camping table on their site, and enjoy the natural beauty.
However, don't hesitate to take out an arbor when it rains.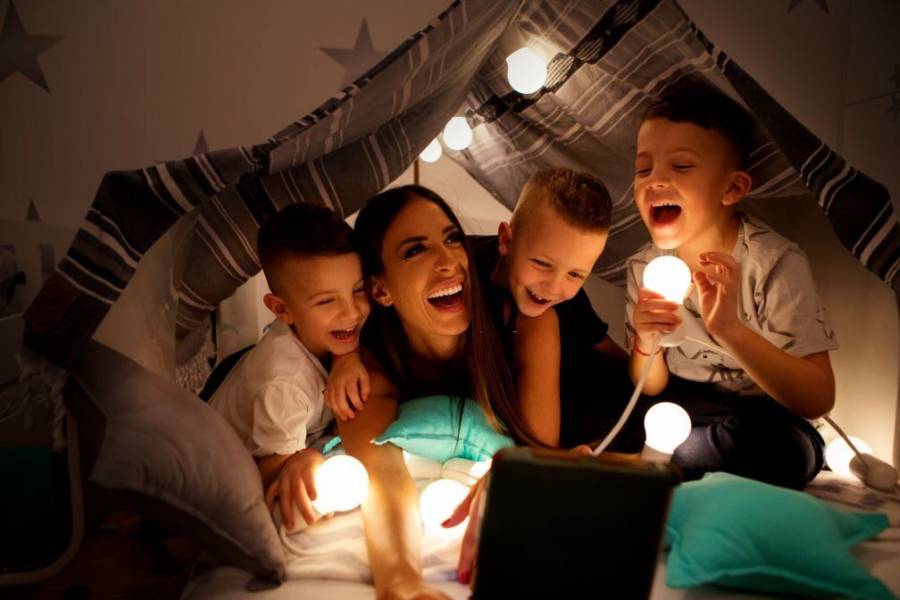 For others, the tent is used as a bungalow. We sleep there, but also, we eat, play, read …
If you like to spend more time in the tent, you will need a tent with a greater height to avoid being constantly folded up when you move in it and a living space that is consistent with the number of members in the family.
Type of structure
A tent stands upright thanks to its frame. There are 2 types of common assembly for family tents:
Inflatable family tent: It is easily and quickly assembled using a manual inflator. Inflatable tent is starting to be used more and more by the general public.
Family pole tent: A family pole tent may take longer to set up than an inflatable tent, but it is good value for money. Its price is also more accessible.
Waterproofing
The advantage of family tents in bad weather is the possibility of sheltering the whole family and being able to move around easily standing up thanks to its living area.
But be careful not all camping tents aren't created equally and they're not always waterproof. This is why waterproofing rating is an important criterion. This impermeability is measured in Schmerber expressed in mm.
This value corresponds to the pressure exerted in millimeters of water on the canvas. The higher this indicator, the more waterproof your tent will be.
I therefore recommend that you choose a tent with at least 2000 mm or 2000 Schmerber.
The price
The price is always an important purchase criterion for a family camping tent. But beware of the very attractive prices. It would be a shame to miss your holidays because of a defective tent.
Whether it is the number of seats, the fabric or the season, each criterion seen together will vary the price considerably. Some models can quickly reach a thousand dollars.
The best deals I have found are mostly found on the Internet. I bought mine directly on the Amazon.com site where there are more choices than in stores, but above all Internet exclusives with great promotions. One often finds their "end of series" products at attractive prices.
Further down in this article, I'll also explain why buying from the site directly is a GOOD PLAN.
A Tent Adapted to Your Assembly Capacities
For parents, arriving at the campsite is not easy. After several hours of driving and check-in at the campsite reception, it's time to pitch the tent before the evening. The children get impatient, clamoring for play as you fight with the mounting stakes …
The size of a family tent further complicates the assembly. You must choose a tent whose level required for the erection is in line with your experience and your patience.
You will hardly find pop-up tents (instant setup) with more than four berths, but that doesn't mean there aren't any easy to pitch. Inflatable tents or tunnel shape models are often faster.
Hope this guide helps to choose the best family camping tent according to your needs and budget. I wish a nice family camping trip for you!
Have any questions?
Don't hesitate to ask in the comment section below. I'm always here to answer your questions.