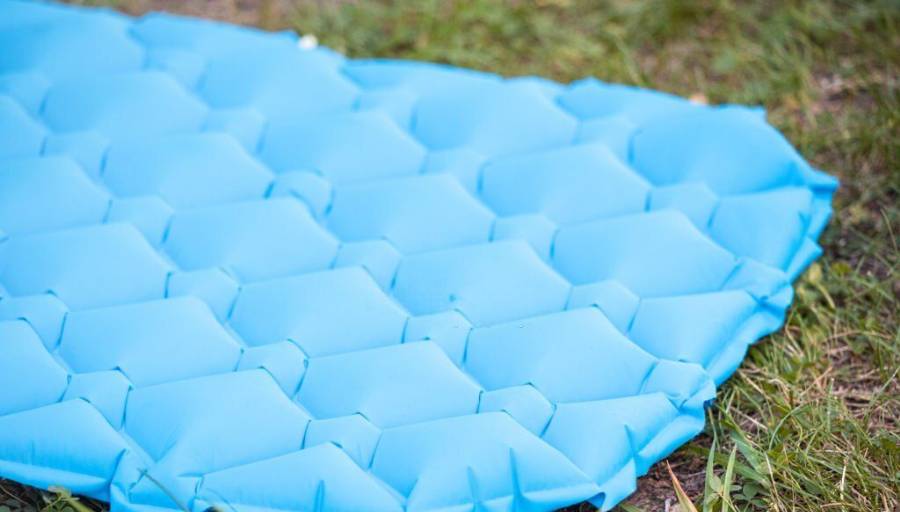 Recuperating from the efforts of the day and being in good shape for the big day that is coming the next day, Spending a good night in is essential for long distance hiking. So you need to take the time to choose your sleeping pad because it will bring you comfort AND insulation.
In this article, we will learn how to choose a hiking mattress so that you can get in shape for the upcoming tasks on the next day.
Introduction
It is often thought that having a good sleeping bag ensures a good night in the mountains. It's actually not right. To spend an excellent night, you need a good sleeping bag BUT also a good mattress that will ensure comfort and above all insulation.
Before learning how to choose a hiking mattress, let's see what is a sleeping pad used for when hiking.
What is a Sleeping Mattress Used for When Hiking?
Comfort is the first thing we think of. Beyond compensating for the vagaries of the terrain such as rocks and holes, it will allow you to sleep comfortably in all positions.
Insulation: sleeping mattress will therefore insulate you from the cold ground and avoid direct contact. Sleeping pads work the same way as layers of clothing. They trap a mass of air between your body and the cold ground. This layer of "dead" air becomes an insulating barrier.
The Different Types of Sleeping Pads
Now we're going to see different types of sleeping pads for hiking…
1. Foam Mattress
These basic hiking mats feature dense foam filled with tiny closed-air cells. It is the ancestor of floor mattresses but it still has many advantages. This type of mattress can be folded or rolled (depending on the model).
Wakeman Extra Thick Foam Sleep Pad
This mattress is good for small budgets: little comfort and large size. Its main weaknesses are the size and the lack of comfort offered. On the other hand, for small budgets or occasional use, it is clearly the best solution.
Advantages:
Light
Low price
Very resistant
Correct insulation
Disadvantages:
Very uncomfortable (the position "lying on the side" is difficult.)
Bulky
2. Self-Inflating Mattress
Self inflating mattresses combine insulating foam and valves that fill with air automatically by opening the valve. You will only have to finish the inflation by mouth to obtain more or less firmness.
Clostnature Self Inflating Sleeping Pad
These mattresses are basically thin (between 2 and 4 cm) and therefore provide less comfort compared to inflatable mattresses (often between 5 and 8 cm).
The part against the ground is strong enough to withstand the vagaries of the terrain. For the part in contact with your body, choose a mattress with a pleasant to the touch envelope and avoid smooth envelopes. Because there is nothing more unpleasant than having the feeling of slipping on your mattress all night.
Advantages:
Comfortable
Good insulation
Disadvantages:
A bit bulky
Heavier weight than an inflatable mattress
Quite flimsy
3. Inflatable Hiking Mattress
These mattresses are therefore inflated directly with the mouth. And yes, if you are hiking you will have to keep a little breath to inflate your mattress at night.
Long reserved for traditional camping, these mattresses are currently making their mark on the outdoor market thanks to light to ultra-light products (less than 400 grams). They are beginning to supplant self-inflating mattresses, as they are lighter, much less bulky, and significantly more comfortable.
Some models also go very far in terms of insulation with synthetic micro-fiber or even down fillings.
ZOOOBELIVES Thick Inflatable Sleeping Pad
These mattresses are quite thick between 5 and 10 cm and provide you with excellent comfort including lying on your side position. In terms of weight, the lighter the mattress, the more expensive it will be.
The main disadvantage of these mattresses is their fragility. All it takes is a thorn to make your mattress unusable.
Advantages:
Very comfortable
Space-saving and easily into the backpack
Very light for the most expensive models
Insulating especially the most expensive models
Disadvantages:
Some mattresses come in "short" or 3/4 models of about 1.20m. These sizes are very useful in mountaineering or expeditions to save weight.
Choose a Floor Mattress Adapted to Your Use
It is often difficult to choose your future hiking mattress. The choice will naturally be made according to the use that you are going to do it.
Hikes Without Carrying
Choose comfort with a fairly thick self-inflating mattress. Don't go on the lightest models and therefore the most expensive, because the weight criterion is secondary in this type of hike.
Occasional Hikers
Inflatable or self-inflating mattresses are quite expensive even very expensive. For occasional or infrequent practice, a basic foam mattress will do better. Your nights will be a little more "difficult" but that's also the joy of nights in the mountains.
Regular Hikers/Star Hikes
You are looking for a compromise between size and comfort. Opt for an inflatable model or a self-inflating model. The prices are higher than a traditional foam mattress, but the investment is really worth it. Your nights will be really better in terms of comfort.
Long-Distance and Ultra-Light Hikes
You are looking for the lightest possible mattress. Three options are possible:
A basic foam mattress
A very light inflatable model
A self-inflating 3/4 size model to gain even more weight and volume
Winter Hikes and Expeditions
Winter hiking requires more insulation. Then the ideal solution is to have first foam protection on which we add an inflatable mattress. Or choose the latest generation of inflatable mattresses with a high insulation index. However, the price is significantly higher.
Be careful, the chosen model must also be solid. Because if the model lets go at the start of the expedition, the situation may be difficult to manage.
One watchword: Try before you buy! You will have a mattress that suits you perfectly.
Due to the variety of hiking mattresses, you absolutely have to check the material before buying. This will let you know:
On what thickness of the mattress ensure you feel comfortable? If you have a rather light build, a mattress thickness of 2-3 cm may be enough for you).
What is the width that suits you best (the shoulders and pelvis should not protrude from the mattress)?
What is the optimal length (a little more than your size, a 3/4 mattress)?
How do your mattress and its size inflate and deflate?
Also look in detail at the "R-value": the higher the value, the more the mattress will insulate you from the ground. The R values ​​are indicated on the technical data sheets of the products. They range from 1.0 (for poor insulation) to 9.5 (for very good insulation).
In summary
Each person has their own sensitivity, so the insulation must be the basic criterion. If you hike 9 out of 10 times in the summer, it may not be necessary to choose a mattress with an R-Value of 6. For the rare times, you need a mattress for the winter, it may be possible to borrow from your friends, or even rent.
After choosing your R-Value, everyone should prioritize this or that criterion next. Some ultra-light walkers will choose a compact and light hiking mattress while others will emphasize comfort with a thick layer or easy inflation.
When choosing, read the descriptions attached to the products, especially if you buy from an online store.
Read Also: