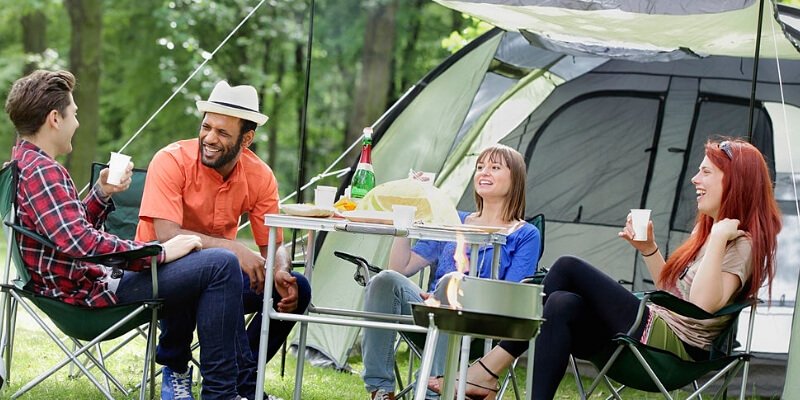 If you enjoy spending a lot of time with other people in a small space, as is often the case when camping, a separate retreat with some privacy is a good solution to avoid conflicts or simply relax a bit in peace.
A tent with 2 sleeping rooms is particularly popular with families or groups. Not only family but also friends can leave together, share accommodations and still enjoy a certain amount of privacy.
It is also possible to find such a tent for, for example, 4 people or even more campers.
In this guide, we're going to provide the top 10 best 2-room tents with the advantages and disadvantages of each model. We also introduce a comprehensive buying guide so that you can surely find a tent with 2 rooms that suit your needs.
Best 2 Room Tents (Top 10 Picks)
1. Coleman Ridgeline 4 Plus Tunnel Tent – Best Overall

The Coleman Ridgeline Plus is not only our personal test winner, it was also accepted as the best 2 room tent in many other test reports we have done. Coleman is well-known for its good quality and we can confirm that you will be fully satisfied with this 2-cabin tunnel tent.
The tent is 460 x 230 x 205 cm outside, 2 x inside: 140 x 210 x 160 cm and in the area between the sleeping area: 170 x 210 x 205 cm. This has the advantage that you can stand upright in the living room. Coleman 2 room tent is also big enough to store equipment and shoes.
The living room between the two sleeping cabins is one of the highlights of this tent. For example, you can set up a table and two chairs there. It is highly flexible and the lightweight fiberglass poles withstand even strong winds. This model has two large entrances for maximum ventilation.
Coleman Ridgeline Plus tent is available in two versions. The smaller model is designed for 4 people, the larger version is for up to 6 people. It is completely waterproof with a 3000 mm water column in combination with taped seams and raised groundsheet.
The package includes carrying a bag, guy ropes and enough tent pegs.
Specifications:
Capacity: Four
Weight: 10.4 kg
Height: 205 cm
Dimensions: 460 x 230 cm
Doors: 2 doors
Windows: PVC windows
Storage pockets: Included
Rain fly: Not included
Fabric: Polyethylene
Pros
Well-structured family tent
Not too heavy
Easy to pitch
Highly flexible
Practical space
Very functional
Affordable
Cons
Quite difficult to align inner and outer shells
Door zipped line is a bit tight
---
2. CampFeuer Tunnel Tent with Awning – Editor's Choice
CampFeuer tunnel tent with 2 rooms can not only be used wonderfully as a family tent but also as a fishing tent. And with a size of 480 cm x (W) 340 cm x (H) 190 cm, this camping tent is quite large and offers space for a large amount of equipment or for up to 8 people.
The two sleeping cabins have special features compared to the Coleman Ridgeline 4 Plus. This means that the tent has two doors. It doesn't matter whether you're going on a camping holiday with the family, you can share this tent with friends at the festival, or stow your gear on a fishing trip.
CampFeuer tunnel tent is also ideal for any location and can be used in a variety of ways. It can withstand even longer hiking tours in the mountains. You can even set it up yourself!
It is made of breathable fabric and mosquito nets. The cable opening is located at the side entrance with a small zipper. This unit is designed for proper ventilation, especially at night for restful sleep.
We all know that if we don't want to have wet feet, we need to pay particular attention to a high level of waterproofness. And this two-room camping tent with sealed seams and a water column of 5000 mm.
Specifications:
Capacity: Four
Weight: 13 kg
Height: 190 cm
Dimensions: 480 x 340 cm
Doors: 1 door
Windows: 6 windows
Storage pockets: Included
Rain fly: Not included
Fabric: Polyester
Pros
Excellent built in quality
Breathable camping tent
Designed for all weather
Compact and practical
Easy to assemble
Cons
Groundsheet is not sewn in
Noisy
---
3. Core Instant Two-Room Cabin Tent – 1 Minute Setup
The Core 9 person two-room tent is suitable for family and group camping thanks to its size of 168 x 108 in. With a pack size of 50 x 15 x 12 inches and a weight of 27.62 pounds, this model is easy to transport.
However, the 9-person thing is not true. It's great for 4 adults and if you don't mind maybe one or two children. Because the two sleeping rooms offer enough space for up to four people.
The inner tent material is breathable, you can optimize for fresh air supply. That means: this model is an ideal climate in any weather. Especially in summer on hot days, the Core 9 Person Instant showed its strengths in the tent with 2 sleeping cabins test.
It comes with stable telescoping steel rods, which ensure optimum hold. The robust construction won't let you down even in the most adverse conditions. This instant 2-room tent is also easy to assemble. However, there is only one hanging option, a hook between the sleeping compartments.
It also attached wall storage pockets to keep items neat and off the tent floor. Normally, we would like to have a few more options to hang things up, that's what we really miss with this tent.
Specifications:
Capacity: Nine
Weight: 27.62 lbs.
Height: 200 cm
Dimensions: 430 x 275 cm
Doors: 2 doors
Windows: 4 windows
Storage pockets: Included
Rain fly: Included
Fabric: Polyester
Pros
Advanced venting
Comes with removable Rainfly
Built in H2O Block Technology
Complete tent package
Setup is extremely simple
Weatherproof
Cons
Tent stakes could be better
---
4. Best Sporting Skagen Unisex – Best Freestanding 2-Room Tent
This high-quality four-person tent not only impresses with its appealing design in strong blue colors but also offers you safe and reliable protection from water, wind and sun rays.
It is made of 100 percent polyester in the flyover and 100 percent polyethylene on the tent floor, which makes this tent extremely waterproof and weather-resistant.
Look forward to the division of the 150 x 210 x 160 large area into two sleeping areas and a "living area", which is also covered with a waterproof roof for a pleasant stay for eating, sitting, playing or relaxing together. You can set up or take down your tent in minutes.
Windows with mosquito protection in the two opposite sleeping areas ensure adequate ventilation of the cabins and can be completely closed as required. The Best Sporting Skagen 4-person tent with arched poles is ideal for camping trips with family or friends.
Specifications:
Capacity: Four
Weight: 11.08 kg
Height: 200 cm
Dimensions: 520 x 240 cm
Doors: 2 doors
Windows: 4 windows
Storage pockets: Included
Rain fly: Included
Fabric: Polyester
Pros
Specious for four people
Excellent weather protection
Window with mosquito net
Hinge-style entry
Affordable tent
Cons
Build up a bit time consuming
---
5. JUSTCAMP Lake Free Standing – Best 2-room Tent for Family
JUSTCAMP two-room tent offers you a successful combination of optics and functionality. And with its large area, it is suitable for accommodating up to 6 people. We can find these in the two opposite sleeping cabins with windows and mosquito nets, whereby the living space of 5 m2 with the alternatively possible canopy invites you to linger, relax and eat together.
The high-quality and visually appealing materials with the 3,000 mm water column effectively and reliably protect against rain. This unit also has a sewn-in groundsheet. The firmly sewn-in floor keeps moisture and insects out of the interior, which has a lockable door.
With pre-assembled guy ropes and easy-to-hang sleeping compartments, JUSTCAMP Lake 6 tunnel tent is easy to set up. It is suitable for long weekends with friends, holidays with a small family or for couples with a higher space requirement.
You can convert the entrance door into a canopy with support poles. However, the fabric of the bedrooms is not black coated. It's a normal breathable tent fabric.
Specifications:
Capacity: Six
Weight: 15 kg
Height: 200 cm
Dimensions: 560 x 230 cm
Doors: 2 doors
Windows: 4 windows
Storage pockets: Included
Rain fly: Not included
Fabric: Polyester
Pros
Big living area
Waterproof and weatherproof
Window with mosquito nets
Easy to assemble and disassemble
Sewn in groundsheet
Cons
Poles for the canopy are not included
---
6. Skandika Hammerfest Dome Tent with 2 Rooms – Flexible Design
With the two opposite sleeping compartments of this tunnel tent, the Skandika Hammerfest offers you a high degree of privacy on shared camping holidays with up to six people. It also has additional space to eat dinner together beside the large living area.
This model is split up between the two separately lockable chambers with integrated windows and mosquito nets for good ventilation and at the same time protection from insects.
It has two doors to give you access to the covered living area, and each has a water-repellent and UV-protected sun sail. This tent, with a comfortable standing height of 200 cm, has a sewn-in tent floor and thus offers protection from insects or moisture in the interior.
You can stow small utensils in the integrated pockets and hang lamps on the lamp hooks if necessary. You can make yourself comfortable in this 500 x 220 cm tent and benefit from a stable and firm hold, thanks to the fiberglass rods and steel poles.
The package comes with a sturdy carrying bag and assembly instructions.
Specifications:
Capacity: Six
Weight: 11.5 kg
Height: 200 cm
Dimensions: 500 x 220 cm
Doors: 2 doors
Windows: 2 windows
Storage pockets: Not included
Rain fly: Not included
Fabric: Polyester
Pros
Large living area
Window with mosquito net
Flexible for many uses
Two large entrances
Well ventilation
Cons
Doesn't have extra pockets
---
7. Coleman Oak Canyon 4 Tent – Build-In Blackout Technology
Do you relax particularly well in the dark and sleep best? Then you pick the Coleman Oak Canyon 4. With this high-quality 2-room tent, you benefit from the night-black sleeping area, which has up to 99 percent less daylight and thus offers you the perfect night atmosphere even during the day.
In addition, the nature of the two sleeping rooms ensures pleasant temperatures, as they block sunlight in a targeted manner and protect you from them with integrated UV protection with a sun protection factor of 50+.
There is a small canopy in front of the two suspended sleeping cabins so that the two sleeping areas invite you to linger, relax and sleep in the visually appealing tent. Each cabin has 210 x 130 x 190 cm spaces with storage space of 160 x 280 x 190 cm. The wall between the two rooms is easily removed with two zippers.
You are able to protect yourself from annoying insects with the integrated mosquito net and look forward to solid and stable construction. Coleman Oak Canyon 4 tent Suitable for camping in summer, autumn and winter. It is also very stable.
However, it can take a while to put it up for the first time.
Specifications:
Capacity: Four
Weight: 18.5 kg
Height: 190 cm
Dimensions: 470 x 280 cm
Doors: 2 doors
Windows: PVC windows
Storage pockets: Included
Rain fly: Not included
Fabric: Polyester
Pros
Darkened sleeping area
Lightweight and sturdy
Pleasant temperature
Comes with mosquito net
Two doors with insect guard
Cons
No color variation
Lamp hook is so tiny
---
8. Skandika Montana with Sun Canopy – Best Two Room Tunnel Tent
With this tunnel tent, up to eight people can be accommodated together and can flexibly access the interior via one of the three entrances. Skandika Montana's spacious 2-room tent offers a lot of freedom of movement and the almost vertical sidewalls allow the floor space to be fully used.
It's very big; you can stand up fully inside the tent. The two sleeping cabins and the living area have particularly breathable properties and thus ensure extensive ventilation. The mosquito nets reliably keep insects and other vermin away and also improve sleeping comfort.
If necessary, you can transform the entrances into awnings and protect yourself not only from rain but also from the sun on hot days. However, This model won't stand nicely without all the pegs in, and setting up the tent takes up to 15 minutes.
It is integrated with hooks so that you can hang lamps. You can also organize your utensils in the inside pockets. Look forward to a protected and thoroughly water-repellent stay with the 5,000 mm water column in the 700 x 310 cm polyester tent.
Specifications:
Capacity: Eight
Weight: 25.8 kg
Height: 200 cm
Dimensions: 700 x 310 cm
Doors: 3 doors
Windows: 6 windows
Storage pockets: Included
Rain fly: Not included
Fabric: Polyester
Pros
Made of flame retardant material
Huge eight berth camping tent
Lots of handy details
Good ventilation
Reasonable price
Cons
Somewhat complex construction
Pretty much heavy
---
9. Vango Epsom Green Odyssey Air 500 Villa – Designed for All Year
This five-person large family tent has a total area of ​​192 x 108 x 80 cm; divided into two sleeping cabins. A small covered storage space with an awning connects the two opposite sleeping areas. It is small enough for traveling but large enough to accommodate 2-4 people comfortably with all other stuff.
Vango camping tent is quick and easy to pitch; you can pitch it within minutes. Due to the composition of PU-coated polyester, the Vango Epsom camping tent with the 4,000 mm water column reliably keeps rain away from the interior.
The mosquito windows and doors of the sleeping cabins ensure a pleasant stay without mosquitoes or other insects.
The double zip door provides additional flexibility and allows you to open it slightly for increased ventilation. The darker fabric also remarkably reduces the amount of early morning light.
The steel poles ensure that the model with the inner cabin pockets stands firmly for better organization. The large clear windows are great in poor weather when you can still enjoy the views.
Specifications:
Capacity: Five
Weight: 18.55 kg
Height: 205 cm
Dimensions: 490 x 275 cm
Doors: 1 door
Windows: 4 windows
Storage pockets: Included
Rain fly: Not included
Fabric: Polyester
Pros
Easy to assemble
Dark sleeping cabin
Bright living area
Warm inside with no draft
Clever ventilation points
Bedroom storage pockets
---
10. Coleman Tenaya Lake Fast Pitch Two Cabin Tent – Fast Pitch
We conclude our list of the best two-room tent with the Coleman Tenaya. This is a large 8 person tent, which has two opposite sleeping compartments and impresses with an appealing look. The two cabins are made of breathable and water-repellent polyester which allows you to stay comfortable while standing in the large vestibule accessible from two sides.
The sleeping compartments make it use extremely variable and uncomplicated. This rainfly also protects you from rain over the entire area of ​​156 x 108 x 80 cm. With Coleman Tenaya's 2-room tent, you can enjoy a high level of comfort not only indoors but also outdoors.
The front door is a nice addition and works like a porch door, swinging open. You will also find the colors very attractive and brighten up your campsite.
You can easily and quickly set up the tent with the integrated windows and the color-coded poles. We would recommend this model to anyone looking for a larger two-room tent for camping. This multi-functional tent also costs no more than the smaller tents.
Specifications:
Capacity: Eight
Weight: 33.85 lbs.
Height: 205 cm
Dimensions: 400 x 275 cm
Doors: 1 door
Windows: 3 windows
Storage pockets: Included
Rain fly: Included
Fabric: Nylon
Pros
Closet idea is neat
Very stable tent
Built in WeatherTec system
Plenty of space
Comes with rainfly
Attractive colors
Cons
Instructions are confusing
Material seems a little flimsy
---
How to choose the best 2-room tent
When buying a two-room tent, it is a good idea to keep your eyes peeled, whether you are buying from a specialty store or on the internet. You must take into account the purchase criteria so that you are guaranteed to find your best tent with two rooms.
2 room tent test: the types of tents
A 2-room tent is available in different designs and the market offers you a wide range of models in different price ranges. The best tents with two sleeping areas are available to you as:
One-man tent
Two-man tent
3 person tent
4 person tent
Or even more
The different sizes are available so that you can find the model that offers you and other people enough space and privacy for being outdoors. The fact that they offer you pleasant sleeping comfort characterizes often the best tents with two sleeping areas and stay in the interior as a dome or tunnel tent.
2 room tent test: the purpose of use
Before buying a 2-room tent, always consider in which area you would like to use it. In this regard, ask yourself whether the tent is just a place to sleep or whether it should also offer you a large entrance area and awning.
Based on these questions and considerations, you can ill find the best tent with two sleeping areas, which not only meets your requirements but also corresponds to the intended use.
A tent that is used purely as a place to sleep does not need a large entrance area. On the other hand, if you would like to use the 2-room tent to relax and eat together, your tent with two cabins is a model with a large entrance area, several entrances and sun sails in the outside area.
2 room tent test: the pack size
The best tents with two rooms in comparison are all characterized by a fairly large size so that they often have a not small pack size. Before you buy, think about how much space the trunk offers you to transport the 2-chamber tent without problems.
It is best to measure your trunk beforehand and make sure that you can stow your best tent with two sleeping areas easily and without problems in your car together with the other luggage.
2 room tent test: the material
The best tent with 2 rooms is a tent that not only offers you a lot of space inside but also reliably protects you from rain and sun thanks to its nature.
For these purposes, manufacturers use high-quality materials such as polyester or nylon and therefore offer you not only protective models but also visually successful tents that you can enjoy visually.
In any case, make sure that the model has good workmanship and not only protects you from rain and sun but also ensures good ventilation of the interior with its breathable properties.
2 room tent test: the interior
The best tents with two sleeping areas not only offer you two sleeping areas and an entrance area, which can be used as storage space or a shared living room, but your best two-room tent must provide you with additional equipment and a good level of comfort and when staying in the tent.
So make sure you're not only paying attention to the nature of the material on the surface but also make sure that you have your best tent with two sleeping areas:
Windows and doors with mosquito nets
Ventilation openings
Firmly sewn and water-repellent floors
Provides hooks for lamps and inner pockets for organization
2 room tent test: ease of assembly
For a 2-room tent, the assembly and disassembly process takes more time and is sometimes complex for first-time users. To facilitate these procedures, it is useful to choose a tent with pre-assembled poles or an inflatable model, which allows to shorten the times and reduces fatigue.
However, when choosing a large tent, you must carefully follow the instructions provided by the manufacturer to avoid any risks. The overall simplicity final affects the final price.
2 room tent test: the price
The price of the product is the most decisive key when choosing a tent. Your chosen best tent with two cabins is not necessarily the most expensive model because the best 2-room tents in our comparison are characterized by different price ranges.
The manufacturers often set the prices for the 2-room tent not below 100 dollars. So expect to spend up to several hundred dollars on your best tent with chambers.
Don't skimp on the wrong ends, but make sure that you buy a high-quality tent that you will enjoy for many years to come.
Frequently asked questions:
How do I waterproof my 2-room tent?
The best tents with two rooms in comparison have a water-repellent quality and thus protect you effectively and reliably against rain. Many models also have integrated UV protection and thus protect you from the sun's rays.
Even your best tent with 2 rooms loses its protective property after long and regular use over the years and requires the protective layer to be touched up with an appropriate impregnation spray.
Just buy it at the market and spray it on the tent from a distance of 30cm.
Which tent brand is the best for 2 room tent?
Your best two-room tent is the model of one manufacturer for you while another buyer will find his best tent with two cabins from another provider. Which model is your best tent is always based on your personal demands and requirements. So no brand is the best brand, but you enjoy the advantage of having a very large and extensive selection of tents.
What types of 2-room tents are there?
For the 2-room tent, which is particularly suitable for a camping holiday with several people, you will find different types of tents on the market. You can find the right model based on your wishes and ideas. Among other things, you can choose from the following types of two rooms tents:
Tipi tent
Camping tent
Freestanding tent
Inflatable awning for caravans
Ultralight tent
Therefore, use the purchase criteria mentioned and then choose the model and type of tent that is best suited for the planned area of ​​use.
Who is a tent with 2 sleeping rooms suitable for?
A 2 sleeping room tent is only suitable for families and groups who spend a camping holiday together. Instead of setting up two separate tents, you save yourself having to work again with a 2 sleeping room tent. In addition, the pack size is better than that of two individual tents.
Is a 2 sleeping room tent only suitable for families?
Not necessarily. This type of tent can also be suitable for young people. For example, if you go to a festival with friends, you usually have a lot of luggage with you. But sleeping next to all these things is not exactly pleasant. With a tent with 2 sleeping compartments, you can stow your belongings and those of your friends separately and thus have an organized tent.
What activities is a tent with 2 cabins suitable for?
A tent with 2 rooms can be used for a wide variety of activities. Of course, this applies not only to a tent for 2 people but also to 4 people with 2 cabins for example.
The following activities are possible with such a tent:
Visits to concerts and festivals
Camping in the great outdoors
Camping at a campsite
For children: camping in their own garden
Fishing trip
Conclusion
Now you can find your best tent with two-room from comparison and orientate yourself on the most important aspects when making a purchase decision. So you are guaranteed to find the 2-room tent that meets your requirements and accompanies you and other people as a loyal companion as a protective retreat and sleeping place.
Which model did you choose and how satisfied are you? Leave us a comment, we'd love it.
For any additional supervision, ask your questions in the comment section below.