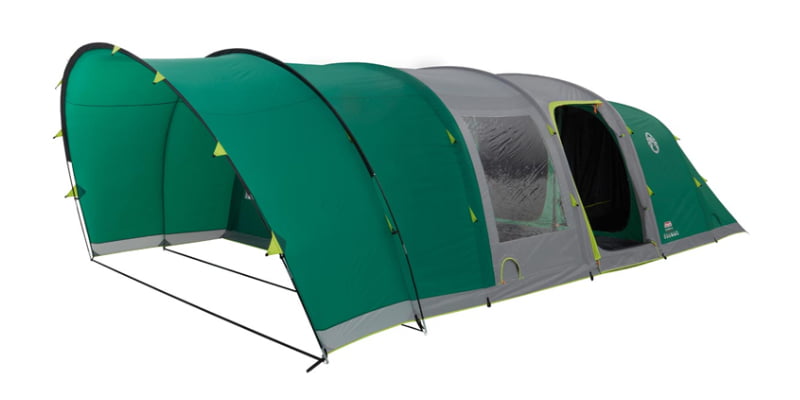 Today we are testing a very special tent with four rooms. It has the so-called "blackout bedroom", which blocks 99% of the daylight because of the material used and thus makes sleeping masks and similar sleeping aids unnecessary when camping!
Coleman Valdes 6XL Air BlackOut is a large air tent for six people with a total usable area of ​​21 square meters. It offers plenty of storage space and living space for family and friends. It has a canopy, darkened sleeping cabins, and many extras.
Curious?
We'll tell everything based on our practical experience about this fast-pitch air tent.
Coleman Air Valdes 6XL Tent Review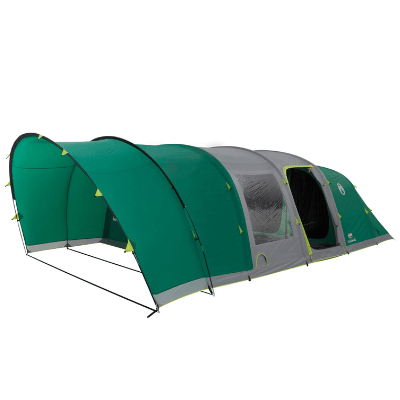 Technical specifications:
Capacity: 6 persons
Spaces: 3 or 4, separable
Sleeping area: 8.8 m²
Living area: 12.3 m²
Stem: 8 m²
Tent type: tunnel
Tent poles: Fiberglass, air
Material groundsheet: Sewn-in polyethylene
Material outer tent: Polyester, PU coating
Inner tent material: Polyester, mosquito net
Water column: 4,500 mm
Carry bag: Polyester included
Total weight: 30.5 kg
Pack size: 78 x 58 x 48 cm
What We Liked:
Robust and durable
Inflatable tent poles
Huge living and sleeping area
Coleman UV-Guard: sun protection factor 50
High water column: 4,500 mm
Flexible room design thanks to the removable partition in the sleeping cabin
Practical wing door
Cable entry and hanging options
This giant air tent is suitable for campers who have a lot of stuff with them and who don't want to do without a certain level of comfort.
Don't worry – we know the problem well:
With Coleman Air Valdes 6XL tent, you can enjoy nature and freedom, and maintain a certain level of comfort on holiday. It doesn't have to be a contradiction in terms.
For us, comfortable dressing and undressing while standing or restful sleep means a bit of quality of life that we wouldn't want to miss on a tent holiday … maybe you feel the same way?
Not only comfort campers but also smaller groups and families with children will be happy about the space gained and the uncomplicated assembly of the Coleman FastPitch Air Valdes 6XL. If you enjoy camping and want to treat yourself to something special, an air tent is just the thing for you.
Tall people get their money's worth with the Coleman Valdes 6XL tent. It has a pleasant standing height of 2 meters and plenty of space in the sleeping cabins.
It costs around 1200 dollars. However, if you order it from Amazon, you will get a free shipping service. Also, experience has shown that you often get a cheaper price at Amazon.
The Air Valdes doesn't suit you?
Floor plan
You enter the Coleman air tent through the spacious veranda area, which gives you rain and sun protection in summer. We open the actual front entrance through the practical D-door, which can be opened to the side and attached.
The living area is bright and friendly thanks to a total of four large panoramic PVC windows that provide a good portion of light in summer.
Alternatively, you can easily reach your living room tent via two side entrances.
At the end of the living area, you come to the two or three sleeping cabins, which you can make flexibly thanks to the partition.
Available space
Coleman air Valdes 6XL tent is designed for 6 people, whereby Coleman was quite generous in calculating the available space. A look at the usable interior area of ​​21.1 m² that we have calculated reveals that every camper has a full 3.5 m² available here, assuming full occupancy of six people.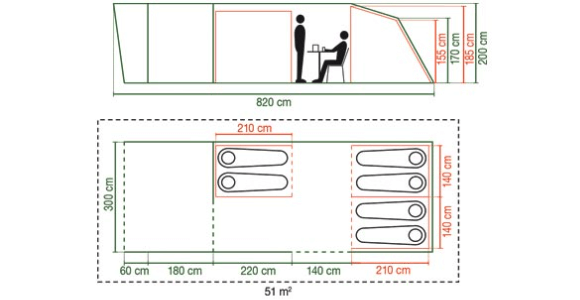 Quite a lot!
If friends or family members stop by spontaneously, there is easily enough space for another 6 to 7 people who could be accommodated with air mattresses in the living area. At least for a day or two, this is a stopgap solution.
If you add the 8 m² porch to the inner area, under which a larger seating group fits comfortably, it becomes clear. This is why Coleman air Valdes 6XL tent is considered a true space miracle.
Sleeping comfort
With a total area of ​​8.82 m², the sleeping cabins offer enough space when fully occupied by six campers. For longer stays, we recommend that you keep your tents at least 70 cm wide per person.
How's the Coleman Valdes 6XL doing in that regard?
Each cabin has a width of 1.40 meters for two people. You can comfortably accommodate an air mattress or sleeping mat without getting too close to your neighbors – every camper has 70 cm of space here.
The sleeping cabin on the left represents the main bedroom, so to speak. Here you can choose whether or not you want to leave out the partition wall typical of tunnel tents.
The right cabin can be ideally used as a children's room. Alternatively, if there is insufficient space, a lot of stuff fits in here that one does not like to store in the living room. Since the inner walls are sufficiently steep, you can also think about setting up a cot without getting to know the tent cover.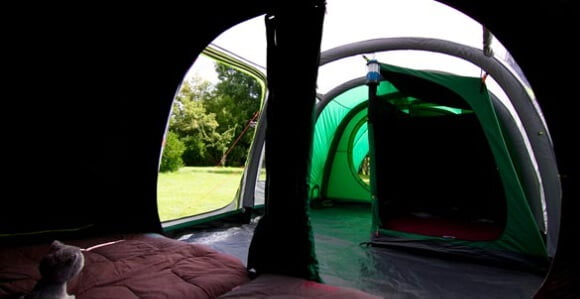 This Blackout tent fabric absorbs up to 99% of the daylight. But that's not all:
The black tent fabric ensures that the temperature is increased by around 1 degree Celsius at night while in the sun it is about 5 degrees less than in the living area. Ventilation flaps with insect screens on the back of the bedrooms and mesh grilles on the doors also ensure the necessary air supply.
It is also worth to mention that the numerous pockets at the entrances to the sleeping cabins and near the floor in each cabin are very effective. Here you can stow your most important things for daily care or various devices that shouldn't be on the floor.
In the front area of ​​the bedroom, you can easily get dressed and undressed, because the standing height here is 2 meters. In the rear area, it falls away depending on the type of tent and still reaches 1.55 meters.
Living comfort
Coleman Air Valdes 6XL tent is pleasantly comfortable in many ways and offers you some useful features for longer stays. The living area measures a whopping 12.30 m² plus an 8 m² porch. When fully occupied, six camping enthusiasts can look forward to a generous 20.30 m² of living space.
The standing height in the living area is 2.15 meters. It is therefore the ideal choice for tall people who like to move freely in a tent without constantly having to get to know the tent cover.
If you are no longer one of the youngest campers, you will not want to miss this comfort. Not having to crawl through the tent in a stooped position has become very important to us. The edge areas are best for luggage or camping cupboards because this is where you can no longer stand properly – typical for tunnel tents.
Light sight
With the Coleman Air Valdes 6XL Air Blackout tent, you get enough daylight inside the tent, especially through the two side entrances and the two large side windows.
There are also two smaller windows next to the front door. Due to the stem, less light gets into the tent than other Coleman models such as the Coleman Galileo 5.
If you want, you can darken all the windows by using the appropriate curtains for more privacy. Because of the extremely dark sleeping area, Coleman gave us the option to let some light shine into the inner tent with ventilation flaps on the sleeping cabin doors. This is definitely a useful feature – not everyone likes to sleep in complete darkness!
Insect repellent
The sewn-in polyethylene tarpaulin is neatly processed all around and protects against annoying crawling animals.
In addition, the Coleman Valdes 6XL fortunately offers the tried and tested mesh grille on all exterior and interior doors to provide the necessary ventilation and protection against insects.
All ventilation flaps in the living and sleeping areas are also equipped with mesh grids.
Extra features
There are some special features that make the Coleman Valdes 6XL even more comfortable. First of all, the many small and large pockets in the inner tent and in the rear living area are noticeable.
We also noticed positively that you can easily attach your camping lantern or Bluetooth box to the appropriate places with hooks on the tent ceiling.
You will even find cable guides in the living area for corresponding power cables from outside. Trip hazards and tangled cables don't stand a chance here!
The high-pressure air valves for the inflatable rods in this model are also easily accessible from the outside through two corresponding semicircular openings on the side near the floor.
Weather protection
How good is the Coleman Valdes 6XL in terms of weather suitability?
We go through different scenarios.
Sun
The fabric of the Valdes 6XL has the so-called "Coleman UV-Guard". What is meant is a sun protection factor of 50, which protects you from dangerous sunburns.
When it comes to exposure to the sun, the good darkening, also in the veranda area, protects you better than some other models.
The two large windows let in enough light at the entrances when you roll up the blinds.
Heat
In the heat, the Coleman Air Valdes cuts a fine figure compared to other family tunnel tents of this size.
Why is that?
The well-sewn groundsheet is more of a hindrance in extreme temperatures and leads to problems with other tunnel tents due to heat build-up inside the tent.
However, with this tent, you have the great advantage of a clever and well-thought-out ventilation system: Not only that the sleeping area can be sufficiently ventilated through various mesh grille ventilation flaps. You also have the huge advantage of three doors.
If you open the front door and both side entrances at the same time, you can ventilate effectively in a short time. In addition, there is the advantage of the somewhat cooler blackout bedroom.
Rain
Rain is not pleasant for any camper. You want at least a completely waterproof tent. Coleman Air Valdes 6XL tent has a water column of 4,500 mm and is therefore waterproof.
The seams of the outer skin are properly taped. The polyethylene floor pan is sewn in, so unwanted moisture has to stay outside. Wet clothes or floating objects are a thing of the past. With the Coleman air tent, you stay dry even in storms.
Cold
Coleman Air Valdes 6XL is well suited as a cold-weather tent. Due to its construction-related sealed construction, you get the warmth inside better. In addition, there is the aforementioned Coleman darkening technology, which makes the sleeping area a little warmer.
For winter camping, it is more suitable than other tunnel tents of this size because of the good stability of the air pole arches.
However, when it snows, the roof collects a lot of snow that you have to sweep off the roof. This may be less of a problem for the strong, inflatable poles, but the two fiberglass poles in the front area are the weak points: They are prone to too much pressure from above.
The only thing that would help here is constant snow clearing so that you are on the safe side.
Wind
Tunnel tents usually don't like storms and winds that much. This is because a tunnel tent offers a lot of attack surfaces. With a height of 2.15 meters, the Coleman air tent Valdes 6XL is no exception.
However, as a hybrid tent with strong air poles and comparatively weak fiberglass poles, it still has stability advantages over conventional, pure fiberglass tents.
If you compare the Coleman Air Valdes 6XL with various cheap brands of tents on the market, it is clear that the manufacturer stays ahead in terms of stability in rain and wind.
Humidity
Unpleasant floor moisture is not a problem thanks to the sealed tent floor, the moisture stays outside. However, condensation is a common problem with well-sealed tents.
After all, the outer tent has a sufficiently large distance from the inner tent so that condensation in the sleeping area is not a problem.
The doors equipped with mesh grids and the ventilation flaps protected from rain also allow enough fresh air to get into the inside of the tent. So you can ventilate well even in bad rainy weather.
Two side entrances and a large front entrance offer enough opportunities for rapid ventilation. Stuffy air in the tent cannot even appear.
Weight, pack size & mobility
The heavy tent materials make the Coleman Valdes 6XL air tent a heavyweight and have a corresponding effect on the pack size.
Weight
The manufacturer reports the air tent with a total weight of 30.5 kg. This makes it absolutely necessary to have a car or RV with you for transport on camping trips. The average weight per person for a tent is around 1 to 2 kg while lighter trekking tents can weigh less than 1 kg per camper.
Our conversion of the total weight resulted in 5.08 kg per person. That's a lot even compared to other family tents of this size.
It is therefore only partially suitable as a festival tent, depending on where the tents may be set up. You will probably want to cover longer distances with a hand truck to protect your back.
As you can see, the Air Valdes 6XL cannot convince when it comes to mobility. However, this plays a subordinate role for a longer family vacation if you put transport and set-up in relation to the entire stay on site.
Pack size
We were also not very surprised by the unwieldy pack size. At 78 x 58 x 48 centimeters, the tent takes up a decent amount of the trunk of the car. Of course, such a large air tent is not intended as a trekking tent, which is why the pack size also plays a subordinate role.
However, if you take a small car with you on vacation, you should allow for enough space for the tent, otherwise, there is a risk of a nasty surprise when loading the vehicle.
As always in our reviews, we try to make this rating as objective as possible. Therefore, we take a look at the pack size in liters for a better comparison: The packing dimensions given by the manufacturer correspond to a volume of 217.2 liters! You see – smaller trunk spaces are already reaching their limits.
Compared to other 6-person tents, the Coleman Air Valdes 6XL takes up more space.
Construction & dismantling
As a tunnel tent, the Valdes 6XL is not freestanding. You must therefore securely unfasten the outer tent after inflating it. In addition, the excess length of this tent must be taken into account when setting up. The air tent should therefore be attached to a level surface.
Fortunately, the pump and pressure gauge are already included in the order. The pole arches are inflated with the Fast Pitch Air technology (with 7 PSI each) in around 10 minutes. The two high-pressure valves are used for inflating and deflating, which are still accessible via the side flaps after assembly.
The first few attempts will take you around 15 to 20 minutes required.
Nevertheless, the erection is faster compared to other tunnel tents of this size. We recommend you tackle the construction with one or two helpers. So it works without frustration and the vacation starts even faster. It's definitely easier with two people.
Be clever and if possible set up the Valdes 6XL for yourself in your garden at home. This saves you frustration for setting up on the campsite.
That's what other testers say:
Coleman Air Valdes 6XL tent has convinced the professional world in tests. The spacious air tent received the Camping Magazine Editor's Choice Award 2018 in the large family tents category. Another tester was enthusiastic about the darkness of the inner tent and described it aptly:
The bedrooms are so dark that you need a flashlight to see something.
Overall Result Coleman Valdes 6XL
Coleman Valdes 6XL Air Blackout tent achieved 88 points in our rating. This inflatable tunnel tent is completely convincing in many ways. We warmly recommend it for family campers.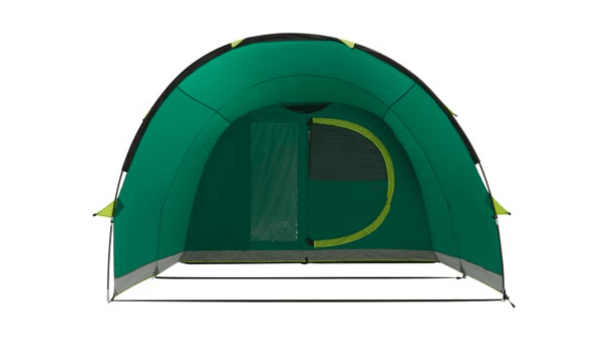 Coleman Air Valdes 6XL vs. Competition
Coleman Air Valdes 6XL tent is an excellent choice for your family vacation with children and adults.
For a smaller budget, the Vango Unisex Odyssey Airbeam Deluxe 600 is recommended. The inflatable family tent for 6 people is a whole lot cheaper than the Air Valdes 6XL and offers less space in the living area.
Also recommended is the Vango Capri Air 600XL family tent, which is equipped with two darkened sleeping compartments and is available at door out for a cheap price. This 6-person tent is also equipped as a large air tent with two sleeping cabins and a canopy.
Main Advantages & Disadvantages
Advantages:
Large living area
Large PVC windows
Front door with hinge
Good UV protection with SPF 50
4,500 mm water column
A total of 4 rooms thanks to the removable partition
Cable routing
Very dark sleeping area
Lots of pockets
Disadvantages:
Canopy with fiberglass poles
Comparatively expensive
Included equipment:
Coleman windbreak XXL with window
High-quality Coleman tent carpet
Coleman Event Shelter Pavilion 4.50 x 4.50 m
Conclusion
If you are looking for a real camping palace, you will find it with the Coleman Air Valdes 6XL. The 6-person tunnel tent scores with sturdy air poles, large and night-black sleeping compartments, an ingenious front door with hinge, and some useful extras such as a large number of pockets.
Whether space, comfort when sleeping or living – this tunnel tent impressed us all along the line! If you can get over the heavyweight and unwieldy pack size, you should grab it. Almost ideal for family campers with the right budget: the incredibly spacious Coleman Valdes 6XL on Amazon.
Did you like the review?
Then you can support us by using the affiliate link above. It doesn't cost you a cent extra and you help us to write additional valuable content for you.
We wish you a nice camping holiday!
You can check our other reviews, guide, and expert tips & tricks for camping on our website.