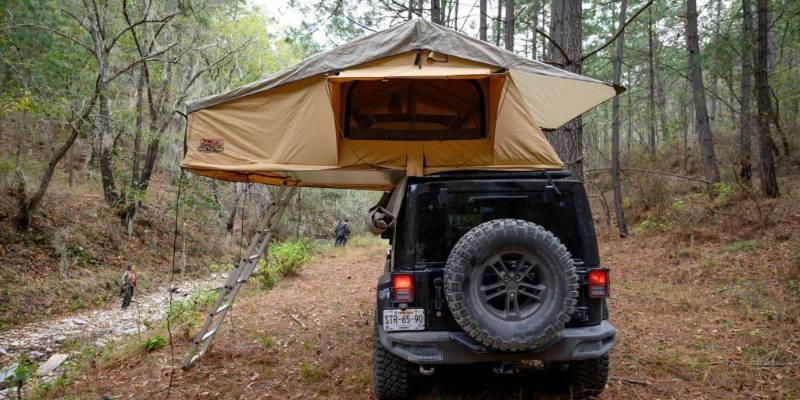 After a long eventful day, pitching the tent and spending the night under the stars is pure pleasure – but setting it up can still be a bit nerve-wracking. Rooftop tents combine the feeling of freedom of normal tents with the comfort of a stable bed. These ingenious shelters combine convenience, comfort, and mobility, which allow adventurers to take their camping trips to new heights—quite literally!
We have tested 20 models and finally selected the top 6 best rooftop tents for 2023. Whether you're a solo traveler, a couple seeking a romantic getaway, or a family in search of a memorable bonding experience, these tents are designed to meet your specific needs.
In our buying guide, we present the most important facts for an informed purchase decision. This saves you time and money and you are guaranteed to find your personal test winner.
Best Rooftop Tents of 2023 (Top 6 Picks)
Let's discover which one can be your ideal camping companion for the year ahead…
1. Ikamper Skycamp 3.0 Mini Rooftop Tent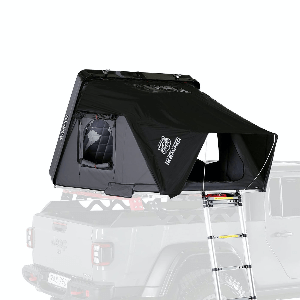 Product Details:
Type: Hard Shell Rooftop Tent
Lying surface: 83 x 52 in
Height (Closed/Open): 13.5" / 48"
Weight: 125 pounds
Number of people: 2
Seasons: 4-Season
The Skycamp 3.0 Mini hard shell rooftop tent impresses with its compact design and easy handling. The locks, hinges, and ladder hangers are extremely stable. It is a rooftop tent all-rounder that offers a convincing shelter with a lot of comforts for holidays of all kinds.
The assembly is done within a few minutes. It is foldable so that the tent can then be moved easily. The tent reliably protects against rain thanks to the hard shell. The mosquito nets effectively keep mosquitoes away. The high-quality zippers and improved windows allow you to open both canvas and mesh at once.
Various inner compartments help to keep things tidy in the tent. The ladder can be flexibly attached to the two long sides of the vehicle, therefore enabling access from both sides. In addition, the canopies reliably protect against strong sunlight and rain.
A special feature is the additional roof rack on the hard shell, which makes it possible to take additional luggage of up to 50 kg. Overall, the lying surface is comparatively narrow.
With a width of 53 inches, it could already be relatively cozy for 2 people while the tent is rather unsuitable for 3 people. Even tall people will find it difficult with the length of 83 inches.
Pros
Robust all-aluminum construction
Very stable and cozy
Easy handling and setup
Inside pockets and shoe pockets
You can enter from two sides
Additional roof rack for luggage
Fits all vehicles
Cons
Lying area is comparatively small
Mattress is a bit firm
---
2. Body Armor 20010 SKY RIDGE PIKE Rooftop Tent
Product Details:
Type: High-Density Rooftop Tent
Lying surface: 50 x 47 in
Height (Closed/Open): 13" / 48"
Weight: 117 pounds
Number of people: 2
Seasons: 4-Season
The Body Armor SKY RIDGE PIKE high-density rooftop tent for cars is characterized by a stable and robust hardcover construction, which allows quick and easy assembly with just a few movements. With this rooftop tent, every camping holiday is great fun.
The assembly set and the illustrated assembly instructions help to fix the tent correctly to the cross members of the car before use (You don't have another person to help). Two adults have plenty of sleeping space in the inner tent. The double-wall construction ensures top-class ventilation while protecting against mosquitoes.
Thanks to four large windows, an all-around view is possible and promises an absolute feeling of freedom in nature! Whether Norway or Spain – with a hydrostatic head of 3000 mm, you stay dry every night in the tent. The darkened windows also allow restful sleep even after sunrise.
However, the mattress is rather thin at 6 cm thick, which could have a negative effect on sleeping comfort for sensitive people. With a weight of 117 pounds, it is the heaviest model in our product comparison. The rainfly prevents water from coming in at all.
The material quality feels durable for the price. We highly suggest this option for a novice camper looking to utilize their vehicle as a sleeping space, while keeping their camping gear outside.
Pros
Stable aluminum lid
Easy opening with gas pressure springs
Robust outer tent
Completely waterproof
Inner tent can be almost completely blacked out
Covered entrance area
Quick and easy assembly
Good ventilation
Cons
Thin mattress
Small floor space
---
3. Thule Tepui Explorer Ayer 2 Rooftop Tent
Product Details:
Type: Hard Shell Rooftop Tent
Lying surface: 84 x 44 in
Height (Closed/Open): 10" / 44"
Weight: 114 pounds
Number of people: 2
Seasons: 4-Season
The Thule Tepui Explorer Ayer 2 rooftop tent impresses with its extremely robust and high-quality hard shell cover, which offers optimal protection when driving, camping and storing. Anyone who spares no expense and travels as a couple can opt for this high-quality and robust tent.
The shell opens fully automatically, which saves a lot of time during assembly. This guarantees more time for nicer activities on the campsite. The hardcover roof is of course absolutely waterproof and therefore trumps all rooftop tent fabric models.
The tent is also well protected against rain from the sides thanks to the robust polyester fabric. In addition, the material is UV-resistant and therefore a faithful companion even in strong sunlight. The mesh panels offer plenty of ventilation and airflow
Whether it's exploring the spectacular nature of the great outdoors or traveling the world with family and friends, the Thule Tepui Explorer Ayer 2 rooftop tent will be the best companion. It can accommodate up to two people and necessary gear.
Only negative thing is that the lying surface is a bit narrower and the tent is a bit flatter than the comparison models. Also, don't use this tent with any type of clamp-style roof rack.
Pros
Set up particularly quickly
Four large internal pockets
Very waterproof thanks to the hardcover
Comes with 2 years warranty
With UV protection
Mosquito nets
Cons
Narrow lying surface
Relatively flat
---
4. Roofnest Condor XL Fold-out Style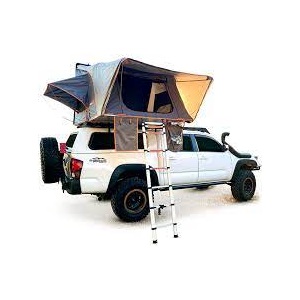 Product Details:
Type: Fold-out Hard Shell Rooftop Tent
Lying surface: 74 x 93 in
Height (Closed/Open): 13" / 50"
Weight: 160 pounds
Number of people: 3-4
Seasons: 4-Season
The Roofnest Condor XL 4-season tent is UV-resistant and waterproof. Thanks to the thick fabric construction and effective insulation, it can be used all year round without the cold outside getting in. It accommodates two to three people comfortably, making it suitable for couples or small families.
At the same time, the medium doors and windows make a great impression and promise a great indoor climate inside the tent. Thanks to the outer shell, reliably protects against wind and weather. The shell is made of ABS plastic with Line-X Finish, making it extremely robust.
The aircraft aluminum frame ensures that the tent is well protected and cannot be damaged during long car journeys as well as during storage. A small awning is integrated, which protects against rainwater when exiting.
Internal storage compartments also help to keep the tent tidy and not lose sight of your belongings. The minimum distance front-back between rack crossbars is 30 inches.
However, a small disadvantage is that the manufacturer advertises the tent as waterproof, but does not give any specific information about the water column.
The package comes with an 8.5′ ladder, 2 detachable pockets, Roofnest privacy tent, 4×4 ground mat, and interior LED light. It not only makes tours throughout the year possible but also offers the highest level of comfort and safety.
Pros
Simple lifting system
Ergonomic design
Lots of doors and windows
Tear-resistant tent fabric
Waterproof and durable
Internal storage compartments
All-season tent
Awning and specious
Cons
No information on the water column
Not designed for solo travelers
---
5. Smittybilt Overlander Rooftop Tent
Product Details:
Type: Vehicle Mounted Tent
Lying surface: 92 x 55 in
Height (Closed/Open): 13" / 51"
Weight: 116.5 pounds
Number of people: 2
Seasons: 4-Season
Smittybilt Overlander rooftop tent comes in a slim and compact design, which still offers plenty of space when set up. Once the pitch has been found, it can be easily unfolded and set up quickly with the help of long pegs and cross poles.
Entry from all sides makes a great impression and makes the tent easier to use. This is especially useful at night when someone wants to leave the tent without disturbing others. The LED light works great with a USB battery pack and has two skylights, so you can enjoy the night sky from your tent.
The openings are equipped with mosquito nets, so the interior is safe from mosquitoes. The manufacturer also states that the tent is UV-resistant and waterproof. Not only the rainfly is waterproof but treats well in light rain or drizzle by itself. This model comes with heavy duty PVC cover to keep the tent safe.
If you are looking for a practical rooftop tent with lots of space and many great features and don't want to dig too deep into your pocket, you will find it in the Smittybilt Overlander rooftop tent. The thickness of the fabric is remarkable.
The disadvantage is the high weight of the tent as a 2-person tent; 116.5 pounds does not perform as well as the other models in our test. Nevertheless, the price of the tent is unbeatable.
Pros
Compact when packed
Plenty of space for two people
Entry is possible from all sides
Awnings and Breathable
Lightweight aluminum telescopic ladder
Waterproof
Cons
A bit hard to remove rainfly
Very loud when it's windy
---
6. Xljh Camping Spacious Rooftop Tent
Product Details:
Type: Hard Shell Folding Tent
Lying surface: 83 x 56 in
Height (Closed/Open): 13" / 55"
Weight: 152.5 pounds
Number of people: 2
Seasons: 4-Season
If you are looking for a large and comfortable tent with lots of space, you will find it in the Xljh rooftop tent. It is a hybrid of a hard shell tent and a fabric tent, combining the advantages of both models. In its unfolded form, it achieves a significantly larger area and thus offers increased comfort.
A huge plus is the high walls compared to other tents (1.40 m high). Also very pleasant are the covered entrance area and the cozy awning, which suggest pleasant and comfortable hours even in rainy weather. It has its own awning. However, it does not have a separate awning.
This tent is specifically designed for 4×4 off-road vehicles, making it suitable for adventurous camping trips in rugged terrains. It is constructed with a durable fiberglass roof to withstand the challenges of off-road travel. Ventilation is also optimal, thanks to the opening windows, which offer protection even in the rain.
However, there are two small minuses. The weight is relatively high compared to other tents. And the water column of 2000 mm could also be higher at the price to better protect against rain.
Pros
Rain-protected entrance area
Integrated sponge mattress
Lots of space inside
Awning and good ventilation
Comparatively high
Cons
High weight
Low rain protection
---
What You Need to Consider When Buying a Rooftop Tent
With the diverse range of options available in 2023, choosing the right rooftop tent can be a challenging task. Here are some essential factors & properties to consider before making your purchase:
Type of rooftop tent
Rooftop tents are available in a wide variety of designs and for almost every purpose. Depending on whether it is only to be used for a short weekend trip with the family or for long-term expeditions far away, there are various configurations available.
The classic fabric rooftop tents are foldable and therefore real space miracles with little weight. However, they have disadvantages in material and handling. They are less robust than hard-shell rooftop tents and are therefore cheaper.
The more modern hard-shell rooftop tents are the robust and more comfortable alternative but do not come close to folding fabric tents in terms of space and acquisition costs.
The hard-shell folding tent is an interim solution, which is the easiest to set up but takes last place in terms of space.
Good to know: The inflatable format offers quite innovative categories among the best rooftop tents.
Size & available space
Since rooftop tents are usually very durable, when buying, you should not only think about the next trip but also the medium and long term.
Regardless of how many people the trip is to take place with, the required space in the bed at home can always serve as a rough guide. Because roughly the same space is required when camping in a rooftop tent.
Fabric folding tents are usually superior to hard-shell rooftop tents in terms of length and width, as well as storage space inside so that tall people of around 2 meters, children sleeping sideways and all kinds of accessories can be accommodated well.
An important factor when choosing the size is the footprint, as folding rooftop tents protrude quite a bit over the car roof and therefore require more space than rigid hard-shell tents.
Tips: If you would like to have it warm in the tent, you can achieve this with an additional heater. Traditionally, parking heaters are used here, the warm air from which is fed into the tent via special pipes.
Cost
Useful rooftop tents can be found in the price range from just under $1000 to $4000. The widest variety and choice are found in the $1500-$3000 range. The material, the size of the lying surface, and the design have the greatest influence on the purchase price.
A rule of thumb:
A hard shell rooftop tent costs more than a fabric folding tent of the same size. Even if rooftop tents cost a lot of money, you should not save at the wrong end here. Especially those who plan longer trips with it are well-advised to fall back on somewhat higher quality rooftop tents from well-known manufacturers.
Material
Depending on which travel areas you prefer, it is also advisable to take a close look at the tent materials.
Tent fabric
If the polyester content is quite high, the fabric is easy to care for. Thanks to the PVC coating, it is more resistant to rain and bad weather. However, breathability suffers as a result, which means that there is a lot of condensation inside the tent, especially in colder areas.
A fabric with a high cotton content ensures a better indoor climate overall due to its breathability but tends to absorb moisture and mold.
Tent floor
You can also choose between different materials for the rooftop tent floor. Older models in particular are often equipped with a wooden floor, which has a positive effect on the feeling of space and condensation but is heavier than the alternatives.
The more modern variants are aluminum composite panels and GRP honeycomb panels, which are extremely light and stable but offer slightly less insulation.
Set-up and dismantling
Again, the choice depends on the planned type of travel. If you like to camp in one and the same place for a longer period of time – for example directly on the campsite – we recommend a fabric folding tent.
The effort and time required here are a little higher than with hard-shell tents, but the space available is simply much larger and a family holiday is absolutely no problem. If you want to be more flexible and decide anew from day to day where to stay, you should use a hard-shell tent.
The construction time is a lot shorter here and the effort is also very limited in comparison. Even if you like to camp in areas where space is limited, this type of rooftop tent is recommended. Meanwhile, hybrid models try to combine the advantages of fabric folding tents and hard-shell tents.
Roof load and weight
The fact that the value of the maximum roof load for most mid-range cars is only 75-100 kg is quickly irritating. Because how should the car be able to carry a rooftop tent including its occupants?
Roof load refers only to driving: The value relates to driving because a car can carry many times the permissible roof load when it is stationary. Nevertheless, the weight should be taken into account when purchasing, as it has a direct impact on fuel consumption.
Hard-shell rooftop tents generally weigh more in kilograms than lighter fabric folding tents.
Seasonality and Climate
Consider the type of weather and climate you'll be camping in. Some tents are designed for all-season use, while others are better suited for specific conditions. Look for tents with proper ventilation and insulation features.
Ventilation and Condensation Management
Adequate ventilation is crucial for minimizing condensation inside the tent. Look for tents with mesh windows and vents that promote airflow. This is especially important for long-distance travelers.
Additional Features
Look for features that enhance comfort and convenience during outings, such as built-in mattresses, interior pockets, LED lighting, and annex rooms for added living space.
Build a Rooftop Tent Yourself – Is That Possible?
There are some experiences on the internet from rooftop tent fans who have made a rooftop tent themselves. If you want to build a rooftop tent yourself, you can draw on their valuable experience.
In the following, we show the most important steps with which the self-construction succeeds.
First, the basic framework must be determined. Here z. B. a shell glued and screwed from a screen printing board or a wooden frame on which the mattress is later placed.
Robust steel is suitable for hinge scissors, which push a frame made of aluminum or steel upwards with the help of compression springs. Alternatively, an erectable folding mechanism without springs is also possible.
A robust and waterproof fabric should be chosen for the roof covering. Users report that a truck tarpaulin is particularly suitable for this. Then it is essential to ensure that the side walls are made of breathable fabric. Polyester or nylon tent material is a good choice here.
The roof tarpaulin should protectively cover the frame of the tent when folded and can be attached to the frame with rivets. The tarpaulin can be additionally fixed with snaps or elastic bands during the journey.
FAQs
What is a rooftop tent?
A rooftop tent is a tent construction specially designed for car roofs, regardless of the car model, which can be transported compactly and forms a living and sleeping area when unfolded. The rooftop tent is firmly connected to the car via cross-members.
Which roof racks are best for a rooftop tent?
The most common mounting base for rooftop tents is so-called cross beams. These are connected to the vehicle roof via support feet. Most of the time, the standard carrier from the market leader Thule is used, but this is not advisable.
On the one hand, Thule advises against using rooftop tents yourself and rather recommends using them as a bicycle rack or to transport outdoor equipment such as a bicycle. B. Kayaks. On the other hand, the standard Thule carriers are only 120 cm long and therefore too short for the average width of many rooftop tents.
Where can you stay overnight with a rooftop tent?
In principle, it is permitted to stay overnight with the rooftop tent wherever cars can be parked and where it is not expressly prohibited according to the Road Traffic Act and the signs. However, this applies above all to one-time overnight stays to restore driving ability.
However, if the rooftop tent is no longer just used for parking, but also for living (for example, with a camping table, chairs, grill, etc.), this is no longer so easy to differentiate legally and falls under the category of wild tents.
It must also be noted that spending the night in public parking spaces to restore driving ability is only possible with hard-shell rooftop tents. Fabric rooftop tents usually protrude beyond the vehicle and are then no longer permitted due to their size. Of course, campsites and other designated places are also allowed while camper pitches are almost always only permitted for campers.
Which rooftop tent fits my car?
There is a suitable rooftop tent for every type of car and every model on the market. This is mainly due to the fact that the rooftop tent is not mounted directly on the car but on the respective cross members.
So it will always be possible to find the right tent. There are just a few details to consider before you buy. In addition to checking the maximum roof load, the presence of a roof rack in the form of a cross member is also necessary. The total mass of the vehicle and a sufficient width should also be clarified when buying.
Is it possible to rent a rooftop tent?
Rooftop tents can be rented conveniently throughout the USA, which has several advantages. On the one hand, you don't have to buy a pig in a poke straight away, but you can put the rented rooftop tent to an extensive test over the weekend, for example.
Secondly, you have a much better basis for making a decision when making a later purchase. Cars with rooftop tents can also be rented. In every federal state, there are different providers who have specialized in the rental of rooftop tents.
How to store a rooftop tent correctly?
Before storing, make sure that the mattress and tent fabric are dry. Theoretically, rooftop tents are designed in such a way that they can remain on the vehicle all year round. However, we recommend dismantling it during longer camping breaks and storing it in a dry place that is as dust-free as possible. For better ventilation, open the rooftop tent from time to time and place it in the sun.
How much do good rooftop tents cost?
Usable rooftop tents, mostly in the fabric folding tent variant, can be found on the market for just under $1000. The more modern hardcover rooftop tents are available from $1500-2000. Of course, there are no upper limits here either.
How fast can you drive with a rooftop tent?
Most rooftop tents are approved up to a maximum of 130 km/h, the required roof racks are often only up to 120 km/h. Higher speeds not only result in unsafe driving behavior of the car but also in annoying driving noises.
How far can a rooftop tent protrude?
In principle, a vehicle including its load must not be wider than 2.55 m and not higher than 4 m. If the rooftop tent protrudes more than 40 cm to the side or 1.50 m to the rear, it must be marked with a flag or something similar.
How is a rooftop tent properly attached?
In most models, the rooftop tent is attached to the floor using aluminum or steel profile rails with cross beams on the vehicle roof. For assembly, it is good to have at least two people, better three, in order to be able to handle the tent better and to be able to fix it evenly from the sides.
How much does a rooftop tent weigh?
On average, rooftop tents weigh between 35 and 85 kg, with hardcover rooftop tents usually being heavier than fabric folding tents.
Does a rooftop tent fit on every car?
As long as the vehicle has a suitable cross-member, a rooftop tent can almost always be attached. In exceptional cases, however, the maximum payload and total load can be limiting factors. It is therefore worth checking in advance whether the total weight fits the car. Also, the rooftop tent should not protrude excessively on the sides.
Can a rooftop tent withstand strong winds or even a storm?
Rooftop tents are usually extremely weather-resistant and can withstand even stronger storms. However, it quickly becomes uncomfortable in terms of volume and vibrations. However, this can be prevented with good relaxation and foresighted choice of parking space.
Conclusion
As we wrap up our exploration of the best rooftop tents of 2023, it's clear that these innovative shelters have redefined the art of camping. From their ease of installation to the comfort they provide, they are ideal companions for adventurers seeking a seamless blend of mobility and comfort.
Buying a rooftop tent means you are making a tidy investment in the future. Since the tents are not exactly cheap, it is all the more important to find the right model that suits your needs.
Thanks for reading. See you soon…