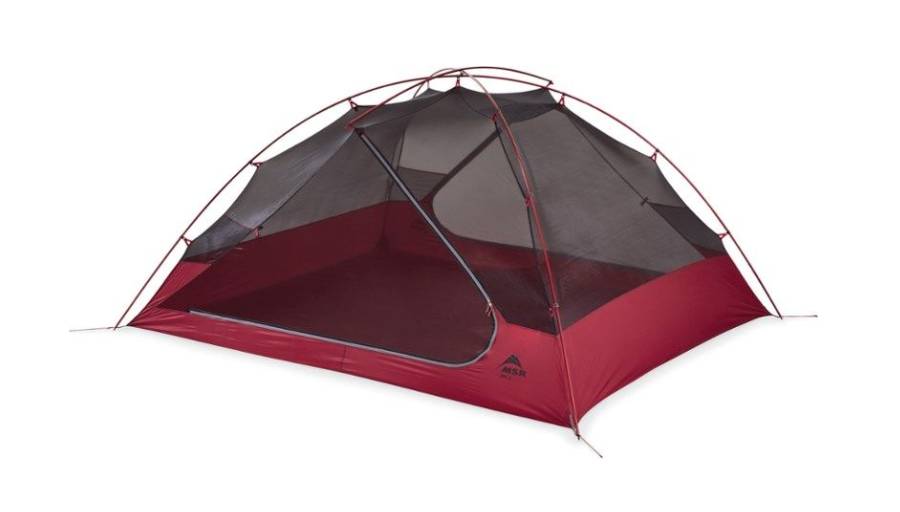 The MSR Zoic tent series is for travelers and hikers who looking for a spacious, ultra-breathable summer/warm tent for an epic adventure.
I had the opportunity to test the model for three people and will present it to you in all its important aspects such as durability, habitability, ventilation, protection against bad weather, installation, and more.
Main Features of the MSR Zoic 3
Seasonality / Number of people: three-person 3-season tent
Design: self-supporting system with hub poles
Materials and coverings: flysheet in 40 denier Ripstop polyester coated with Xtreme Shield polyurethane and silicone; floor in 70 denier Ripstop nylon, Xtreme Shield polyurethane coating and hydrophobic protection Bedroom
Dimensions: 223 x 191 x 100 cm (area of ​​approximately 2.3 m²)
Layout: a vestibule and three attics with integrated gears
Water column and waterproofing: 3,000 mm on the ground and 1,500 mm on the roof
Weight: 2,670 g
Supplied with: tent body, poles, rain fly, pegs, guy lines, stuff sack and set up instructions.
Best price:

Check On Amazon
Pros
Lightweight
Easy installation
Freestanding system with hub posts
Good ventilation and good heat distribution
Cons
More suitable for two people than three
Excellent ventilation and airflow performance which can really refresh your nights
Construction (Weight, Materials…) and Durability
I think I don't need to introduce the quality of the MSR brand, and the MSR Zoic 3 confirms all the good things said about the famous brand's tents. It features a domed shape and freestanding structure. It adopts MSR's proven geometry and features strong, yet lightweight aluminum poles.
This tent is still light in weight (2670 g) when compared to the average three-person tent.
I was particularly won over by the good choice of materials. For the floor, MSR used Xtreme Shield & DWR polyurethane 70D nylon taffeta, which is a noticeably thick, high-strength fabric.
Thus, the bed of the MSR Zoic 3 not only gives guarantees of durability but is not subject to tears and perforations. Thanks not least to the material's 3000mm waterproof rating, it holds up well in most circumstances.
Note that this tent has a vestibule, giving you a place to store shoes, clothes, and other belongings that may get dirty or muddy. There is also a gear attic inside for storing some of your belongings.  Additionally, the Zoic 3 tent has two doors, so you can easily get in and out, in the middle of the night if needed.
Habitability and Ease of Installation
The MSR Zoic 3 has an inner peak height of 109cm, which is a tiny bit smaller than the average height of the 3-4 person tents we reviewed.
The 223 x 191 x 100 cm bedroom offers an interior space (approx. 2.3 m²) slightly smaller than most models for 3 people. So this tent might be a little tight for you and two other campers. Despite its relatively small dimensions, the MSR Zoic 3 offers good roominess and is ideal for traveling with family or friends.
As for set up, the freestanding system with hub poles makes pitching quick and easy: this tent doesn't even need to be staked in most cases. But in strong winds, it is always best secured to the ground with the included steel stakes and guy wires.
Installation instructions are also provided to guide you through the assembly process.
Weather Protection and Ventilation
Perhaps one of the main draws of the MSR Zoic 3 is its full, ultra-breathable canopy. This one is made from micro-mesh panels and keeps the interior cool and dry. For hot weather adventures, this tent would be a perfect choice: it prioritizes ventilation and offers great views.
There's so little fabric obstructing your view that it can be easy to forget you're inside a tent. Sleeping under the MSR Zoic 3 without the rainfly under a starry sky is a unique experience.
Also, sufficient air circulates inside this 3-person tent, which almost completely eliminates the risk of condensation accumulation. Keep in mind that the MSR Zoic 3's excellent ventilation and airflow performance can do it a disservice on freezing nights, so you'd better pack a really warm sleeping bag.
It should also be noted that this three-person tent offers decent storm protection, thanks to the proven MSR design geometry, strong aluminum poles, rainfly covering the entire tent body from top to bottom, but also the long-lasting Xtreme Shield waterproof coating.
The Verdict
I give it a 4.5 rating out of 5.0.
Based on…
Ease of installation
Weather protection
Price quality
Design
Lightweight and affordable
For the price, few tents on the market offer the level of quality of the MSR Zoic 3. What we love the most about this lightweight tent featuring a freestanding system with hub poles are its excellent ventilation performance and humidity control.
Also, while offering good roominess and great starry views, the Zoic 3 is smaller than most 3-person models, so can feel a bit cramped for you and two other campers.